Abstract
Extreme heat has been associated with increased mortality, particularly in temperate climates. Few epidemiologic studies have considered the Pacific Northwest region in their analyses. This study quantified the historical (May to September, 1980–2010) heat-mortality relationship in the most populous Pacific Northwest County, King County, Washington. A relative risk (RR) analysis was used to explore the relationship between heat and all-cause mortality on 99th percentile heat days, while a time series analysis, using a piece-wise linear model fit, was used to estimate the effect of heat intensity on mortality, adjusted for temporal trends. For all ages, all causes, we found a 10 % (1.10 (95 % confidence interval (CI), 1.06, 1.14)) increase in the risk of death on a heat day versus non-heat day. When considering the intensity effect of heat on all-cause mortality, we found a 1.69 % (95 % CI, 0.69, 2.70) increase in the risk of death per unit of humidex above 36.0 °C. Mortality stratified by cause and age produced statistically significant results using both types of analyses for: all-cause, non-traumatic, circulatory, cardiovascular, cerebrovascular, and diabetes causes of death. All-cause mortality was statistically significantly modified by the type of synoptic weather type. These results demonstrate that heat, expressed as humidex, is associated with increased mortality on heat days, and that risk increases with heat's intensity. While age was the only individual-level characteristic found to modify mortality risks, statistically significant increases in diabetes-related mortality for the 45–64 age group suggests that underlying health status may contribute to these risks.
Access options
Buy single article
Instant access to the full article PDF.
USD 39.95
Price includes VAT (USA)
Tax calculation will be finalised during checkout.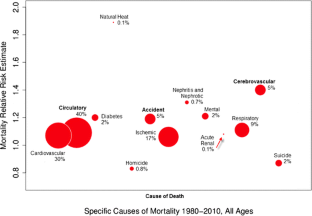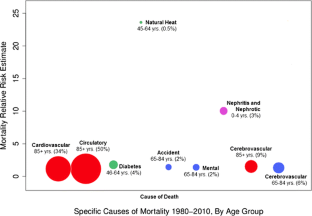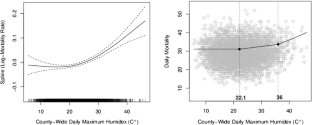 References
Akanji AO, Oputa RN (1991) The effect of ambient temperature on glucose tolerance. Diabet Med 8(10):946–948

Anderson BG, Bell ML (2011) Heat waves in the United States: mortality risk during heat waves and effect modification by heat wave characteristics in 43 U.S. communities. Environ Health Perspect 119(2):210–218

Anderson BG, Bell ML (2009) Weather-related mortality: how heat, cold, and heat waves affect mortality in the United States. Epidemiology 20(2):205–13

Armstrong B (2006) Models for the relationship between ambient temperature and daily mortality. Epidemiology 17(6):624–631

Baccini M, Biggeri A, Accetta G, Kosatsky T, Katsouyanni K, Analitis A, Anderson HR, Michelozzi P (2008) Heat effects on mortality in 15 European cities. Epidemiology 19(5):711–9

Barnett AG, Tong S, Clements ACA (2010) What measure of temperature is the best predictor of mortality? Environ Res 110(6):604–611

Basagaña X, Sartini C, Barrera-Gómez J, Dadvand P, Cunillera J, Ostro B, Sunyer J, Medina-Ramón M (2011) Heat waves and cause-specific mortality at all ages. Epidemiology 22(6):765–72

Basu R, Samet JM (2002) An exposure assessment study of ambient heat exposure in an elderly population in Baltimore, Maryland. Environ Health Perspect 110(12):1219–1224

Basu R, Dominici F, Samet JM (2005) Temperature and mortality among the elderly in the United States. Epidemiology 16(1):58–66

Basu R, Feng WY, Ostro BD (2008) Characterizing temperature and mortality in nine California counties. Epidemiology 19(1):138–45

Brown S, Walker G (2008) Understanding heat wave vulnerability in nursing and residential homes. Build Res Inf 36(4):363–372

Buckley JP, Samet JM, Richardson DB (2014) Commentary: does air pollution confound studies of temperature? Epidemiology 25(2):242–5

Canadian Centre for Occupational Health and Safety (2011) Humidex rating and work. http://www.ccohs.ca/oshanswers/phys_agents/humidex.html. Accessed 10 Nov. 2011

Cheng CS, Campbell M, Li Q, Li G, Auld H, Day N, Pengelly D, Gingrich S, Klaassen J, MacIver D, Comer N, Mao Y, Thompson W, Lin H (2005) Differential and combined impacts of winter and summer weather and air pollution due to global warming on human mortality in South-central Canada (6795-15-2001/4400011). Toronto, Canada: Health Canada, Health Policy Research Program. http://www.toronto.ca/health/hphe/pdf/weather_air_pollution_impacts.pdf. Accessed 10 Nov. 2013

Curriero FC, Heiner KS, Samet JM, Zeger SL, Strug L, Patz JA (2002) Temperature and mortality in 11 cities of the eastern United States. Am J Epidemiol 155(1):80–7

Daly C, Halbleib M, Smith JI, Gibson WP, Doggett MK, Taylor GH, Curtis J, Pasteris PP (2008) Physiographically sensitive mapping of climatological temperature and precipitation across the conterminous United States. Int J Climatol J R Meteorol Soc 28(15):2031–2064

Davis RE, Knappenberger PC, Michaels PJ, Novicoff WM (2004) Seasonality of climate-human mortality relationships in US cities and impacts of climate change. Clim Res 26(1):61

D'Ippoliti D, Michelozzi P, Marino C, De'Donato F, Menne B, Katsouyanni K, Kirchmayer U, Perucci CA (2010) The impact of heat waves on mortality in 9 European cities: results from the EuroHEAT project. Environ Heal 9(1):1–9

Gasparrini A, Armstrong B (2011) The impact of heat waves on mortality. Epidemiology 22(1):68–73

Gasparrini A (2011) Distributed lag linear and non-linear models in R: the package dlnm. J Stat Softw 43(8):1–20, URL http://www.jstatsoft.org/v43/i08/ . Accessed 15 Jan. 2014

Hamlet AF, Lee S-Y, Mickelson KEB, Elsner MM (2010) Effects of projected climate change on energy supply and demand in the Pacific Northwest and Washington State. Clim Chang 102:103–128

Harlan SL, Brazel AJ, Prashad L, Stefanov WL, Larsen L (2006) Neighborhood microclimates and vulnerability to heat stress. Soc Sci Med 63(11):2847–2863

Isaksen TB, Yost M, Hom E, Fenske R (2014) Projected health impacts of heat events in Washington State associated with climate change. Rev Environ Health 29:1–2

Ishigami A, Hajat S, Kovats RS, Bisanti L, Rognoni M, Russo A, Paldy A (2008) An ecological time-series study of heat-related mortality in three European cities. Environ Health Glob Access Sci Source 7:5

Jackson JE, Yost MG, Lamb BK, Lamb BK, Lamb BK, Chung SH, Rosenblatt RA, Fenske RA (2010) Public health impacts of climate change in Washington State: projected mortality risks due to heat events and air pollution. Clim Chang 102:1–2

Jones TS, Liang AP, Kilbourne EM, Griffin MR, Patriarca PA, Wassilak SG, Mullan RJ, Thacker SB (1982) Morbidity and mortality associated with the July 1980 heat wave in St Louis and Kansas City, MO. JAMA J Am Med Assoc 247(24):3327–31

Kaiser R, Rubin CH, Henderson AK, Wolfe MI, Kieszak S, Parrott CL, Adcock M (2001) Heat-related death and mental illness during the 1999 Cincinnati heat wave. Am J Forensic Med Pathol 22(3):303–7

Kalkstein LS, Greene S, Mills DM, Samenow J (2011) An evaluation of the progress in reducing heat-related human mortality in major U.S. cities. Nat Hazards 56(1):113–129

Kalkstein LS, Greene JS (1997) An evaluation of climate/mortality relationships in large U.S. cities and the possible impacts of a climate change. Environ Health Perspect 105(1):84–93

Kim H, Ha J-S, Park J (2006) High temperature, heat index, and mortality in 6 major cities in South Korea. Arch Environ Occup Health 61(6):265–270

King County (Updated December 21, 2012) About King County and its Government. http://www.kingcounty.gov/About.aspx. Accessed on 23 Sept. 2013

Klinenberg E (2002) Heat wave: a social autopsy of disaster in Chicago. University of Chicago Press, Chicago

Kovats RS, Hajat S (2008) Heat stress and public health: a critical review. Annu Rev Public Health 29:41–55

Masterton JM, Richardson FA (1979) Humidex; a method of quantifying human discomfort due to excessive heat and humidity. Environment Canada, Atmospheric Environment, Downsview, Ont

Maurer EP, Wood AW, Adam JC, Lettenmaier DP, Nijssen B (2002) A long-term hydrologically based data set of land surface fluxes and states for the conterminous United States. J Clim 15:3237–325

Medina-Ramón M, Schwartz J (2007) Temperature, temperature extremes, and mortality: a study of acclimatisation and effect modification in 50 US cities. Occup Environ Med 64(12):827–33

Medina-Ramón M, Zanobetti A, Cavanagh DP, Schwartz J (2006) Extreme temperatures and mortality: assessing effect modification by personal characteristics and specific cause of death in a multi-city case-only analysis. Environ Health Perspect 114(9):1331–1336

Naughton M (2002) Heat-related mortality during a 1999 heat wave in Chicago. Am J Prev Med 22(4):221–227

NOAA Satellite and Information Service (2009) Global historical climatology network - daily. http://www.ncdc.noaa.gov/oa/climate/ghcn-daily/. Accessed 20 Nov. 2013

O'Neill MS, Zanobetti A, Schwartz J (2005) Disparities by race in heat-related mortality in four US cities: the role of air conditioning prevalence. J Urban Health Bull N Y Acad Med 82(2):191–7

O'Neill MS, Zanobetti A, Schwartz J (2003) Modifiers of the temperature and mortality association in seven US cities. Am J Epidemiol 157(12):1074–82

PRISM Climate Group, Oregon State U. PRISM climate group, Oregon State U. N.p., n.d. Web. 15 Feb. 2014

Public Health - Seattle & King County (2013) Indicator: diabetes prevalence, King County. Public Health - Seattle King County. http://www.kingcounty.gov/healthservices/health/data/indicators/HealthOutcomesDiabetesPrevalence.aspx. Accessed 13 Jan. 2014

R Core Team (2012) R: A language and environment for statistical computing. R foundation for statistical computing, Vienna, Austria. ISBN 3-900051-07-0. http://www.r-project.org/ Accessed 13 Jan. 2014

Schuman SH (1972) Patterns of urban heat-wave deaths and implications for prevention: data from New York and St. Louis during July, 1966. Environ Res 5(1):59–75

Schwartz J (2005) Who is sensitive to extremes of temperature? A case-only analysis. Epidemiology 16(1):67–7

Sheridan, S (2013) Spatial synoptic classification. Kent State University. Department of Geography. http://sheridan.geog.kent.edu/ssc.html. Accessed 10 Nov. 2013

Sheridan SC, Kalkstein AJ, Kalkstein LS (2009) Trends in heat-related mortality in the United States, 1975–2004. Nat Hazards 50(1):145–160

Smoyer KE (1998) Putting risk in its place: methodological considerations for investigating extreme event health risk. Soc Sci Med 47(11):1809–1824

Stone B, Hess JJ, Frumkin H (2010) Urban form and extreme heat events: are sprawling cities more vulnerable to climate change than compact cities? Environ Health Perspect 118(10):1425–1428

Washington State Office of Financial Management (2012) King County census data. http://www.ofm.wa.gov/localdata/king.asp. Accessed 13 Sept. 2013

Whitman S, Good G, Donoghue ER, Benbow N, Shou W, Mou S (1997) Mortality in Chicago attributed to the July 1995 heat wave. Am J Public Health 87(9):1515–8

Yardley J, Sigal RJ, Kenny GP, Special Issue on the Politics and Policy of Carbon Capture and Storage (2011) Heat health planning: the importance of social and community factors. Glob Environ Chang 21(2):670–679

Zanobetti A, Schwartz J (2008) Temperature and mortality in nine US cities. Epidemiology 19(4):563–70
Acknowledgments
Thank you to Matt Stumbaugh, Eric Salathé, and Alan Hamlet, with the University of Washington's Climate Impacts Group, for providing the meteorological dataset as well as technical support. This work was supported, in part, by funding from the University of Washington's Department of Environmental and Occupational Health Sciences Initiative Grant, the Centers for Disease Control and Prevention Cooperative Agreement, "Confronting the Health Risks of Climate Change" (1 U01 EH 000400-01), and the University of Washington Biostatistics, Epidemiologic and Bioinformatic Training in Environmental Health (BEBTEH) Training Grant - sponsored by the National Institute of Environmental Health Sciences (T32ES015459).
Ethical standards
This study complies with the Washington State Department of Health and University of Washington's ethical standards. Data analyses were conducted after proper and appropriate human subjects approval was obtained from the Washington State Department of Social and Health Services IRB.
About this article
Cite this article
Isaksen, T.B., Fenske, R.A., Hom, E.K. et al. Increased mortality associated with extreme-heat exposure in King County, Washington, 1980–2010. Int J Biometeorol 60, 85–98 (2016). https://doi.org/10.1007/s00484-015-1007-9
Received:

Revised:

Accepted:

Published:

Issue Date:
Keywords
Climate change

Extreme heat

Mortality

Washington State