Abstract
Climate change could shift the phenology of insects and plants and alter their linkage in space and time. We examined the synchrony of rice and its insect pest, Scotinophara lurida (Burmeister), under the representative concentration pathways (RCP) 8.5 climate change scenario by comparing the mean spring immigration time of overwintered S. lurida with the mean rice transplanting times in Korea. The immigration time of S. lurida was estimated using an overwintered adult flight model. The rice transplanting time of three cultivars (early, medium, and medium-late maturing) was estimated by forecasting the optimal cultivation period using leaf appearance and final leaf number models. A temperature increase significantly advanced the 99 % immigration time of S. lurida from Julian day 192.1 in the 2000s to 178.4 in the 2050s and 163.1 in the 2090s. In contrast, rice transplanting time was significantly delayed in the early-maturing cultivar from day 141.2 in the 2000s to 166.7 in the 2050s and 190.6 in the 2090s, in the medium-maturing cultivar from day 130.6 in the 2000s to 156.6 in the 2050s and 184.7 in the 2090s, and in the medium-late maturing cultivar from day 128.5 in 2000s to 152.9 in the 2050s and 182.3 in the 2090s. These simulation results predict a significant future phenological asynchrony between S. lurida and rice in Korea.
Access options
Buy single article
Instant access to the full article PDF.
US$ 39.95
Tax calculation will be finalised during checkout.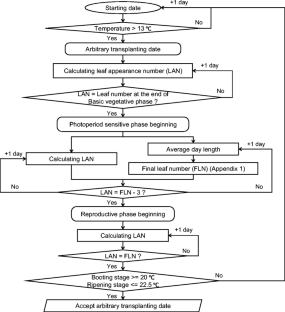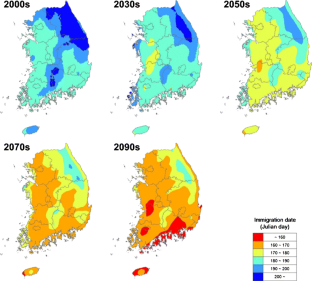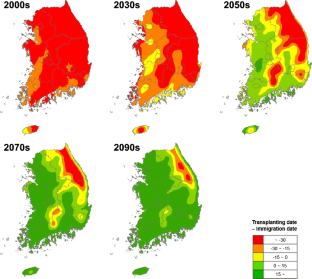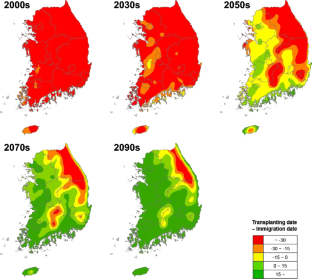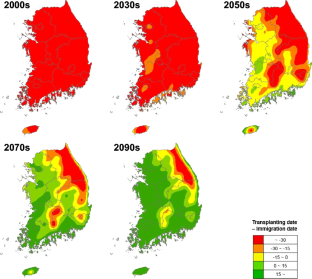 References
Allen JC (1976) A modified sine wave method for calculating degree days. Environ Entomol 5:388–396

Bouman BAM, Kropff MJ, Tuong TP, Wopereis MCS, Ten Berge HFM, Van Laar HH (2001) ORYZA2000: modeling lowland rice. International rice research institute, Los Banos

Cho JR, Lee M, Kim HS, Boo KS (2007) Effect of the juvenile hormone analog, fenoxycarb on termination of reproductive diapause in Scotinophara lurida (Burmeister) (Heteroptera: Pentatomidae). J Asia Pac Entomol 10:145–150

Cho JR, Lee M, Kim HS, Boo KS (2008) Effect of photoperiod and temperature on reproductive diapause of Scotinophara lurida (Burmeister) (Heteroptera: Pentatomidae). J Asia Pac Entomol 11:53–57

Choi K-J, Lee J-I, Chung N-J, Yang W-H, Shin J-C (2006) Effects of temperature and day-length on heading habit of recently developed Korean rice cultivars. Korean J Crop Sci 51:41–47

Choi W, Park Y-K, Park Y-S, Ryoo M, Lee H-P (2011) Changes in voltinism in a pine moth Dendrolimus spectabilis (Lepidoptera: Lasiocampidae) population: implications of climate change. Appl Entomol Zool 46:319–325

Dale D (1994) Insect pests of the rice plant—their biology and ecology. In: Heinrichs EA (ed) Biology and management of rice insects. Wiley Eastern, New Delhi

Ellis RH, Qi A, Summerfield RJ, Roberts EH (1993) Rates of leaf appearance and panicle development in rice (Oryza sativa L.): a comparison at three temperatures. Agric For Meteorol 66:129–138. doi:10.1016/0168-1923(93)90066-Q

ESRI (2010) ArcGIS 10.0. Redlands, California, USA

Gao LZ, Jin ZQ, Li L (1987) Photo-thermal models of rice growth duration for various varietal types in China. Agric For Meteorol 39:205–213. doi:10.1016/0168-1923(87)90038-4

Gao L, Jin Z, Huang Y, Zhang L (1992) Rice clock model—a computer model to simulate rice development. Agric For Meteorol 60:1–16. doi:10.1016/0168-1923(92)90071-B

Grant RF (1989) Simulation of maize phenology. Agron J 81:451–457. doi:10.2134/agronj1989.00021962008100030011x

IPCC (2007) Climate change 2007: the physical science basis. Contribution of working group 1 to the fourth assessment report of the intergovernmental panel on climate change. Cambridge University Press, Cambridge, United Kingdom and New York, USA

Kim H, Lee J-H (2007) Scotinophara lurida (Hemiptera: Pentatomidae) in Korea. In: Joshi RC, Barrion AT, Sebastin LS (eds) Rice black bugs: taxonomy, ecology, and management of invasive species. Philippine rice research institute, Nueva Ecija

Kim H, Lee J-H (2008) Phenology simulation model of Scotinophara lurida (Hemiptera: Pentatomidae). Environ Entomol 37:660–669. doi:10.1603/0046-225X(2008)37[660:PSMOSL]2.0.CO;2

Kim H, Kim S-T, Jung M-P, Lee J-H (2007) Spatio-temporal dynamics of Scotinophara lurida (Hemiptera: Pentatomidae) in rice fields. Ecol Res 22:204–213. doi:10.1007/s11284-006-0305-4

KMA (2012) Korea Meteorological Administration website. http://www.climate.go.kr

Lee C-K (2008) Development and application of model for estimating grain weight and grain nitrogen content in rice. Dissertation, Seoul National University

Lee C-K, Lee BW, Shin JC, Yoon YH (2001a) Heading date and final leaf number as affected by sowing date and prediction of heading date based on leaf appearance model in rice. Korean J Crop Sci 46:195–201

Lee C-K, Lee BW, Yoon YH, Shin JC (2001b) Temperature response and prediction model of leaf appearance rate in rice. Korean J Crop Sci 46:202–208

Lee K-Y, Ahn K-S, Kang H-J, Park S-K, Kim T-S (2001c) Host plants and life cycle of rice black bug, Scotinophara lurida Burmeister (Hemiptera: Pentatomidae). Korean J Appl Entomol 40:309–313

Lee C-K, Kwak K-S, Kim JH, Son J-Y, Yang W-H (2011) Impacts of climate change and follow-up cropping season shift on growing period and temperature in different rice maturity types. Korean J Crop Sci 56:233–243

Matsui M (1985) Temperature dependence of flight muscle development and flight activity of overwintered adults of the rice water weevil, Lissorhoptrus oryzophilus KUSCHEL (Coleoptera: Curculionidae). Jpn J Appl Entomol Z 29:67–72. doi:10.1303/jjaez.29.67

Miller BC, Foin TC, Hill JE (1993) CARICE: a rice model for scheduling and evaluating management actions. Agron J 85:938–947

Olsen J, McMahon C, Hammer G (1993) Prediction of sweet corn phenology in subtropical environments. Agron J 85:410–415

Patterson DT, Westbrook JK, Joyce RJV, Lingren PD, Rogasik J (1999) Weeds, insects, and diseases. Clim Chang 43:711–727

R Core Team (2011) R: a language and environment for statistical computing. R foundation for statistical computing, Vienna, Austria http://www.R-project.org/

Saulich AK, Musolin DL (2012) Diapause in the seasonal cycle of stink bugs (Heteroptera, Pentatomidae) from the temperate zone. Entomol Rev 92:1–26

Teixeira EI, Fischer G, Van Velthuizen H, Walter C, Ewert F (2013) Global hot-spots of heat stress on agricultural crops due to climate change. Agric For Meteorol 170:206–215. doi:10.1016/j.agrformet.2011.09.002

Tollenaar M, Daynard T, Hunter R (1979) Effect of temperature on rate of leaf appearance and flowering date in maize. Crop Sci 19:363–366

van Asch M, van Tienderen PH, Holleman LJM, Visser ME (2007) Predicting adaptation of phenology in response to climate change, an insect herbivore example. Glob Change Biol 13:1596–1604. doi:10.1111/j.1365-2486.2007.01400.x

Vergara BS, Chang TT (1985) The flowering response of the rice plant to photoperiod: a review of the literature, 4th edn. International Rice Research Institute, Los Banos

Yin X, Kropff MJ (1996) Use of the Beta function to quantify effects of photoperiod on flowering and leaf number in rice. Agric For Meteorol 81:217–228

Yoshida S (1981) Fundamentals of rice crop science. International rice research institute, Los Banos

Yun J, Yi D, Choi J, Cho S, Park E, Hwang H (1999) Elevation-corrected spatial interpolation for near-real time generation of meteorological surfaces from point observations. AgroInformatics J 1:28–33
Acknowledgments
This research was funded by grants from the Rural Development Administration (project no. PJ009394022013) and the Brain Korea 21 Plus Project.
Electronic supplementary material
About this article
Cite this article
Lee, H., Kang, W.S., Ahn, M.I. et al. Predicting temporal shifts in the spring occurrence of overwintered Scotinophara lurida (Hemiptera: Pentatomidae) and rice phenology in Korea with climate change. Int J Biometeorol 60, 53–61 (2016). https://doi.org/10.1007/s00484-015-1004-z
Received:

Revised:

Accepted:

Published:

Issue Date:
Keywords
RCP 8.5 scenario

Rice

Scotinophara lurida

Phenology

Asynchrony