Abstract
The Mekong Delta is vulnerable to changes in climate and hydrological events which alter environmental conditions, resulting in increased risk of waterborne diseases. Research exploring the association between climate factors and diarrhoea, the most frequent waterborne disease in Mekong Delta region, is sparse. This study evaluated the climate-diarrhoea association in Can Tho city, a typical Mekong Delta area in Vietnam. Climate data (temperature, relative humidity, and rainfall) were obtained from the Southern Regional Hydro-Meteorological Centre, and weekly counts of diarrhoea visits were obtained from Can Tho Preventive Medicine Centre from 2004 to 2011. Analysis of climate and health variables was carried out using spline function to adjust for seasonal and long-term trends of variables. A distributed lag model was used to investigate possible delayed effects of climate variables on diarrhoea (considering 0–4 week lag periods), then the multivariate Poisson regression was used to examine any potential association between climate factors and diarrhoea. The results indicated that the diarrhoea incidence peaked within the period August–October annually. Significant positive associations were found between increased diarrhoea and high temperature at 4 weeks prior to the date of hospital visits (IRR = 1.07; 95 % CI = 1.04–1.08), high relative humidity (IRR = 1.13; 95 % CI = 1.12–1.15) and high (>90th percentile) cumulative rainfall (IRR = 1.05; 95 % CI = 1.05–1.08). The association between climate factors and diarrhoea was stronger in rural than urban areas. These findings in the context of the projected changes of climate conditions suggest that climate change will have important implications for residential health in Mekong Delta region.
Access options
Buy single article
Instant access to the full article PDF.
US$ 39.95
Tax calculation will be finalised during checkout.
Subscribe to journal
Immediate online access to all issues from 2019. Subscription will auto renew annually.
US$ 79
Tax calculation will be finalised during checkout.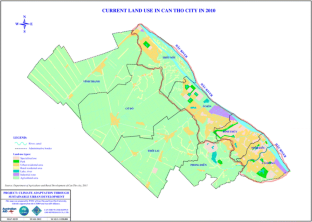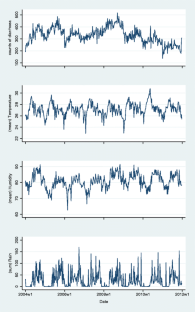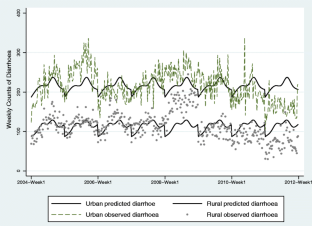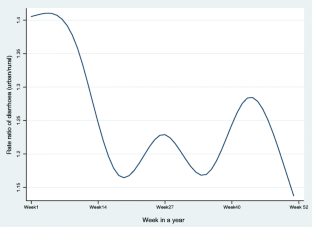 References
Aramini J, Mclean M, Wilson J, Holt J, Copes R, Allen B, Al E (2000) Drinking water quality and health care utilization for gastrointestinal illness in Freater Vancouver. Can Commun Dis Rep 26:211–214

Bhaskaran K, Gasparrini A, Hajat S, Smeeth L, Armstrong B (2013) Time series regression studies in environmental epidemiology. Int J Epidemiol 42:1187–1195

Braks MAH, Husman AMR (2013) Dimensions of effects of climate change on water-transmitted infectious diseases. Air Water Borne Dis 2

Charron DF, Thomas MK, Watner-Toews D, Aramini JJ, Edge T, Kent RA, Al E (2004) Vulnerability of waterborne diseases to climate change in Canada: a review. J Toxicol Environ Health 67:1667–1677

Chaudhry P, Ruysschaert G (2008) Climate change and human development in Vietnam. UNDP Human Development Report Office Occasional Paper

Checkly W, Epstein LD, Gilman RH, Figueroa D, Cama RI, Patz JA (2000) Effects of El nino and ambient temperature on hospital admission for diarrhoeal diseases in Peruvian children. Lancet 355:442–450

Chou C, Wu J, Wang Y, Huang H, Sung F, Chuang C (2010) Modelling the impact of climate availability on diarrhea-associated diseases in Taiwan (1996–2007). Sci Total Environ 409:43–51

Curriero FC, Patz J, Rose J, Lele S (2001) The association between extreme precipitation and waterborne disease outbreaks in the United States, 1948–1994. Am J Public Health 91:1194–1199

D'Souza RM, Hall G, Becker NG (2008) Climatic factors associated with hospitalizations for rotavirus diarrhoea in children under 5 years of age. Epidemiol Infect 136:56–64

Eastham J, Mpelasoka F, Mainuddin M, Ticehurst C, Dyce P, Hodgson G, Ali R, Kirby M (2008) Mekong River Basin water resources assessment: impacts of climate change. CSIRO: Water for a Healthy Country National Research Flagship

Febriani Y, Levallois P, Gingras S, Gosselin P, Majowicz SE, Fleury MD (2010) The association between farming activities, precipitation, and the risk of acute gastrointestinal illness in rural municipalities of Quebec, Canada: a cross-sectional study. BMC Public Health 10:1–14

Few R, Lake I, Hunter PR, Tran PG (2013) Seasonality, disease and behaviour: Using multiple methods to explore socio-environmental health risks in the Mekong Delta. Soc Sci Med 80:1–9

Funari E, Manganelli M, Sinisi L (2012) Impact of climate change on waterborne diseases. Ann Ist Sanita 48:473–487

Gomwalk NE, Gosham LT, Umoth UJ (1990) Rotavirus Gastroenteritis in Pediatric Diarrhoea in Jos, Nigeria. J Trop Pediatr 36:52–55

Harper SL, Edge VL, Schuster-Wallace CJ, Berke O, McEwen SA (2011) Weather, water quality and infectious gastrointestinal illness in two iunit communities in Nunatsiavut, Canada: Potential implications for climate change. Ecohealth 8:93–108

Hashizume M, Amstrong B, Hajat S, Watgatsuma Y, Faruque AS, Hayashi T, Sack DA (2007a) Association between climate variability and hospital visits for non-cholera diarrhoea in Bangladesh: Effects and vulnerable groups. Int J Epidemiol 36:1030–1037

Hashizume M, Armstrong B, Wagatsuma Y, Faruque ASG, Hayashi T, Sack DA (2007b) Rotavirus infections and climate variability in Dhaka, Bangladesh: a time-series analysis. Epidemiol Infect 136:1281–1289

Hunter PR (2003) Climate change and waterborne and vector-borne disease. J Appl Microbiol 94:37S–46S

Huyen NC (2012) Atlas of Vietnamese City: Hanoi - Ho Chi Minh - Hai Phong - Da Nang - Can Tho. Vietnam Publishing House of Natural Resources, Environment and Cargraphy, Hanoi

IPCC WORKING GROUP (2008) Climate Change and Water, Technical Paper (VI) of the Intergovernmental Panel on Climate Change. IPCC Secretariat, Geneva

Jimenez B (2003) Health risk in aquifer recharge with recycled water. In: the 4th ICPP Assessment Report

Kelly-Hope LA, Alonso WJ, Thiem VD, Anh DD, Canh DG, Lee H, Smith DL, Miller MA (2007) Geographical distribution and risk factors associated with enteric diseases in Vietnam. Am J Trop Med Hyg 76:706–712

Kelly-Hope LA, Alonso WJ, Vu TD, Do GC, Dang AD, Lee H, Miller MA (2008) Temporal trends and climatic factors associated with bacterial enteric diseases in Vietnam, 1991–2001. Environ Health Perspect 116:7–12

Kien TM, Tran TTH, Cuong HD, Shaw R (2010) Identifying linkages between rates and distributions of malaria, water-born diseases and influenza with climate variability and climate change in Vietnam. In: Shaw R, Pulhin J M, Pereira J J (eds) Climate change adaptation and disaster risk reduction: an Asian perspective

Lama JR, Seas CR, Leon-Barua R, Gotuzzo E, Sack RB (2004) Environmental temperature, cholera, and acute diarrhoea in adults in Lima, Peru. J Health Popul Nutr 22:399–403

Le TA, Chinvanno S (2011) Climate change in the Mekong River Delta and key concerns in future climate threats. In: Stewart MA, Coclanis PA (eds) Environmental change and agricultural sustainability in the Mekong Delta. Adv Glob Chang Res 45

Lipp EK, Huq A, Colwell RR (2002) Effects of global climate on infectious disease: the cholera model. Clin Microbiol Rev 15:757–770

Lloyd SJ, Kovats RS, Armtrong BG (2007) Global diarrhoea morbidity, weather and climate. Climate Res 34:119–127

Moe K, Harper GJ (1983) The effect of relative humidity and temperature on the survival bovine rotavirus in aerosol. Arch Virol 76:211–216

Moe K, Shirley JA (1982) The effects of relative humidity and temperature on the survival of human rotavirus in faeces. Arch Virol 72:179–186

Namouva EN, Jagai JS, Matyas B, Demaria J, Macneill IB, Griffiths JK (2007) Seasonality in six enterically transmitted diseases and ambient temperature. Epidemiol Infect 135:281–292

Nguyen HN (2008) Flooding in Mekong River Delta, Vietnam. UNDP Human Development Report Office Occasional Paper

Podewils LJ, Mintz ED, Nataro JP, Parashar UD (2004) Acute, infectious diarrhoea among children in developing countries. Semin Pediatr Infect Dis 15:155–168

Rose JB, Daeschner S, Easterling DR, Curriero FC, Lele S, Patz JA (2000) Climate and waterborne disease outbreaks. J Am Water Works Assoc 92:77–87

Schijven JF, Husman AMDR (2005) Effect of climate changes on waterborne disease in The Netherlands. Water Sci Technol 51:79–87

Schuster CJ, Ellis AA, Robertson WJ, Charron DE, Aramini JJ, Marshall BJ, Al E (2005) Infectious disease outbreaks related to drinking water in Canada, 1974–2001. Can J Public Health 96:254–258

Sebesvari Z, Le TTH, Renaud FG (2011) Climate change adaptation and agrichemicals in the Mekong Delta, Vietnam. In: Stewart MA, Coclanis PA (eds) Environmental change and agricultural sustainability in the Mekong Delta, Advances in global change research 45. doi:10.1007/978-94-007-0934-8_13

Singh RB, Hales S, Wet ND, Raj R, Hearnden M, Weinstein P (2001) The influence of climate variation and change on diarrhoeal disease in the Pacific Islands. Environ Health Perspect 109:155–159

Snidvongs A, Choowaew S, Chinvanno S (2003) Impact of climate change on water and wetland resources in Mekong River Basin: directions for preparedness and action. Southeast Asia Start Regional Center Reporr Number 12

SRV (2007) Law for communicable disease prevention numbered 03/2007/QH12 promulgated by Vietnam Asembly on 21st November 2007

Thomas MK, Charron DF, Waltner-Toews D, Schuster C, Maarouf AR, Holt JD (2006) A role of high impact weather events in waterborne disease outbreaks in Canada, 1975–2001. Int J Environ Health Res 16:167–180

Vastila K, Kummu M, Sangmanee C, Chinvanno S (2010) Modelling climate change impacts on the flood pulse in the lower Mekong Floodplains. J Water Clim Chang 1:67–86

WHO (2014) Health topics: diarrhoea. In: http://www.who.int/topics/diarrhoea/en/
Acknowledgments
This study was financially funded by CSIRO Land and Water, Climate Adaptation Flagship, Australia. We sincerely thank the staff of the Health Environment Management Agency, the Ministry of Health, Can Tho Health Department, Can Tho Preventive Medicine Centre, and Can Tho University for providing kind support and assistance to our data collection. We thank Mr. Duncan Frewin for English editing.
Conflict of interest
No conflict of interest
About this article
Cite this article
Phung, D., Huang, C., Rutherford, S. et al. Association between climate factors and diarrhoea in a Mekong Delta area. Int J Biometeorol 59, 1321–1331 (2015). https://doi.org/10.1007/s00484-014-0942-1
Received:

Revised:

Accepted:

Published:

Issue Date:
Keywords
Mekong Delta

Can Tho city

Climate change

Weather

Diarrhoea