Abstract
The changes in March mean temperatures in Edo (Tokyo), Japan, since the seventeenth century, were reconstructed using phenological data for the cherry blossoms of Prunus jamasakura deduced from old diaries and chronicles. The observations of the time of full blossoming and of cherry blossom viewing parties were acquired and used to construct a full-blossoming phenological data series for P. jamasakura. Phenological data from 207 of the years from 1601 to 1905 were used for this study. The reconstructed temperatures suggested the existence of two cold periods (the second half of the seventeenth century and the beginning of the nineteenth century), during which times the estimated March mean temperatures were about 4 °C and 5 °C, respectively. These two cold periods at Edo coincided with those reconstructed at Kyoto in previous studies. These cold periods coincided with two less extreme periods, the Maunder and Dalton minima, in the long-term solar variation cycle.
Access options
Buy single article
Instant access to the full article PDF.
US$ 39.95
Tax calculation will be finalised during checkout.
Subscribe to journal
Immediate online access to all issues from 2019. Subscription will auto renew annually.
US$ 79
Tax calculation will be finalised during checkout.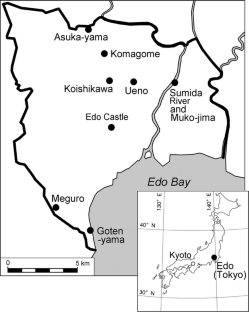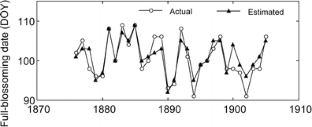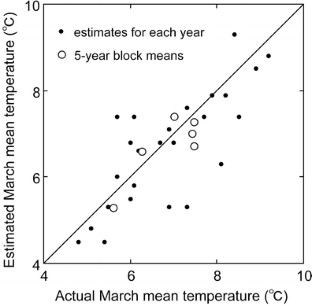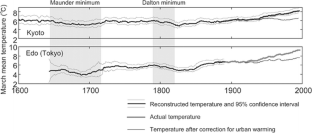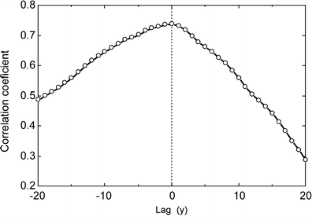 References
Ahas R (1999) Long-term phyto-, ornitho- and ichthyophenological time series analysis in Estonia. Int J Biometeorol 42:119–123

Aono Y (1998) Climatic change in March temperature deduced from phenological record for flowering of cherry tree in Tokyo since the late 18th century. Bull Osaka Pref Univ Ser B 50:11–19

Aono Y (2012) Long-term change in climate and floral phenophase. Chikyu Kankyo (Glob Environ) 17:21–29 (in Japanese)

Aono Y, Kazui K (2008) Phenological data series of cherry tree flowering in Kyoto, Japan, and its application to reconstruction of springtime temperatures since the 9th century. Int J Climatol 28:905–914

Aono Y, Omoto Y (1992) Estimation of blooming dates of Rhododendron kaempferi, Wisteria floribunda and Hydrangea macrophylla. J Agric Meteorol 47:233–240 (in Japanese)

Aono Y, Saito S (2010) Clarifying springtime temperature reconstructions of the medieval period by gap-filling the cherry blossom phenological data series at Kyoto, Japan. Int J Biometeorol 54:211–219

Aono Y, Sato K (1996) Estimation of flowering date for Japanese apricot tree (Prunus mume) in western Japan considering both processes of rest break and development. J Agric Meteorol 52:125–134 (in Japanese)

Chuine I, Yiou P, Viovy N, Seguin B, Daux V, Le Roy Ladurie E (2004) Grape ripening as a past climate indicator. Nature 432:289–290

Defila C, Clot B (2001) Phytophenological trends in Switzerland. Int J Biometeorol 45:203–207

Fujimoto S (2007) Analysis of prediction methods for budburst days based on the phenological observation in 29 broad-leaved tree species for 10 years. J Jpn For Soc 89:253–261 (in Japanese)

Garnier E, Daux V, Yiou P, de Cortázar-Atauri IG (2011) Grapevine harvest dates in Besançon (France) between 1525 and 1847: social outcomes or climatic evidence? Clim Chang 104:703–727

Ge Q, Zheng J, Fang X, Man Z, Zhang X, Zhang P, Wang W-C (2003) Winter half-year temperature reconstruction for the middle and lower reaches of the Yellow River and Yangtze River, China, during the past 2000 years. The Holocene 13:933–940

Ge Q, Zheng J, Tian Y, Wu W, Fang X, Wang W-C (2008) Coherence of climatic reconstruction from historical documents in China by different studies. Int J Climatol 28:1007–1024

Hayashida S, Kishino I, Morita A (1998) Development of growth forecasting system on satsuma mandarin. Bull Nagasaki Fruit Tree Exp Stn 5:1–9 (in Japanese)

Konno T, Sugihara S (1986) Temperature index for characterizing biological activity in soil and its application to decomposition of soil organic matter. Bull Nat Inst Agro-environ Sci 1:51–68 (in Japanese)

Ljungqvist FC (2010) A new reconstruction of temperature variability in the extra-tropical Northern Hemisphere during the last two millennia. Geografiska Annaler Ser A 92:339–351

Loehle C, McCulloch JH (2008) A 2000-year global temperature reconstruction based on non-tree ring proxies. Energy Environ 19:93–100

Maruoka T, Itoh H (2009) Impact of global warming on flowering of cherry trees (Prunus yedoensis) in Japan. J Agric Meteorol 65:283–296 (in Japanese)

Miura H, Ogasawara K (1988) Forecasting flowering time of several fruit trees by the mesh weather system—a model by the DTS (number of days transformed to standard temperature) method. Tohoku Agric Res 41:239–240 (in Japanese)

Možný M, Brázdil R, Dobrovolný P, Trnka M (2012) Cereal harvest dates in the Czech Republic between 1501 and 2008 as a proxy for March-June temperature reconstruction. Clim Chang 110:801–821

Omoto Y, Hamotani K (1979) A proposed method of eliminating urban effects from climatological data obtained at stations in big cities. J Agric Meteorol 35:93–96 (in Japanese)

Sparks TH, Carey PD (1995) The responses of species to climate over two centuries. An analysis of the Marsham phenological record, 1736–1947. J Ecol 83:321–329

Waple AM, Mann ME, Bradley RS (2002) Long-term patterns of solar irradiance forcing in model experiments and proxy based surface temperature reconstructions. Clim Dyn 18:563–578

Watanabe E (2005) "Goryoudono" – Konoe's Villa and noble ladies in late Middle Age. Bull Doshisha Univ Hist Museum 9:7–21 (in Japanese)

Yamamoto T (1967) Outline of climate change in Japan. Meteorol Res Note 91:336–343 (in Japanese)
Acknowledgments
This research was partially supported by a grant from the Ministry of Education, Science, Sports and Culture (Grant-in-Aid for Scientific Research (C), 23501247) from 2011 to 2014.
About this article
Cite this article
Aono, Y. Cherry blossom phenological data since the seventeenth century for Edo (Tokyo), Japan, and their application to estimation of March temperatures. Int J Biometeorol 59, 427–434 (2015). https://doi.org/10.1007/s00484-014-0854-0
Received:

Revised:

Accepted:

Published:

Issue Date:
Keywords
Climate reconstruction

Edo (Tokyo)

Phenology

Cherry blossom

Prunus jamasakura

Solar variation