Abstract
Increasing epidemiological studies have shown that a rapid temperature change within 1 day is an independent risk factor for human health. This paper aimed to systematically review the epidemiological evidence on the relationship between diurnal temperature range (DTR) and human health and to propose future research directions. A literature search was conducted in October 2013 using the databases including PubMed, ScienceDirect, and EBSCO. Empirical studies regarding the relationship between DTR and mortality and morbidity were included. Twenty-five relevant studies were identified, among which, 11 investigated the relationship between DTR and mortality and 14 examined the impact of DTR on morbidity. The majority of existing studies reported that DTR was significantly associated with mortality and morbidity, particularly for cardiovascular and respiratory diseases. Notably, compared with adults, the elderly and children were more vulnerable to DTR effects. However, there were some inconsistencies regarding the susceptible groups, lag time, and threshold of DTR. The impact of DTR on human health may be confounded or modified by season, socioeconomic, and educational status. Further research is needed to further confirm the adverse effects of DTR in different geographical locations; examine the effects of DTR on the health of children aged one or under; explore extreme DTR effects on human health; analyze the difference of DTR effects on human health in different locations and the modified effects of potential confounding factors; and develop detailed preventive measures against large DTR, particularly for susceptible groups.
Access options
Buy single article
Instant access to the full article PDF.
US$ 39.95
Tax calculation will be finalised during checkout.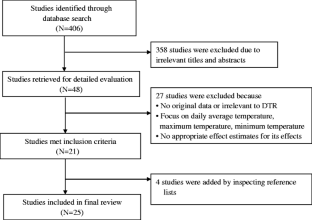 References
Baccini M, Biggeri A, Accetta G, Kosatsky T, Katsouyanni K, Analitis A, Anderson HR, Bisanti L, D'Ippoliti D, Danova J, Forsberg B, Medina S, Paldy A, Rabczenko D, Schindler C, Michelozzi P (2008) Heat effects on mortality in 15 European cities. Epidemiology 19(5):711–719

Bang FB (1961) Mucociliary function as protective mechanism in upper respiratory tract. Bacteriol Rev 25:228–236

Basu R, Ostro BD (2008) A multicounty analysis identifying the populations vulnerable to mortality associated with high ambient temperature in California. Am J Epidemiol 168(6):632–637

Becklake MR, Kauffmann F (1999) Gender differences in airway behaviour over the human life span. Thorax 54(12):1119–1138

Brazdil R, Budikova M, Auer I, Bohm R, Cegnar T, Fasko P, Lapin M, Capka M, Zaninovic K, Koleva E, Niedzwiedz T, Ustrnul Z, Szalai S, Weber RO (1996) Trends of maximum and minimum daily temperatures in central and southeastern Europe. Int J Climatol 16(7):765–782

Bull GM (1980) The weather and deaths from pneumonia. Lancet 1(8183):1405–1408

Cao J, Cheng Y, Zhao N, Song W, Jiang C, Chen R, Kan H (2009) Diurnal temperature range is a risk factor for coronary heart disease death. J Epidemiol 19(6):328–332

Chen G, Zhang Y, Song G, Jiang L, Zhao N, Chen B, Kan H (2007) Is diurnal temperature range a risk factor for acute stroke death? Int J Cardiol 116(3):408–409

Chen JS, Lin YM, Yang WH (2013) Diurnal temperature change is associated with testicular torsion—a nationwide population-based study in Taiwan. J Urol 190(1):228–232

Chu C, Zhou W, Gui Y, Kan H (2011) Diurnal temperature range as a novel risk factor for sudden infant death. Biomed Environ Sci 24(5):518–522

Crimi P, Macrina G, Folli C, Bertoluzzo L, Brichetto L, Caviglia I, Fiorina A (2004) Correlation between meteorological conditions and Parietaria pollen concentration in Alassio, north-west Italy. Int J Biometeorol 49(1):13–17

Diesel DA, Lebel JL, Tucker A (1991) Pulmonary particle deposition and airway mucociliary clearance in cold-exposed calves. Am J Vet Res 52(10):1665–1671

Dominici F, McDermott A, Zeger SL, Samet JM (2002) On the use of generalized additive models in time-series studies of air pollution and health. Am J Epidemiol 156(3):193–203

Easterling DR, Horton B, Jones PD, Peterson TC, Karl TR, Parker DE, Salinger M, Razuvayev V, Plummer N, Jamason P, Folland CK (1997) Maximum and minimum temperature trends for the globe. Science 277(5324):364–367

Gasparrini A, Armstrong B, Kenward MG (2010) Distributed lag non-linear models. Stat Med 29(21):2224–2234

Ge WZ, Xu F, Zhao ZH, Zhao JZ, Kan HD (2013) Association between diurnal temperature range and respiratory tract infections. Biomed Environ Sci 26(3):222–225

Graudenz GS, Landgraf RG, Jancar S, Tribess A, Fonseca SG, Fae KC, Kalil J (2006) The role of allergic rhinitis in nasal responses to sudden temperature changes. J Allergy Clin Immunol 118(5):1126–1132

Guangzhou Statistic Bureau (2011) Guangzhou statistical bulletin. http://www.gzstats.gov.cn/tjgb/qstjgb/201203/t20120331_28370.htm

Hii YL, Rocklov J, Ng N (2011) Short term effects of weather on hand, foot and mouth disease. PLoS One 6(2):e16796

Holopainen J, Helama S, Partonen T (2013) Does diurnal temperature range influence seasonal suicide mortality? Assessment of daily data of the Helsinki metropolitan area from 1973 to 2010. Int J Biometeorol. doi:10.1007/s00484-013-0689-0

Imai Y, Nobuoka S, Nagashima J, Awaya T, Aono J, Miyake F, Murayma M (1998) Acute myocardial infarction induced by alternating exposure to heat in a sauna and rapid cooling in cold water. Cardiology 90(4):299–301

IPCC (2007) Summary for policymakers. In: Climate change 2007: the physical science basis. Contribution of Working Group I to the Fourth Assessment Report of the Intergovernmental Panel on Climate Change. Cambridge University Press, Cambridge

Kalnay E, Cai M (2003) Impact of urbanization and land-use change on climate. Nature 423(6939):528–531

Kan H, London SJ, Chen H, Song G, Chen G, Jiang L, Zhao N, Zhang Y, Chen B (2007) Diurnal temperature range and daily mortality in Shanghai, China. Environ Res 103(3):424–431

Karl TR, Diza HF, Kukla G (1988) Urbanization: its detection and effect in the United States climate record. J Clim 11(1):1099–1123

Karl TR, Jones PD, Knight RW, Kukla G, Plummer N. (1993) Asymmetric trends of daily maximum and minimum temperature. Papers in Natural Resources: 185

Kenney WL, Hodgson JL (1987) Heat tolerance, thermoregulation and ageing. Sports Med 4(6):446–456

Kjellstrom T, McMichael AJ (2013) Climate change threats to population health and well-being: the imperative of protective solutions that will last. Glob Health Act 6:20816

Klein Tank A, Peterson T, Quadir D, Dorji S, Zou X, Tang H, Santhosh K, Joshi U, Jaswal A, Kolli R, Sikder A, Deshpande N, Revadekar J, Yeleuova K, Vandasheva S, Faleyeva M, Gomboluudev P, Budhathoki K, Hussain A, Afzaal M, Chandrapala L, Anvar H, Amanmurad D, Asanova V, Jones P, New M, Spektorman T (2006) Changes in daily temperature and precipitation extremes in central and south Asia. J Geophys Res 111(D16105):1–20

Li Q, Chen J (2008) Regional climate variations in south China related to global climate change and local urbanization. Proceedings of 16th IAHR-APD Congress and 3rd Symposium of IAHR-ISHS

Li T, Yang Z, Wang M (2013) Diurnal temperature range may be the risk factor for respiratory tract infections among the elderly in Guangzhou, China. Int J Biometeorol. doi:10.1007/s00484-013-0734-z

Liang WM, Liu WP, Chou SY, Kuo HW (2008) Ambient temperature and emergency room admissions for acute coronary syndrome in Taiwan. Int J Biometeorol 52(3):223–229

Liang WM, Liu WP, Kuo HW (2009) Diurnal temperature range and emergency room admissions for chronic obstructive pulmonary disease in Taiwan. Int J Biometeorol 53(1):17–23

Lim YH, Hong YC, Kim H (2012a) Effects of diurnal temperature range on cardiovascular and respiratory hospital admissions in Korea. Sci Total Environ 417–418:55–60

Lim YH, Kim H, Kim JH, Bae S, Hong YC (2012b) Effect of diurnal temperature range on cardiovascular markers in the elderly in Seoul, Korea. Int J Biometeorol 57(4):597–603

Lim YH, Park AK, Kim H (2012c) Modifiers of diurnal temperature range and mortality association in six Korean cities. Int J Biometeorol 56(1):33–42

Lin S, Luo M, Walker RJ, Liu X, Hwang SA, Chinery R (2009) Extreme high temperatures and hospital admissions for respiratory and cardiovascular diseases. Epidemiology 20(5):738–746

Lin H, Zhang Y, Xu Y, Xu X, Liu T, Luo Y, Xiao J, Wu W, Ma W (2013) Temperature changes between neighboring days and mortality in summer: a distributed lag non-linear time series analysis. PLoS One 8(6):e66403

Linares C, Diaz J (2008) Impact of high temperatures on hospital admissions: comparative analysis with previous studies about mortality (Madrid). Eur J Public Health 18(3):317–322

Luo Y, Zhang Y, Liu T, Rutherford S, Xu Y, Xu X, Wu W, Xiao J, Zeng W, Chu C, Ma W (2013) Lagged effect of diurnal temperature range on mortality in a subtropical megacity of china. PLoS One 8(2):e55280

Ma E, Lam T, Wong C, Chuang SK (2010) Is hand, foot and mouth disease associated with meteorological parameters? Epidemiol Infect 138(12):1779–1788

Magalhaes R, Silva MC, Correia M, Bailey T (2011) Are stroke occurrence and outcome related to weather parameters? Results from a population-based study in northern portugal. Cerebrovasc Dis 32(6):542–551

Mercer JB, Osterud B, Tveita T (1999) The effect of short-term cold exposure on risk factors for cardiovascular disease. Thromb Res 95(2):93–104

Qiu H, Tak-Sun Yu I, Tse LA, Tian L, Wang X, Wong TW (2013) Is greater temperature change within a day associated with increased emergency hospital admissions for heart failure? Circ Heart Fail 6(5):930–935

Shinkawa A, Ueda K, Hasuo Y, Kiyohara Y, Fujishima M (1990) Seasonal variation in stroke incidence in Hisayama, Japan. Stroke 21(9):1262–1267

Son JY, Lee JT, Anderson GB, Bell ML (2012) The impact of heat waves on mortality in seven major cities in Korea. Environ Health Perspect 120(4):566–571

Song G, Chen G, Jiang L, Zhang Y, Zhao N, Chen B, Kan H (2008) Diurnal temperature range as a novel risk factor for COPD death. Respirology 13(7):1066–1069

Tam WW, Wong TW, Chair SY, Wong AH (2009) Diurnal temperature range and daily cardiovascular mortalities among the elderly in Hong Kong. Arch Environ Occup Health 64(3):202–206

Togias AG, Naclerio RM, Proud D, Fish JE, Adkinson NF Jr, Kagey-Sobotka A, Norman PS, Lichtenstein LM (1985) Nasal challenge with cold, dry air results in release of inflammatory mediators. Possible mast cell involvement. J Clin Invest 76(4):1375–1381

von Mutius E (1996) Progression of allergy and asthma through childhood to adolescence. Thorax 51(Suppl 1):S3–S6

Vose RS, Easterling DR, Gleason B (2005) Maximum and minimum temperature trends for the globe: an update through 2004. Geophys Res Lett 32:L23822. doi:10.1029/2005GL024379

Vutcovici M, Goldberg MS, Valois MF (2013) Effects of diurnal variations in temperature on non-accidental mortality among the elderly population of Montreal, Quebec, 1984–2007. Int J Biometeorol. doi:10.1007/s00484-013-0664-9

Wang MZ, Zheng S, He SL, Li B, Teng HJ, Wang SG, Yin L, Shang KZ, Li TS (2013) The association between diurnal temperature range and emergency room admissions for cardiovascular, respiratory, digestive and genitourinary disease among the elderly: a time series study. Sci Total Environ 456–457:370–375

Xu Z, Huang C, Su H, Turner LR, Qiao Z, Tong S (2013a) Diurnal temperature range and childhood asthma: a time-series study. Environ Health 12(1):12

Xu Z, Huang C, Turner LR, Su H, Qiao Z, Tong S (2013b) Is diurnal temperature range a risk factor for childhood diarrhea? PLoS One 8(5):e64713

Yang J, Ou CQ, Ding Y, Zhou YX, Chen PY (2012) Daily temperature and mortality: a study of distributed lag non-linear effect and effect modification in Guangzhou. Environ Health 11:63

Yang J, Liu HZ, Ou CQ, Lin GZ, Zhou Q, Shen GC, Chen PY, Guo Y (2013) Global climate change: impact of diurnal temperature range on mortality in Guangzhou, China. Environ Pollut 175:131–136

Ye X, Wolff R, Yu W, Vaneckova P, Pan X, Tong S (2012) Ambient temperature and morbidity: a review of epidemiological evidence. Environ Health Perspect 120(1):19–28

Yu W, Vaneckova P, Mengersen K, Pan X, Tong S (2010) Is the association between temperature and mortality modified by age, gender and socio-economic status? Sci Total Environ 408(17):3513–3518
Conflict of interest
The authors report no conflict of interest.
Financial support
No source of financial funding.
About this article
Cite this article
Cheng, J., Xu, Z., Zhu, R. et al. Impact of diurnal temperature range on human health: a systematic review. Int J Biometeorol 58, 2011–2024 (2014). https://doi.org/10.1007/s00484-014-0797-5
Received:

Revised:

Accepted:

Published:

Issue Date:
Keywords
Climate change

DTR

Morbidity

Mortality