Abstract
Plants in wild and agricultural settings are being affected by the warmer temperatures associated with climate change. Here we examine the degree to which the iconic New England cranberry, Vaccinium macrocarpon, is exhibiting signs of altered flowering phenology. Using contemporary records from commercial cranberry bogs in southeastern Massachusetts in the United States, we found that cranberry plants are responsive to temperature. Flowering is approximately 2 days earlier for each 1 °C increase in May temperature. We also investigated the relationship between cranberry flowering and flight dates of the bog copper, Lycaena epixanthe—a butterfly dependent upon cranberry plants in its larval stage. Cranberry flowering and bog copper emergence were found to be changing disproportionately over time, suggesting a potential ecological mismatch. The pattern of advanced cranberry flowering over time coupled with increased temperature has implications not only for the relationship between cranberry plants and their insect associates but also for agricultural crops in general and for the commercial cranberry industry.
Access options
Buy single article
Instant access to the full article PDF.
US$ 39.95
Tax calculation will be finalised during checkout.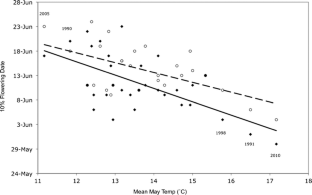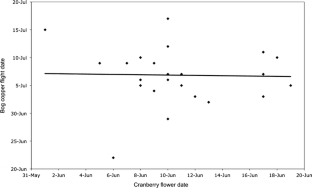 References
Afshar K, Stothers L, Scott H, MacNeily AE (2012) Cranberry juice for the prevention of pediatric urinary tract infection: a randomized controlled trial. J Urol 188(4):1584–1587. doi:10.1016/j.juro.2012.02.031

Altermatt F (2012) Temperature-related shifts in butterfly phenology depend on the habitat. Glob Chang Biol 18(8):2429–2438. doi:10.1111/j.1365-2486.2012.02727.x

Amano T, Smithers RJ, Sparks TH, Sutherland WJ (2010) A 250-year index of first flowering dates and its response to temperature changes. Proc R Soc B Biol Sci 277(1693):2451–2457. doi:10.1098/rspb.2010.0291

Bartomeus I, Ascher JS, Wagner D, Danforth BN, Colla S, Kornbluth S, Winfree R (2011) Climate-associated phenological advances in bee pollinators and bee-pollinated plants. Proc Natl Acad Sci USA 108(51):20645–20649. doi:10.1073/pnas.1115559108

BBCH Working Group (ed) (2001) Growth stages of mono- and dicotyledonous plants. BBCH Monograph, 2nd edn. Federal Biological Research Centre for Agriculture and Forestry, Bonn

Bolmgren K, Vanhoenacker D, Miller-Rushing AJ (2013) One man, 73 years, and 25 species. Evaluating phenological responses using a lifelong study of first flowering dates. Int J Biometeorol 57:367–375. doi:10.1007/s00484-012-0560-8

Bonal R, Muñoz A, María Espelta J (2010) Mismatch between the timing of oviposition and the seasonal optimum. The stochastic phenology of Mediterranean acorn weevils. Ecol Entomol 35(3):270–278

Chmielewski F-M, Muller A, Bruns E (2004) Climate changes and trends in phenology of fruit trees and field crops in Germany, 1961–2000. Agric For Meteorol 121(1):69–78

DeMoranville CJ (2000) Cranberry nutrition and hardiness research. University of Massachusetts Amherst–Cranberry Experiment Station, Amherst

DeMoranville CJ, Davenport JR, Patten K, Roper TR, Strik BC, Vorsa N, Poole AP (1996) Fruit mass development in three cranberry cultivars and five production regions. J Am Soc Hortic Sci 121(4):680–685

Ellwood ER, Temple SA, Primack RB, Bradley NL, Davis CC (2013) Record-breaking early flowering in the Eastern United States. PLOS ONE 8(1):e53788. doi:10.1371/journal.pone.0053788

Fabina NS, Abbott KC, Gilman RT (2010) Sensitivity of plant-pollinator-herbivore communities to changes in phenology. Ecol Model 221(3):453–458. doi:10.1016/j.ecolmodel.2009.10.020

Feldman M, Grenier D (2012) Cranberry proanthocyanidins act in synergy with licochalcone A to reduce Porphyromonas gingivalis growth and virulence properties, and to suppress cytokine secretion by macrophages. J Appl Microbiol 113(2):438–447. doi:10.1111/j.1365-2672.2012.05329.x

Hayhoe K, Wake C, Anderson B, Liang X, Maurer E, Zhu J, Bradbury J, DeGaetano A, Stoner AM, Wuebbles D (2008) Regional climate change projections for the Northeast USA. Mitig Adapt Strateg Glob Chang 13(5–6):425–436

Hegland SJ, Nielsen A, Lazaro A, Bjerknes AL, Totland O (2009) How does climate warming affect plant-pollinator interactions? Ecol Lett 12(2):184–195. doi:10.1111/j.1461-0248.2008.01269.x

IPCC (2007) Climate change 2007: the physical science basis. In: Solomon S, Qin D, Manning M, Chen Z, Marquis M, Averyt KB, Tignor M, Miller HL (eds) Contribution of Working Group I to the Fourth Assessment Report of the Intergovernmental Panel on Climate Change. Cambridge University Press, Cambridge

Keough GR (2011) Massachusetts Cranberries. New England Agricultural Statistics, United States Department of Agriculture, Washington DC

Menzel A, Sparks TH, Estrella N, Koch E, Aasa A, Ahas R, Alm-Kubler K, Bissolli P, Braslavska O, Briede A, Chmielewski FM, Crepinsek Z, Curnel Y, Dahl A, Defila C, Donnelly A, Filella Y, Jatcza K, Mage F, Mestre A, Nordli O, Penuelas J, Pirinen P, Remisova V, Scheifinger H, Striz M, Susnik A, Van Vliet AJH, Wielgolaski FE, Zach S, Zust A (2006) European phenological response to climate change matches the warming pattern. Glob Chang Biol 12(10):1969–1976. doi:10.1111/j.1365-2486.2006.01193.x

Miller-Rushing AJ, Primack RB (2008) Global warming and flowering times in Thoreau's Concord: a community perspective. Ecology 89(2):332–341

Parmesan C, Yohe G (2003) A globally coherent fingerprint of climate change impacts across natural systems. Nature 421(6918):37–42. doi:10.1038/nature01286

Polgar CA, Primack RB, Williams EH, Stichter S, Hitchcock C (2013) Climate effects on the flight period of Lycaenid butterflies in Massachusetts. Biol Conserv 160:25–31

Primack RB (1987) Relationships among flowers, fruits, and seeds. Annu Rev Ecol Syst 18:409–430. doi:10.1146/annurev.ecolsys.18.1.409

Primack D, Imbres C, Primack RB, Miller-Rushing AJ, Del Tredici P (2004) Herbarium specimens demonstrate earlier flowering times in response to warming in Boston. Am J Bot 91(8):1260–1264

Root TL, Price JT, Hall KR, Schneider SH, Rosenzweig C, Pounds JA (2003) Fingerprints of global warming on wild animals and plants. Nature 421(6918):57–60. doi:10.1038/nature01333

Stenseth NC, Mysterud A (2002) Climate, changing phenology, and other life history and traits: nonlinearity and match-mismatch to the environment. Proc Natl Acad Sci USA 99(21):13379–13381. doi:10.1073/pnas.212519399

Studer S, Appenzeller C, Defila C (2005) Inter-annual variability and decadal trends in alpine spring phenology: a multivariate analysis approach. Clim Chang 73(3):395–414

Willis CG, Ruhfel B, Primack RB, Miller-Rushing AJ, Davis CC (2008) Phylogenetic patterns of species loss in Thoreau's woods are driven by climate change. Proc Natl Acad Sci USA 105(44):17029–17033. doi:10.1073/pnas.0806446105

Wolfe DW, Schwartz MD, Lakso AN, Otsuki Y, Pool RM, Shaulis NJ (2005) Climate change and shifts in spring phenology of three horticultural woody perennials in northeastern USA. Int J Biometeorol 49(5):303–309
Acknowledgments
We thank Dr. Frank Caruso and Mr. Domingo Fernandes for generously sharing their records of cranberry flowering. We also thank Caitlin McDonough MacKenzie and two anonymous reviewers for their insightful comments.
About this article
Cite this article
Ellwood, E.R., Playfair, S.R., Polgar, C.A. et al. Cranberry flowering times and climate change in southern Massachusetts. Int J Biometeorol 58, 1693–1697 (2014). https://doi.org/10.1007/s00484-013-0719-y
Received:

Revised:

Accepted:

Published:

Issue Date:
Keywords
Cranberry

Phenology

Climate change

Massachusetts

Vaccinium macrocarpon