Abstract
Leaf out time is a widely used indicator of climate change and represents a critical transition point of annual seasonality in most temperate ecosystems. We compared three sources of data to determine the effect of spring temperature on tree leaf out: field observations, remotely sensed satellite data, and experimental warming. All three methods recorded earlier leaf out with warmer spring temperatures. However, leaf out timing was more than twice as sensitive to temperature in the field study (advancing at a rate of 6.1 days/°C), as under experimental warming (2.1 days/°C), with remote sensing intermediate (3.7 days/°C). Researchers need to be aware of the currently unexplained differences among methodologies when using phenological data to parameterize or benchmark models that represent ecosystem processes. The mechanisms behind these discrepancies must be better understood if we are to confidently predict responses of leaf out timing to future climates.
Access options
Buy single article
Instant access to the full article PDF.
US$ 39.95
Tax calculation will be finalised during checkout.
Subscribe to journal
Immediate online access to all issues from 2019. Subscription will auto renew annually.
US$ 79
Tax calculation will be finalised during checkout.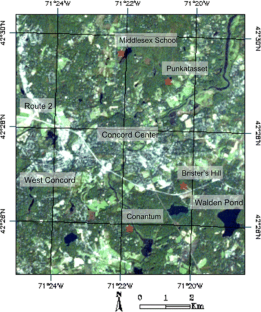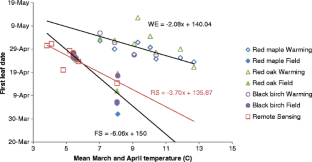 References
Andresen LC, Michelsen A, Ambus P, Beier C (2010) Belowground heathland responses after 2 years of combined warming, elevated CO(2) and summer drought. Biogeochemistry 101:27–42

Beier C, Emmett B, Gundersen P, Tietema A, Penuelas J, Estiarte M, Gordon C, Gorissen A, Llorens L, Roda F, Williams D (2004) Novel approaches to study climate change effects on terrestrial ecosystems in the field: drought and passive nighttime warming. Ecosystems 7:583–597

Bradley NL, Leopold AC, Ross J, Huffaker W (1999) Phenological changes reflect climate change in Wisconsin. Proc Natl Acad Sci USA 96:9701–9704

Chmielewski FM, Rotzer T (2001) Response of tree phenology to climate change across Europe. Agric For Meteorol 108:101–112

Cleland EE, Chuine I, Menzel A, Mooney HA, Schwartz MD (2007) Shifting plant phenology in response to global change. Trends Ecol Evol 22:357–365

Doktor D, Bondeau A, Koslowski D, Badeck FW (2009) Influence of heterogeneous landscapes on computed green-up dates based on daily AVHRR NDVI observations. Remote Sens Environ 113:2618–2632

Estrella N, Sparks TH, Menzel A (2009) Effects of temperature, phase type and timing, location, and human density on plant phenological responses in Europe. Clim Res 39:235–248

Fisher JI, Mustard JF (2007) Cross-scalar satellite phenology from ground, Landsat, and MODIS data. Remote Sens Environ 109:261–273

Fisher JI, Mustard JF, Vadeboncoeur MA (2006) Green leaf phenology at Landsat resolution: scaling from the field to the satellite. Remote Sens Environ 100:265–279

Ganguly S, Friedl MA, Tan B, Zhang XY, Verma M (2010) Land surface phenology from MODIS: characterization of the Collection 5 global land cover dynamics product. Remote Sens Environ 114:1805–1816

Hanninen H, Slaney M, Linder S (2007) Dormancy release of Norway spruce under climatic warming: testing ecophysiological models of bud burst with a whole-tree chamber experiment. Tree Physiol 27:291–300

Hoeppner SS, Dukes JS (2012) Interactive responses of old-field plant growth and composition to warming and precipitation. Glob Chang Biol 18:1754–1768

Huete A, Didan K, Miura T, Rodriguez EP, Gao X, Ferreira LG (2002) Overview of the radiometric and biophysical performance of the MODIS vegetation indices. Remote Sens Environ 83:195–213

Ibanez I, Primack RB, Miller-Rushing AJ, Ellwood E, Higuchi H, Lee SD, Kobori H, Silander JA (2010) Forecasting phenology under global warming. Phil Trans R Soc B Biol Sci 365:3247–3260

Kimball BA, Conley MM, Wang S, Lin X, Luo C, Morgan J, Smith D (2008) Infrared heater arrays for warmingecosystem field plots. Glob Change Biol 14:309–320

Kramer K, Leinonen I, Loustau D (2000) The importance of phenology for the evaluation of impact of climate change on growth of boreal, temperate and Mediterranean forests ecosystems: an overview. Int J Biometeorol 44:67–75

Kross A, Fernandes R, Seaquist J, Beaubien E (2011) The effect of the temporal resolution of NDVI data on season onset dates and trends across Canadian broadleaf forests. Remote Sens Environ 115:1564–1575

Liang LA, Schwartz MD, Fei SL (2011) Validating satellite phenology through intensive ground observation and landscape scaling in a mixed seasonal forest. Remote Sens Environ 115:143–157

Lucht W, Schaaf CB, Strahler AH (2000) An algorithm for the retrieval of albedo from space using semiempirical BRDF models. IEEE Trans Geosci Remote Sens 38:977–998

Menzel A (2000) Trends in phenological phases in Europe between 1951 and 1996. Int J Biometeorol 44:76–81

Menzel A, Fabian P (1999) Growing season extended in Europe. Nature 397:659

Menzel A, Sparks TH, Estrella N, Koch E, Aasa A, Ahas R, Alm-Kubler K, Bissolli P, Braslavska O, Briede A, Chmielewski FM, Crepinsek Z, Curnel Y, Dahl A, Defila C, Donnelly A, Filella Y, Jatcza K, Mage F, Mestre A, Nordli O, Penuelas J, Pirinen P, Remisova V, Scheifinger H, Striz M, Susnik A, Van Vliet AJH, Wielgolaski FE, Zach S, Zust A (2006) European phenological response to climate change matches the warming pattern. Glob Chang Biol 12:1969–1976

Miller-Rushing AJ, Primack RB (2008) Global warming and flowering times in Thoreau's concord: a community perspective. Ecology 89:332–341

Morin X, Roy J, Sonie L, Chuine I (2010) Changes in leaf phenology of three European oak species in response to experimental climate change. New Phytol 186:900–910

Parmesan C (2006) Ecological and evolutionary responses to recent climate change. Annu Rev Ecol Evol Syst 37:637–669

Piao SL, Ciais P, Friedlingstein P, Peylin P, Reichstein M, Luyssaert S, Margolis H, Fang JY, Barr A, Chen AP, Grelle A, Hollinger DY, Laurila T, Lindroth A, Richardson AD, Vesala T (2008) Net carbon dioxide losses of northern ecosystems in response to autumn warming. Nature 451:49–U43

Polgar CA, Primack RB (2011) Leaf-out phenology of temperate woody plants: from trees to ecosystems. New Phytol 191:926–941

Pouliot D, Latifovic R, Fernandes R, Olthof I (2011) Evaluation of compositing period and AVHRR and MERIS combination for improvement of spring phenology detection in deciduous forests. Remote Sens Environ 115:158–166

Richardson AD, Anderson RS, Arain MA, Barr AG, Bohrer G, Chen GS, Chen JM, Ciais P, Davis KJ, Desai AR, Dietze MC, Dragoni D, Garrity SR, Gough CM, Grant R, Hollinger DY, Margolis HA, McCaughey H, Migliavacca M, Monson RK, Munger JW, Poulter B, Raczka BM, Ricciuto DM, Sahoo AK, Schaefer K, Tian HQ, Vargas R, Verbeeck H, Xiao JF, Xue YK (2012) Terrestrial biosphere models need better representation of vegetation phenology: results from the North American Carbon Program Site Synthesis. Glob Chang Biol 18:566–584

Schaaf CB, Gao F, Strahler AH, Lucht W, Li XW, Tsang T, Strugnell NC, Zhang XY, Jin YF, Muller JP, Lewis P, Barnsley M, Hobson P, Disney M, Roberts G, Dunderdale M, Doll C, d'Entremont RP, Hu BX, Liang SL, Privette JL, Roy D (2002) First operational BRDF, albedo nadir reflectance products from MODIS. Remote Sens Environ 83:135–148

Schaaf CB, Martonchick J, Pinty B, Govaerts Y, Gao F, Lattanzio A, Liu J, Strahler AH, Taberner M (2008) Retrieval of surface Albedo from satellite sensors. In: Liang S (ed) Advances in land remote sensing: system, modeling, inversion and application. Springer, New York, pp 219–243

Schaaf CB, Liu J, Gao F, Strahler AH (2011) MODIS Albedo and reflectance anisotropy products from Aqua and Terra. In: Land remote sensing and global environmental change: NASA's Earth observing system and the science of ASTER and MODIS. In: Ramachandran B, Justice C, Abrams M (eds) Remote sensing and digital image processing series. Springer, New York, pp 873

Shuai Y, Schaaf CB, Zhang XY, Strahler AH, Roy D, Morisette JT, Wang Z, Nightingale J, Nickeson J, Richardson AD, Xie D, Wang J, Li XW, Strabala K, Davies JE (2013) Daily MODIS 500 m reflectance anisotropy direct broadcast (DB)products for monitoring vegetation phenology dynamics. Int J Remote Sens 34:5997–6016

Sparks TH, Menzel A, Stenseth NC (2009) European cooperation in plant phenology. Clim Res 39:175–177

Studer S, Stockli R, Appenzeller C, Vidale PL (2007) A comparative study of satellite and ground-based phenology. Int J Biometeorol 51:405–414

Suseela V, Conant RT, Wallenstein MD, Dukes JS (2012) Effects of soil moisture on the temperature sensitivity of heterotrophic respiration vary seasonally in an old-field climate change experiment. Glob Chang Biol 18:336–348

Wang Z, Schaaf CB, Chopping MJ, Strahler AH, Wang J, Roman MO, Rocha AV, Woodcock CE,Shuai Y (2012) Evaluation of Moderate-resolution Imaging Spectroradiometer (MODIS) snow albedo product (MCD43A) over tundra. Remote Sens Environ 117:264–280

Wolkovich EM, Cook BI, Allen JM, Crimmins TM, Betancourt JL, Travers SE, Pau S, Regetz J, Davies TJ, Kraft NJB, Ault TR, Bolmgren K, Mazer SJ, McCabe GJ, McGill BJ, Parmesan C, Salamin N, Schwartz MD, Cleland EE (2012) Warming experiments underpredict plant phenological responses to climate change. Nature 485:494–497

Zhang X, Friedl MA, Schaaf CB, Strahler AH, Hodges JCF, Gao F, Reed BC, Huete A (2003) Monitoring vegetation phenology using MODIS. Remote Sens Environ 84:471–475

Zhang XY, Friedl MA, Schaaf CB, Strahler AH (2004) Climate controls on vegetation phenological patterns in northern mid- and high latitudes inferred from MODIS data. Glob Chang Biol 10:1133–1145

Zhang XY, Friedl MA, Schaaf CB (2006) Global vegetation phenology from Moderate Resolution Imaging Spectroradiometer (MODIS): evaluation of global patterns and comparison with in situ measurements. J Geophys Res Biogeosci 111:G04017. doi:10.1029/2006JG000217
Acknowledgments
Funding came from Boston University; Purdue University; University of Massachusetts, Boston; National Aeronautic and Space Administration (NASA) MODIS NNX11AD58G; the National Science Foundation (DEB-0546670); and the United States Department of Energy's Office of Science (Biological and Environmental Research), through the Northeastern Regional Center of the National Institute for Climate Change Research. C. Goranson and H. Emery provided technical support at BACE. A. Miller-Rushing, I. Ibanez, E. Wolkovich, and P. Templer provided comments. We would like to thank several anonymous reviewers for their helpful comments.
About this article
Cite this article
Polgar, C.A., Primack, R.B., Dukes, J.S. et al. Tree leaf out response to temperature: comparing field observations, remote sensing, and a warming experiment. Int J Biometeorol 58, 1251–1257 (2014). https://doi.org/10.1007/s00484-013-0718-z
Received:

Revised:

Accepted:

Published:

Issue Date:
Keywords
Phenology

Remote sensing

Climate change

Experimental warming

Boston-Area Climate Experiment

Budburst