Abstract
Several studies show a peak in suicide rates during springtime and suggest differences in the seasonal variation of suicides. However, the seasonal distribution of the temperature impact on suicide is less clear. This study investigated the relationship between diurnal temperature range (DTR) on suicide mortality. Daily temperature and suicide data for Helsinki were analyzed for the period of 1973–2010 inclusive. Overall, DTR reached its maximum during the spring from mid-April to mid-June, which is also the season with highest suicide mortality in the study region. Specifically, the seasonal timing and maxima for both DTR and suicides vary from year to year. Time series analysis of DTR and suicide records revealed a significant (P < 0.01) correlation between the springtime DTR maxima and suicide rates for males. No similar association could be found for females. These results provide evidence that a higher springtime DTR could be linked statistically to a higher seasonal suicide rate each spring, whereas the exact timing of the DTR peak did not associate with the seasonal suicide rate. A possible mechanism behind the springtime association between the DTR and suicides originates from brown adipose tissue (BAT) over-activity. Activation of BAT through the winter improves cold tolerance at the cost of heat tolerance. This might trigger anxiety and psychomotor agitation, affecting mood in a negative way. As a hypothesis, the compromised heat tolerance is suggested to increase the risk of death from suicide.
Access options
Buy single article
Instant access to the full article PDF.
US$ 39.95
Tax calculation will be finalised during checkout.
Subscribe to journal
Immediate online access to all issues from 2019. Subscription will auto renew annually.
US$ 79
Tax calculation will be finalised during checkout.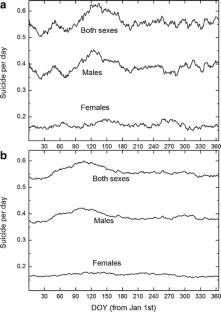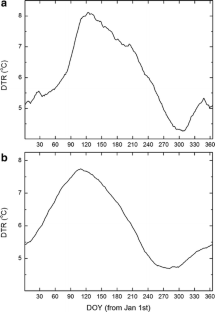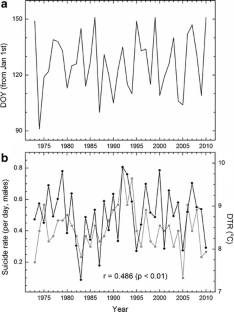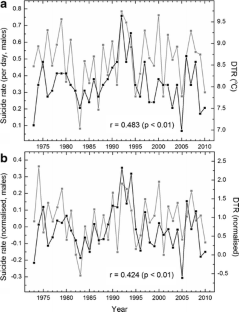 References
Ajdacic-Gross V, Lauber C, Sansossio R, Bopp M, Eich D, Gostynski M, Gutzwiller F, Rössler W (2007) Seasonal associations between weather conditions and suicide—evidence against a classic hypothesis. Am J Epidemiol 165(5):561–569

Avery DH, Wildschiødtz G, Rafaelsen OJ (1982) Nocturnal temperature in affective disorder. J Affect Disord 4(1):61–71

Avery DH, Shah SH, Eder DN, Wildschiødtz G (1999) Nocturnal sweating and temperature in depression. Acta Psychiatr Scand 100(4):295–301

Caroff S, Koenig R, Winokur A, Amsterdam J, Puglia C (1981) Acute metabolic response to cold exposure in unipolar and bipolar II patients. Biol Psychiatry 16(10):919–929

Chishti P, Stone DH, Corcoran P, Williamson E, Petridou E (2003) Suicide mortality in the European Union. Eur J Public Health 13:108–114

Christodoulou C, Douzenis A, Papadopoulos FC, Papadopoulou A, Bouras G, Gournellis R, Lykouras L (2012) Suicide and seasonality. Acta Psychiatr Scand 125(2):127–146

Deisenhammer EA (2003) Weather and suicide: the present state of knowledge on the association of meteorological factors with suicidal behaviour. Acta Psychiatr Scand 108(6):402–409

Dixon KW, Shulman MD (1983) A statistical investigation into the relationship between meteorological parameters and suicide. Int J Biometeorol 27(2):93–105

Elithorn A, Bridges PK, Lobban MC, Tredre BE (1966) Observations on some diurnal rhythms in depressive illness. Br Med J 2(5530):1620–1623

Enerbäck S (2010) Human brown adipose tissue. Cell Metab 11:248–252

European Commission (2013) Death due to suicide, by sex. http://epp.eurostat.ec.europa.eu/portal/page/portal/product_details/dataset?p_product_code=TPS00122 [Accessed 7 February 2013]

Finnish Medicines Agency Fimea and Social Insurance Institution (2011) Finnish statistics on medicines 2009. Juvens Print—Tampereen yliopistopaino Oy, Tampere

Gilsanz V, Hu HH, Kajimura S (2013) Relevance of brown adipose tissue in infancy and adolescence. Pediatr Res 73(1):3–9

Hakko H, Räsänen P, Tiihonen J (1998) Secular trends in the rates and seasonality of violent and nonviolent suicide occurrences in Finland during 1980–95. J Affect Disord 50:49–54

Hall WD, Mant A, Mitchell PB, Rendle VA, Hickie IB, McManus P (2003) Association between antidepressant prescribing and suicide in Australia, 1991–2000: trend analysis. BMJ 326:1008–1011

Haukka J, Suominen K, Partonen T, Lönnqvist J (2008) Determinants and outcomes of serious attempted suicide: a nationwide study in Finland, 1996–2003. Am J Epidemiol 167(10):1155–1163

Hawton K, van Heeringen K (2009) Suicide. Lancet 373:1372–1381

Helama S, Holopainen J, Partonen T (2013) Temperature-associated suicide mortality: contrasting roles of climatic warming and the suicide prevention program in Finland. Environ Health Prev Med. doi:10.1007/s12199-013-0329-7

Hiltunen L, Ruuhela R, Ostamo A, Lönnqvist J, Suominen K, Partonen T (2012) Atmospheric pressure and suicide attempts in Helsinki, Finland. Int J Biometeorol 56(6):1045–1053

Holopainen J, Helama S, Björkenstam C, Partonen T (2013) Variation and seasonal patterns of suicide mortality in Finland and Sweden since the 1750s. Environ Health Prev Med (in press)

Huttunen P, Kortelainen ML (1990) Long-term alcohol consumption and brown adipose tissue in man. Eur J Appl Physiol 60:418–424

Intergovernmental Panel on Climate Change (IPCC) (2007) The Physical Science Basis. Contribution of Working Group I to the Fourth Assessment Report of the Intergovern-mental Panel on Climate Change. http://www.ipcc-wg1.unibe.ch/publications/wg1-ar4/wg1-ar4.html [accessed 7 February 2013]

Kim Y, Kim H, Kim DS (2011) Association between daily environmental temperature and suicide mortality in Korea (2001–2005). Psychiatry Res 186:390–396

Koskinen O, Pukkila K, Hakko H, Tiihonen J, Väisänen E, Särkioja T, Räsänen P (2002) Is occupation relevant in suicide? J Affect Disord 70:197–203

Kupfer DJ, Frank E, Phillips ML (2012) Major depressive disorder: new clinical, neurobiological, and treatment perspectives. Lancet 379(9820):1045–1055

Lahti A, Räsänen P, Karvonen K, Särkioja T, Meyer-Rochow VB, Hakko H (2006) Autumn peak in shooting suicides of children and adolescents from Northern Finland. Neuropsychobiology 54:140–146

Lambert GW, Reid C, Kaye DM, Jennings GL, Esler MD (2002) Effect of sunlight and season on serotonin turnover in the brain. Lancet 360:1840–1842

Lin H-C, Chen C-H, Xirasagar S, Lee H-C (2008) Seasonality and climatic associations with violent and nonviolent suicide: a population based study. Neuropsychobiology 57:32–37

Linkowski P, Martin F, De Maertelaer V (1992) Effect of some climatic factors on violent and non-violent suicides in Belgium. J Affect Disord 25:161–166

Maes M, De Mayer F, Thompson P, Peeters D, Cosyns P (1994) Synchronized annual rhythms in violent suicide rate, ambient temperature and the light–dark span. Acta Psychiatr Scand 90:391–396

Ootsuka Y, Blessing WW (2006) Thermogenesis in brown adipose tissue: increase by 5-HT2A receptor activation and decrease by 5-HT1A receptor activation in conscious rats. Neurosci Lett 395(2):170–174

Ootsuka Y, Blessing WW, Nalivaiko E (2008) Selective blockade of 5-HT2A receptors attenuates the increased temperature response in brown adipose tissue to restraint stress in rats. Stress 11(2):125–133

Page LA, Hajat S, Kovats RS (2007) Relationship between daily suicide counts and temperature in England and Wales. Br J Psychiatry 191:106–112

Pandey GN, Dwivedi Y, Rizavi HS, Ren X, Pandey SC, Pesold C, Roberts RC, Conley RR, Tamminga CA (2002) Higher expression of serotonin 5-HT2A receptors in the postmortem brains of teenage suicide victims. Am J Psychiatry 159:419–429

Partonen T, Haukka J, Viilo K, Hakko H, Pirkola S, Isometsä E, Lönnqvist J, Särkioja T, Väisänen E, Räsänen P (2004) Cyclic time patterns of death from suicide in northern Finland. J Affect Disord 78:11–19

Petridou E, Papadopoulos FC, Frangakis CE, Skalkidou A, Trichopoulos D (2002) A role of sunshine in the triggering of suicide. Epidemiology 13:106–109

Pfannenberg C, Werner MK, Ripkens S, Stef I, Deckert A, Schmadl M, Reimold M, Häring HU, Claussen CD, Stefan N (2010) Impact of age on the relationships of brown adipose tissue with sex and adiposity in humans. Diabetes 59:1789–1793

Preti A (1998) The influence of climate on suicidal behaviour in Italy. Psychiatry Res 78:9–19

Preti A, Miotto P (1998) Seasonality in suicides: the influence of suicide method, gender and age on suicide distribution in Italy. Psychiatry Res 81:219–231

Salib E, Gray N (1997) Weather conditions and fatal self-harm in North Cheshire 1989–1993. Br J Psychiatry 171:473–477

Ruuhela R, Hiltunen L, Venäläinen A, Pirinen P, Partonen T (2009) Climate impact on suicides rates in Finland from 1971 to 2003. Int J Biometeorol 53:167–175

Räsänen P, Hakko H, Jokelainen J, Tiihonen J (2002) Seasonal variation in specific methods of suicide: a national register study of 20,234 Finnish people. J Affect Disord 71:51–59

Shayit M, Yadid G, Overstreet DH, Weller A (2003) 5-HT(1A) receptor subsensitivity in infancy and supersensitivity in adulthood in an animal model of depression. Brain Res 980(1):100–108

Souêtre E, Salvati E, Belugou JL, Douillet P, Braccini T, Darcourt G (1987) Seasonality of suicides: environmental, sociological and biological covariations. J Affect Disord 13(3):215–225

Souêtre E, Salvati E, Belugou JL, Pringuey D, Candito M, Krebs B, Ardisson JL, Darcourt G (1989) Circadian rhythms in depression and recovery: evidence for blunted amplitude as the main chronobiological abnormality. Psychiatry Res 28(3):263–278

Souêtre E, Wehr TA, Douillet P, Darcourt G (1990) Influence of environmental factors on suicidal behavior. Psychiatry Res 32(3):253–263

Turecki G, Brière R, Dewar K, Antonetti T, Lesage AD, Phil M, Séguin M, Chawky N, Vanier C, Alda M, Joober R, Benkelfat C, Rouleau GA (1999) Prediction of level of serotonin 2A receptor binding by serotonin receptor 2A genetic variation in postmortem brain samples from subjects who did or did not commit suicide. Am J Psychiatry 156:1456–1458

Tsai J, Cho W (2012) Temperature change dominates the suicidal seasonality in Taiwan: A time-series analysis. J Affect Disord 136:412–418

Wang PS, Angermeyer M, Borges G, Bruffaerts R, Tat Chiu W, de Girolamo G, Fayyad J, Gureje O, Haro JM, Huang Y, Kessler RC, Kovess V, Levinson D, Nakane Y, Oakley Brown MA, Ormel JH, Posada-Villa J, Aguilar-Gaxiola S, Alonso J, Lee S, Heeringa S, Pennell BE, Chatterji S, Ustün TB (2007) Delay and failure in treatment seeking after first onset of mental disorders in the World Health Organization's World Mental Health Survey Initiative. World Psychiatry 6(3):177–185

WHO (World Health Organization) (2013) Suicide prevention (SUPRE). http://www.who.int/mental_health/prevention/suicide/suicideprevent/en/index.html [accessed 7 February 2013].

Zhang G, Tao R (2011) Enhanced responsivity of 5-HT(2A) receptors at warm ambient temperatures is responsible for the augmentation of the 1-(2,5-dimethoxy-4-iodophenyl)-2-aminopropane (DOI)-induced hyperthermia. Neurosci Lett 490(1):68–71
Acknowledgments
We thank Reija Ruuhela from Finnish Meteorological Institute comments and meteorological data. We are also grateful to the two anonymous referees for comments that considerably improved this manuscript. Both authors gratefully acknowledge the support of the Kone Foundation (post-doctoral grant to J.H.) and the Academy of Finland (grant 251441 to S.H.).
About this article
Cite this article
Holopainen, J., Helama, S. & Partonen, T. Does diurnal temperature range influence seasonal suicide mortality? Assessment of daily data of the Helsinki metropolitan area from 1973 to 2010. Int J Biometeorol 58, 1039–1045 (2014). https://doi.org/10.1007/s00484-013-0689-0
Received:

Revised:

Accepted:

Published:

Issue Date:
Keywords
Suicidology

Thermal stress

Climate change

Weather

Finland