Abstract
Studies in temperate countries have shown that both hot weather in summer and cold weather in winter increase short-term (daily) mortality. The gradual warming, decade on decade, that Australia has experienced since the 1960s, might therefore be expected to have differentially affected mortality in the two seasons, and thus indicate an early impact of climate change on human health. Failure to detect such a signal would challenge the widespread assumption that the effect of weather on mortality implies a similar effect of a change from the present to projected future climate. We examine the ratio of summer to winter deaths against a background of rising average annual temperatures over four decades: the ratio has increased from 0.71 to 0.86 since 1968. The same trend, albeit of varying strength, is evident in all states of Australia, in four age groups (aged 55 years and above) and in both sexes. Analysis of cause-specific mortality suggests that the change has so far been driven more by reduced winter mortality than by increased summer mortality. Furthermore, comparisons of this seasonal mortality ratio calculated in the warmest subsets of seasons in each decade, with that calculated in the coldest seasons, show that particularly warm annual conditions, which mimic the expected temperatures of future climate change, increase the likelihood of higher ratios (approaching 1:1). Overall, our results indicate that gradual climate change, as well as short-term weather variations, affect patterns of mortality.
Access options
Buy single article
Instant access to the full article PDF.
US$ 39.95
Tax calculation will be finalised during checkout.
Subscribe to journal
Immediate online access to all issues from 2019. Subscription will auto renew annually.
US$ 79
Tax calculation will be finalised during checkout.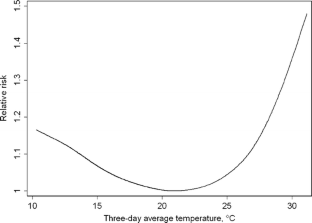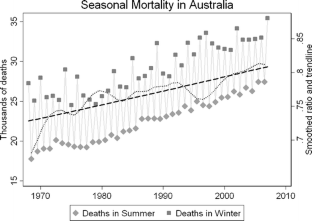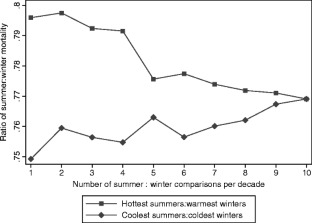 References
Analitis A, Katsouyanni K, Biggeri A, Baccini M, Forsberg B, Bisanti L, Kirchmayer U, Ballester F, Cadum E, Goodman P, Hojs A, Sunyer J, Tittanen P, Michelozzi P (2008) Effects of cold weather on mortality: results from 15 European Cities Within the PHEWE Project. Am J Epidemiol 168:1397–1408

Bambrick H, Dear K, Woodruff R, Hanigan I, McMichael A (2008) The impacts of climate change on three health outcomes: temperature-related mortality and hospitalisations, salmonellosis and other bacterial gastroenteritis, and population at risk from dengue. Garnaut Climate Change Review, Canberra

Basu R, Malig B (2011) High ambient temperature and mortality in California: Exploring the roles of age, disease and mortality displacement. Environ Res 111:1286–1292

Basu R, Samet JM (2002) Relation between elevated ambient temperature and mortality: a review of the epidemiological evidence. Epidemiol Rev 24:190–202

Braga ALF, Zanobetti A, Schwartz J (2001) The time course of weather-related deaths. Epidemiology 12:662–667

Bureau of Meteorology, CSIRO (2010) State of the Climate. Australian Government Bureau of Meteorology & Commonwealth Scientific and Industrial Research Organisation, Melbourne

Cameron AS, Roder DM, Esterman AJ, Moore BW (1985) Mortality from influenza and allied infections in South Australia during 1968–1981. Med J Aust 142:14–17

Carson C, Hajat S, Armstrong B, Wilkinson P (2006) Declining vulnerability to temperature-related mortality in London over the 20th Century. Am J Epidemiol 164:77–84

CSIRO and Bureau of Meterology (2007) Climate change in Australia: Technical Report 2007. Melbourne: CSIRO, BoM. http://www.climatechangeinaustralia.gov.au.

Davis RE, Knappenberger PC, Michaels PJ, Novicoff WM (2003a) Changing heat-related mortality in the United States. Environ Health Perspect 111:1712–1718

Davis RE, Knappenberger PC, Michaels PJ, Novicoff WM (2004) Seasonality of climate-human mortality relationships in US cities and impacts of climate change. Clim Res 26:61–76

Davis RE, Knappenberger PC, Novicoff WM, Michaels PJ (2003b) Decadal changes in summer mortality in US cities. Int J Biometeorol 47:166–175

Gemmell I, McLoone P, Boddy FA, Dickinson GJ, Watt GCM (2000) Seasonal variation in mortality in Scotland. Int J Epidemiol 29:274–279

Gosling SN, Lowe JA, McGregor GR, Pelling M, Malamud BD (2009) Associations between elevated atmospheric temperature and human mortality: a critical review of the literature. Clim Chang 92:299–341

Guest CS, Willson K, Woodward AJ, Hennessy K, Kalkstein LS, Skinner C, McMichael AJ (1999) Climate and mortality in Australia: retrospective study, 1979–1990, and predicted impacts in five major cities in 2030. Clim Res 13:1–15

Ha J, Kim H, Hajat S (2011) Effect of previous-winter mortality on the association between summer temperature and mortality in South Korea. Environ Health Perspect 119:542–546

Hajat S, Armstrong BG, Gouveia N, Wilkinson P (2005) Mortality displacement of heat-related deaths: a comparison of Delhi, Sao Paulo, and London. Epidemiology 16:613–620

Hansen AL, Bi P, Ryan P, Nitschke M, Pisaniello D, Tucker G (2008) The effect of heat waves on hospital admissions for renal disease in a temperate city of Australia. Int J Epidemiol 37:1359–1365

Kalkstein LS, Greene JS (1997) An evaluation of climate/mortality relationships in large U.S. cities and the possible impacts of a climate change. Environ Health Perspect 105:84–93

Kysely J (2004) Mortality and displaced mortality during heat waves in the Czech Republic. Int J Biometeorol 49:91–97

Lerchl A (1998) Changes in the seasonality of mortality in Germany from 1946 to 1995: the role of temperature. Int J Biometeorol 42:84–88

McGregor GR, Watkin HA, Cox M (2004) Relationships between the seasonality of temperature and ischaemic heart disease mortality: implications for climate based health forecasting. Clim Res 25:253–263

McMichael AJ, Wilkinson P, Kovats RS, Pattenden S, Hajat S, Armstrong B, Vajanapoom N, Niciu EM, Mahomed H, Kingkeow C, Kosnik M, O'Neill MS, Romieu I, Ramirez-Aguilar M, Barreto ML, Gouveia N, Nikiforov B (2008) International study of temperature, heat and urban mortality: the 'ISOTHURM' project. Int J Epidemiol 37:1121–1131

McMichael AJ, Woodruff RE, Whetton P, Hennessy K, Nicholls N, Hales S, Woodward A, Kjellstrom T (2003) Human health and climate change in Oceania: a risk assessment 2002. Commonwealth Department of Health and Ageing, Canberra

Medina-Ramon M, Schwartz J (2007) Temperature, temperature extremes, and mortality; a study of acclimatisation and effect modification in 50 US cities. Occup Environ Med 64:827–833

Nicholls N (2009) Estimating changes in mortality due to climate change. Clim Chang 97:313–320

Nitschke M, Tucker GR, Hansen AL, Williams S, Zhang Y, Bi P (2011) Impact of two recent extreme heat episodes on morbidity and mortality in Adelaide, South Australia: a case-series analysis. Environ Health 10:42

Rocklov J, Forsberg B, Meister K (2009) Winter mortality modifies the heat-mortality association the following summer. Eur Respir J 33:245–251

Toulemon L, Barbieri M (2008) The mortality impact of the August 2003 heat wave in France: investigating the 'harvesting' effect and other long-term consequences. Popul Stud 62:39–53

Wilkinson P, Pattenden S, Armstrong B, Fletcher A, Kovats RS, Mangtani P, McMichael AJ (2004) Vulnerability to winter mortality in elderly people in Britain: population based study. BMJ 329:647
Acknowledgements
C.M.B. and A.J.M. were supported by National Health and Medical Research Council Australia Fellowship 0418141. This work was also supported by National Health and Medical Research Council Project Grant 585408.
About this article
Cite this article
Bennett, C.M., Dear, K.B.G. & McMichael, A.J. Shifts in the seasonal distribution of deaths in Australia, 1968–2007. Int J Biometeorol 58, 835–842 (2014). https://doi.org/10.1007/s00484-013-0663-x
Received:

Revised:

Accepted:

Published:

Issue Date:
Keywords
Temperature

Mortality

Climate change

Season

Poisson modelling

Mortality ratio