Abstract
The phenological responses to climate of residents and migrants (short- and long-distance) differ. Although few previous studies have focussed on this topic, the agree that changes in phenology are more apparent for residents than for long-distance migrants. We analysed the breeding times of two selected residents (Sitta europaea, Parus major) and one long-distance migrant (Ficedula albicollis) from 1961 to 2007 in central Europe. The timing of the phenophases of all three bird species showed a significant advance to earlier times. Nevertheless, the most marked shift was observed for the long-distance migrant (1.9 days per decade on average in mean laying date with linearity at the 99.9 % confidence level). In contrast, the shifts shown by the residents were smaller (1.6 days for S. europaea and 1.5 days for P. major also on average in mean laying date for both, with linearity at the 95 % confidence level). Spearman rank correlation coefficients calculated for pairs of phenophases of given bird species in 20-year subsamples (e.g. 1961–1980, 1962–1981) showed higher phenological separation between the residents and the migrant. This separation is most apparent after the 1980s. Thus, our results indicate that the interconnections between the studied phenological stages of the three bird species are becoming weaker.
Access options
Buy single article
Instant access to the full article PDF.
US$ 39.95
Tax calculation will be finalised during checkout.
Subscribe to journal
Immediate online access to all issues from 2019. Subscription will auto renew annually.
US$ 79
Tax calculation will be finalised during checkout.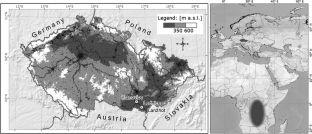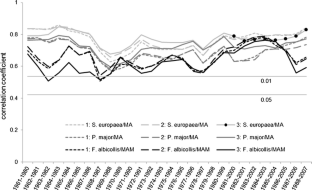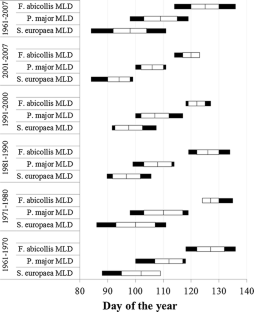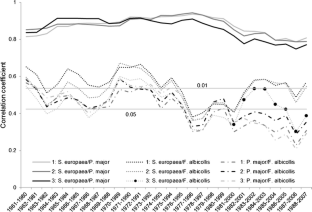 References
Ahola M, Laaksonen T, Sippola K, Eeva T, Rainio K, Lehikoinen E (2004) Variation in climate warming along the migration route uncouples arrival and breeding dates. Global Change Biol 10:1610–1617

Bauer Z, Trnka M, Bauerová J, Možný M, Štěpánek P, Bartošová L, Žalud Z (2010) Changing climate and the phenological response of Great Tit and Collared Flycatcher populations in floodplain forest ecosystems in Central Europe. Int J Biometeorol 54:99–111

Both C, Artemyev AV, Blaauw B et al (2004) Large-scale geographical variation confirms that climate change causes birds to lay earlier. Proc R Soc Lond B 271:1657–1662

Both C, Bouwhuis S, Lessells CM, Visser ME (2006) Climate change and population declines in a long-distance migratory bird. Nature 441:81–83

Both C, Visser M (2001) Adjustment to climate change is constrained by arrival date in a long-distance migrant bird. Nature 411:296–298

Both C, Van Turnhout CAM, Bijlsma RG, Siepel H, Van Strien AJ, Foppen RPB (2010)Avian population consequences of climate change are most severe for long-distance migrants in seasonal habitats. Proc R Soc B 277:1259–1266

Brommer JE, Merilä J, Sheldon BC, Gustafsson L (2005) Natural selection and genetic variation for reproductive reaction norms in a wild bird population. Evolution 59:1362–1371

Bures S (1986) Composition of the diet and trophic ecology of the Collared flycatcher (Ficedula albicollis albicollis) in 3 segments of groups of types of forest geobiocenoses in central Moravia (Czechoslovakia). Folia Zool 35:143–155

Cepák J, Klvaňa P, Škopek J, Schropfer L, Jelinek M, Hořak D, Formanek J, Zarybnicky J (eds) (2008) Atlas migrace ptáků ČR a SR. Aventinum, Prague

Cresswell W, McCleery R (2003) How great tits maintain synchronization of their hatch date with food supply in response to long-term variability in tempera-ture. J Anim Ecol 72:356–366

Crick HQP, Sparks TH (1999) Climate change related to egg-laying trends. Nature 399:423–424

Dobrovolný P, Moberg A, Brázdil R, Pfister C, Glaser R, Wilson R, van Engelen A, Limanówka D, Kiss A, Halíčková M, Macková J, Riemann D, Luterbacher J, Bӧhm R (2010) Monthly, seasonal and annual temperature reconstructions for Central Europe derived from documentary evidence and instrumental records since AD 1500. Clim Chang 101:69–107

Gibbons JD (1985) Nonparametric statistical inference, 2nd edn. Dekker, New York

Goodenough AE, Hart AG, Elliot SL (2011) What prevents phenological adjustment to climate change in migrant bird species? Evidence against the "arrival constraint"hypothesis. Int J Biometeorol 55:97–102

Jenkins D, Sparks TH (2010) The changing bird phenology of mid-Deeside, Scotland 1974–2010. Bird Study 57:407–414

Jones T, Cresswell W (2010) The phenology mismatch hypothesis: are declines of migrant birds linked to uneven global change? J Anim Ecol 79:98–108

Jonzén N, Linden A, Ergon T, Knudsen E, Vik JO et al (2006) Rapid advance of spring arrival dates in long-distance migratory birds. Science 312:1959–1961

Laaksonen T, Ahola M, Eeva T, Väisänen RA, Lehikoinen E (2006) Climate change, migratory connectivity and changes in laying date and clutch size of the Pied Flycatcher. Oikos 114:277–290

Leech DI, Crick HQP (2007) Influence of climate change on the abundance, distribution and phenology of woodland bird species in temperate regions. IBIS 149(s2):128–145

Lehikoinen E, Sparks TH, Zalakevicius M (2004) Arrival and departure dates. Adv Ecol Res 35:1–31

Matthysen E, Schmidt KH (1987) Natal dispersal in the Nuthatch. Ornis Scandinavica 18:313–316

Metzger MJ, Bunce RGH, Jongman RHG, Mücher CA, Watkins JW (2005) A climatic stratification of the environment of Europe. Glob Ecol Biogeogr 14:549–563

Palm V, Leito A, Truu J, Tomingas O (2009) The spring timing of arrival of migratory birds: dependence on chmate variables and migration route. OrnisFennica 86:97–108

Raušer J, Zlatník A (1966) Biogeografie I (in Czech). Separát z Atlasu Československé socialistické republiky, Prague

Rosenzweig C, Karoly D, Vicarelli M, Neofotis P, Wu Q, Casassa G, Menzel A, Root TL, Estrella N, Seguin B, Tryjanowski P, Liu C, Rawlins S, Imeson A (2008) Attributing physical and biological impacts to anthropogenic climate change. Nature 453:353–357

Rubolini D, Møller AP, Rainio K, Lehikoinen E (2007) Intraspecific consistency and geographic variability in temporal trends of spring migration phenology among European bird species. Clim Res 35:135–146

Rubolini D, Saino M, Moller AP (2010) Migratory behavior constrains the phenological response of birds to climate change. Clim Res 42:45–55

Sanz JJ, Potti J, Moreno J, Merino S, Frias O (2003) Climate change and fitness components of a migratory bird breeding in the Mediterranean region. Global Change Biol 9:461–472

Sparks TH, Aasa A, Huber K, Wadsworth R (2009) Changes and patterns in biologically relevant temperatures in Europe 1941–2000. Clim Res 39:191–207

Štěpánek P (2007) ProCLIm DB – software for processing climatological datasets, CHMI, regional office Brno, http://www.climahom.eu/ProcData.html

Štěpánek P, Zahradníček P, Skalák P (2009) Data quality control and homogenization of air temperature and precipitation series in the area of the Czech Republic in the period 1961–2007. Adv Scie Res 3:23–26, http://www.adv-sci-res.net/3/23/2009/

Tryjanowski P, Kuzniak S, Sparks TH (2005) What affects the magnitude of change in first arrival dates of migrant birds? J Ornithol 146:200–205

Visser ME, van Noordwijk AJ, Tinbergen JM, Lessells CM (1998) Warmer springs lead to mistimed reproduction in great tits (Parus major). Proc R Soc B 265:1867–1870

Visser ME, Adriaensen F, Balen JH et al (2003) Variable responses to large-scale climate change in European Parus populations. Proc R Soc Lond B 270:367–372

Visser ME, Both C, Lambrechts MM (2004) Global climate change leads to mistimed avian reproduction. Adv Ecol Res 35:89–110

Visser ME, Both C (2005) Shifts in phenology due to global climate change: the need for yardstick. Proc R Soc B: Biol Sci 272:2561–2569

Visser ME (2008) Keeping up with a warming world; assessing the rate of adaptation to climate change. Proc R Soc B 275:649–659

Wesołowski T, Cholewa M (2009) Climate variation and bird breeding seasons in a primeval temperate forest. Clim Res 38:199–208
Acknowledgments
This paper is a contribution from the two projects of the Operational Programme of Education for Competitiveness of the Ministry of Education, Youth and Sports of the Czech Republic: contract no. CZ.1.07/2.4.00/31.0056, contract no. CZ.1.07/2.3.00/20.0248. In addition, we gratefully acknowledge the support of KONTAKT LH2110011.
About this article
Cite this article
Bartošová, L., Trnka, M., Bauer, Z. et al. Phenological differences among selected residents and long-distance migrant bird species in central Europe. Int J Biometeorol 58, 809–817 (2014). https://doi.org/10.1007/s00484-013-0661-z
Received:

Revised:

Accepted:

Published:

Issue Date:
Keywords
Phenology

Resident

Long-distance migrant

Breeding

Central Europe