Abstract
The present study was carried out in a phenological garden in central Italy that contains vegetative clones of shrubs and trees common to several international phenological gardens, such as Cornus sanguinea L.; Corylus avellana L.; Ligustrum vulgare L.; Robinia pseudoacacia L.; Salix acutifolia Willd. and Sambucus nigra L. Vegetative plant growth monitoring was carried out weekly using common international keys: BBCH07, bud break and leaf unfolding; BBCH19, young unfolded leaf; BBCH91, adult leaves; BBCH93, beginning of leaf colouring. The phenological dates thus obtained provide a model of the development for these different species in relation to the 15-year period of observation (1997–2011). From a meteorological point of view, temperature and precipitation trends were studied, with the highest anomalies during the study period recorded during the first 2 months of the year (January, February). There was relative invariance in the manifestation of the open bud phase and the contemporary advance of the young open leaves phase, particularly from 2006. This was accompanied by shortening of the leaf opening period, which appeared due to more rapid spring temperature increases over the last few years. The advance tendency of the BBCH91 phase showed adult leaves from the first summer weeks with fully green foliage monitored for a long time. Generally, the autumn leaf colouring phase tended to remain constant, with the exception of Salix acutifolia and Sambucus nigra, for which, on the other hand, the first leaf development phases appeared to be most likely influenced by the photoperiod.
Access options
Buy single article
Instant access to the full article PDF.
US$ 39.95
Tax calculation will be finalised during checkout.
Subscribe to journal
Immediate online access to all issues from 2019. Subscription will auto renew annually.
US$ 79
Tax calculation will be finalised during checkout.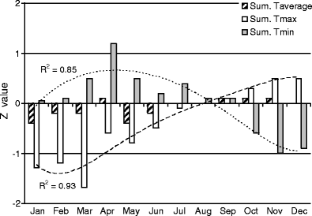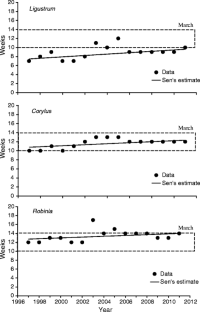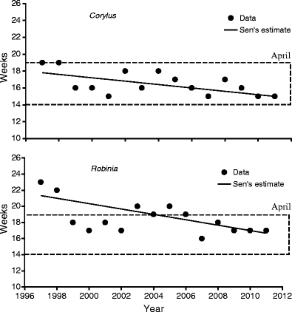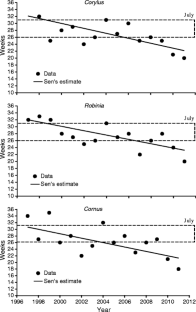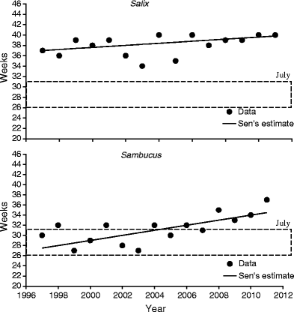 References
Basler D, Korner C (2012) Photoperiod sensitivity of bud burst in 14 temperate forest tree species. Agric For Meteorol 165:73–81

Bonofiglio T, Orlandi F, Sgromo C, Romano B, Fornaciari M (2009) Evidence of olive pollination date variations in relation to spring temperature trends. Aerobiologia 25:227–237

Chmielewski FM (1996) The International Phenological Gardens across Europe. Present state and perspectives. Phenol Seas 1:19–23

Chmielewski FM, Rötzer T (2001) Response of tree phenology to climate change across Europe. Agric For Meteorol 108:101–112

Chmielewski FM, Müller A, Bruns E (2004) Climate changes and trends in phenology of fruit trees and field crops in Germany 1961–2000. Agric For Meteorol 121:69–78

Chuine I, Morin X, Bugmann H (2010) Warming, photoperiods, and tree phenology. Science 329:277–278

Davidson AM, Jennions M, Nicotra AB (2011) Do invasive species show higher phenotypic plasticity than native species and, if so, is it adaptive? A meta-analysis. Ecol Lett 14:419–431

Fitter AH, Fitter RSR (2002) Rapid changes in the flowering time in British plants. Science 296:1689–1691

Fracheboud Y, Luquez V, Björken L, Sjödin A, Tuominen H, Jansson S (2009) The control of autumn senescence in European aspen. Plant Physiol 149:1982–1991

Garcia-Mozo H, Orlandi F, Galan C, Fornaciari M, Romano B, Ruiz L, Diaz de la Guardia C, Trigo MM, Chuine I (2009) Olive flowering phenology variation between different cultivars in Spain and Italy: modeling analysis. Theor Appl Climatol 95:385–395

Ghalambor CK, Mckay JK, Carroll SP, Reznick DN (2007) Adaptive versus non-adaptive phenotypic plasticity and the potential for contemporary adaptation in new environments. Funct Ecol 21:394–407

Giorgi F, Lionello P (2008) Climate change projections for the Mediterranean region. Glob Planet Chang 63:90–104

Gordo O, Sanz JJ (2005) Phenology and climate change: a long-term study in a Mediterranean locality. Oecologia 146:484–495

Gordo O, Sanz JJ (2010) Impact of climate change on plant phenology in Mediterranean ecosystems. Glob Chang Biol 16:1082–1106

IPCC (2007) Summary for policymakers. In: Solomon S, Qin D, Manning M, Chen Z, Marquis M, Averyt KB, Tignor M, Miller HL (eds) Climate change 2007: the physical science basis. Contribution of Working Group I to the Fourth Assessment Report of the Intergovernmental Panel on Climate Change. Cambridge University Press, Cambridge

Keskitalo J, Bergquist G, Gardström P, Jansson S (2005) A cellular timetable of autumn senescence. Plant Physiol 139:1635–1648

Koch E, Bruns E, Defila C, Lipa W, Menzel A (2005) Guidelines for plant phenological observations for Commission of Climatology of World Meteorological Organisations. http://www.bom.gov.au/wmo/climate/ccl/pheno-guide-shortvers.doc

Koike T (1990) Autumn coloring, photosynthetic performance and leaf development of deciduous broad-leaved trees in relation to forest succession. Tree Physiol 7:21–32

Lambdon PW et al (2008) Alien flora of Europe: species diversity, temporal trends, geographical patterns and research needs. Preslia 80:101–149

Lee DW, O'Keefe J, Holbrook NM, Feild TS (2003) Pigment dynamics and autumn leaf senescence in a New England deciduous forest, eastern USA. Ecol Res 18:677–694

Menzel A, Sparks TH, Estrella N et al (2006) European phenological response to climate change matches the warming pattern. Glob Chang Biol 12:1969–1976

Orlandi F, Bonofiglio T, Ruga L, Sgromo C, Romano B, Fornaciari M (2007) Phenological investigations of different winter-deciduous species growing under Mediterranean conditions. Ann For Sci 64:557–568

Orlandi F, Sgromo C, Bonofiglio T, Ruga L, Romano B, Fornaciari M (2009) A comparison among olive flowering trends in different Mediterranean areas (south-central Italy) in relation to meteorological variations. Theor Appl Climatol 97:339–347

Orlandi F, Bonofiglio T, Romano B, Fornaciari M (2012) Qualitative and quantitative aspects of olive production in relation to climate in southern Italy. Sci Hortic 138:151–158

Osborne CP, Chuine I, Viner D, Woodward FI (2000) Olive phenology as a sensitive indicator of future climatic warming in the Mediterranean. Plant Cell Environ 23:701–710

Parmesan C (2007) Influences of species, latitudes and methodologies on estimates of phenological response to global warming. Glob Chang Biol 13:1860–1872

Parmesan C, Yohe G (2003) A globally coherent fingerprint of climate change impacts across natural systems. Nature 421:37–42

Schlichting CD (1986) The evolution of phenotypic plasticity in plants. Annu Rev Ecol Evol 17:667–693

Schnelle F, Volkert E (1964) Internationale Phaenologische Garten. Agric Meteorol 1:22–29

Schwartz MD, Ahas R, Aasa A (2006) Onset of spring starting earlier across the northern hemisphere. Glob Chang Biol 12:343–351

Sirois A (1998) A brief and biased overview of time series analysis or how to find that evasive trend. In WMO report No. 133: WMO/EMEP workshop on advanced statistical methods and their application to air quality data sets (Helsinki, 14–18 September 1998)

Sparks TH, Menzel A (2002) Observed changes in seasons: an overview. Int J Climatol 22:1715–1725

Vitasse Y, Porté AJ, Kremer A, Michalet R, Delzon S (2009) Responses of canopy duration to temperature changes in four temperate tree species: relative contributions of spring and autumn leaf phenology. Oecologia 161(1):187–198

Zhao T, Schwartz MD (2003) Examining the onset of spring in Wisconsin. Clim Res 24(1):59–70
About this article
Cite this article
Orlandi, F., Ruga, L., Bonofiglio, T. et al. Fifteen-year phenological plant species and meteorological trends in central Italy. Int J Biometeorol 58, 661–667 (2014). https://doi.org/10.1007/s00484-013-0646-y
Received:

Revised:

Accepted:

Published:

Issue Date:
Keywords
Phenological garden

Vegetative–reproductive development