Abstract
The gaseous pollutant BC, CO and NOx in atmosphere are mainly emitted by vehicle exhaust at traffic dense metropolitan areas. It looks like that BC, CO and NOx are homologous in pollution sources and often used as fingerprints of traffic source at traffic dense metropolitan areas. However, these gaseous pollutants have also other significant pollution sources, such as power production sources, biomass burning, domestic cooking and natural process. Identification in the source categories of these three gaseous pollutants at traffic dense metropolitan areas needs more accurate methods. Here, detrended fluctuation analysis and multifractal methods are applied to homology analysis of BC, CO and NOx pollution sources based on the observational data from 1 July, 2015 to 30 June, 2016 for a traffic site in Hong Kong. The results show that BC, CO and NOx pollution are characterized by different long term correlations and multifractality. Long term effects of the past pollution emissions on pollution sources identification are very important, which is always neglected in previous studies. By K-means clustering method, a novel measure is proposed for describing the differences among the BC, CO and NOx pollution sources quantitatively. The comparison results suggest that fractal parameters can be new quantitative indexes reflecting the differences among BC, CO and NOx pollution sources. Multifractal parameters of air pollutants can be new benchmarks for testing the simulation results by air pollution sources identification. This work is helpful for the further improvement of air pollution sources identification methods.
Access options
Buy single article
Instant access to the full article PDF.
US$ 39.95
Tax calculation will be finalised during checkout.
Subscribe to journal
Immediate online access to all issues from 2019. Subscription will auto renew annually.
US$ 119
Tax calculation will be finalised during checkout.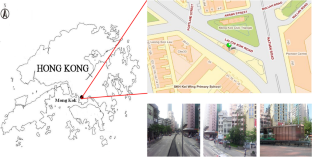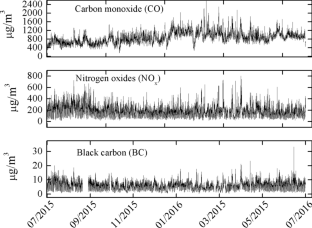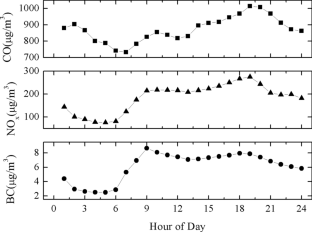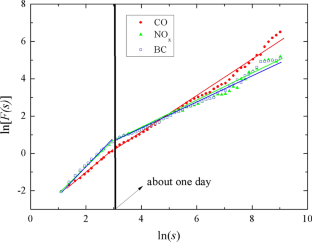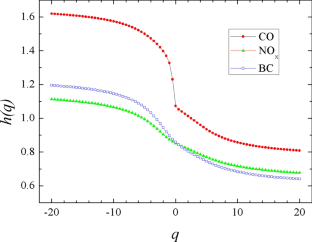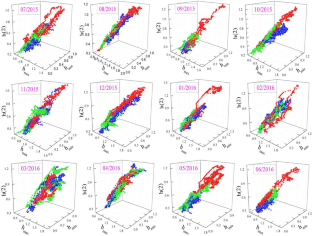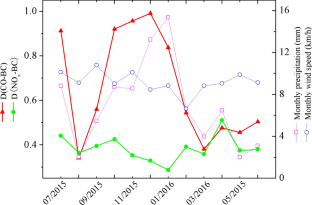 Code availability
The data used to support the findings of this study have not been made available.
References
Allen JO, Mayo PR, Hughes LS, Salmon LG, Cass GR (2001) Emissions of size-segregated aerosols from on-road vehicles in the Caldecott Tunnel. Environ Sci Technol 35(21):4189–4197

Belis CA, Karagulian F, Larsen BR, Hopke PK (2013) Critical review and metaanalysis of ambient particulate matter source apportionment using receptor models in Europe. Atmos Environ 69:94–108

Celebi ME, Kingravi HA, Vela PA (2013) A comparative study of efficient initialization methods for the k-means clustering algorithm. Expert Syst Appl 40(1):200–210

Chang MCO, Chow JC, Watson JG, Hopke PK, England SMYGC (2004) Measurement of ultrafine particle size distributions from coal-, oil-, and gas-fired stationary combustion sources. J Air Waste Manage Assoc 54(12):1494–1505

Chelani AB (2012) Persistence analysis of extreme CO, NO2 and O3 concentrations in ambient air of Delhi. Atmos Res 108:128–134

Chelani A (2016) Long-memory property in air pollutant concentrations. Atmos Res 171:1–4

Chen B, Andersson A, Lee M, Kirillova EN, Xiao Q, Kruså M, Shi M, Hu K, Lu ZF, Streets DG, Du K, Gustafsson O (2013) Source forensics of black carbon aerosols from China. Environ Sci Technol 47(16):9102–9108

Chow JC, Watson JG, Lowenthal DH, Chen LWA, Motallebi N (2011) PM2.5 source profiles for black and organic carbon emission inventories. Atmos Environ 45(31):5407–5414

De Miranda RM, Perez-Martinez PJ, de Fatima AM, Ribeiro FND (2017) Relationship between black carbon (BC) and heavy traffic in São Paulo. Transport and Environment, Brazil Transportation Research Part D. https://doi.org/10.1016/j.trd.2017.09.002

Dong QL, Wang Y, Li PZ (2017) Multifractal behavior of an air pollutant time series and the relevance to the predictability. Environ Pollut 222:444–457

Favez O, El Haddad I, Piot C, Boreave A, Abidi E, Marchand N et al (2010) Intercomparison of source apportionment models for the estimation of wood burning aerosols during wintertime in an Alpine city (Grenoble, France). Atmos Chem Phys 10(12):5295–5314

Girach IA, Vijayakumar S, Nair S, Babu S, Nair PR (2014) Black carbon and carbon monoxide over Bay of Bengal during W_ICARB: Source characteristics. Atmos Environ 94:508–517

Holloway T, Levy H, Kasibhatla P (2000) Global distribution of carbon monoxideJ. Geophys Res Atmos 105:12123–12147

Jaroslaw K, Stanislaw D (2012) Physical approach to complex systems. Phys Rep 515:115–226

Kantelhardt JW, Zschiegner SA, Koscielny-Bunde E, Bunde A, Havlin S, Stanley HE (2002) Multifractal detrended fluctuation analysis of non-stationary time series. Phys A 316:87–114

Kiyashchenko D, Smirnova N, Troyan V, Saenger E, Vallianatos F (2004) Seismic hazard precursory evolution: fractal and multifractal aspects. Phys Chem Earth 29:367–378

Lee CK, Juang LC, Wang CC, Liao YY, Yu CC, Liu YC, Ho DS (2006) Scaling characteristics in ozone concentration time series (OCTS). Chemosphere 62:934–946

Lee YC, Lam YF, Kuhlmann G, Wenig MO, Chan KL, Hartl A, Ning Z (2013) An integrated approch to identify the biomass burning sources contributing to black carbon episodes in Hong Kong. Atmos Environ 80:478–487

Liu Y, Yan CQ, Zheng M (2018) Source apportionment of black carbon during winter in Beijing. Sci Total Environ 618:531–541

Lu WZ, Wang XK (2006) Evolving trend and self-similarity of ozone pollution in central Hong Kong ambient during 1984–2002. Sci Total Environ 357:160–168

May A, Nguyen NT, Presto AA et al (2014) Gas- and particle-phase primary emissions from in-use, on-road gasoline and diesel vehicles. Atmos Environ 88:247–260

Menon S, Hansen J, Nazarenko L, Luo YF (2002) Climate effects of black carbon aerosols in China and India. Science 297(5590):2250–2253

Pérez-Martínez PJ, Andrade MF, Miranda RM (2015) Traffic-related air quality trends in São Paulo. Brazil J Geophys Res Atmos 120(12):1–15

Ramanathan V, Carmichael G (2008) Global and regional climate changes due to black carbon. Nat Geosci 1:221–227

Sharma RK, Bhattarai BK, Sapkota BK, Mb G, Kjeldstad B (2012) Black carbon aerosols variation in Kathmandu valley, Neplal. Atmos Environ 63:282–288

Shi K (2014) Detrended cross-correlation analysis of temperature, rainfall, PM10 and ambient dioxins in Hong Kong. Atmos Environ 97:130–135

Shi K, Liu CQ, Ai NS et al (2008) Using three methods to investigate time scaling properties in air pollution indexes time series. NonlinearAnal-Real 9:693–707

Shi K, Liu CQ, Ai NS (2009) Monofractal and multifractal approaches in investigating temporal variation of air pollution indexes. Fractals 17(4):513–521

Shi K, Liu CQ, Huang ZW, Zhang B, Su Y (2010) Comparative analysis of time-scaling properties about water pH in Poyang Lake Inlet and Outlet on the basis of fractal methods. Water Sci Technol 61(8):2113–2118

Shi K, Liu CQ, Huang Y (2015) Multifractal Processes and Self-Organized Criticality of PM25 during a Typical Haze Period in Chengdu, China. Aerosol Air QualRes 15:926–934

Tecer LH et al (2012) Metallic composition and source apportionment of fine and coarse particles using positive matrix factorization in the southern Black Sea atmosphere. Atmos Res 118(3):153–169

Varotsos C, Ondov J, Efstathiou M (2005) Scaling properties of air pollution in Athens, Greece and Baltimore, Maryland. Atmos Environ 39:4041–4047

Venkatram A, Isakov V, Seila R, Baldauf R (2009) Modeling the impacts of traffic emissions on air toxics concentrations near roadways. Atmos Environ 43(20):3191–3199

Yuan Y, Zhuang XT, Jin X (2009) Measuring multifractality of stock price fluctuation using multifractal detrended fluctuation analysis. Phys A 388:2189–2197

Yuval and Broday DM (2010) Studyding the time scale dependence of enviromnental variables predictability using fractal analysis. Environ Sci Technol 44: 4629-4634.

Zhang Q et al (2009) Asian emissions in 2006 for the NASA INTEX-B mission. Atmos Chem Phys 9(14):5131–5153

Zhang YL et al (2015) Source apportionment of elemental carbon in Beijing, China: insights from radiocarbon and organic marker measurements. Environ Sci Technol 49(14):8408–8415
Acknowledgements
The work is supported by the Natural Science Foundation of Hunan Province, China (No. 2020JJ4504), and Hunan Provincial Innovation Foundation for Postgraduate, China (No. CX20190872). We also thank anonymous referees and the editor-in-chief.
Funding
The work is supported by the Natural Science Foundation of Hunan Province, China (No. 2020JJ4504), and Hunan Provincial Innovation Foundation for Postgraduate, China (No. CX20190872). The research has been supported.
Ethics declarations
Conflict of interest
The authors declare that they have no known competing financial interests or personal relationships that could have appeared to influence the work reported in this paper.
Availability of data and material
The datasets used or analyzed during the current study are available from the corresponding author on reasonable request.
Additional information
Publisher's Note
Springer Nature remains neutral with regard to jurisdictional claims in published maps and institutional affiliations.
About this article
Cite this article
Shi, K., Liu, C., Li, Y. et al. The difference of multifractality of black carbon, NOx and CO at traffic site and its implications for air pollution sources. Stoch Environ Res Risk Assess (2021). https://doi.org/10.1007/s00477-021-01981-7
Keywords
Black carbon

Air pollution

Long term correlation

Multifractal

Sources identification