Abstract
Heavy metals in soil are closely related to our production and life. As heavy metal has relatively high toxicity, it is necessary to clarify its existence. This study took Liaocheng City as the study area. Sampling was carried out by the 10 km × 10 km grid center method and the concentration of heavy metal arsenic (As) at the sampling points was extracted. Based on the national secondary standard and Shandong background value, the single factor index was used to evaluate the status of heavy metal As in the soil of Liaocheng City, and eight factors related to heavy metal As were selected. This study used geographic detectors to identify spatial relationships among the factors. By the statistical description of the heavy metal As in the soil of Liaocheng City and the evaluation of the single factor index, we found that there was light pollution in most areas of Liaocheng City. By analyzing the results of the GeoDetector, it was found that the soil organic matter, soil subcategory, distance to river, and GDP were the dominant factors that affected the concentration and spatial variation of heavy metal As. The interaction results showed that the interaction between GDP and other influencing factors significantly increased the explanatory power of As.
Access options
Buy single article
Instant access to the full article PDF.
US$ 39.95
Tax calculation will be finalised during checkout.
Subscribe to journal
Immediate online access to all issues from 2019. Subscription will auto renew annually.
US$ 119
Tax calculation will be finalised during checkout.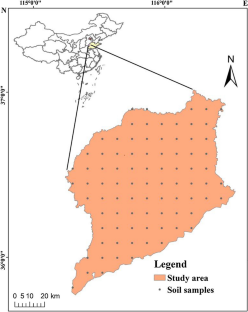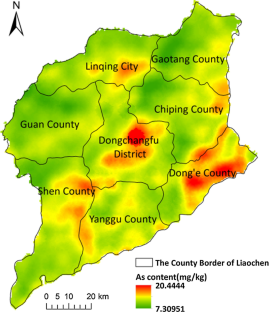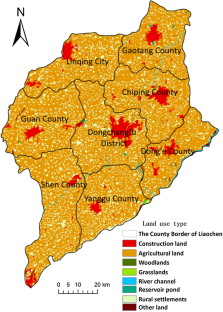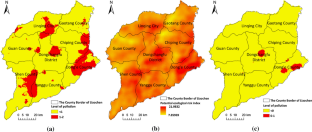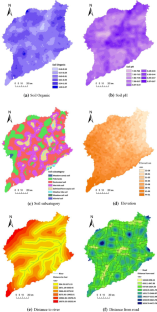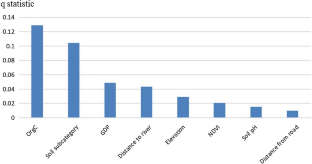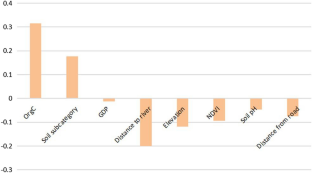 References
Allaway WH (1968) Agronomic controls over the environmental cycling of trace elements. Adv Agron. https://doi.org/10.1016/s0065-2113(08)60858-5

Cao F, Ge Y, Wang JF (2013) Optimal discretization for geographical detectors-based risk assessment. Gisci Remote Sens 50(1):78–92. https://doi.org/10.1080/15481603.2013.778562

Cao J, Liu Y, Yu H, Xu X (2010) Characterization of heavy metal content in soil of Liaocheng city. Anhui Agric Sci 38(12):6436–6437

Chen Y, Wang W, Shi D, Wang M, Xu C (2019) A comparative case study on the influence of driving factors of regional soil heavy metal spatial distribution. Environ Sci Res 32(07):1213–1223

Duan Q, Tan M (2020) Using a geographical detector to identify the key factors that influence urban forest spatial differences within China. Urban Forest Urban Green. https://doi.org/10.1016/j.ufug.2020.126623

Du X, Li B, Cui J, Li G, Wang Y (2020) Characteristics and risk assessment of heavy metal contamination of farmland soil and agricultural products around a smelter in Liaoning province. J Agric Environ Sci: 1–14. http://kns.cnki.net/kcms/detail/12.1347.S.20200703.1813.008.html

Erfu D, Wang Y (2020) Attribution analysis for water yield service based on the geographical detector method: a case study of the Hengduan Mountain region. J Geog Sci 30(6):1005–1020. https://doi.org/10.1007/s11442-020-1767-y

Guo L, Zuo L, Gao J (2020) Revealing the fingerprint of climate change in Interannual NDVI variability among biomes in inner Mongolia. China Remote Sens 12(8):1332. https://doi.org/10.3390/rs12081332

Hakanson L (1980) An ecological risk index for aquatic pollution control. A sedimentological approach. Water Res 14(8):975–1001. https://doi.org/10.1016/0043-1354(80)90143-8

Hu BF, Wang JY, Fu T, Li Y, Shi Z (2017) Application of spatial analysis in the study of soil heavy metal pollution[J]. Soil Bull 48(04):1014–1024

Hu Y, Wang J, Li X, Ren D, Zhu J (2011) Geographical detector-based risk assessment of the under-five mortality in the 2008 Wenchuan Earthquake. China PLoS ONE 6(6):e21427. https://doi.org/10.1371/journal.pone.0021427

Jiang YT, Sun YJ, Zhang LP, Wang XL (2020) Influence factor analysis of soil heavy metal Cd based on the geographical detector[J]. Stoch Env Res Risk Assess 34:921–930. https://doi.org/10.1007/s00477-020-01806-z

Li Y, Han P, Ren D, Luo N, Wang J (2017) Analysis of the influence factors of heavy metals in farmland soil based on geographic detectors. Chin Agric Sci 50(21):4138–4148

Li Y, Zhao Z, Yuan Y (2019) Application of modified receptor model for soil heavy metal sources apportionment: a case study of an industrial city, China. Environ Sci Pollut Res. https://doi.org/10.1007/s11356-019-04973-x

Meng X, Gao X, Li S (2020) Spatial and temporal characteristics of vegetation NDVI changes and the driving forces in Mongolia during 1982–2015. Remote Sens 12(4):603. https://doi.org/10.3390/rs12040603

Muller G (1969) Index of geoaccumulation in sediments of the Rhine River. GeoJournal 2:108–118

National Soil Pollution Survey Bulletin (2014) Environmental education 06:8–10

Qi X, Gao B, Pan YC, Yang J, Gao Y (2019) Analysis of influencing factors of soil heavy metal pollution based on geographic detectors. J Agric Environ Sci 38(11):2476–2486

Wang JD, Liu ZQ, Liu LY, Hong GW (2020a) Study on the influence mechanism of spatial differentiation of green space rate in the built-up area of typical transect in China based on geographical detector. Ecolo Econ 36(10):104–111

Wang JF, Liao YL, Liu X (2019) Spatial data analysis tutorial. Science Press, Beijing

Wang JF, Li XH, Christakos G, Liao YL, Zhang T, Gu X, Zheng X (2010) Geographical detectors-based health risk assessment and its application in the neural tube defects study of the Heshun region, China. Int J Geogr Inf Sci 24(1):107–127. https://doi.org/10.1080/13658810802443457

Wang JF, Xu C (2017) Geodetector: principles and perspectives. J Gergr Sci 72(01):116–134

Wang JF, Zhang TL, Fu BJ (2016) A measure of spatial stratified heterogeneity. Ecol Ind 67:250–256. https://doi.org/10.1016/j.ecolind.2016.02.052

Wang R, Deng H, Yan MS, He Z, Zhou J, Liang SB, Zeng Q (2020b) Assessment and source analysis of heavy metal contamination in farmland in southern Youyang County, Chongqing. Environ Sci. https://doi.org/10.13227/j.hjkx.202003175

Wang XK, Zhang YX, Huang B, Xie E, Fan Y, Hu W, Zhao Yongcun (2020) Accumulation characteristics and sources of heavy metals in farmland soils of typical cities in the Yangtze River Delta[J/OL]. ActaPedologica Sinica:1–11. http://kns.cnki.net/kcms/detail/32.1119.P.20200501.1633.002.html

Wei Y (2018) Research on the receptor model based method for analyzing the source of contaminated farmland. University of Chinese Academy of Sciences, Beijing, pp 11–12

Wu YF, Hu K, Han YF, Sheng QL, Fang Y (2020) Spatial characteristics of life expectancy and geographical detection of its influencing factors in China. Int J Environ Res Public Health 17(3):906. https://doi.org/10.3390/ijerph17030906

Yang J, Wang J, Qiao P, Zheng Y (2020) Identifying factors that influence soil heavy metals by using categorical regression analysis: a case study in Beijing, China. Front Environ Sci Eng. https://doi.org/10.1007/s11783-019-1216-2

Yang L, Yang X, Wei W (2020) Spatio-temporal evolution and influencing factors of water resource carrying capacity in Shiyang River Basin: based on the geographical detector method. Water Supply 20(4):1409–1424. https://doi.org/10.2166/ws.2020.057

Yang Y, Shi X, Zhang C (2016) Evaluation and spatial distribution of soil heavy metal pollution in reclaimed villages based on Nemerow index method. Res Soil Water Conserv 23(04):338–343

Zhang J, Dong J, Liang Q, Yang N, Geng Y (2019) Detection of soil heavy metal pollution impact factors in Baoji City and its source analysis. Environ Sci 40(08):3774–3784

Zhang J, Zhang B, Liu Z (2007) A dynamic study of organic carbon storage in the tillage layer of Liaocheng City, Shandong Province. Agric Sci Henan 11:67–69

Zhang X (2018) Analysis of soil heavy metal monitoring and soil environmental quality management. Sci Technol Innov Guide 15(02):133–134

Zheng GZ (2007) Theory and practice of research on agricultural soil heavy metal pollution. China Environmental Science Press, Beijing

Zhuang GT (2015) Current status and prevention and control strategies of soil pollution in China. Proc Chin Academy Sci 30(04):477–483
Acknowledgements
This work was supported by the National Natural Science Foundation of China (Nos. 41301509).
Ethics declarations
Conflict of interest
The authors declare no conflict of interest.
Additional information
Publisher's Note
Springer Nature remains neutral with regard to jurisdictional claims in published maps and institutional affiliations.
About this article
Cite this article
Wang, X., Sun, Y., Zhang, L. et al. Spatial variation and influence factor analysis of soil heavy metal As based on geoDetector. Stoch Environ Res Risk Assess (2021). https://doi.org/10.1007/s00477-021-01976-4
Keywords
Soil heavy metal As

GeoDetector

Influence factors

Spatial distribution