Abstract
Spatial–temporal variations in precipitation significantly influence infiltration, runoff, and other hydrological processes; and thus, in turn, they influence the risk of natural disasters such as flooding, drought, and erosion. Knowledge of these processes is still limited in the Taihang Mountain region, which is a highly heterogeneous environment in northern China. In this study, annual precipitation data for 1968–2017 from 88 weather stations in the Taihang Mountain region were analyzed. The Mann–Kendall (M–K) test and precipitation-related indices (precipitation amount, Sen's slope, Precipitation Concentration Index (PCI), and Coefficient of Variation (CV)) were used to analyze the spatial and temporal trends in precipitation in this region. Nine predictors (elevation, longitude, latitude, slope gradient, slope aspect, maximum temperature (Tmax), minimum temperature (Tmin), difference between Tmax and Tmin (DT), and evapotranspiration (ET)) were used to predict the precipitation and the related indices. The results reveal that the annual precipitation generally decreased from 1968 to 2017, but the M–K test indicates a nonsignificant trend. The precipitation decreased from southeast to northwest with significantly different spatial variations over the five decades investigated. The decrease in the PCI was not significant, and it generally decreased from northeast to southwest, suggesting a higher risk of flooding and drought in the northeast. The CV was 0.18–0.32, indicating a moderate spatial variation. In addition, the CV slightly decreased during the 50 years investigated. Multiple linear regression revealed that the amount of precipitation could be predicted from the latitude and longitude. The slope trend could be predicted based on latitude. PCI could be predicted based on longitude and elevation. CV could be predicted based on elevation, longitude, and Tmax. This suggests that the precipitation was mainly influenced by the geographical factors in the Taihang Mountain. This is useful information for the prediction of precipitation and for water management in this mountain region.
Access options
Buy single article
Instant access to the full article PDF.
US$ 39.95
Tax calculation will be finalised during checkout.
Subscribe to journal
Immediate online access to all issues from 2019. Subscription will auto renew annually.
US$ 119
Tax calculation will be finalised during checkout.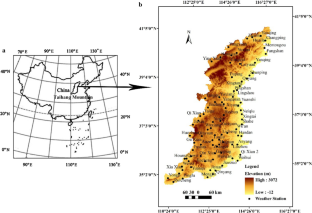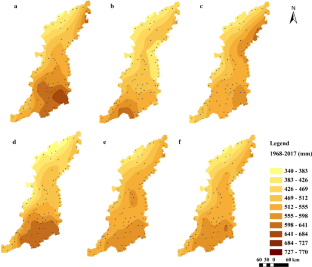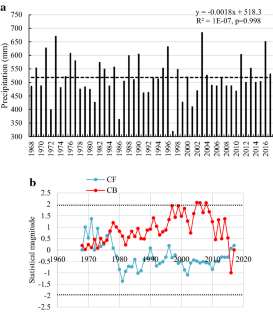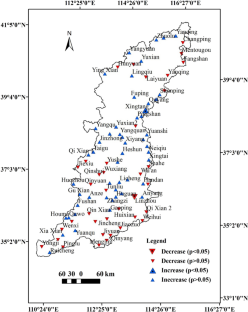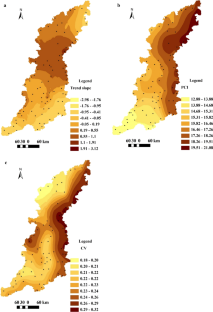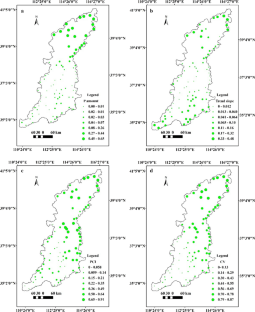 References
Adegun O, Balogun I, Adeaga O (2012) Precipitation Concentration Changes in Owerri and Enugu. Special Publ Niger Assoc Hydrol Sci 383–391

Ay M, Kisi O (2015) Investigation of trend analysis of monthly total precipitation by an innovative method. Theor Appl Climatol 120:617–629. https://doi.org/10.1007/s00704-014-1198-8

Bacanli ÜG (2017) Trend analysis of precipitation and drought in the Aegean region, Turkey. Meteorol Appl 24:239–249. https://doi.org/10.1002/met.1622

Basistha A, Arya DS, Goel NK (2008) Spatial distribution of rainfall in indian Himalayas—a case study of Uttarakhand Region. Water Resour Manag 22:1325–1346. https://doi.org/10.1007/s11269-007-9228-2

Chacón R, Fernandez W (1985) Temporal and spatial rainfall variability in the mountainous region of the Reventazón river basin, Costa Rica. J Climatol 5:175–188

Chou C, Chiang JCH, Lan CW, Chung CH, Liao YC, Lee CJ (2013) Increase in the range between wet and dry season precipitation. Nat Geosci 6:263–267. https://doi.org/10.1038/ngeo1744

Dore MHI (2005) Climate change and changes in global precipitation patterns: What do we know? Environ int 31:1167–1181. https://doi.org/10.1016/j.envint.2005.03.004

Dorji U (2016) Spatial variation of temperature and precipitation in Bhutan and links to vegetation and land cover. Mt Res Dev 36:66–79

Duan L, Zheng J, Li W, Liu T, Luo Y (2017) Multivariate properties of extreme precipitation events in the Pearl River basin, China: Magnitude, frequency, timing, and related causes. Hydrol Process 31:3662–3671. https://doi.org/10.1002/hyp.11286

Trenberth KE (2011) Changes in precipitation with climate change. Clim Res 47:123–138. https://doi.org/10.3354/cr00953

Ezenwaji E, Nzoiwu C, Chima G (2017) Analysis of precipitation concentration index (PCI) for Awka Urban Area. Nigeria Hydrol Current Res 8:287

Fu T, Han L, Gao H, Liang H, Li X, Liu J (2018a) Pedodiversity and its controlling factors in mountain regions—A case study of Taihang Mountain, China. Geoderma 310:230–237. https://doi.org/10.1016/j.geoderma.2017.09.027

Fu T, Han L, Gao H, Liang H, Liu J (2018b) Geostatistical analysis of pedodiversity in Taihang Mountain region in North China. Geoderma 328:91–99. https://doi.org/10.1016/j.geoderma.2018.05.010

Fu T, Han L, Gao H, Liang H, Liu J (2019) Rare and endangered soils in the Taihang Mountain region, North China. Land Degrad Dev 30:1739–1750. https://doi.org/10.1002/ldr.3381

Gehne M, Hamill TM, Kiladis GN, Trenberth KE (2016) Comparison of global precipitation estimates across a range of temporal and spatial scales. J Climate 29:7773–7795. https://doi.org/10.1175/jcli-d-15-0618.1

Goovaerts P (2000) Geostatistical approaches for incorporating elevation into the spatial interpolation of rainfall. J Hydrol 228:113–129. https://doi.org/10.1016/S0022-1694(00)00144-X

Guo R, Li F, He W, Yang S, Sun G (2010) Spatial and temporal variability of annual precipitation during 1958–2007 in Loess Plateau, China. In: International conference on computer and computing technologies in agriculture. Springer, pp 551–560

Hamed KH (2008) Trend detection in hydrologic data: The Mann-Kendall trend test under the scaling hypothesis. J Hydrol 349:350–363

Hevesi JA, Istok JD, Flint AL (1992) Precipitation estimation in mountainous terrain using multivariate geostatistics. part I: structural analysis. J Appl Meteorol 31:661–676. https://doi.org/10.1175/1520-0450(1992)031%3c0661:PEIMTU%3e2.0.CO;2

Islam ARMT, Karim MR, Mondol MAH (2020) Appraising trends and forecasting of hydroclimatic variables in the north and northeast regions of Bangladesh. Theor Appl Climatol. https://doi.org/10.1007/s00704-020-03411-0

Ito M, Mitchell MJ, Driscoll CT (2002) Spatial patterns of precipitation quantity and chemistry and air temperature in the Adirondack region of New York. Atoms Environ 36:1051–1062. https://doi.org/10.1016/S1352-2310(01)00484-8

Jiang R, Gan TY, Xie J, Wang N, Kuo C-C (2017) Historical and potential changes of precipitation and temperature of Alberta subjected to climate change impact: 1900–2100. Theor Appl Climatol 127:725–739. https://doi.org/10.1007/s00704-015-1664-y

Johansson B, Chen D (2003) The influence of wind and topography on precipitation distribution in Sweden: statistical analysis and modelling. Int J Climatol 23:1523–1535. https://doi.org/10.1002/joc.951

Kendall MG (1975) Rank correlation methods, 4th edn. Charles Griffin, London

Khalili K, Tahoudi MN, Mirabbasi R, Ahmadi F (2016) Investigation of spatial and temporal variability of precipitation in Iran over the last half century. Stoch Env Res Risk A 30:1205–1221

Klaus LH, Nikouline VV, Matias PJ, Ilmoniemi RJ (2001) Long-range temporal correlations and scaling behavior in human brain oscillations. J Neurosci 21(4):1370–1377

Lehmann E (1975) Nonparametrics, statistical methods based on ranks. Holden-Day, San Francisco, Calif, USA

Liu Q, Yang Z, Cui B (2008) Spatial and temporal variability of annual precipitation during 1961–2006 in Yellow River Basin, China. J Hydrol 361:330–338. https://doi.org/10.1016/j.jhydrol.2008.08.002

Liu W, Zhang Q, Fu Z, Chen X, Li H (2018) Analysis and estimation of geographical and topographic influencing factors for precipitation distribution over complex terrains: a case of the northeast slope of the Qinghai-Tibet Plateau. Atmosphere 9:349. https://doi.org/10.3390/atmos9090349

Lloyd CD (2005) Assessing the effect of integrating elevation data into the estimation of monthly precipitation in Great Britain. J Hydrol 308:128–150. https://doi.org/10.1016/j.jhydrol.2004.10.026

Mann HB (1945) Nonparametric tests against trend. Econometrica 13:245–259

Mathbout S, Lopez-Bustins JA, Martin-Vide J, Bech J, Rodrigo FS (2018) Spatial and temporal analysis of drought variability at several time scales in Syria during 1961–2012. Atmos Res 200:153–168. https://doi.org/10.1016/j.atmosres.2017.09.016

Michiels P, Gabriels D, Hartmann R (1992) Using the seasonal and temporal Precipitation concentration index for characterizing the monthly rainfall distribution in Spain. CATENA 19:43–58

Nielsen D, Bouma J (1985) Soil spatial variability: proceedings of a workshop of the ISSS and the SSSA, Las Vegas, USA/Pdc296. Center Agricultural Pub and Document, Pudoc Wageningen, the Netherlands

Oliver JE (1980) Monthly precipitation distribution: a comparative index. Prof Geogr 32:300–309

Oloruntade AJ, Mohammad TA, Aimrun W (2017) Rainfall trends in the Niger-South Basin, Nigeria, 1948–2008. Pertanika J Sci Technol 25:476–496

Onyutha C (2016a) Identification of sub-trends from hydro-meteorological series. Stoch Env Res Risk A 30:189–205

Onyutha C (2016b) Statistical analyses of potential evapotranspiration changes over the period 1930–2012 in the Nile River riparian countries. Agric Meteorol 226–227:80–95

Onyutha C (2018) Trends and variability in African long-term precipitation. Stoch Env Res Risk A 32:2721–2739. https://doi.org/10.1007/s00477-018-1587-0

Panagoulia D, Bárdossy A, Lourmas G (2008) Multivariate stochastic downscaling models for generating precipitation and temperature scenarios of climate change based on atmospheric circulation. Global Nest J 10:263–272. https://doi.org/10.30955/gnj.000512

Park JI, Singh VP (1996) Temporal and spatial characteristics of rainfall in the Nam River dam basin of Korea. Hydrol Process 10:1155–1171. https://doi.org/10.1002/(SICI)1099-1085(199609)10:9%3c1155::AID-HYP367%3e3.0.CO;2-U

Parmesan C, Yohe G (2003) A globally coherent fingerprint of climate change impacts across natural systems. Nature 421:37. https://doi.org/10.1038/nature01286

Pecl GT et al (2017) Biodiversity redistribution under climate change: Impacts on ecosystems and human well-being. Science 355:eaai9214. https://doi.org/10.1126/science.aai9214

Pirnia A, Golshan M, Darabi H, Adamowski J, Rozbeh S (2018) Using the Mann-Kendall test and double mass curve method to explore stream flow changes in response to climate and human activities. J Water Climate Change 10:725–742. https://doi.org/10.2166/wcc.2018.162

Rahman MA, Yunsheng L, Sultana N (2017) Analysis and prediction of rainfall trends over Bangladesh using Mann-Kendall, Spearman's rho tests and ARIMA model. Meteorol Atmos Phys 129:409–424. https://doi.org/10.1007/s00703-016-0479-4

Sabziparvar AA, Movahedi S, Asakereh H, Maryanaji Z, Masoodian SA (2015) Geographical factors affecting variability of precipitation regime in Iran. Theor Appl Climatol 120:367–376. https://doi.org/10.1007/s00704-014-1174-3

Sayemuzzaman M, Jha MK (2014) Seasonal and annual precipitation time series trend analysis in North Carolina, United States. Atmos Res 137:183–194. https://doi.org/10.1016/j.atmosres.2013.10.012

Schlaepfer DR et al (2017) Climate change reduces extent of temperate drylands and intensifies drought in deep soils. Nat Commun 8:14196. https://doi.org/10.1038/ncomms14196

Sen PK (1968) Estimates of the regression coefficient based on Kendall's tau. J Am Stat Assoc 63:1379–1389

Şen Z (2012) Innovative Trend Analysis Methodology. J Hydrol Eng 17:1042–1046. https://doi.org/10.1061/(ASCE)HE.1943-5584.0000556

Şen Z (2014) Trend Identification Simulation and Application. J Hydrol Eng 19:635–642. https://doi.org/10.1061/(ASCE)HE.1943-5584.0000811

Shafeeque M, Luo Y, Wang X, Sun L (2019) Revealing vertical distribution of precipitation in the glacierized upper indus basin based on multiple datasets. J Hydrometeorol 20:2291–2314. https://doi.org/10.1175/jhm-d-19-0081.1

Singh P, Kumar N (1997) Effect of torography on precipitation in the western Himalayan region. J Hydrol 199:183–206. https://doi.org/10.1016/S0022-1694(96)03222-2

Sokol Jurković R, Pasarić Z (2013) Spatial variability of annual precipitation using globally gridded data sets from 1951 to 2000. Int J Climatol 33:690–698. https://doi.org/10.1002/joc.3462

Song X, Li F, Liu C, Tang C, Zhang Q, Zhang W (2007) Water cycle in Taihang Mt. and its recharg to groundwater in North China Plain. J Nat Resour 22:398–408

Spearman C (1904) The proof and measurement of association between two things. Am J Psychol 15(1):72–101

Tabari H, Marofi S, Aeini A, Talaee PH, Mohammadi K (2011) Trend analysis of reference evapotranspiration in the western half of Iran. Agric Meteorol 151:128–136

Tang X, Miao C, Xi Y, Duan Q, Lei X, Li H (2018) Analysis of precipitation characteristics on the loess plateau between 1965 and 2014, based on high-density gauge observations. Atmos Res 213:264–274. https://doi.org/10.1016/j.atmosres.2018.06.013

Theil H (1950) A rank-invariant method of linear and polynomial regression analysis. Nederl Akad Wetench Ser A 53:386–392

Ullah S, You Q, Ullah W, Ali A (2018) Observed changes in precipitation in China-Pakistan economic corridor during 1980–2016. Atmos Res 210:1–14. https://doi.org/10.1016/j.atmosres.2018.04.007

Vido J, Nalevanková P, Valach J, Šustek Z, Tadesse T (2019) Drought Analyses of the Horné Požitavie Region (Slovakia) in the Period 1966–2013. Adv Meteorol 2019:3576285. https://doi.org/10.1155/2019/3576285

Walther G-R et al (2002) Ecological responses to recent climate change. Nature 416:389. https://doi.org/10.1038/416389a

Wan G, Yang M, Liu Z, Wang X, Liang X (2017) The precipitation variations in the Qinghai-Xizang (Tibetan) Plateau during 1961–2015. Atmosphere 8:80. https://doi.org/10.3390/atmos8050080

Wang Y, Li H (2008) Initial formation and Mesozoic tectonic exhumation of an intracontinental tectonic belt of the northern part of the Taihang Mountain belt, eastern Asia. J Geol 116:155–172. https://doi.org/10.1086/529153

Wang Z, Luo Y, Liu C, Xia J, Zhang M (2011) Spatial and temporal variations of precipitation in Haihe River Basin, China: six decades of measurements. Hydrol Process 25:2916–2923. https://doi.org/10.1002/hyp.8055

Yang YH, Watanabe M, Wang ZP, Sakura Y, Tang CY (2003) Prediction of changes in soil moisture associated with climatic changes and their implications for vegetation changes: WAVES model simulation on Taihang Mountain, China. Clim Change 57:163–183

Yao J, Yang Q, Mao W, Zhao Y, Xu X (2016) Precipitation trend–Elevation relationship in arid regions of the China. Global Planet Change 143:1–9. https://doi.org/10.1016/j.gloplacha.2016.05.007

Zhang X, Vincent LA, Hogg WD, Niitsoo A (2000) Temperature and precipitation trends in Canada during the 20th century. Atmos Ocean 38:395–429. https://doi.org/10.1080/07055900.2000.9649654

Zhang Q, Li J, Singh VP, Xiao M (2013) Spatio-temporal relations between temperature and precipitation regimes: Implications for temperature-induced changes in the hydrological cycle. Global Planet Change 111:57–76. https://doi.org/10.1016/j.gloplacha.2013.08.012

Zhang K, Yao Y, Qian X, Juanjuan W (2019) Various characteristics of precipitation concentration index and its cause analysis in China between 1960 and 2016. Int J Climatol

Zheng Y, He Y, Chen X (2017) Spatiotemporal pattern of precipitation concentration and its possible causes in the Pearl River basin, China. J Clean Prod 161:1020–1031

Zubieta R, Saavedra M, Silva Y, Giráldez L (2017) Spatial analysis and temporal trends of daily precipitation concentration in the Mantaro River basin: central Andes of Peru. Stoch Env Res Risk A 31:1305–1318. https://doi.org/10.1007/s00477-016-1235-5
Acknowledgements
This work was supported by the National Natural Science Foundation of China (No. 41930651, and No. 41807013), and the Open Fund of Key Laboratory of Agro-ecological Processes in Subtropical Region, Chinese Academy of Sciences (No. ISA2017202).
Additional information
Publisher's Note
Springer Nature remains neutral with regard to jurisdictional claims in published maps and institutional affiliations.
Hui Gao: Co-first author.
About this article
Cite this article
Fu, T., Gao, H., Liang, H. et al. Spatio-temporal precipitation changes and their localized predictors in the Taihang Mountain region, North China. Stoch Environ Res Risk Assess 35, 665–679 (2021). https://doi.org/10.1007/s00477-021-01970-w
Accepted:

Published:

Issue Date:
Keywords
Taihang mountain

Rainfall variations

Mann–kendall test

Sen's slope

Precipitation concentration index

Geographical factors