Abstract
Key message
Nutrient limitation changed from N–P co-limitation in the native shrubs to N limitation in the plantations.
Abstract
Element stoichiometry is a powerful tool to examine plant–soil nutrient feedbacks. In karst ecosystems, southwest China, afforestation has been widely adopted to restore soil fertility and enhance ecosystem functioning under degraded native shrub stands. However, it is unclear whether and how multiple-element stoichiometry of plants in afforested forests would differ from the native shrub community. We investigated the concentrations of C, N, S, P, K, Ca, Mg, Na, Fe, Al, Cu, Zn, and Mn in leaves and soils in native shrub community and three plantations (Pinus yunnanensis, Alnus japonica, and Platycladus orientalis). We found (1) There was significant discrimination in leaf elemental compositions between native shrub community and plantations in the karst region, southwest China. Native shrubs had lower leaf N, P, S and higher C, Ca, and Mg concentrations, as well as C:P and N:P ratios, compared to plantations; (2) For different plant species, grasses had higher P, K, and Na and lower C:P and N:K, compared to trees and shrubs; (3) N:P, K and S concentrations differed most between the native shrubs and plantations; (4) N:P in native shrubs was close to 12 while decreased to 11.3, 10.2 and 9.7 in three plantations. These results suggest that plantations strongly changed the elemental stoichiometry of native shrub communities in the karst region. N:P, Ca:Mg, K and S are key indicators for plant nutrient status in the study area. P limitation alleviates in plantations compared to native shrubs. Our study could be used to guide reforestation and improve ecosystem functioning in the karst region, Southwest China.
Access options
Buy single article
Instant access to the full article PDF.
US$ 39.95
Tax calculation will be finalised during checkout.
Subscribe to journal
Immediate online access to all issues from 2019. Subscription will auto renew annually.
US$ 119
Tax calculation will be finalised during checkout.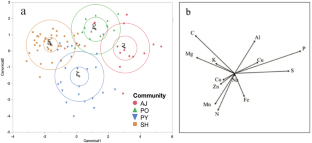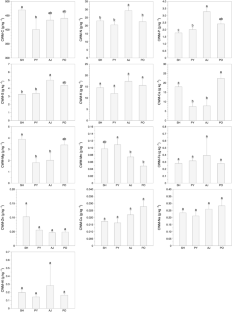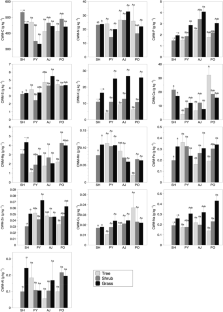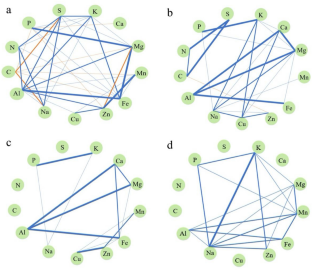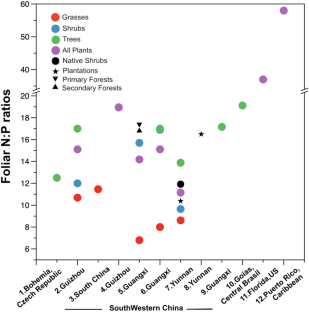 References
Aerts R (1995) The advantages of being evergreen. Trends Ecol Evol 10:402

Bai K, Lv S, Ning S, Zeng D, Guo Y, Wang B (2019) Leaf nutrient concentrations associated with phylogeny, leaf habit and soil chemistry in tropical karst seasonal rainforest tree species. Plant Soil 434:305–326

Beaupied H, Moiroud A, Domenach A-M, Kurdali F, Lensi R (1990) Ratio of fixed and assimilated nitrogen in a black alder (Alnus glutinosa) stand. Can J For Res 20:1116–1119

Bormann B, Sidle RC (1990) Changes in productivity and distribution of nutrients in a chronosequence at Glacier Bay National Park, Alaska. J Ecol 561–578

Dahlquist RL, Knoll JW (1978) Inductively coupled plasma-atomic emission spectrometry: analysis of biological materials and soils for major trace, and ultra-trace elements. Appl Spectrosc 32:1–30

Davidson EA et al (2007) Recuperation of nitrogen cycling in Amazonian forests following agricultural abandonment. Nature 447:995–998

Doust JL (2010) A comparative study of life history and resource allocation in selected Umbelliferae. Biol J Linn Soc 13:139–154

Du Y, Pan G, Li L, Hu Z, Wang X (2011) Leaf N/P ratio and nutrient reuse between dominant species and stands: predicting phosphorus deficiencies in Karst ecosystems, southwestern China. Environ Earth Sci 64:299–309

Elser JJ et al (2000) Nutritional constraints in terrestrial and freshwater food webs. Nature 408:578

Elser JJ et al (2007) Global analysis of nitrogen and phosphorus limitation of primary producers in freshwater, marine and terrestrial ecosystems. Ecol Lett 10:1135–1142

Ford D, Williams PD (2013) Karst hydrogeology and geomorphology. Wiley, Amsterdam

Garten CT (1976) Correlations between concentrations of elements in plants. Nature 261:686–688

Geekiyanage N, Goodale UM, Cao K, Kitajima K (2019) Plant ecology of tropical and subtropical karst ecosystems. Biotropica 51:626–640

Güsewell S (2004) N: P ratios in terrestrial plants: variation and functional significance. New Phytol 164:243–266

Han W, Fang J, Guo D, Zhang Y (2005) Leaf nitrogen and phosphorus stoichiometry across 753 terrestrial plant species in China. New Phytol 168:377

He J-S, Wang L, Flynn DF, Wang X, Ma W, Fang J (2008) Leaf nitrogen: phosphorus stoichiometry across Chinese grassland biomes. Oecologia 155:301–310

Hofmeister J, Mihaljevič M, Hošek J, Sádlo J (2002) Eutrophication of deciduous forests in the Bohemian Karst (Czech Republic): the role of nitrogen and phosphorus. For Ecol Manag 169:213–230

Huang Y, Li Q (2019) Karst biogeochemistry in China: past, present and future. Environ Earth Sci 78(15):450

Huang W, Liu J, Wang YP, Zhou G, Han T, Li Y (2013) Increasing phosphorus limitation along three successional forests in southern China. Plant Soil 364:181–191

Jiang Y, Song M, Zhang S, Cai Z, Lei Y (2018) Unravelling community assemblages through multi-element stoichiometry in plant leaves and roots across primary successional stages in a glacier retreat area. Plant soil 428(1–2):291–305

Kang M, Wang J, Huang H (2015) Nitrogen limitation as a driver of genome size evolution in a group of karst plants. Sci Rep 5:1–8

Karimi R, Folt CL (2006) Beyond macronutrients: element variability and multielement stoichiometry in freshwater invertebrates. Ecol Lett 9:1273–1283

Koerselman W (1996) The Vegetation N: P Ratio: a new tool to detect the nature of nutrient limitation. J Appl Ecol 33:1441–1450

LeGrand H (1973) Hydrological and ecological problems of karst regions: hydrological actions on limestone regions cause distinctive ecological problems. Science 179:859–864

Li D, Wen L, Jiang S, Song T, Wang K (2018) Responses of soil nutrients and microbial communities to three restoration strategies in a karst area, southwest China. J Environ Manag 207:456–464

Liu C, Liu Y, Guo K, Wang S, Yang Y (2014) Concentrations and resorption patterns of 13 nutrients in different plant functional types in the karst region of south-western China. Ann Bot 113:873–885

Lu X, Toda H, Ding F, Fang S, Yang W, Xu H (2014) Effect of vegetation types on chemical and biological properties of soils of karst ecosystems. Eur J Soil Biol 61:49–57

Markert B (1994) Environmental sampling for trace analysis.

Medina E, Cuevas E, Lugo AE (2017) Substrate chemistry and rainfall regime regulate elemental composition of tree leaves in karst forests. Forests 8:182

Mengel K, Kirkby EA, Kosegarten H, Appel T (1982) Principles of Plant Nutrition. International Potash Institute

Nordin A, Högberg P, Näsholm T (2001) Soil nitrogen form and plant nitrogen uptake along a boreal forest productivity gradient. Oecologia 129:125–132

Olde Venterink H, Wassen M, Verkroost A, De Ruiter P (2003) Species richness–productivity patterns differ between N- P-, and K-limited wetlands. Ecology 84:2191–2199

Pan F, Zhang W, Liu S, Li D, Wang K (2015) Leaf N: P stoichiometry across plant functional groups in the karst region of southwestern China. Trees 29:883–892

Pang D, Wang G, Li G, Sun Y, Liu Y, Zhou J (2018) Ecological stoichiometric characteristics of two typical plantations in the Karst ecosystem of southwestern China. Forests 9:56

Porter WM, Robson AD, Abbott LK (1987) Field survey of the distribution of vesicular-arbuscular mycorrhizal fungi in relation to soil pH. J Appl Ecol 24:659

Qi X, Wang K, Zhang C (2013) Effectiveness of ecological restoration projects in a karst region of southwest China assessed using vegetation succession mapping. Ecol Eng 54:245–253

Reich PB, Oleksyn J (2004) Global patterns of plant leaf N and P in relation to temperature and latitude. Proc Natl Acad Sci USA 101:11001

Rossatto DR, Carvalho FA, Haridasan M (2015) Soil and leaf nutrient content of tree species support deciduous forests on limestone outcrops as a eutrophic ecosystem. Acta Bot Brasílica 29:231–238

Saha AK, Lobo O'Reilly Sternberg LdS, Miralles-Wilhelm F (2009) Linking water sources with foliar nutrient status in upland plant communities in the Everglades National Park USA. Ecohydrology 2:42–54

Seo KW, Heo SJ, Son Y, Noh NJ, Lee SY, Yoon CG (2011) Soil moisture condition and soil nitrogen dynamics in a pure Alnus japonica forest in Korea. Landsc Ecol Eng 7(1):93–99

Song T (2015) Plants and environment in karst areas of Southwest China, first ed, Beijing

Townsend AR, Cleveland CC, Asner GP, Bustamante MMC (2007) Controls over foliar n:p ratios in tropical rain forests. Ecology 88:107–118

Townsend AR, Cleveland CC, Houlton BZ, Alden CB, White JWC (2011) Multi-element regulation of the tropical forest carbon cycle. Front Ecol Environ 9(1):9–17

Uliassi DD, Ruess RW (2002) Limitations to symbiotic nitrogen fixation in primary succession on the Tanana River floodplain. Ecology 83:88–103

Umair M et al (2020) Differential stoichiometric responses of shrubs and grasses to increased precipitation in a degraded karst ecosystem in Southwestern China. Sci Total Environ 700:134421

Vitousek PM, Walker LR, Whiteaker LD, Matson PA (1993) Nutrient limitations to plant growth during primary succession in Hawaii Volcanoes National Park. Biogeochemistry 23:197–215

Vitousek PM, Porder S, Houlton BZ, Chadwick OA (2010) Terrestrial phosphorus limitation: mechanisms, implications, and nitrogen–phosphorus interactions. Ecol Appl 20:5

Wei X, Deng X, Xiang W, Lei P, Ouyang S, Wen H, Chen L (2018) Calcium content and high calcium adaptation of plants in karst areas of southwestern Hunan, China. Biogeosciences 15:2991

Wen J, Ji H, Sun N, Tao H, Du B, Hui D, Liu C (2018) Imbalanced plant stoichiometry at contrasting geologic-derived phosphorus sites in subtropics: the role of microelements and plant functional group. Plant Soil 430(1–2):113–125

Wrb IWG (2014) World Reference Base for soil resources 2014: international soil classification system for naming soils and creating legends for soil maps.

Wright IJ, Reich PB, Westoby M, Ackerly DD, Baruch Z, Bongers F, Flexas J (2004) The worldwide leaf economics spectrum. Nature 428(6985):821–827

Wright IJ, Reich PB, Cornelissen JH, Falster DS, Garnier E, Hikosaka K, Poorter H (2005) Assessing the generality of global leaf trait relationships. New Phytol 166(2):485–496

Wright IJ, Reich PB, Atkin OK, Lusk CH, Tjoelker MG, Westoby M (2006) Irradiance, temperature and rainfall influence leaf dark respiration in woody plants: evidence from comparisons across 20 sites. New Phytol 169(2):309–319

Xue L, Ren H, Li S, Leng X, Yao X (2017) Soil bacterial community structure and co-occurrence pattern during vegetation restoration in karst rocky desertification area. Front Microbiol 8:2377

Zhang W, Zhao J, Pan F, Li D, Chen H, Wang K (2015) Changes in nitrogen and phosphorus limitation during secondary succession in a karst region in southwest China. Plant Soil 391:77–91

Zhang H, Wang K, Zeng Z, Du H, Zeng F (2017) Biomass and carbon sequestration by Juglans regia plantations in the Karst regions of Southwest China. Forests 8:103
Acknowledgements
This work was funded by National Key R&D Program of China (2017YFC0505501).
Funding
This work was funded by National Key R&D Program of China (2017YFC0505501).
Ethics declarations
Conflict of interest
The authors declare that they have no known competing financial interests or personal relationships that could have appeared to influence the work reported in this paper.
Data availability statement
The datasets generated during and/or analyzed during the current study are available from the corresponding author on reasonable request.
Ethical Standards
We don't have experiments on animals or human subjects. All experiments follow the laws in the current country.
Additional information
Publisher's Note
Springer Nature remains neutral with regard to jurisdictional claims in published maps and institutional affiliations.
Communicated by Lee Kalcsits.
Supplementary Information
Below is the link to the electronic supplementary material.
About this article
Cite this article
Wen, J., Tao, H., Du, B. et al. Plantations modified leaf elemental stoichiometry compared to the native shrub community in karst areas, Southwest of China. Trees (2021). https://doi.org/10.1007/s00468-021-02096-w
Received:

Accepted:

Published:
Keywords
Karst ecosystem

Plantation forest

Native shrub

Multiple elements

Stoichiometry

Nutrient limitation