Abstract
Background
To compare clinical history and measurements of fecal load on abdominal radiography (AR) in the prediction of urinary tract infection (UTI) recurrence in children.
Methods
We combined data from two multicenter longitudinal studies in which children less than 6 years of age with a first or second UTI were followed for recurrence of UTI. Two radiologists reviewed the scout abdominal radiographs of initial voiding cystourethrograms obtained at enrollment from children at two participating sites and measured stool visible in various parts of the colon. We examined how well clinical variables (e.g., voiding and bowel history, use of laxatives at enrollment) and measurements of fecal load predicted recurrence of UTI within 12 months of enrollment.
Results
One hundred and ninety-two children were included. On univariate analyses, age, vesicoureteral reflux (VUR), cecal diameter, rectal diameter, and total stool length on AR were associated with recurrence of UTI. After controlling for age, the odds of recurrent UTI in children with VUR at baseline was 3.85 (95% CI: 1.62, 9.14) higher than in children without VUR. Recurrent UTI was 2.57 (95% CI: 1.01, 6.55) times more likely in children with cecal diameter > 3.10 cm than children with lower cecal diameters; time to first recurrent UTI was shorter in children with elevated cecal diameters (p = 0.0023).
Conclusions
Cecal diameter on abdominal radiographs predicts UTI recurrence in children with a previous UTI. However, its accuracy is suboptimal to serve as a screening test. Accordingly, its routine use for this indication is not supported. If cecal diameter on an AR ordered for another indication is > 3.10 cm, then management of constipation could be considered.
Access options
Buy single article
Instant access to the full article PDF.
US$ 39.95
Tax calculation will be finalised during checkout.
Subscribe to journal
Immediate online access to all issues from 2019. Subscription will auto renew annually.
US$ 119
Tax calculation will be finalised during checkout.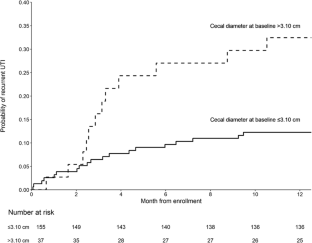 Abbreviations
UTI:

Urinary tract infection

VUR:

Vesicoureteral reflux

RIVUR:

Randomized Intervention for Children with Vesicoureteral Reflux

CUTIE:

Careful Urinary Tract Infection Evaluation study

BBD:

Bladder and bowel dysfunction

AR:

Abdominal radiograph

VCUG:

Voiding cystourethrogram

DMSA:

Dimercaptosuccinic acid renal scan

PACCT:

Paris Consensus on Childhood Constipation Terminology

OR:

Odds ratio

ROC:

Receiver operation characteristic curve

AUC:

Area under the ROC curve

KM:

Kaplan-Meier curve
References
1.

Mingin GC, Hinds A, Nguyen HT, Baskin LS (2004) Children with a febrile urinary tract infection and a negative radiologic workup: factors predictive of recurrence. Urology 63:562–565 discussion 565

2.

Koff SA, Wagner TT, Jayanthi VR (1998) The relationship among dysfunctional elimination syndromes, primary vesicoureteral reflux and urinary tract infections in children. J Urol 160:1019–1022

3.

Loening-Baucke V (1997) Urinary incontinence and urinary tract infection and their resolution with treatment of chronic constipation of childhood. Pediatrics 100:228–232

4.

Blethyn AJ, Jenkins HR, Roberts R, Verrier Jones K (1995) Radiological evidence of constipation in urinary tract infection. Arch Dis Child 73:534–535

5.

Marks A, Vasquez E, Moylan S, Diaz-Saldano D, Schreiber J, Saker M, Lindgren BW (2013) Definition of reliable, objective criteria by abdominal radiography to identify occult constipation in children with lower urinary tract symptoms. J Urol 189:1519–1523

6.

Hoberman A, Chesney RW; RIVUR Trial Investigators (2014) Antimicrobial prophylaxis for children with vesicoureteral reflux. N Engl J Med 371:1072–1073

7.

Keren R, Shaikh N, Pohl H, Gravens-Mueller L, Ivanova A, Zaoutis L, Patel M, deBerardinis R, Parker A, Bhatnagar S, Haralam MA, Pope M, Kearney D, Sprague B, Barrera R, Viteri B, Egigueron M, Shah N, Hoberman A (2015) Risk factors for recurrent urinary tract infection and renal scarring. Pediatrics 136:e13–e21

8.

Lee J, Koh D, Ong CN (1989) Statistical evaluation of agreement between two methods for measuring a quantitative variable. Comput Biol Med 19:61–70

9.

Shrout PE, Fleiss JL (1979) Intraclass correlations: uses in assessing rater reliability. Psychol Bull 86:420–428

10.

Benninga M, Candy DC, Catto-Smith AG, Clayden G, Loening-Baucke V, Di Lorenzo C, Nurko S, Staiano A (2005) The Paris Consensus on Childhood Constipation Terminology (PACCT) Group. J Pediatr Gastroenterol Nutr 40:273–275

11.

Nurko S, Zimmerman LA (2014) Evaluation and treatment of constipation in children and adolescents. Am Fam Physician 90:82–90

12.

Moylan S, Armstrong J, Diaz-Saldano D, Saker M, Yerkes EB, Lindgren BW (2010) Are abdominal x-rays a reliable way to assess for constipation? J Urol 184:1692–1698

13.

Pensabene L, Buonomo C, Fishman L, Chitkara D, Nurko S (2010) Lack of utility of abdominal x-rays in the evaluation of children with constipation: comparison of different scoring methods. J Pediatr Gastroenterol Nutr 51:155–159

14.

Bijos A, Czerwionka-Szaflarska M, Mazur A, Romanczuk W (2007) The usefulness of ultrasound examination of the bowel as a method of assessment of functional chronic constipation in children. Pediatr Radiol 37:1247–1252
Acknowledgments
We would like to acknowledge Ilina Rosoklija, MPH, and Bruce Lindgren, MD, from Lurie Children's Hospital of Chicago Division of Pediatric Urology for their contribution and initial vision during the development of this manuscript.
Funding
The content is solely the responsibility of the authors and does not necessarily represent the official views of the National Institute of Diabetes and Digestive and Kidney Diseases or the National Institutes of Health. This research was supported by grants U01 DK074059, U01 DK074053, U01 DK074082, U01 DK074064, U01 DK074062, and U01 DK074063 from the National Institute of Diabetes and Digestive and Kidney Diseases, National Institutes of Health, Department of Health and Human Services.
Ethics declarations
Conflict of interest
The authors declare no competing interests.
Additional information
Publisher's note
Springer Nature remains neutral with regard to jurisdictional claims in published maps and institutional affiliations.
What's known on this subject
Many articles have described a potential association between constipation and development of UTIs. We examined the presence and severity of fecal loading on abdominal radiographs of children diagnosed with UTIs as a potential predictor for recurrent infections.
What this study adds
We found that an increased cecal diameter on abdominal radiography was associated with UTI recurrence. These findings have important implications for the screening and treatment of constipation.
Supplementary Information
About this article
Cite this article
Muniz, G., Kar, E., Gumus, S. et al. Constipation on abdominal radiograph as potential risk factor for recurrent urinary tract infection development. Pediatr Nephrol (2021). https://doi.org/10.1007/s00467-021-04973-5
Received:

Revised:

Accepted:

Published:
Keywords
Constipation

Urinary tract infections

Abdominal radiograph