Abstract
Background
Hypertension is common among children with chronic kidney disease (CKD), and dihydropyridine calcium channel blockers (dhCCBs) are frequently used as treatment. The impact of dhCCBs on proteinuria in children with CKD is unclear.
Methods
Data from 722 participants in the Chronic Kidney Disease in Children (CKiD) longitudinal cohort with a median age of 12 years were used to assess the association between dhCCBs and log transformed urine protein/creatinine levels as well as blood pressure control measured at annual visits. Angiotensin-converting enzyme inhibitor (ACEi) and angiotensin receptor blocker (ARB) use was evaluated as an effect measure modifier.
Results
Individuals using dhCCBs had 18.8% higher urine protein/creatinine levels compared to those with no history of dhCCB or ACEi and ARB use. Among individuals using ACEi and ARB therapy concomitantly, dhCCB use was not associated with an increase in proteinuria. Those using dhCCBs had higher systolic and diastolic blood pressures.
Conclusions
Use of dhCCBs in children with CKD and hypertension is associated with higher levels of proteinuria and was not found to be associated with improved blood pressure control.
Access options
Buy single article
Instant access to the full article PDF.
US$ 39.95
Tax calculation will be finalised during checkout.
Subscribe to journal
Immediate online access to all issues from 2019. Subscription will auto renew annually.
US$ 119
Tax calculation will be finalised during checkout.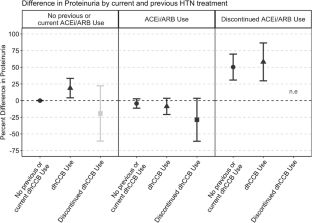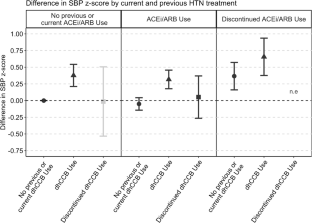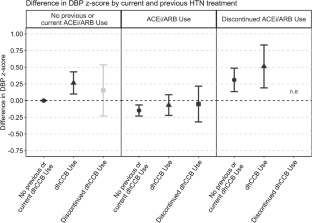 Data Availability
All data generated or analyzed during this study are included in this published article (and its supplementary information files).
References
1.

Flynn JT, Mitsnefes M, Pierce C, Cole SR, Parekh RS, Furth SL, Warady BA, Chronic Kidney Disease in Children Study Group (2008) Blood pressure in children with chronic kidney disease: a report from the Chronic Kidney Disease in Children study. Hypertension 52:631–637

2.

Mitsnefes M, Flynn J, Cohn S, Samuels J, Blydt-Hansen T, Saland J, Kimball T, Furth S, Warady B, CKiD Study Group (2010) Masked hypertension associate with left ventricular hypertrophy in children with CKD. J Am Soc Nephrol 21:137–144

3.

Brady TM, Schneider MF, Flynn JT, Cox C, Samuels J, Saland J, White CT, Furth S, Warady BA, Mitsnefes M (2012) Carotid intima-media thickness in children with CKD: results from the CKiD study. Clin J Am Soc Nephrol 7:1930–1937

4.

ESCAPE Trial Group, Wühl E, Trivelli A, Picca S, Litwin M, Peco-Antic A, Zurowska A, Testa S, Jankauskiene A, Emre S, Caldas-Afonso A, Anarat A, Niaudet P, Mir S, Bakkaloglu A, Enke B, Montini G, Wingen AM, Sallay P, Jeck N, Berg U, Caliskan S, Wygoda S, Hohbach-Hohenfellner K, Dusek J, Urasinski T, Arbeiter K, Neuhaus T, Gellermann J, Drozdz D, Fischbach M, Möller K, Wigger M, Peruzzi L, Mehls O, Schaefer F (2009) Strict blood-pressure control and progression of renal failure in children. N Engl J Med 361:1639–1650

5.

Warady BA, Abraham AG, Schwartz GJ, Wong CS, Muñoz A, Betoko A, Mitsnefes M, Kaskel F, Greenbaum LA, Mak RH, Flynn J, Moxey-Mims MM, Furth S (2015) Predictors of rapid progression of glomerular and non-glomerular kidney disease in children and adolescents: the chronic kidney disease in children (CKiD) cohort. Am J Kidney Dis 65:878–888

6.

Barletta GM, Pierce C, Mitsnefes M, Samuels J, Warady BA, Furth S, Flynn J (2018) Is blood pressure improving in children with chronic kidney disease? A period analysis. Hypertension 71:444–450

7.

Matteucci MC, Chinali M, Rinelli G, Wühl E, Zurowska A, Charbit M, Pongiglione G, Schaefer F, ESCAPE Trial Group (2013) Change in cardiac geometry and function in CKD children during strict BP control: a randomized study. Clin J Am Soc Nephrol 8:203–210

8.

van den Belt SM, HJL H, Gracchi V, de Zeeuw D, Wühl E, Schaefer F, ESCAPE Trial Group (2018) Early proteinuria lowering by angiotensin-converting enzyme inhibition predicts renal survival in children with CKD. J Am Soc Nephrol 29:2225–2233

9.

Jun M, Jardine MJ, Perkovic V, Pilard Q, Billot L, Rodgers A, Rogers K, Gallagher M (2019) Hyperkalemia and renin-angiotensin aldosterone system inhibitor therapy in chronic kidney disease: a general practice-based, observational study. PLoS One 14:e0213192

10.

Qiao Y, Shin JI, Sang Y, Inker LA, Secora A, Luo S, Coresh J, Alexander GC, Jackson JW, Chang AR, Grams ME (2019) Discontinuation of angiotensin converting enzyme inhibitors and angiotensin receptor blockers in chronic kidney disease. Mayo Clin Proc 94:2220–2229

11.

van den Belt SM, Heerspink HJL, Kirchner M, Gracchi V, Thurn-Valsassina D, Bayazit AK, Niemirska A, Canpolat N, Kaplan Bulut I, Azukaitis K, Duzova A, Bacchetta J, Shroff R, Paripovic D, Özçakar ZB, Fidan K, Erdogan H, Gellermann J, Wühl E, de Zeeuw D, Melk A, Querfeld U, Schaefer F (2020) Discontinuation of RAAS inhibition in children with advanced CKD. Clin J Am Soc Nephrol 15:625-632

12.

Lewis EJ, Hunsicker LG, Clarke WR, Berl T, Pohl MA, Lewis JB, Ritz E, Atkins RC, Rohde R, Raz I, Collaborative Study Group (2001) Renoprotective effect of the angiotensin-receptor antagonist irbesartan in patients with nephropathy due to type 2 diabetes. N Engl J Med 345:851–860

13.

Wright JT Jr, Bakris G, Greene T, Agodoa LY, Appel LJ, Charleston J, Cheek D, Douglas-Baltimore JG, Gassman J, Glassock R, Hebert L, Jamerson K, Lewis J, Phillips RA, Toto RD, Middleton JP, Rostand SG, African American Study of Kidney Disease, Hypertension Study Group (2002) Effect of blood pressure lowering and antihypertensive drug class on progression of hypertensive kidney disease: results from the AASK trial. JAMA 20:2421–2431

14.

Abbott K, Smith A, Bakris GL (1996) Effects of dihydropyridine calcium antagonists on albuminuria in patients with diabetes. J Clin Pharmacol 13:274–279

15.

Nakamura T, Sato E, Fujiwara N, Kawagoe Y, Ueda Y, Sugaya T, Yamagishi S, Yamada S, Koide H (2010) Comparative effects of benidipine and amlodipine on proteinuria, urinary 8-Ohdg, urinary L-Fabp, and inflammatory and atherosclerosis markers in early-stage chronic kidney disease. Am J Med Sci 339:157–163

16.

Furth SK, Cole SR, Moxey-Mims M, Kaskel F, Mak R, Schwartz G, Wong C, Muñoz A, Warady BA (2006) Design and methods of the Chronic Kidney Disease in Children (CKiD) prospective cohort study. Clin J Am Soc Nephrol 1:1006–1015

17.

Flynn JT, Kaelber DC, Baker-Smith CM, Blowey D, Carroll AE, Daniels SR, de Ferranti SD, Dionne JM, Falkner B, Flinn SK, Gidding SS, Goodwin C, Leu MG, Powers ME, Rea C, Samuels J, Simasek M, Thaker VV, Urbina EM, Subcommittee on Screening and Management of High Blood Pressure in Children (2017) Clinical practice guideline for screening and management of high blood pressure in children and adolescents. Pediatrics e20171904:140

18.

Kogon AJ, Pierce CB, Cox C, Brady TM, Mitsnefes MM, Warady BA, Furth SL, Flynn JT (2014) Nephrotic range proteinuria is strongly associated with poor blood pressure control in pediatric chronic kidney disease. Kidney Int 85:938–944

19.

Wong CS, Pierce CB, Cole SR, Warady BA, Mak RH, Benador NM, Kaskel F, Furth SL, Schwartz GJ, CKiD Investigators (2009) Association of proteinuria with race, cause of chronic kidney disease, and glomerular filtration rate in the chronic kidney disease in children study. Clin J Am Soc Nephrol 4:812–819

20.

Halekoh U, HØjsgaard S, Yan J (2006) The R package geepack for generalized estimating equations. J Statistical Software 15:1–11

21.

Fathallah-Shaykh SA, Flynn JT, Pierce CB, Abraham AG, Blydt-Hansen TD, Massengill SF, Moxey-Mims MM, Warady BA, Furth SL, Wong CS (2015) Progression of pediatric CKD of non-glomerular origin in the CKiD cohort. Clin J Am Soc Nephrol 10:571–577

22.

Abraham AG, Betoko A, Fadrowski JJ, Pierce C, Furth SL, Warady BA, Muñoz A (2017) Renin-angiotensin II-aldosterone system blockers and time to renal replacement therapy in children with CKD. Pediatr Nephrol 32:643–649

23.

Bellinghieri G, Mazzaglia G, Savica V, Santoro D (2003) Effects of manidipine and nifedipine on blood pressure and renal function in patients with chronic renal failure: A multicenter randomized controlled trial. Ren Fail 25:681–689

24.

Bakris GL, Weir M, Secic M, Campbell B, Weis-McNulty A (2004) Differential effects of calcium antagonist subclasses on markers of nephropathy progression. Kidney Int 65:1991–2002

25.

Okuda T, Okamura K, Shirai K, Urata H (2004) Effect of angiotensin-converting enzyme inhibitor/calcium antagonist combination therapy on renal function in hypertensive patients with chronic kidney disease: Chikushi Anti-Hypertension Trial- Benidipine and Perindopril. J Clin Med Res 10:117–124

26.

Abe M, Okada K, Maruyama N, Matsumoto S, Maruyama T, Fujita T, Matsumoto K, Soma M (2011) Benidipine reduces albuminuria and plasma aldosterone in mild-to-moderate stage chronic kidney disease with albuminuria. Hypertens Res 34:268–273

27.

Thamcharoen N, Susantitaphong P, Wongrakpanich S, Chongsathidkiet P, Tantrachoti P, Pitukweerakul S, Avihingsanon Y, Praditpornsilpa K, Jaber BL, Eiam-Ong S (2015) Effect of N- and T-type calcium channel blocker on proteinuria, blood pressure, and kidney function in hypertensive patients: a meta-analysis. Hypertens Res 38:847–855

28.

Wu HY, Huang JW, Lin HJ, Liao WC, Peng YS, Hung KY, Wu KD, Tu YK, Chien KL (2013) Comparative effectiveness of renin-angiotensin system blockers and other antihypertensive drugs in patients with diabetes: systematic review and Bayesian network meta-analysis. BMJ 347:f6008

29.

Robles NR, Fici F, Grassi G (2017) Dihydropyridine calcium channel blockers and renal disease. Hypertens Res 40:21–28

30.

Griffin KA, Picken MM, Bakris GL, Bidani AK (1999) Class differences in the effects of calcium channel blockers in the rat remnant kidney model. Kidney Int 55:1849–1860

31.

Flynn JT, Newburger JW, Daniels SR, Sanders SP, Portman RJ, Hogg RJ, Saul JP, PATH-1 Investigators (2004) A randomized, placebo- controlled trial of amlodipine in children with hypertension. J Pediatr 145:353–359

32.

Flynn JT (2005) Efficacy and safety of prolonged amlodipine treatment in hypertensive children. Pediatr Nephrol 20:631–635
Acknowledgments
Data in this manuscript were collected by the Chronic Kidney Disease in children prospective cohort study (CKiD) with clinical coordinating centers (Principal Investigators) at Children's Mercy Hospital and the University of Missouri–Kansas City (Bradley Warady, MD) and Children's Hospital of Philadelphia (Susan Furth, MD, PhD), Central Biochemistry Laboratory (George Schwartz, MD) at the University of Rochester Medical Center, and data coordinating center (Alvaro Muñoz, PhD and Derek K. Ng, PhD) at the Johns Hopkins Bloomberg School of Public Health.
Code availability
Not applicable.
Funding
The CKiD Study is supported by grants from the National Institute of Diabetes and Digestive and Kidney Diseases, with additional funding from the Eunice Kennedy Shriver National Institute of Child Health and Human Development and the National Heart, Lung, and Blood Institute (U01-DK-66143, U01-DK-66174, U24-DK-082194, and U24-DK-66116). The CKiD website is located at https://statepi.jhsph.edu/ckid.
Ethics declarations
Ethics approval
IRB approval at all participating sites in the Chronic Kidney Disease in children prospective cohort study was obtained.
Consent to participate
Informed consent/assent was obtained from all individual participants/parents included in the study.
Consent for publication
Each author contributed important intellectual content during manuscript drafting or revision, accepts personal accountability for the author's own contributions, and agrees to ensure that questions pertaining to the accuracy or integrity of any portion of the work are appropriately investigated and resolved.
Conflicts of interest
The authors declare no competing interests.
Additional information
Publisher's note
Springer Nature remains neutral with regard to jurisdictional claims in published maps and institutional affiliations.
Supplementary Information
About this article
Cite this article
Richardson, K.L., Weaver, D.J., Ng, D.K. et al. L-type calcium channel blocker use and proteinuria among children with chronic kidney diseases. Pediatr Nephrol (2021). https://doi.org/10.1007/s00467-021-04967-3
Received:

Revised:

Accepted:

Published:
Keywords
Proteinuria

Chronic kidney disease

Children

Calcium channel blocker

Hypertension