Abstract
Background
APOL1 high-risk genotypes (HRG) are associated with increased risk of kidney disease in individuals of African ancestry. We analyzed the effects of APOL1 risk variants on an ethnically diverse Brazilian pediatric nephrotic syndrome (NS) cohort.
Methods
Multicenter study including 318 NS patients, categorized as progressors to advanced CKD [estimated glomerular filtration rate (eGFR)] < 30 mL/min/1.73 m2] and slow/non-progressors (eGFR > 30 mL/min/1.73 m2 through the study). We employed Cox regression with progression time as the outcome and APOL1 genotype as the independent variable. We tested this association in the entire cohort and three subgroups; (1) focal segmental glomerulosclerosis (FSGS), (2) steroid-resistant NS (SRNS), and (3) those who underwent kidney biopsy.
Results
Nineteen patients (6%) had an HRG. Of these, 47% were self-reported White. Patients with HRG manifested NS at older ages and presented higher frequencies of FSGS and SRNS. HRG patients progressed to advanced CKD more often than low-risk-genotype (LRG) children in the whole NS cohort (p = 0.001) and the three subgroups. In SRNS and biopsied patients, a single risk variant was associated with trends of higher CKD progression risk.
Conclusions
Novel discoveries include a substantial prevalence of HRG among patients self-reported White, worse kidney outcomes in HRG versus LRG children in the FSGS subgroup, and a trend of higher CKD progression risk associated with a single risk variant in the SRNS cohort. These findings suggest APOL1-associated NS extends beyond patients self-reported non-White, the HRG effect is independent of FSGS, and a single risk variant may have a detrimental impact in children with NS.
Access options
Buy single article
Instant access to the full article PDF.
US$ 39.95
Tax calculation will be finalised during checkout.
Subscribe to journal
Immediate online access to all issues from 2019. Subscription will auto renew annually.
US$ 119
Tax calculation will be finalised during checkout.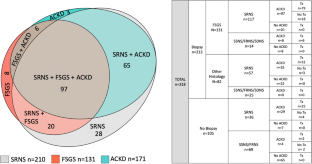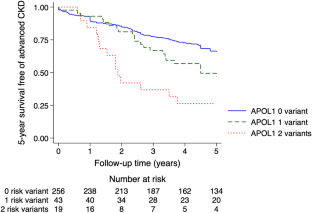 References
1.

Genovese G, Friedman DJ, Ross MD, Lecordier L, Uzureau P, Freedman BI, Bowden DW, Langefeld CD, Oleksyk TK, Uscinski Knob AL, Bernhardy AJ, Hicks PJ, Nelson GW, Vanhollebeke B, Winkler CA, Kopp JB, Pays E, Pollak MR (2010) Association of trypanolytic ApoL1 variants with kidney disease in African Americans. Science 329:841–845. https://doi.org/10.1126/science.1193032

2.

Kopp JB, Nelson GW, Sampath K, Johnson RC, Genovese G, An P, Friedman D, Briggs W, Dart R, Korbet S, Mokrzycki MH, Kimmel PL, Limou S, Ahuja TS, Berns JS, Fryc J, Simon EE, Smith MC, Trachtman H, Michel DM, Schelling JR, Vlahov D, Pollak M, Winkler CA (2011) APOL1 genetic variants in focal segmental glomerulosclerosis and HIV-associated nephropathy. J Am Soc Nephrol 22:2129–2137. https://doi.org/10.1681/ASN.2011040388

3.

Friedman DJ, Kozlitina J, Genovese G, Jog P, Pollak MR (2011) Population-based risk assessment of APOL1 on renal disease. J Am Soc Nephrol 22:2098–2105. https://doi.org/10.1681/ASN.2011050519

4.

Kasembeli AN, Duarte R, Ramsay M, Mosiane P, Dickens C, Dix-Peek T, Limou S, Sezgin E, Nelson GW, Fogo AB, Goetsch S, Kopp JB, Winkler CA, Naicker S (2015) APOL1 Risk variants are strongly associated with hiv-associated nephropathy in Black South Africans. J Am Soc Nephrol 26:2882–2890. https://doi.org/10.1681/ASN.2014050469

5.

Larsen CP, Beggs ML, Saeed M, Walker PD (2013) Apolipoprotein L1 risk variants associate with systemic lupus erythematosus-associated collapsing glomerulopathy. J Am Soc Nephrol 24:722–725. https://doi.org/10.1681/ASN.2012121180

6.

Nadkarni GN, Galarneau G, Ellis SB, Nadukuru R, Zhang J, Scott SA, Schurmann C, Li R, Rasmussen-Torvik LJ, Kho AN, Hayes MG, Pacheco JA, Manolio TA, Chisholm RL, Roden DM, Denny JC, Kenny EE, Bottinger EP (2017) Apolipoprotein L1 variants and blood pressure traits in African Americans. J Am Coll Cardiol 69:1564–1574. https://doi.org/10.1016/j.jacc.2017.01.040

7.

Vajgel G, Lima SC, Santana DJS, Oliveira CBL, Costa DMN, Hicks PJ, Cavalcante MAGM, Langefeld CD, Valente LM, Crovella S, Kirsztajn GM, Freedman BI, Sandrin-Garcia P (2019) A single APOL1 nephropathy variant increases risk of advanced lupus nephritis in Brazilians. J Rheumatol 47:1209–1217. https://doi.org/10.3899/jrheum.190684

8.

The 2018 USRDS Annual Data Report - Chapter 1: Incidence, Prevalence, Patient Characteristics, and Treatment Modalities, https://www.usrds.org/media/1736/v2_c01_incprev_18_usrds.pdf

9.

Reidy KJ, Hjorten RC, Simpson CL, Rosenberg AZ, Rosenblum SD, Kovesdy CP, Tylavsky FA, Myrie J, Ruiz BL, Haque S, Mozhui K, Nelson GW, David VA, Yang X, Suzuki M, Jacob J, Reznik SE, Kaskel FJ, Kopp JB, Winkler CA, Davis RL (2018) Fetal—not maternal—APOL1 genotype associated with risk for preeclampsia in those with African ancestry. Am J Hum Genet 103:367–376. https://doi.org/10.1016/j.ajhg.2018.08.002

10.

Ekulu PM, Nkoy AB, Betukumesu DK, Aloni MN, Makulo JRR, Sumaili EK, Mafuta EM, Elmonem MA, Arcolino FO, Kitetele FN, Lepira FB, van den Heuvel LP, Levtchenko EN (2019) APOL1 risk genotypes are associated with early kidney damage in children in sub-Saharan Africa. Kidney Int Rep 4:930–938. https://doi.org/10.1016/j.ekir.2019.04.002

11.

Ng DK, Robertson CC, Woroniecki RP, Limou S, Gillies CE, Reidy KJ, Winkler CA, Hingorani S, Gibson KL, Hjorten R, Sethna CB, Kopp JB, Moxey-Mims M, Furth SL, Warady BA, Kretzler M, Sedor JR, Kaskel FJ, Sampson MG (2017) APOL1-associated glomerular disease among African-American children: a collaboration of the chronic kidney disease in children (CKiD) and nephrotic syndrome study network (NEPTUNE) cohorts. Nephrol Dial Transplant 32:983–990. https://doi.org/10.1093/ndt/gfw061

12.

Indicadores IBGE: Pesquisa Nacional por Amostra de Domicílios Contínua (PNAD contínua trimestral): Primeiro Trimestre de 2020, Rio de Janeiro, https://biblioteca.ibge.gov.br/visualizacao/periodicos/2421/pnact_2020_1tri.pdf

13.

Feltran LS, Watanabe A, Guaragna MS, Machado IC, Casimiro FMS, Neves PDMM, Palma LM, Varela P, Vaisbich MH, Marie SKN, Facincani I, Pesquero JB, Belangero VMS, Sampson MG, Koch Nogueira PC, Onuchic LF (2020) Brazilian network of pediatric nephrotic syndrome (REBRASNI). Kidney Int Rep 5:358–362. https://doi.org/10.1016/j.ekir.2019.11.007

14.

ISKDC (1981) Primary nephrotic syndrome in children: clinical significance of histopathologic variants of minimal change and of diffuse mesangial hypercellularity. A Report of the International Study of Kidney Disease in Children. Kidney Int 20:765–771. https://doi.org/10.1038/ki.1981.209

15.

Mathias RA, Taub MA, Gignoux CR, Fu W, Musharoff S, O'Connor TD, Vergara C, Torgerson DG, Pino-Yanes M, Shringarpure SS, Huang L, Rafaels N, Boorgula MP, Johnston HR, Ortega VE, Levin AM, Song W, Torres R, Padhukasahasram B, Eng C, Mejia-Mejia DA, Ferguson T, Qin ZS, Scott AF, Yazdanbakhsh M, Wilson JG, Marrugo J, Lange LA, Kumar R, Avila PC, Williams LK, Watson H, Ware LB, Olopade C, Olopade O, Oliveira R, Ober C, Nicolae DL, Meyers D, Mayorga A, Knight-Madden J, Hartert T, Hansel NN, Foreman MG, Ford JG, Faruque MU, Dunston GM, Caraballo L, Burchard EG, Bleecker E, Araujo MI, Herrera-Paz EF, Gietzen K, Grus WE, Bamshad M, Bustamante CD, Kenny EE, Hernandez RD, Beaty TH, Ruczinski I, Akey J, CAAPA, Barnes KC (2016) A continuum of admixture in the western hemisphere revealed by the African diaspora genome. Nat Commun 7:12522. https://doi.org/10.1038/ncomms12522

16.

Parra FC, Amado RC, Lambertucci JR, Rocha J, Antunes CM, Pena SDJ (2003) Color and genomic ancestry in Brazilians. Proc Natl Acad Sci U S A 100:177–182. https://doi.org/10.1073/pnas.0126614100

17.

Pena SDJ, Bastos-Rodrigues L, Pimenta JR, Bydlowski SP (2009) DNA tests probe the genomic ancestry of Brazilians. Braz J Med Biol Res 42:870–876

18.

Alladagbin DJ, Fernandes PN, Tavares MB, Brito JT, Oliveira GGS, Silva LK, Khouri NA, Oliveira MB, Amorim T, Matos CM, Ribeiro GS, Lopes AA, Gonçalves MS, Dos-Santos WLC (2018) The sickle cell trait and end stage renal disease in Salvador, Brazil. PLoS One 13:e0209036. https://doi.org/10.1371/journal.pone.0209036

19.

Duran CE, Ramírez A, Posada JG, Schweineberg J, Mesa L, Pachajoa H, Estacio M, Manzi E, Aros V, Díaz L, Garcia VH (2019) Prevalence of APOL1 risk variants in Afro-descendant patients with chronic kidney disease in a Latin American Country. Int J Nephrol 2019:7076326. https://doi.org/10.1155/2019/7076326

20.

Kruzel-Davila E, Wasser WG, Skorecki K (2017) APOL1 Nephropathy: a population genetics and evolutionary medicine detective story. Semin Nephrol 37:490–507. https://doi.org/10.1016/j.semnephrol.2017.07.002

21.

Riella C, Siemens TA, Wang M, Campos RP, Moraes TP, Riella LV, Friedman DJ, Riella MC, Pollak MR (2019) APOL1-associated kidney disease in Brazil. Kidney Int Rep 4:923–929. https://doi.org/10.1016/j.ekir.2019.03.006
Funding
This work was supported by Fundação de Amparo à Pesquisa do Estado de São Paulo: grant 2013/02162–8 to LFO as one of the four principal investigators; grant 2014/27198–8 to JBP and PCKN as two of the four principal investigators and grant 2015/20502-6 to MPM.
Ethics declarations
Conflict of interest
The authors declare that they have no conflict of interest.
Data availability statement
All data that is not included in the article and supplemental material is available upon request.
Additional information
Publisher's note
Springer Nature remains neutral with regard to jurisdictional claims in published maps and institutional affiliations.
Supplementary Information
About this article
Cite this article
Watanabe, A., Guaragna, M.S., Belangero, V.M.S. et al. APOL1 in an ethnically diverse pediatric population with nephrotic syndrome: implications in focal segmental glomerulosclerosis and other diagnoses. Pediatr Nephrol (2021). https://doi.org/10.1007/s00467-021-04960-w
Received:

Revised:

Accepted:

Published:
Keywords
APOL1

Risk alleles

Nephrotic syndrome

Focal segmental glomerulosclerosis

Children

Brazilian admixture race