Abstract
Background
Co-occurrence of polycystic kidney disease and hyperinsulinemic hypoglycemia has been reported in children in a few families associated with a variant in the promotor of the PMM2 gene, at position -167 upstream of the coding sequence. PMM2 encodes phosphomannomutase 2, a key enzyme in N-glycosylation. While biallelic coding PMM2 mutations are involved in congenital disorder of glycosylation CDG1A, that particular variant in the promoter of the gene, either in the homozygous state or associated with a mutation in the coding exons of the gene, is thought to restrict the N-glycosylation defect to the kidney and the pancreas.
Methods
Targeted exome sequencing of a panel of genes involved in monogenic kidney diseases.
Results
We identified a PMM2 variant at position -167 associated with a pathogenic PMM2 variant in the coding exons in 3 families, comprising 6 cases affected with a cystic kidney disease. The spectrum of phenotypes was very broad, from extremely enlarged fetal cystic kidneys in the context of a COACH-like syndrome, to isolated cystic kidney disease with small kidneys, slowly progressing toward kidney failure in adulthood. Hypoglycemia was reported only in one case.
Conclusion
These data show that the PMM2 promotor variation, in trans of a PMM2 coding mutation, is associated with a wide spectrum of kidney phenotypes, and is not always associated with extra-renal symptoms. When present, extra-renal defects may include COACH-like syndrome. These data prompt screening of PMM2 in unresolved cases of fetal hyperechogenic/cystic kidneys as well as in cystic kidney disease in children and adults.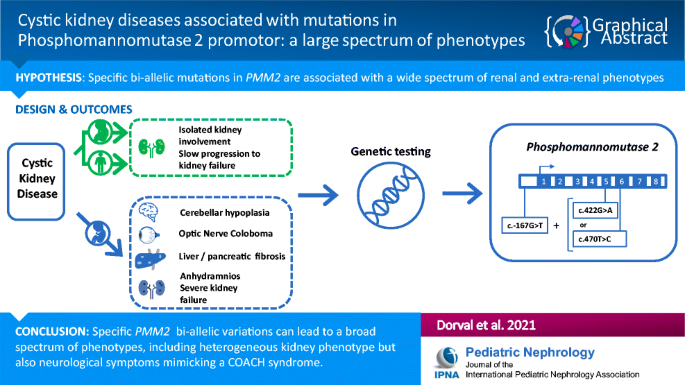 Access options
Buy single article
Instant access to the full article PDF.
US$ 39.95
Tax calculation will be finalised during checkout.
Subscribe to journal
Immediate online access to all issues from 2019. Subscription will auto renew annually.
US$ 119
Tax calculation will be finalised during checkout.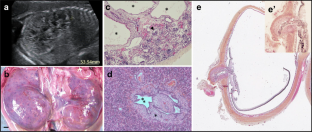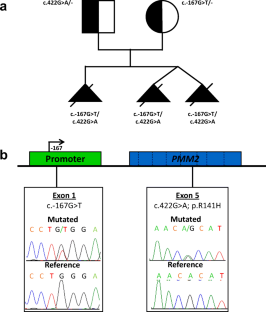 Acknowledgements
We thank all patients and families. We thank all clinicians who recorded data in health records. We thank Patrick Nitschké from the Bioinformatic Plateform, Paris Descartes Sorbonne Paris Cité University, Imagine Institute, Paris, France, and Cecile Fourrage from the Genetic Department, APHP, Hôpital universitaire Necker-Enfants malades, Paris, France, for their help with NGS.
Funding
This work was supported by state funding from the gence Nationale de la Recherche (ANR) under "Investissements d'avenir" program (ANR-10-IAHU-01) and by a public grant overseen by the ANR as part of the second "Investissements d'Avenir" program (reference: ANR-17-RHUS-0002).
Ethics declarations
Conflict of interest
The authors declare no competing interests.
Additional information
Publisher's note
Springer Nature remains neutral with regard to jurisdictional claims in published maps and institutional affiliations.
About this article
Cite this article
Dorval, G., Jeanpierre, C., Morinière, V. et al. Cystic kidney diseases associated with mutations in phosphomannomutase 2 promotor: a large spectrum of phenotypes. Pediatr Nephrol (2021). https://doi.org/10.1007/s00467-021-04953-9
Received:

Revised:

Accepted:

Published:
Keywords
Cystic kidney diseases

Hyperinsulinemic hypoglycemia

Glycosylation

Genetics

Prenatal

PMM2