Abstract
Autosomal dominant polycystic kidney disease (ADPKD) is associated with distinct cytopenias in observational studies; the most consistent and strongest association is seen with alternations in the lymphocytic lineages. Although the underlying mechanism of these associations is unclear, it has been hypothesized to be secondary to sequestration of white blood cells in cystic organs, or related to the uremic environment in chronic kidney disease (CKD). However, since mutations in PKD1 or -2 affect several immunomodulating pathways, cytopenia may well be an unrecognized extrarenal manifestation of ADPKD. Furthermore, many important questions on the clinical implications of this finding and the effect on the disease course in these patients are unanswered. In this review article, we provide an overview of the current evidence on cytopenia in ADPKD and explore the underlying mechanisms of this association and its potential prognostic implications. Based on the current literature, we hypothesize that polycystin deficiency can disturb immune cell homeostasis and that cytopenia is thus an intrinsic feature of ADPKD, related to genetic factors. Taken together, these findings warrant further investigation to establish the exact etiology and role of cytopenia in patients with ADPKD.
Access options
Buy single article
Instant access to the full article PDF.
US$ 39.95
Tax calculation will be finalised during checkout.
Subscribe to journal
Immediate online access to all issues from 2019. Subscription will auto renew annually.
US$ 119
Tax calculation will be finalised during checkout.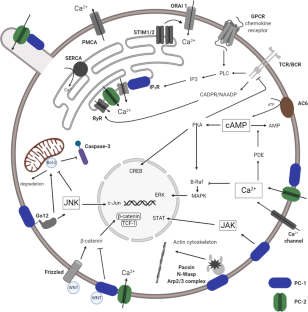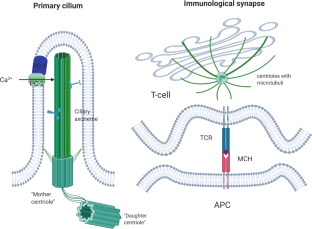 Abbreviations
ADPKD:

autosomal dominant polycystic kidney disease

PC-1:

polycystin 1

PC-2:

polycystin 2

ER:

endoplasmic reticulum

CKD:

chronic kidney disease

CKD 5:

stage 5 chronic kidney disease

TRP:

transient receptor potential

IP3R:

inositol triphosphate receptor

RyR:

ryanodine receptor

SOCE:

store-operated Ca2+ entry

AC6:

adenylyl cyclase 6

PDEs:

phosphodiesterases

cAMP:

cyclic adenosine monophosphate

MIF:

macrophage inhibitory factor (MIF)

MCP-1:

monocyte chemoattractant protein-1 (MCP-1)

EPO:

erythropoietin

HSC:

hematopoietic stem cells

WBC:

white blood cell

ESA:

erythropoietin stimulating agents

HIF-2 α:

hypoxia inducible factor-2 alfa

STIM1/2:

stromal interaction molecule 1/2

CRAC:

Ca2+ release-activated Ca2+ channel (CRAC)

JAK/STAT:

Janus kinase/signal transducers and activators of transcription

JNKs:

c-Jun amino terminal kinases

Bcl-2:

B cell lymphoma 2 protein

WASp:

Wiskott–Aldrich protein

PCD:

primary ciliary dyskinesia
References
1.

Torres VE, Harris PC, Pirson Y (2007) Autosomal dominant polycystic kidney disease. Lancet 369:1287–1301

2.

Porath B, Gainullin VG, Cornec-Le Gall E, Dillinger EK, Heyer CM, Hopp K, Edwards ME, Madsen CD, Mauritz SR, Banks CJ, Baheti S, Reddy B, Herrero JI, Bañales JM, Hogan MC, Tasic V, Watnick TJ, Chapman AB, Vigneau C, Lavainne F, Audrézet MP, Ferec C, Le Meur Y, Torres VE, Genkyst Study Group, HALT Progression of Polycystic Kidney Disease Group; Consortium for Radiologic Imaging Studies of Polycystic Kidney Disease, Harris PC (2016) Mutations in GANAB, encoding the glucosidase IIα subunit, cause autosomal-dominant polycystic kidney and liver disease. Am J Hum Genet 98:1193–1207

3.

Cornec-Le Gall E, Olson RJ, Besse W, Heyer CM, Gainullin VG, Smith JM, Audrézet MP, Hopp K, Porath B, Shi B, Baheti S, Senum SR, Arroyo J, Madsen CD, Férec C, Joly D, Jouret F, Fikri-Benbrahim O, Charasse C, Coulibaly JM, Yu AS, Khalili K, Pei Y, Somlo S, Le Meur Y, Torres VE, Genkyst Study Group; HALT Progression of Polycystic Kidney Disease Group; Consortium for Radiologic Imaging Studies of Polycystic Kidney Disease, Harris PC (2018) Monoallelic mutations to DNAJB11 cause atypical autosomal-dominant polycystic kidney disease. Am J Hum Genet 102:832–844

4.

Besse W, Chang AR, Luo JZ, Triffo WJ, Moore BS, Gulati A, Hartzel DN, Mane S, Regeneron Genetics Center, Torres VE, Somlo S, Mirshahi T (2019) ALG9 mutation carriers develop kidney and liver cysts. J Am Soc Nephrol 30:2091–2102

5.

Banerjee A, Chandna S, Jayasena D, Farrington K (2002) Leucopenia in adult polycystic kidney disease patients on haemodialysis. Nephron 91:175–176

6.

Van Laecke S, Kerre T, Nagler EV, Maes B, Caluwe R, Schepers E, Glorieux G, Van Biesen W, Verbeke F (2018) Hereditary polycystic kidney disease is characterized by lymphopenia across all stages of kidney dysfunction: an observational study. Nephrol Dial Transplant 33:489–496

7.

Su Q, Hu F, Ge X, Lei J, Yu S, Wang T, Zhou Q, Mei C, Shi Y (2018) Structure of the human PKD1/PKD2 complex. Science 361:eaat9819

8.

Douguet D, Patel A, Honoré E (2019) Structure and function of polycystins: insights into polycystic kidney disease. Nat Rev Nephrol 15:412–422

9.

Habbig S, Liebau MC (2015) Ciliopathies: from rare inherited kidney diseases to basic cellular function. Mol Cell Pediatr 2:1–6

10.

Aguiari G, Manzati E, Penolazzi L, Micheletti F, Augello G, Vitali ED, Cappelli G, Cai Y, Reynolds D, Somlo S, Piva R, del Senno L (1999) Mutations in autosomal dominant polycystic kidney disease 2 gene: reduced expression of PKD2 protein in lymphoblastoid cells. Am J Kidney Dis 33:880–885

11.

Magistroni R, Mangolini A, Guzzo S, Testa F, Rapanà MR, Mignani R, Russo G, di Virgilio F, Aguiari G (2019) TRPP2 dysfynction decreases ATP evoked calcium, induces aggregation and stimulates proliferation in T lymfocytes. BMC Nephrol 20:1–14

12.

Ong AC (2000) Polycystin expression in the kidney and other tissues: complexity, consensus and controversy. Exp Nephrol 8:208–214

13.

Terryn S, Ho A, Beauwens R, Devuyst O (2011) Fluid transport and cystogenesis in autosomal dominant polycystic kidney disease. Biochim Biophys Acta 1812:1314–1321

14.

Feske S, Wulf H, Skolnik SE (2015) Ion channels in innate and adaptive immunity. Annu Rev Immunol 33:291–353

15.

Zimmerman KA, Hopp K, Mrug M (2020) Role of chemokines, innate and adaptive immunity. Cell Signal 73:109647

16.

Talbot JJ, Shillingford JM, Vasanth S, Doerr N, Mukherjee S, Kinter MT, Watnick T, Weimbs T (2011) Polycystin-1 regulates STAT activity by a dual mechanism. Proc Natl Acad Sci U S A 108:7985–7990

17.

Weimbs T, Olsan EE, Talbot JJ (2013) Regulation of STATs by polycystin-1 and their role in polycystic kidney disease. JAKSTAT 2:e23650

18.

Fragiadaki M, Lannoy M, Themanns M, Maurer B, Leonhard WN, Peters DJM, Moriggl R, Ong ACM (2017) STAT5 drives abnormal proliferation in autosomal dominant polycystic kidney disease. Kidney Int 91:575–586

19.

Klammt J, Neumann D, Gevers EF, Andrew SF, Schwartz ID, Rockstroh D, Colombo R, Sanchez MA, Vokurkova D, Kowalczyk J, Metherell LA, Rosenfeld RG, Pfäffle R, Dattani MT, Dauber A, Hwa V (2015) Dominant-negative STAT5B mutations cause growth hormone insensitivity with short stature and mild immune dysregulation. Nat Commun 9:2105–2115

20.

Kim S, Nie H, Nesim V, Tran U, Outeda P, Bai CX, Keeling J, Maskey D, Watnick T, Wessely O, Tsiokas L (2016) The polycystin complex mediates Wnt/Ca2+ signalling. Nat Cell Biol 18:752–764

21.

Ecder T, Melnikov VY, Stanley M, Korular D, Lucia MS, Schrier RW, Edelstein CL (2002) Caspases, Bcl-2 proteins and apoptosis in autosomal-dominant polycystic kidney disease. Kidney Int 61:1220–1230

22.

Nahayama K, Negishi I, Kuida K, Sawa H, Loh DY (1994) Targeted disruption of Bcl-2 alpha beta in mice: occurrence of gray hair, polycystic kidney disease and lymphocytopenia. Proc Natl Acad Sci U S A 91:3700–3704

23.

Nigro E, Castelli M, Boletta A (2015) Role of the polycystins in cell migration, polarity, and tissue morphogenesis. Cells 4:687–705

24.

Yao G, Su X, Nguyen V, Roberts K, Li X, Takakura A, Plomann M, Zhou J (2014) Polycystin-1 regulates actin cytoskeleton organization and directional cell migration through a novel PC1-Pacsin 2-N-Wasp complex. Hum Mol Genet 23:2769–2779

25.

Rundle DR, Gorbsky G, Tsiokas L (2004) PKD2 interacts and co-localizes with mDia1 to mitotic spindles of dividing cells. J Biol Chem 279:29728–29739

26.

Cassini MF, Karkade VR, Kurtz E, Sulkowski P, Glazer P, Torres R, Somlo S, Cantley LG (2018) Mcp1 promotes macrophage-dependent cyst expansion in autosomal dominant polycystic kidney disease. J Am Soc Nephrol 29:2471–2481

27.

Zimmerman KA, Gonzalez NM, Chumley P, Chacana T, Harrington LE, Yoder BK, Mrug M (2019) Urinary T cells correlate with rate of renal function loss in autosomal dominant polycystic kidney disease. Physiol Rep 7:e13951

28.

Bath P, Saggar-Malik A, MacDougall I, Eastwood J, MacGregor G (1995) Increased platelet volume in patients with adult polycystic kidney disease. Platelets 6:336–339

29.

Setyapranata S, Holt SG (2015) Platelet counts in autosomal dominant polycystic kidney disease. Platelets 27:262–263

30.

Yin X, Prince WK, Blumenfeld JD, Zhang W, Donahue S, Bobb WO, Rennert H, Askin G, Barash I, Prince MR (2019) Spleen phenotype in autosomal dominant polycystic kidney disease. Clin Radiol 74:975e17–975e24

31.

Chebib FT, Torres VE (2016) Autosomal dominant polycystic kidney disease: core curriculum 2016. Am J Kidney Dis 67:792–810

32.

Cohen G, Hörl WH (2012) Immune dysfunction in uremia-an update. Toxins 4:962–990

33.

Verdalles U, Abad S, Vega A, Caro CR, Ampuero J, Jofre R, Lopez-Gomez JM (2011) Factors related the absence of anemia in hemodialysis patients. Blood Purif 32:69–74

34.

Landau D, London L, Bandach I, Segev Y (2018) The hypoxia inducible factor/erythropoietin (EPO)/EPO receptor pathway is disturbed in a rat model of chronic kidney disease related anemia. PLoS One 13:e0196684

35.

Aguiari G, Banzi M, Gessi S, Cai Y, Zeggio E, Manzati E, Piva R, Lambertini E, Ferrari L, Peters DJ, Lanza F, Harris PC, Borea PA, Somlo S, Del Senno L (2004) Deficiency of polycystin-2 reduces Ca 2+ channel activity and cell proliferation in ADPKD lymphoblastoid cells. FASEB J 18:884–886

36.

Gattone VH 2nd, Chen NX, Sinders RM, Seifert MF, Duan D, Martin D, Henley C, Moe SM (2009) Calcimimetic inhibits late-stage cyst growth in ADPKD. J Am Soc Nephrol 20:1527–1532

37.

Kunert-Radek J, Stepien H, Lyson K, Pawlikawski M (1990) Effect of calcium channel modulators on proliferation of mouse spleen lymfocytes. Agents Actions 29:254–258

38.

Boletta A (2009) Emerging evidence of a link between the polycystins and the mTOR pathways. Pathogenetics 2:1–16

39.

Acres MJ, Gothe F, Grainger A, Skelton AJ, Swan DJ, Willet JDP, Leech S, Galcheva S, Iotova V, Hambleton S, Engelhardt KR (2019) Signal transducer and activator of transcription 5B deficiency due to a novel missense mutation in the coiled-coil domain. J Allergy Clin Immunol 143:413–416

40.

Tangye SG, Bucciol G, Casas-Martin J, Pillay B, Ma CS, Moens L, Meyts I (2019) Human inborn errors of the actin cytoskeleton affect in immunity: way beyond WAS and WIP. Immunol Cell Biol 97:389–402

41.

Hildebrandt F, Benzing T, Katsanis N (2011) Ciliopathies. N Engl J Med 364:1533–1543

42.

Cassiolo C, Boldani CT (2019) A cellular view of the immunological synapse. Cells 8:789–814

43.

Boon M, De Boeck K, Jorissen M, Meyts I (2014) Primary ciliary dyskinesia and humeral immunodeficiency: is there a missing link? Respir Med 108:931–934

44.

Warny M, Helby J, Nordestgaard BG, Birgens H, Bojesen SE (2018) Lymphopenia and risk of infection and infection-related death in 98,344 individuals from a prospective Danish population-based study. PLoS Med 15:e1002685

45.

Bretagnol A, Halimi JM, Roland M, Barbet C, Machet L, Al Najjar A, Marlière JF, Badin J, Nivet H, Lebranchu Y, Büchler M (2010) Autosomal dominant polycystic kidney disease: risk factor for nonmelanoma skin cancer following kidney transplantation. Transpl Int 23:878–886

46.

Nielsen LH, Jensen-Fangel S, Jespersen B, Ostergaard L, Søgaard OS (2012) Risk and prognosis of hospitalization for pneumonia among individuals with and without functioning renal transplants in Denmark: a population-based study. Clin Infect Dis 55:679–686

47.

Moua T, Zand L, Hartman RP, Hartman TE, Qin D, Peikert T, Qian Q (2014) Radiologic and clinical bronchiectasis associated with autosomal dominant polycystic kidney disease. PLoS One 9:e93674

48.

Mehrabi A, Golriz M, Maier J, Fonouni H, Garoussi C, Hafezi M, Fard N, Faridar A, Rezaei N, Wiesel M, Mieth M, Morath C, Büchler MW, Tönshoff B, Zeier M, Schmidt J, Schemmer P (2015) Long-term follow-up of kidney transplant recipients with polycystic kidney disease. Exp Clin Transplant 13:413–420

49.

Jacquet A, Pallet N, Kessler M, Hourmant M, Garrigue V, Rostaing L, Kreis H, Legendre C, Mamzer-Bruneel MF (2011) Outcomes of renal transplantation in patients with autosomal dominant polycystic kidney disease: a nationwide longitudinal study. Transpl Int 24:582–587

50.

Singh T, Peery S, Astor BC, Parajuli S, Djamali A, Panzer SE (2019) Cause of end-stage renal disease is not a risk factor for cytomegalovirus infection after kidney transplant. Transplant Proc 51:1810–1815
Ethics declarations
Each of the authors confirms that this manuscript has not been previously published and is not currently under consideration by any other journal. Additionally, all of the authors have approved the contents of this paper and have agreed to Pediatric Nephrology's submission policies.
Conflict of interest
The authors declare that they have no conflict of interest.
Additional information
Publisher's note
Springer Nature remains neutral with regard to jurisdictional claims in published maps and institutional affiliations.
About this article
Cite this article
Schellekens, P., Roosens, W., Meyts, I. et al. Cytopenia in autosomal dominant polycystic kidney disease (ADPKD): merely an association or a disease-related feature with prognostic implications?. Pediatr Nephrol (2021). https://doi.org/10.1007/s00467-021-04937-9
Received:

Revised:

Accepted:

Published:
Keywords
ADPKD

Leukopenia

Lymphopenia

Ciliopathies

CKD