Abstract
Background
Children who experience more than one urinary tract infection (UTI) are at increased risk of kidney scarring due to their UTIs. Girls are at especially high risk for developing kidney scarring as a result of recurrent UTIs. Prior work suggested that neutrophil gelatinase-associated lipocalin (NGAL) may be lower in children with recurrent UTI compared with those without. The objective of this work was to compare urine NGAL concentrations in matched urine samples in girls with single and recurrent UTIs.
Methods
Girls less than 6 years of age who presented with signs and symptoms of a UTI were eligible for enrollment. Both acute, obtained from residual urine collected as part of their clinical evaluation, and follow-up urine samples, obtained after the completion of antibiotics when the patient was in their usual state of health, were collected from patients. Acute and follow-up urine NGAL concentrations were compared between girls with single and recurrent UTIs, as well as those with negative cultures who served as controls.
Results
Seventy girls were included in this study, 6 controls, 43 single UTIs, and 20 girls with recurrent UTIs. Patients in the control group had lower median acute NGAL concentrations than either those with single or recurrent UTI. There were no differences in either acute or follow-up urine NGAL concentrations between those with single and recurrent UTIs.
Conclusion
In this cohort of girls less than 6 years of age, there is no difference in urine NGAL concentrations between those with single and recurrent UTIs.
This is a preview of subscription content, log in to check access.
Access options
Buy single article
Instant access to the full article PDF.
US$ 39.95
Price includes VAT for USA
Subscribe to journal
Immediate online access to all issues from 2019. Subscription will auto renew annually.
US$ 199
This is the net price. Taxes to be calculated in checkout.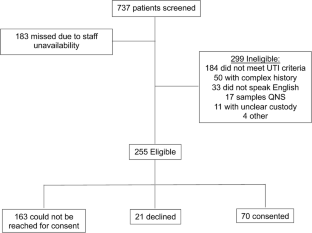 Acknowledgments
This work supported The Gerber Foundation. The funder did not have any role in either study design, data collection, interpretation, or analysis, the writing of this report, or the decision to submit this report for publication.
Ethics declarations
This work was approved by the Cincinnati Children's Hospital Institutional Review Board. Written informed consent was obtained from parents or guardians for participation in this study. All data is available from the corresponding author upon reasonable request.
Conflicts of interest
The authors declare that they have no conflict of interest.
Additional information
Publisher's note
Springer Nature remains neutral with regard to jurisdictional claims in published maps and institutional affiliations.
About this article
Cite this article
Forster, C.S., Loechtenfeldt, A.M., Shah, S.S. et al. Urine neutrophil gelatinase-associated lipocalin in girls with recurrent urinary tract infections. Pediatr Nephrol (2020). https://doi.org/10.1007/s00467-020-04654-9
Received:

Revised:

Accepted:

Published:
Keywords
Urinary tract infections

Girls

Biomarkers

NGAL