Abstract
Background
In mainland China, dialysis for children with end-stage renal disease (ESRD) was not introduced until the 1980s. To describe the development of pediatric dialysis in different regions of China, a national pediatric dialysis network, namely, International Pediatric Dialysis Network-China (IPDN-China) (www.pedpd.org.cn), was launched in 2012.
Methods
Original and updated information from the renal centers registered with the IPDN-China was collected between 2012 and 2016 from two sources, namely, the registry and the survey, and demographic features were analyzed.
Results
Due to promotion by the IPDN-China, the number of registered renal centers increased from 12 to 39 between 2012 and 2016, with a significant increase in the coverage of the Chinese administrative divisions (from 26.5 to 67.6%) (p < 0.01); and the coverage of the pediatric (0~14 years old) population increased to nearly 90% in 2016. The distribution of renal centers indicated that East China had the highest average number of registered centers per million population (pmp) 0~14-year-old age group. Seventeen relatively large dialysis centers were distributed across 14 divisions. Various modalities of renal replacement therapy (RRT) were available in most centers. The IPDN-China has promoted collaborations between dieticians, psychologists, and social workers on dialysis teams to provide better service to children with ESRD and their families. The proportion of centers with all three types of paramedic support (i.e., dieticians, psychologists, and social workers) as well as the proportion of centers with a partial paramedic team significantly increased between 2012 (25.0%) and 2016 (69.2%) (p < 0.05). In terms of the point prevalent cases of patients (aged < 18 years), data from the survey of 39 registered centers revealed that the number of children with ESRD who were on RRT was 578 (49% received a kidney transplant) at the end of 2016, which was more than that reported in previous surveys. Data from the registry showed that 349 dialysis patients had been enrolled as of the end of 2016. The median age at RRT start was 9.5 years, and the leading cause of ESRD was congenital abnormalities of the kidney and urinary tract (CAKUT).
Conclusions
The IPDN-China has helped to promote the development of pediatric dialysis for ESRD in China by improving the organization of care for dialysis patients and increasing the availability and the quality of RRT for patients who need it. To improve knowledge about the epidemiology and outcomes of pediatric RRT around the country, a sustained effort needs to be made by the IPDN-China to increase the enrollment of dialysis patients and increase the number of registered centers in the future.
This is a preview of subscription content, log in to check access.
Access options
Buy single article
Instant access to the full article PDF.
US$ 39.95
Price includes VAT for USA
Subscribe to journal
Immediate online access to all issues from 2019. Subscription will auto renew annually.
US$ 199
This is the net price. Taxes to be calculated in checkout.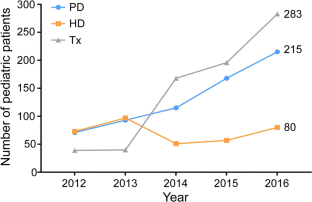 References
1.

Saran R, Robinson B, Abbott KC, Agodoa LYC, Bragg-Gresham J, Balkrishnan R et al (2019) US renal data system 2018 annual data report: epidemiology of kidney disease in the United States. Am J Kidney Dis 73(3S1):A7–A8

2.

Klarenbach SW, Tonelli M, Chui B, Manns BJ (2014) Economic evaluation of dialysis therapies. Nat Rev Nephrol 10(11):644–652

3.

Chua AN, Warady BA (2017) Care of the pediatric patient on chronic dialysis. Adv Chronic Kidney Dis 24(6):388–397

4.

Chinese Renal Data System. www.cnrds.net.

5.

Zhou L, Zeng XX, Fu P (2017) Community hemodialysis in China: opportunities and challenges. Chin Med J 130(18):2143–2146

6.

Ni ZH, Jin HJ (2019) The developmental history of peritoneal diaIysis in China in the 70 years. Chin J Blood Purif 18(10):661–663

7.

Ploos van Amstel S, Noordzij M, Warady BA, Cano F, Craig JC, Groothoff JW et al (2018) Renal replacement therapy for children throughout the world: the need for a global registry. Pediatr Nephrol 33(5):863–871

8.

National Bureau of Statistics in China [online]. http://www.stats.gov.cn/tjsj/ndsj.

9.

Liu H, Yi ZW (2013) Current situation of blood purification therapy in children in China. J Clin Pediatr 31(3):291–294

10.

Kramer A, Pippias M, Noordzij M, Stel VS, Afentakis N, Ambuhl PM, et al. The European Renal Association-European Dialysis and Transplant Association (ERA-EDTA) Registry Annual Report 2015: a summary. Clin Kidney J 2018;11(1):108-122.

11.

Hattori M (2018) Current trend of pediatric renal replacement therapy in Japan. Contrib Nephrol 196:223–228

12.

The Chinese Society of Pediatric Nephrology (2004) Analysis of 1268 patients with chronic renal failure in childhood: a report from 91 hospitals in China from 1990 to 2002. Zhonghua Er Ke Za Zhi 42(10):724–730

13.

(2013) Working Group for National Survey on Status of Diagnosis and Treatment of Childhood Renal Diseases. Survey of renal replacement therapy in childhood with chronic renal failure. Zhonghua Er Ke Za Zhi 51(7):491–494

14.

Borzych-Duzalka D, Aki TF, Azocar M, White C, Harvey E, Mir S et al (2017) Peritoneal dialysis access revision in children: causes, interventions, and outcomes. Clin J Am Soc Nephrol 12(1):105–112

15.

Orr NI, McDonald SP, McTaggart S, Henning P, Craig JC (2009) Frequency, etiology and treatment of childhood end-stage kidney disease in Australia and New Zealand. Pediatr Nephrol 24(9):1719–1726

16.

Prikhodina L, Ehrich J, Shroff R, Topaloglu R, Levtchenko E (2020) European Society for Paediatric N. The European Society for Paediatric Nephrology study of pediatric renal care in Europe: comparative analysis 1998-2017. Pediatr Nephrol 35(1):103–111
Acknowledgments
We sincerely appreciate Prof. Franz Schaefer and his colleagues for their kind help on the creation of the online registry platform of the IPDN-China.
Funding
This study received funding from the Key Developing Discipline of Shanghai Municipal Commission of Health and Family Planning (Pediatrics), 2016ZB0101.
Ethics declarations
The study protocol was approved by the ethical committees/institutional review boards as required at each participating center. Written parental consent, as well as assent from patients when appropriate was obtained.
Conflict of interest
The authors declare that they have no conflict of interest.
Additional information
Publisher's note
Springer Nature remains neutral with regard to jurisdictional claims in published maps and institutional affiliations.
About this article
Cite this article
Zhai, Y., Liu, X., Yang, Q. et al. IPDN-China promotes the development of pediatric dialysis in China. Pediatr Nephrol (2020). https://doi.org/10.1007/s00467-020-04630-3
Received:

Revised:

Accepted:

Published:
Keywords
IPDN-China

Registry

ESRD

Pediatric dialysis

Renal replacement therapy