This is a preview of subscription content, log in to check access.
Access options
Buy single article
Instant access to the full article PDF.
US$ 39.95
Price includes VAT for USA
Subscribe to journal
Immediate online access to all issues from 2019. Subscription will auto renew annually.
US$ 199
This is the net price. Taxes to be calculated in checkout.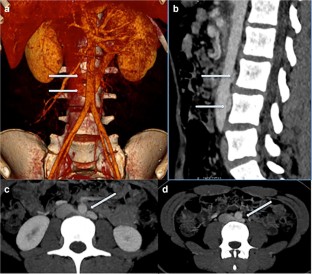 References
1.

Velasquez CA, Saeyeldin A, Zafar MA, Brownstein AJ, Erben Y (2018) A systematic review on management of nutcracker syndrome. J Vasc Surg Venous Lymphat Disord 6:271–278

2.

Kurklinsky AK, Rooke TW (2010) Nutcracker phenomenon and nutcracker syndrome. Mayo Clin Proc 85:552–559

3.

Skeik N, Gloviczki P, Macedo TA (2011) Posterior nutcracker syndrome. Vasc Endovascular Surg 45:749–755

4.

Zubair AS, Salameh H, Erickson SB, Prieto M (2016) Loin pain hematuria syndrome. Clin Kidney J 9:128–134

5.

Ananthan K, Onida S, Davies AH (2017) Nutcracker syndrome: an update on current diagnostic criteria and management guidelines. Eur J Vasc Endovasc Surg 53:886–894

6.

Gulleroglu K, Gulleroglu B, Baskin E (2014) Nutcracker syndrome. World J Nephrol 3:277–281

7.

Takemura T, Iwasa H, Yamamoto S, Hino S, Fukushima K, Isokawa S, Okada M, Yoshioka K (2000) Clinical and radiological features in four adolescents with nutcracker syndrome. Pediatr Nephrol 14:1002–1005

8.

Ali-El-Dein B, Osman Y, Shehab El-Din AB, El-Diasty T, Mansour O, Ghoneim MA (2003) Anterior and posterior nutcracker syndrome: a report on 11 cases. Transplant Proc 35:851–853

9.

Novaes LFC, da Silva Saguia LN, Di Migueli CA, de Castro Perin MA, Loprete FA, Santana NP, Chervin ELN, Sinisgalli LAM, Gimenez MP (2017) Young woman with nutcracker syndrome without main clinic manifestation: hematuria-case report. Int J Surg Case Rep 31:225–228

10.

Ullery BW, Itoga NK, Mell MW (2014) Transposition of the left renal vein for the treatment of nutcracker syndrome in children: a short-term experience. Ann Vasc Surg 28:1938 e5-8

11.

Özkan MB, Ceyhan Bilgici M, Hayalioglu E (2016) Anterior and posterior nutcracker syndrome accompanying left circumaortic renal vein in an adolescent: case report. Arch Argent Pediatr 114:e114–e116

12.

Ahmed K, Sampath R, Khan MS (2006) Current trends in the diagnosis and management of renal nutcracker syndrome: a review. Eur J Vasc Endovasc Surg 31:410–416

13.

White JM, Comerota AJ (2017) Venous compression syndromes. Vasc Endovascular Surg 51:155–168

14.

Beinart C, Sniderman KW, Saddekni S, Weiner M, Vaughan ED Jr, Sos TA (1982) Left renal vein hypertension: a cause of occult hematuria. Radiology 145:647–650

15.

Menard MT (2009) Nutcracker syndrome: when should it be treated and how? Perspect Vasc Surg Endovasc Ther 21:117–124

16.

McPhee JT, Menard MT (2011) Current management approach for left renal vein entrapment syndrome: the so-called 'nutcracker' syndrome. Interv Cardiol 3:557–567
Additional information
Publisher's note
Springer Nature remains neutral with regard to jurisdictional claims in published maps and institutional affiliations.
This refers to the article that can be found at https://doi.org/10.1007/s00467-020-04625-0.
About this article
Cite this article
Alonso, A., Anés, G., Vivanco-Allende, A. et al. Unrelenting lumbar pain in a female adolescent: Answers. Pediatr Nephrol (2020). https://doi.org/10.1007/s00467-020-04626-z
Keywords
Lumbar pain

Flank pain

Pediatrics

Double retroaortic left renal vein