Abstract
Background
Steroid-dependent nephrotic syndrome (SDNS) carries a high risk of toxicity from steroids or steroid-sparing agents. This open-label, randomized controlled trial was designed to test whether the monoclonal antibody rituximab is non-inferior to steroids in maintaining remission in juvenile forms of SDNS and how long remission may last (EudraCT:2008-004486-26).
Methods
We enrolled 30 children 4–15 years who had developed SDNS 6–12 months before and were maintained in remission with low prednisone doses (0.1–0.4 mg/Kg/day). Participants were randomized following a non-inferiority design to continue prednisone alone (n 15, controls) or to add a single intravenous infusion of rituximab (375 mg/m2, n 15 intervention). Prednisone was tapered in both arms after 1 month. Children assigned to the control arm were allowed to receive rituximab to treat disease relapse.
Results
Proteinuria increased at 3 months in the prednisone group (from 0.14 to 1.5 g/day) (p < 0.001) and remained unchanged in the rituximab group (0.14 g/day). Fourteen children in the control arm relapsed within 6 months. Thirteen children assigned to rituximab (87%) were still in remission at 1 year and 8 (53%) at 4 years. Responses were similar in children of the control group who received rituximab to treat disease relapse. We did not record significant adverse events.
Conclusions
Rituximab was non-inferior to steroids for the treatment of juvenile SDNS. One in two children remains in remission at 4 years following a single infusion of rituximab, without significant adverse events. Further studies are needed to clarify the superiority of rituximab over low-dose corticosteroid as a treatment of SDNS.
This is a preview of subscription content, log in to check access.
Access options
Buy single article
Instant access to the full article PDF.
US$ 39.95
Price includes VAT for USA
Subscribe to journal
Immediate online access to all issues from 2019. Subscription will auto renew annually.
US$ 199
This is the net price. Taxes to be calculated in checkout.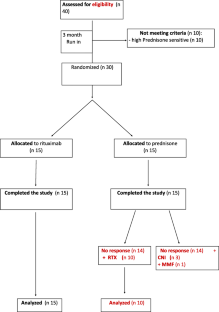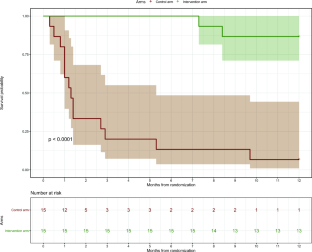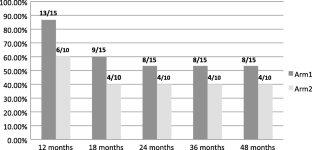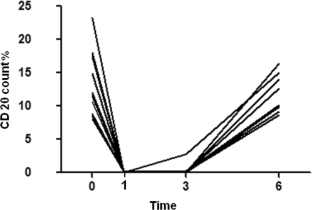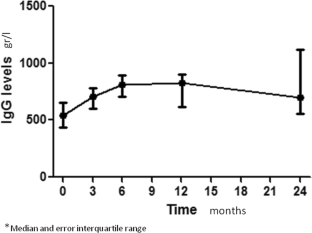 References
1.

Radhakrishnan J, Cattran DC (2012) The KDIGO practice guideline on glomerulonephritis: reading between the (guide)lines--application to the individual patient. Kidney Int 82:840–856

2.

Hodson EM, Knight JF, Willis NS, Craig JC (2005) Corticosteroid therapy for nephrotic syndrome in children. Cochrane Database Syst Rev CD001533

3.

Filler G (2003) Treatment of nephrotic syndrome in children and controlled trials. Nephrology, Dialysis, Transplantation : Official Publication of the European Dialysis and Transplant Association - European Renal Association 18 Suppl 6:vi75-78

4.

Ghiggeri GM, Catarsi P, Scolari F, Caridi G, Bertelli R, Carrea A, Sanna-Cherchi S, Emma F, Allegri L, Cancarini G, Rizzoni GF, Perfumo F (2004) Cyclosporine in patients with steroid-resistant nephrotic syndrome: an open-label, nonrandomized, retrospective study. Clin Ther 26:1411–1418

5.

Sinha A, Puraswani M, Kalaivani M, Goyal P, Hari P, Bagga A (2019) Efficacy and safety of mycophenolate mofetil versus levamisole in frequently relapsing nephrotic syndrome: an open-label randomized controlled trial. Kidney Int 95:210–218

6.

Gruppen MP, Bouts AH, Jansen-van der Weide MC, Merkus MP, Zurowska A, Maternik M, Massella L, Emma F, Niaudet P, Cornelissen EAM, Schurmans T, Raes A, van de Walle J, van Dyck M, Gulati A, Bagga A, Davin JC, all members of the Levamisole Study G (2018) A randomized clinical trial indicates that levamisole increases the time to relapse in children with steroid-sensitive idiopathic nephrotic syndrome. Kidney Int 93:510–518

7.

Ravani P, Bonanni A, Rossi R, Caridi G, Ghiggeri GM (2016) Anti-CD20 antibodies for idiopathic nephrotic syndrome in children. Clinical Journal of the American Society of Nephrology : CJASN 11:710–720

8.

Ravani P, Rossi R, Bonanni A, Quinn RR, Sica F, Bodria M, Pasini A, Montini G, Edefonti A, Belingheri M, De Giovanni D, Barbano G, Degl'Innocenti L, Scolari F, Murer L, Reiser J, Fornoni A, Ghiggeri GM (2015) Rituximab in children with steroid-dependent Nephrotic syndrome: a multicenter, open-label, noninferiority, randomized controlled trial. J Am Soc Nephrol 26:2259–2266

9.

Basu B, Sander A, Roy B, Preussler S, Barua S, Mahapatra TKS, Schaefer F (2018) Efficacy of rituximab vs tacrolimus in pediatric corticosteroid-dependent nephrotic syndrome: a randomized clinical trial. JAMA Pediatr 172:757–764

10.

Bonanni A, Calatroni M, D'Alessandro M, Signa S, Bertelli E, Cioni M, Di Marco E, Biassoni R, Caridi G, Ingrasciotta G, Bertelli R, Di Donato A, Bruschi M, Canepa A, Piaggio G, Ravani P, Ghiggeri GM (2018) Adverse events linked with the use of chimeric and humanized anti-CD20 antibodies in children with idiopathic nephrotic syndrome. Br J Clin Pharmacol 84:1238–1249

11.

Iijima K, Sako M, Nozu K, Mori R, Tuchida N, Kamei K, Miura K, Aya K, Nakanishi K, Ohtomo Y, Takahashi S, Tanaka R, Kaito H, Nakamura H, Ishikura K, Ito S, Ohashi Y, Rituximab for Childhood-onset Refractory Nephrotic Syndrome Study G (2014) Rituximab for childhood-onset, complicated, frequently relapsing nephrotic syndrome or steroid-dependent nephrotic syndrome: a multicentre, double-blind, randomised, placebo-controlled trial. Lancet 384:1273–1281

12.

Ravani P, Magnasco A, Edefonti A, Murer L, Rossi R, Ghio L, Benetti E, Scozzola F, Pasini A, Dallera N, Sica F, Belingheri M, Scolari F, Ghiggeri GM (2011) Short-term effects of rituximab in children with steroid- and calcineurin-dependent nephrotic syndrome: a randomized controlled trial. Clinical Journal of the American Society of Nephrology : CJASN 6:1308–1315

13.

Kemper MJ, Gellermann J, Habbig S, Krmar RT, Dittrich K, Jungraithmayr T, Pape L, Patzer L, Billing H, Weber L, Pohl M, Rosenthal K, Rosahl A, Mueller-Wiefel DE, Dotsch J (2012) Long-term follow-up after rituximab for steroid-dependent idiopathic nephrotic syndrome. Nephrology, Dialysis, Transplantation : Official Publication of the European Dialysis and Transplant Association - European Renal Association 27:1910–1915

14.

Chan EY, Webb H, Yu E, Ghiggeri GM, Kemper MJ, Ma AL, Yamamura T, Sinha A, Bagga A, Hogan J, Dossier C, Vivarelli M, Liu ID, Kamei K, Ishikura K, Saini P, Tullus K (2020) Both the rituximab dose and maintenance immunosuppression in steroid-dependent/frequently-relapsing nephrotic syndrome have important effects on outcomes. Kidney Int 97:393–401

15.

Fujinaga S, Ozawa K, Sakuraya K, Yamada A, Shimizu T (2016) Late-onset adverse events after a single dose of rituximab in children with complicated steroid-dependent nephrotic syndrome. Clin Nephrol 85:340–345

16.

Parmentier C, Delbet JD, Decramer S, Boyer O, Hogan J, Ulinski T (2020) Immunoglobulin serum levels in rituximab-treated patients with steroid-dependent nephrotic syndrome. Pediatr Nephrol 35:455–462
Funding
This study was supported by Istituto Giannina Gaslini deriving from 'Cinque per mille of IRPEF-Finanziamento della ricerca sanitaria', the Italian Ministry of Health, The Renal Child Foundation, and the 'Fondazione La Nuova Speranza' ('Progetto integrato per la definizione dei meccanismi implicati nella glomerulosclerosi focale'). GMG received a grant from Compagnia San Paolo (ROL-9849).
Ethics declarations
Conflict of interest
All authors have completed the Unified Competing Interest form at www.icmje.org/coi_disclosure.pdf (available on request from the corresponding author) and declare: no support from any organization for the submitted work; no financial relationships with any organization that might have an interest in the submitted work in the previous 3 years; and no other relationships or activities that could appear to have influenced the submitted work.
Additional information
Publisher's note
Springer Nature remains neutral with regard to jurisdictional claims in published maps and institutional affiliations.
About this article
Cite this article
Ravani, P., Lugani, F., Pisani, I. et al. Rituximab for very low dose steroid-dependent nephrotic syndrome in children: a randomized controlled study. Pediatr Nephrol 35, 1437–1444 (2020). https://doi.org/10.1007/s00467-020-04540-4
Received:

Revised:

Accepted:

Published:

Issue Date:
Keywords
Paediatric nephrology

Rituximab

Steroid-dependent nephrotic syndrome