Abstract
Background
Children with mild to moderate chronic kidney disease are at an increased risk for cardiovascular sequelae, the leading cause of death in children with end-stage renal disease. We aimed to establish the prevalence of aortic dilatation, a newly recognized cardiovascular sequelae of renal disease, within a cohort of pediatric patients with mild to moderate kidney disease.
Methods
A total of 501 children enrolled in the Chronic Kidney Disease in Children study contributed imaging data between April 2011 and February 2015. Aortic dilatation was defined as a dimension exceeding a z-score of 2 at any of three locations: aortic root, sinotubular junction, or the ascending aorta.
Results
At baseline echocardiographic evaluation, 30 (6%) children were identified to have aortic dilatation in at least one of the three locations. Multivariate analysis demonstrated an increased odds ratio for the presence of aortic dilatation associated with the following variables: high diastolic blood pressure z-scores, low weight z-score, and low body mass index z-score. Presense of protein energy wasting (modified definition, OR 2.41, 95%CI 1.23, 4.70) was the strongest independent predictor of aortic dilatation.
Conclusion
In conclusion, aortic dilatation does occur early in the course of chronic kidney disease and associates with markers of poor nutrition. Future studies should continue to evaluate these risk factors longitudinally as the kidney disease progresses.
Access options
Buy single article
Instant access to the full article PDF.
US$ 39.95
Tax calculation will be finalised during checkout.
Subscribe to journal
Immediate online access to all issues from 2019. Subscription will auto renew annually.
US$ 119
Tax calculation will be finalised during checkout.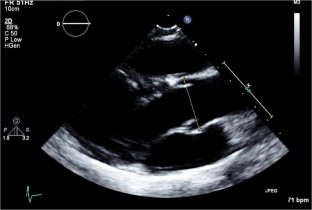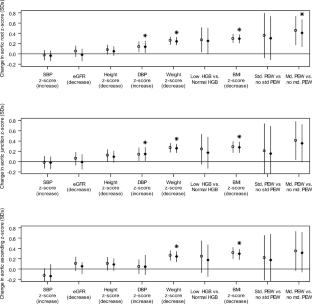 References
1.

Mitsnefes MM (2012) Cardiovascular disease in children with chronic kidney disease. J Am Soc Nephrol 23(4):578–585

2.

Mitsnefes MM, Laskin BL, Dahhou M, Zhang X, Foster BJ (2013) Mortality risk among children initially treated with dialysis for end-stage kidney disease, 1990-2010. JAMA 309(18):1921–1929

3.

Kaddourah A, Uthup S, Madueme P, O'Rourke M, Hooper DK, Taylor MD, Colan SD, Jefferies JL, Rao MB, Goebel J (2015) Prevalence and predictors of aortic dilation as a novel cardiovascular complication in children with end-stage renal disease. Clin Nephrol 83(5):262–271

4.

Silverio A, Prota C, Di Maio M, Polito MV, Cogliani FM, Citro R, Gigantino A, Iesu S, Piscione F (2015) Aortic dissection in patients with autosomal dominant polycystic kidney disease: a series of two cases and a review of the literature. Nephrology (Carlton) 20(4):229–235

5.

Hiratzka LF, Bakris GL, Beckman JA, Bersin RM, Carr VF, Casey DE Jr, Eagle KA, Hermann LK, Isselbacher EM, Kazerooni EA, Kouchoukos NT, Lytle BW, Milewicz DM, Reich DL, Sen S, Shinn JA, Svensson LG, Williams DM (2010) 2010 ACCF/AHA/AATS/ACR/ASA/SCA/SCAI/SIR/STS/SVM Guidelines for the diagnosis and management of patients with thoracic aortic disease. A Report of the American College of Cardiology Foundation/American Heart Association Task Force on Practice Guidelines, American Association for Thoracic Surgery, American College of Radiology,American Stroke Association, Society of Cardiovascular Anesthesiologists, Society for Cardiovascular Angiography and Interventions, Society of Interventional Radiology, Society of Thoracic Surgeons,and Society for Vascular Medicine. J Am Coll Cardiol 55(14):e27–e129

6.

Lang RM, Bierig M, Devereux RB, Flachskampf FA, Foster E, Pellikka PA, Picard MH, Roman MJ, Seward J, Shanewise JS, Solomon SD, Spencer KT, Sutton MS, Stewart WJ (2005) Recommendations for chamber quantification: a report from the American Society of Echocardiography's Guidelines and Standards Committee and the Chamber Quantification Writing Group, developed in conjunction with the European Association of Echocardiography, a branch of the European Society of Cardiology. J Am Soc Echocardiogr 18(12):1440–1463

7.

Lai WW, Mertens L, Cohen M, Geva T (2015) Echocardiography in pediatric and congenital heart disease : from fetus to adult, 2nd edn. John Wiley & Sons Inc., Chichester

8.

Sluysmans T, Colan SD (2005) Theoretical and empirical derivation of cardiovascular allometric relationships in children. J Appl Physiol (1985) 99(2):445–457

9.

de Simone G, Daniels SR, Devereux RB, Meyer RA, Roman MJ, de Divitiis O, Alderman MH (1992) Left ventricular mass and body size in normotensive children and adults: assessment of allometric relations and impact of overweight. J Am Coll Cardiol 20(5):1251–1260

10.

Khoury PR, Mitsnefes M, Daniels SR, Kimball TR (2009) Age-specific reference intervals for indexed left ventricular mass in children. J Am Soc Echocardiogr 22(6):709–714

11.

KDIGO (2013) Clinical practice guideline for lipid management in chronic kidney disease. Kidney Int Suppl 3(3):259–305

12.

Flynn JT, Kaelber DC, Baker-Smith CM, Blowey D, Carroll AE, Daniels SR, de Ferranti SD, Dionne JM, Falkner B, Flinn SK, Gidding SS, Goodwin C, Leu MG, Powers ME, Rea C, Samuels J, Simasek M, Thaker VV, Urbina EM (2017) Clinical practice guideline for screening and management of high blood pressure in children and adolescents. Pediatrics 140(3)

13.

Schwartz GJ, Schneider MF, Maier PS, Moxey-Mims M, Dharnidharka VR, Warady BA, Furth SL, Munoz A (2012) Improved equations estimating GFR in children with chronic kidney disease using an immunonephelometric determination of cystatin C. Kidney Int 82(4):445–453

14.

Abraham AG, Mak RH, Mitsnefes M, White C, Moxey-Mims M, Warady B, Furth SL (2014) Protein energy wasting in children with chronic kidney disease. Pediatr Nephrol 29(7):1231–1238

15.

Gupta-Malhotra M, Devereux RB, Dave A, Bell C, Portman R, Milewicz D (2014) Aortic dilatation in children with systemic hypertension. J Am Soc Hypertens 8(4):239–245

16.

Oliveira EA, Zheng R, Carter CE, Mak RH (2019) Cachexia/protein energy wasting syndrome in CKD: causation and treatment. Semin Dial 32(6):493–499
Ethics declarations
Conflict of interest
The authors declare that they have no conflict of interest.
Additional information
Publisher's note
Springer Nature remains neutral with regard to jurisdictional claims in published maps and institutional affiliations.
About this article
Cite this article
Madueme, P.C., Ng, D.K., Guju, L. et al. Aortic dilatation in children with mild to moderate chronic kidney disease. Pediatr Nephrol 35, 1023–1031 (2020). https://doi.org/10.1007/s00467-019-04469-3
Received:

Revised:

Accepted:

Published:

Issue Date:
Keywords
Chronic kidney disease

Aortic dilatation

Cardiovascular disease

Protein energy wasting

Malnutrition