Abstract
Atypical haemolytic uraemic syndrome (aHUS) is frequently associated with mutations in the gene encoding complement factor H (CFH). The clinical response to plasma therapy in aHUS is variable. We present here our experience of plasma therapy in three aHUS patients with CFH mutations. Three children presented aged 4, 22 and 6 months (patients 1–3 respectively) in acute kidney injury requiring dialysis. Plasma therapy consisting of plasma filtration (patient 1) or plasma exchange (PEX; patients 2 and 3) was commenced early following presentation. This resulted in aHUS remission and cessation of dialysis after 2 weeks, 9 days and 2 weeks respectively. Relapses were common and associated with increasing the interval between PEX, but all responded to intensification of PEX therapy. Patient 1 recovered 50% of renal function after first presentation. She had four relapses and started peritoneal dialysis 41 months after presentation. Mutation screening of CFH showed a missense mutation (c.3546 G > T, p.Arg1182Ser) in exon 23. PEX in patient 2 was slowly tapered over 4 months to fortnightly sessions, but she relapsed when PEX was extended to every 4 weeks. Renal function remained normal 12 months post-presentation. Mutation screening of CFH showed a mutation in exon 23 (c.3590 T > C, p.Val1197Ala) and two additional sequence variants in exons 3 and 4. Patient 3 had two relapses associated with intercurrent illnesses concurrent with reducing PEX to weekly doses. Renal function was normal 5 months post-presentation. All three patients showed a good response to PEX with improved renal function both initially and following a relapse. Further research is necessary to determine the best maintenance strategy to delay or prevent end-stage kidney disease.
Access options
Buy single article
Instant access to the full article PDF.
US$ 39.95
Tax calculation will be finalised during checkout.
Subscribe to journal
Immediate online access to all issues from 2019. Subscription will auto renew annually.
US$ 119
Tax calculation will be finalised during checkout.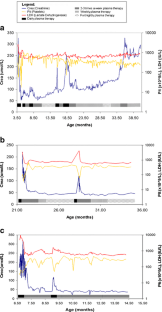 References
1.

Waters AM, Licht C (2011) aHUS caused by complement dysregulation: new therapies on the horizon. Pediatr Nephrol 26:41–57

2.

Ariceta G, Besbas N, Johnson S, Karpman D, Landau D, Licht C, Loirat C, Pecoraro C, Taylor CM, Van de Kar N, Vandewalle J, Zimmerhackl LB; European Paediatric Study Group for HUS (2009) Guideline for the investigation and initial therapy of diarrhea-negative hemolytic uremic syndrome. Pediatr Nephrol 24:687–696

3.

Noris M, Caprioli J, Bresin E, Mossali C, Pianetti G, Gamba S, Daina E, Fenili C, Castelletti F, Sorosina A, Piras R, Donadelli R, Maranta R, van der Meer I, Conway EM, Zipfel PF, Goodship TH, Remuzzi G (2010) Relative role of genetic complement abnormalities in sporadic and familial aHUS and their impact on clinical phenotype. Clin J Am Soc Nephrol 5:1844–1859

4.

Saunders RE, Abarrategui-Garrido C, Frémeaux-Bacchi V, Goicoechea de Jorge E, Goodship TH, López Trascasa M, Noris M, Ponce Castro IM, Remuzzi G, Rodríguez de Córdoba S, Sánchez-Corral P, Skerka C, Zipfel PF, Perkins SJ (2007) The interactive factor H-atypical hemolytic uremic syndrome mutation database and website: update and integration of membrane cofactor protein and Factor I mutations with structural models. Hum Mutat 28:222–234

5.

Fremeaux-Bacchi V, Kemp EJ, Goodship JA, Dragon-Durey MA, Strain L, Loirat C, Deng HW, Goodship TH (2005) The development of atypical haemolytic-uraemic syndrome is influenced by susceptibility factors in factor H and membrane cofactor protein: evidence from two independent cohorts. J Med Genet 42:852–856

6.

Pérez-Caballero D, González-Rubio C, Gallardo ME, Vera M, López-Trascasa M, Rodríguez de Córdoba S, Sánchez-Corral P (2001) Clustering of missense mutations in the C-terminal region of factor H in atypical hemolytic uremic syndrome. Am J Hum Genet 68:478–484

7.

Esparza-Gordillo J, Goicoechea E, Buil A, Carreras Berges L, López-Trascasa M, Sánchez-Corral P, Rodríguez de Córdoba S (2005) Predisposition to atypical hemolytic uremic syndrome involves the concurrence of different susceptibility alleles in the regulators of complement activation gene cluster in 1q32. Hum Mol Genet 14:703–712

8.

Caprioli J, Castelletti F, Bucchioni S, Bettinaglio P, Bresin E, Pianetti G, Gamba S, Brioschi S, Daina E, Remuzzi G, Noris M; International Registry of Recurrent and Familial HUS/TTP (2003) Complement factor H mutations and gene polymorphisms in haemolytic uraemic syndrome: the C-257 T, the A2089G and the G2881T polymorphisms are strongly associated with the disease. Hum Mol Genet 12:3385–3395

9.

Licht C, Weyersberg A, Heinen S, Stapenhorst L, Devenge J, Beck B, Waldherr R, Kirschfink M, Zipfel PF, Hoppe B (2005) Successful plasma therapy for atypical hemolytic uremic syndrome caused by factor H deficiency owing to a novel mutation in the complement cofactor protein domain 15. Am J Kidney Dis 45:415–421

10.

Davin JC, Olie KH, Verlaak R, Horuz F, Florquin S, Weening JJ, Groothoff JW, Strain L, Goodship TH (2006) Complement factor H-associated atypical hemolytic uremic syndrome in monozygotic twins: concordant presentation, discordant response to treatment. Am J Kidney Dis 47:e27–e30

11.

Olie KH, Florquin S, Groothoff JW, Verlaak R, Strain L, Goodship TH, Weening JJ, Davin JC (2004) Atypical relapse of hemolytic uremic syndrome after transplantation. Pediatr Nephrol 19:1173–1176

12.

Filler G, Radhakrishnan S, Strain L, Hill A, Knoll G, Goodship TH (2004) Challenges in the management of infantile factor H associated hemolytic uremic syndrome. Pediatr Nephrol 19:908–911

13.

Lapeyraque AL, Wagner E, Phan V, Clermont MJ, Merouani A, Frémeaux-Bacchi V, Goodship TH, Robitaille P (2008) Efficacy of plasma therapy in atypical hemolytic uremic syndrome with complement factor H mutations. Pediatr Nephrol 23:1363–1366

14.

Davin JC, Strain L, Goodship TH (2008) Plasma therapy in atypical haemolytic uremic syndrome: lessons from a family with a factor H mutation. Pediatr Nephrol 23:1517–1521

15.

De S, Waters AM, Segal AO, Trautmann A, Harvey EA, Licht C (2010) Severe atypical HUS caused by CFH S1191L-case presentation and review of treatment options. Pediatr Nephrol 25:97–104
Acknowledgements
THJG is supported by the UK Medical Research Council (Grant G0701325).
About this article
Cite this article
Kim, J.J., Goodship, T.H.J., Tizard, J. et al. Plasma therapy for atypical haemolytic uraemic syndrome associated with heterozygous factor H mutations. Pediatr Nephrol 26, 2073–2076 (2011). https://doi.org/10.1007/s00467-011-1944-4
Received:

Revised:

Accepted:

Published:

Issue Date:
Keywords
Factor H mutation

Atypical haemolytic uraemic syndrome

Plasma exchange

Fresh frozen plasma

Plasma filtration