Abstract
Secondary hyperparathyroidism is a common complication of chronic renal failure. Kidney transplantation corrects renal insufficiency and most metabolic abnormalities but hyperparathyroidism persists in 50% of children after transplantation. The aim of this study was to investigate parathyroid hormone (PTH) course and potential risk factors for hyperparathyroidism in children after renal transplant. We collected data from 145 transplanted children (mean follow-up 4.7 years). Intact PTH level (iPTH) rapidly decreased in the first 6 months post-transplant and continued to decline in the following years. iPTH was above the normal range in 69.1% of the patients at the time of transplant and in 47% 1 year later, this improvement continuing thereafter. Hypercalcemia was present in 20.3% of the patients before transplant and in 6.3 and 4.1% of patients 6 months and 1 year after transplant, respectively. Hypophosphatemia was present in 5.5% of the patients at 6 months, and 45.5% of the patients needed phosphorus supplements during the first 6 months after transplant. Multivariate analysis indicated pre-transplant hyperparathyroidism, dialysis duration, creatinine clearance and hypophosphatemia as predictors of persistent hyperparathyroidism. In kidney transplanted children, serum iPTH normalized in the long term in the majority of cases. Thus, parathyroidectomy should be reserved for selected patients.
Access options
Buy single article
Instant access to the full article PDF.
US$ 39.95
Tax calculation will be finalised during checkout.
Subscribe to journal
Immediate online access to all issues from 2019. Subscription will auto renew annually.
US$ 119
Tax calculation will be finalised during checkout.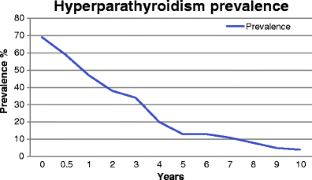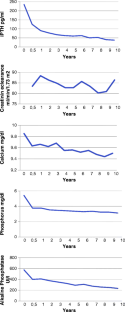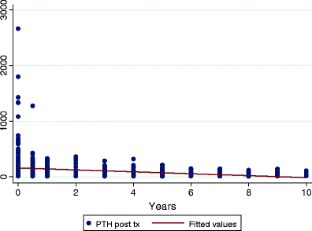 References
1.

Sanchez CP (2003) Secondary hyperparathyroidism in children with chronic renal failure: pathogenesis and treatment. Paediatr Drugs 5(11):763–776

2.

Sanchez CP (2008) Mineral metabolism and bone abnormalities in children with chronic renal failure. Rev Endocr Metab Disord 9(2):131–137

3.

Matsuda-Abadini M, Portale AA, Shah A, Neuhaus J, McEnhill M, Mathias R (2006) Persistent secondary hyperparathyroidism after renal transplantation in children. Pediatr Nephrol 21:413–418

4.

Koch Nogueira PC, Rey N, Said MH, Cochat P (1997) Evolution of hyperparathyroidism after renal transplantation in children—effect of pre-emptive transplantation and duration of dialysis. Nephrol Dial Transplant 12:984–987

5.

Sanchez CP, Salusky IB, Kuizon BD, Ramirez JA, Gales B, Ettenger RB, Goodman WG (1998) Bone disease in children and adolescents undergoing successful renal transplantation. Kidney Int 53:1358–1364

6.

National Kidney Foundation (2005) K/DOQI clinical practice guidelines for bone metabolism and disease in children with chronic kidney disease. Am J Kidney Dis 46(S1):1–121

7.

Torres A, Rodriguez AP, Concepcion MT, Garcia S, Rufino M, Martin B, Perez L, Machado M, de Bonis E, Losada M, Henandez H, Lorenzo V (1998) Parathyroid function in long-term renal transplant patients: importance of pre-transplant PTH concentration. Nephrol Dial Transplant 13(3):94–97

8.

Evenepoel P, Claes K, Kuypers D, Maes B, Bammens B, Vanrenterghem Y (2004) Natural history of parathyroid function and calcium metabolism after kidney transplantation: a single-centre study. Nephrol Dial Transplant 19:1281–1287

9.

Messa P, Sindici C, Cannella G, Miotti V, Risaliti A, Gropuzzo M, Di Loreto PL, Bresadola F, Mioni G (1998) Persistent secondary hyperparathyroidism after renal transplantation. Kidney Int 54:1704–1713

10.

Dumoulin G, Hory B, Nguyen NU, Bresson C, Fournier V, Bouhaddi M, Chalopin JM, Saint-Hillier Y, Regnard J (1997) No trend toward a spontaneous improvement of hyperparathyroidism and high bone turnover in normocalcemic long-term renal transplant recipients. Am J Kidney Dis 29(5):746–753

11.

Drueke TB (2000) Cell biology of parathyroid gland hyperplasia in chronic renal failure. J Am Soc Nephrol 11:1141–1152

12.

Sinha R, Saad A, Marks SD (2010) Prevalence and complications of chronic kidney disease in paediatric renal transplantation: a K/DOQI perspective. Nephrol Dial Transplant 25:1313–1320

13.

Valta H, Makitie O, Ronnholm K, Jalanko H (2009) Bone health in children and adolescents after renal transplantation. J Bone Miner Res 24(10):1699–1708

14.

Sprague SM, Belozeroff V, Danese MD, Martin LP, Olgaard K (2007) Abnormal bone mineral metabolism in kidney transplant patients—a review. Am J Nephrol 28(2):246–253

15.

Weisinger JR, Carlini RG, Rojas E, Bellorin-Font E (2006) Bone disease after renal transplantation. Clin J Am Nephrol 1:1300–1313

16.

Oh J, Wunsch R, Turzer M, Bahner M, Raggi P, Querfeld U, Mehls O, Schaefer F (2002) Advanced coronary and carotid arteriopathy in young adults with childhood-onset chronic renal failure. Circulation 106:100–105

17.

Evenepoel P, Claes K, Kuypers DR, Debruyne F, Vanrenterghem Y (2007) Parathyroidectomy after successful kidney transplant: a single-centre study. Nephrol Dial Transplant 22(6):1730–1737

18.

Evenepoel P, Claes K, Maes B, Vanrenterghem Y (2005) Impact of parathyroidectomy on renal graft function, blood pressure and serum lipids in kidney transplant receipients: a single-centre study. Nephrol Dial Transplant 20:1714–1720

19.

Schwarz A, Rustien G, Merkel S, Radermacher J, Haller H (2007) Decreased renal transplant function after parathyroidectomy. Nephrol Dial Transplant 22(2):584–591

20.

Shaefer B, Schlosser K, Wuhl E, Schall P, Klaus G, Shaefer F, Schmitt CP (2010) Long-term control of parathyroid hormone and calcium-phosphate metabolism after parathyroidectomy in children with chronic kidney disease. Nephrol Dial Transplant 25(8):2590–2595

21.

Srinivas TR, Schold JD, Womer KL, Kaplan B, Howard RJ, Bucci CM, Meier-Kriesche HU (2006) Improvement in hypercalcemia with cinacalcet after kidney transplantation. Clin J Am Soc Nephrol 1:323–326

22.

Serra AL, Wuhrmann C, Wuthrich RP (2008) Phosphatemic effect of cinacalcet in kidney transplant recipients with persistent hyperparathyroidism. Am J Kidney Dis 52(6):1151–1157

23.

Borchhardt KA, Diarra D, Sulzbacher I, Benesch T, Haas M, Sunder-Plassmann G (2010) Cinacalcet decreases bone formation rate in hypercalcemic hyperparathyroidism after kidney transplantation. Am J Nephrol 31(6):482–489

24.

Falk P, Vethe NT, Asberg A, Midtvedt K, Bergan S, Egge Reubsaet JL, Holdaas H (2008) Cinacalcet's effect on the pharmacokinetics of tacrolimus, cyclosporine and mycophenolate in renal transplant recipients. Nephrol Dial Transplant 23:1048–1053

25.

Bellorin-Font E, Rojas E, Carlini RG, Suniaga O, Weisenger JR (2003) Bone remodeling after renal transplantation. Kidney Int 63(S85):125–128

26.

Seeherunvong W, Wolf M (2011) Tertiary excess of fibroblast growth factor 23 and hypophosphatemia following kidney transplantation. Pediatr Transplant 15(1):37–46
About this article
Cite this article
Guzzo, I., Di Zazzo, G., Laurenzi, C. et al. Parathyroid hormone levels in long-term renal transplant children and adolescents. Pediatr Nephrol 26, 2051–2057 (2011). https://doi.org/10.1007/s00467-011-1896-8
Received:

Revised:

Accepted:

Published:

Issue Date:
Keywords
Children

Hypercalcemia

Hyperparathyroidism

Hypophosphatemia

Renal transplantation