Abstract
Recent progress in proteomic analysis and strategies for the identification of clinically useful biomarkers in biofluids has led to the identification of urine as an excellent non-invasive reservoir for biomarkers of disease. Urinary biomarkers have been identified and validated on independent cohorts in different high-incidence adult renal diseases, including diabetic nephropathy, chronic kidney disease and immunoglobulin A-nephropathy, but also in extrarenal disease, such as coronary artery disease. Unfortunately, this type of research is underrepresented in the pediatric population. Here, we present the rare studies in the pediatric population that identified potential clinically useful urinary biomarkers in ureteropelvic junction (UPJ) obstruction and renal Fanconi syndrome. These studies, although limited in number, clearly show the potential of urinary proteomics, especially in the pediatric population. It is anticipated that the advances made in the adult population, the lessons learned on the use of appropriate statistics and the inclusion of independent blinded validation cohorts in these types of studies will rapidly lead to clinical useful urinary biomarkers for other pediatric (renal) disease in a population where non-invasive analysis is particularly appreciated.
Access options
Buy single article
Instant access to the full article PDF.
US$ 39.95
Tax calculation will be finalised during checkout.
Subscribe to journal
Immediate online access to all issues from 2019. Subscription will auto renew annually.
US$ 119
Tax calculation will be finalised during checkout.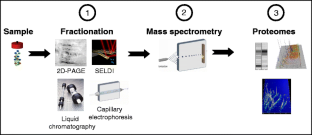 References
1.

Petricoin EF, Ardekani AM, Hitt BA, Levine PJ, Fusaro VA, Steinberg SM, Mills GB, Simone C, Fishman DA, Kohn EC, Liotta LA (2002) Use of proteomic patterns in serum to identify ovarian cancer. Lancet 359:572–577

2.

Check E (2004) Proteomics and cancer: running before we can walk? Nature 429:496–497

3.

Villanueva J, Shaffer DR, Philip J, Chaparro CA, Erdjument-Bromage H, Olshen AB, Fleisher M, Lilja H, Brogi E, Boyd J, Sanchez-Carbayo M, Holland EC, Cordon-Cardo C, Scher HI, Tempst P (2006) Differential exoprotease activities confer tumor-specific serum peptidome patterns. J Clin Invest 116:271–284

4.

Kolch W, Neususs C, Pelzing M, Mischak H (2005) Capillary electrophoresis-mass spectrometry as a powerful tool in clinical diagnosis and biomarker discovery. Mass Spectrom Rev 24:959–977

5.

Omenn GS, States DJ, Adamski M, Blackwell TW, Menon R, Hermjakob H, Apweiler R, Haab BB, Simpson RJ, Eddes JS, Kapp EA, Moritz RL, Chan DW, Rai AJ, Admon A, Aebersold R, Eng J, Hancock WS, Hefta SA, Meyer H, Paik YK, Yoo JS, Ping P, Pounds J, Adkins J, Qian X, Wang R, Wasinger V, Wu CY, Zhao X, Zeng R, Archakov A, Tsugita A, Beer I, Pandey A, Pisano M, Andrews P, Tammen H, Speicher DW, Hanash SM (2005) Overview of the HUPO Plasma Proteome Project: results from the pilot phase with 35 collaborating laboratories and multiple analytical groups, generating a core dataset of 3020 proteins and a publicly-available database. Proteomics 5:3226–3245

6.

Righetti PG, Boschetti E, Lomas L, Citterio A (2006) Protein Equalizer Technology: the quest for a "democratic proteome". Proteomics 6:3980–3992

7.

Schaub S, Wilkins J, Weiler T, Sangster K, Rush D, Nickerson P (2004) Urine protein profiling with surface-enhanced laser-desorption/ionization time-of-flight mass spectrometry. Kidney Int 65:323–332

8.

Theodorescu D, Wittke S, Ross MM, Walden M, Conaway M, Just I, Mischak H, Frierson HF (2006) Discovery and validation of new protein biomarkers for urothelial cancer: a prospective analysis. Lancet Oncol 7:230–240

9.

Vestergaard P, Leverett R (1958) Constancy of urinary creatinine excretion. J Lab Clin Med 51:211–218

10.

Schiffer E, Mischak H, Novak J (2006) High resolution proteome/peptidome analysis of body fluids by capillary electrophoresis coupled with MS. Proteomics 6:5615–5627

11.

Thongboonkerd V, Malasit P (2005) Renal and urinary proteomics: current applications and challenges. Proteomics 5:1033–1042

12.

Zimmerli LU, Schiffer E, Zurbig P, Good DM, Kellmann M, Mouls L, Pitt AR, Coon JJ, Schmieder RE, Peter K, Mischak H, Kolch W, Delles C, Dominiczak AF (2007) Urinary proteomic biomarkers in coronary artery disease. Mol Cell Proteomics 7:290–298

13.

Decramer S, Gonzalez de Peredo A, Breuil B, Mischak H, Monsarrat B, Bascands JL, Schanstra JP (2008) Urine in clinical proteomics. Mol Cell Proteomics 7:1850–1862

14.

Thongboonkerd V (2007) Recent progress in urinary proteomics. Proteomics Clin Appl 1:780–791

15.

Good DM, Thongboonkerd V, Novak J, Bascands JL, Schanstra JP, Coon JJ, Dominiczak A, Mischak H (2007) Body fluid proteomics for biomarker discovery: lessons from the past hold the key to success in the future. J Proteome Res 6:4549–4555

16.

Mischak H, Apweiler R, Banks RE, Conaway M, Coon JJ, Dominizak A, Ehrich JH, Fliser D, Girolami M, Hermjakob H, Hochstrasser DF, Jankowski V, Julian BA, Kolch W, Massy Z, Neususs C, Novak J, Peter K, Rossing K, Schanstra JP, Semmes OJ, Theodorescu D, Thongboonkerd V, Weissinger EM, Van Eyk JE, Yamamoto T (2007) Clinical proteomics: a need to define the field and to begin to set adequate standards. Proteomics Clin Appl 1:148–156

17.

Thongboonkerd V (2007) Practical points in urinary proteomics. J Proteome Res 6:3881–3890

18.

Dakna M, He Z, Yu WC, Mischak H, Kolch W (2009) Technical, bioinformatical and statistical aspects of liquid chromatography-mass spectrometry (LC-MS) and capillary electrophoresis-mass spectrometry (CE-MS) based clinical proteomics: a critical assessment. J Chromatogr B Anal Technol Biomed Life Sci 877:1250–1258

19.

Mischak H, Coon JJ, Novak J, Weissinger EM, Schanstra JP, Dominiczak AF (2009) Capillary electrophoresis-mass spectrometry as a powerful tool in biomarker discovery and clinical diagnosis: an update of recent developments. Mass Spectrom Rev. doi:https://doi.org/10.1002/mas.20205

20.

Hernandez J, Thompson IM (2004) Prostate-specific antigen: a review of the validation of the most commonly used cancer biomarker. Cancer 101:894–904

21.

Caramori ML, Fioretto P, Mauer M (2000) The need for early predictors of diabetic nephropathy risk: is albumin excretion rate sufficient? Diabetes 49:1399–1408

22.

Mogensen CE (1994) Systemic blood pressure and glomerular leakage with particular reference to diabetes and hypertension. J Intern Med 235:297–316

23.

Rossing K (2007) Progression and remission of nephropathy in type 2 diabetes: new strategies of treatment and monitoring. Dan Med Bull 54:79–98

24.

Fliser D, Novak J, Thongboonkerd V, Argiles A, Jankowski V, Girolami MA, Jankowski J, Mischak H (2007) Advances in urinary proteome analysis and biomarker discovery. J Am Soc Nephrol 18:1057–1071

25.

Malik G, Ward MD, Gupta SK, Trosset MW, Grizzle WE, Adam BL, Diaz JI, Semmes OJ (2005) Serum levels of an isoform of apolipoprotein A-II as a potential marker for prostate cancer. Clin Cancer Res 11:1073–1085

26.

Chang CP, McDill BW, Neilson JR, Joist HE, Epstein JA, Crabtree GR, Chen F (2004) Calcineurin is required in urinary tract mesenchyme for the development of the pyeloureteral peristaltic machinery. J Clin Invest 113:1051–1058

27.

Csaicsich D, Greenbaum LA, Aufricht C (2004) Upper urinary tract: when is obstruction obstruction? Curr Opin Urol 14:213–217

28.

Chertin B, Pollack A, Koulikov D, Rabinowitz R, Hain D, Hadas-Halpren I, Farkas A (2006) Conservative treatment of ureteropelvic junction obstruction in children with antenatal diagnosis of hydronephrosis: lessons learned after 16 years of follow-up. Eur Urol 49:734–738, discussion 739

29.

Decramer S, Bascands JL, Schanstra JP (2007) Non-invasive markers of ureteropelvic junction obstruction. World J Urol 25:457–465

30.

Decramer S, Wittke S, Mischak H, Zurbig P, Walden M, Bouissou F, Bascands JL, Schanstra JP (2006) Predicting the clinical outcome of congenital unilateral ureteropelvic junction obstruction in newborn by urinary proteome analysis. Nat Med 12:398–400

31.

Maizels M, Reisman ME, Flom LS, Nelson J, Fernbach S, Firlit CF, Conway JJ (1992) Grading nephroureteral dilatation detected in the first year of life: correlation with obstruction. J Urol 148:609–614, discussion 615–606

32.

Sibai H, Salle JL, Houle AM, Lambert R (2001) Hydronephrosis with diffuse or segmental cortical thinning: impact on renal function. J Urol 165:2293–2295

33.

Mesrobian HG (2008) The value of newborn urinary proteome analysis in the evaluation and management of ureteropelvic junction obstruction: a cost-effectiveness study. World J Urol 27:379–383

34.

Van't Hoff WG (2000) Molecular developments in renal tubulopathies. Arch Dis Child 83:189–191

35.

Lee S, Lee T, Lee B, Choi H, Yang M, Ihm CG, Kim M (2004) Fanconi's syndrome and subsequent progressive renal failure caused by a Chinese herb containing aristolochic acid. Nephrology (Carlton) 9:126–129

36.

Watanabe T, Yoshikawa H, Yamazaki S, Abe Y, Abe T (2005) Secondary renal Fanconi syndrome caused by valproate therapy. Pediatr Nephrol 20:814–817

37.

Choudhury D, Ahmed Z (2006) Drug-associated renal dysfunction and injury. Nat Clin Pract Nephrol 2:80–91

38.

Izzedine H, Launay-Vacher V, Isnard-Bagnis C, Deray G (2003) Drug-induced Fanconi's syndrome. Am J Kidney Dis 41:292–309

39.

Drube J, Schiffer E, Mischak H, Kemper MJ, Neuhaus T, Pape L, Lichtinghagen R, Ehrich JH (2009) Urinary proteome pattern in children with renal Fanconi syndrome. Nephrol Dial Transplant 24:2161–2169

40.

Rossi R, Ehrich JH (1993) Partial and complete de Toni-Debre-Fanconi syndrome after ifosfamide chemotherapy of childhood malignancy. Eur J Clin Pharmacol 44[Suppl 1]:S43–S45

41.

Skinner R, Cotterill SJ, Stevens MC (2000) Risk factors for nephrotoxicity after ifosfamide treatment in children: a UKCCSG Late Effects Group study. United Kingdom Children's Cancer Study Group. Br J Cancer 82:1636–1645

42.

Caron HN, Abeling N, van Gennip A, de Kraker J, Voute PA (1992) Hyperaminoaciduria identifies patients at risk of developing renal tubular toxicity associated with ifosfamide and platinate containing regimens. Med Pediatr Oncol 20:42–47

43.

Rossi R (1997) Nephrotoxicity of ifosfamide-moving towards understanding the molecular mechanisms. Nephrol Dial Transplant 12:1091–1092

44.

Church DN, Hassan AB, Harper SJ, Wakeley CJ, Price CG (2007) Osteomalacia as a late metabolic complication of Ifosfamide chemotherapy in young adults: illustrative cases and review of the literature. Sarcoma 2007:91586

45.

Cutillas PR, Chalkley RJ, Hansen KC, Cramer R, Norden AG, Waterfield MD, Burlingame AL, Unwin RJ (2004) The urinary proteome in Fanconi syndrome implies specificity in the reabsorption of proteins by renal proximal tubule cells. Am J Physiol Renal Physiol 287:F353–364

46.

Vilasi A, Cutillas PR, Maher AD, Zirah SF, Capasso G, Norden AW, Holmes E, Nicholson JK, Unwin RJ (2007) Combined proteomic and metabonomic studies in three genetic forms of the renal Fanconi syndrome. Am J Physiol Renal Physiol 293:F456–F467

47.

Rossing K, Mischak H, Dakna M, Zurbig P, Novak J, Julian BA, Good DM, Coon JJ, Tarnow L, Rossing P (2008) Urinary proteomics in diabetes and CKD. J Am Soc Nephrol 19:1283–1290

48.

Rossing K, Mischak H, Parving HH, Christensen PK, Walden M, Hillmann M, Kaiser T (2005) Impact of diabetic nephropathy and angiotensin II receptor blockade on urinary polypeptide patterns. Kidney Int 68:193–205

49.

Snell-Bergeon JK, Maahs DM, Ogden LG, Kinney GL, Hokanson JE, Schiffer E, Rewers M, Mischak H (2009) Evaluation of urinary biomarkers for coronary artery disease, diabetes, and diabetic kidney disease. Diabetes Technol Ther 11:1–9

50.

Merchant ML, Klein JB (2007) Proteomics and diabetic nephropathy. Semin Nephrol 27:627–636

51.

Zurbig P, Decramer S, Dakna M, Jantos J, Good DM, Coon JJ, Bandin F, Mischak H, Bascands JL, Schanstra JP (2009) The human urinary proteome reveals high similarity between kidney aging and chronic kidney disease. Proteomics 9:2108–2117

52.

Rodwell GE, Sonu R, Zahn JM, Lund J, Wilhelmy J, Wang L, Xiao W, Mindrinos M, Crane E, Segal E, Myers BD, Brooks JD, Davis RW, Higgins J, Owen AB, Kim SK (2004) A transcriptional profile of aging in the human kidney. PLoS Biol 2:e427

53.

Coon JJ, Zurbig P, Dakna M, Dominiczak AF, Decramer S, Fliser D, Frommberger M, Golovko I, Good DM, Herget-Rosenthal S, Jankowski J, Julian BA, Kellmann M, Kolch W, Massy Z, Novak J, Rossing K, Schanstra JP, Schiffer E, Theodorescu D, Vanholder R, Weissinger EM, Mischak H, Schmitt-Kopplin P (2008) CE-MS analysis of the human urinary proteome for biomarker discovery and disease diagnostics. Proteomics Clin Appl 2:964–973

54.

Pinhas-Hamiel O, Zeitler P (2007) Acute and chronic complications of type 2 diabetes mellitus in children and adolescents. Lancet 369:1823–1831

55.

EURODIAB ACE Study Group (2000) Variation and trends in incidence of childhood diabetes in Europe. EURODIAB ACE Study Group. Lancet 355:873–876

56.

Aanstoot HJ, Anderson BJ, Daneman D, Danne T, Donaghue K, Kaufman F, Rea RR, Uchigata Y (2007) The global burden of youth diabetes: perspectives and potential. Pediatr Diabetes 8[Suppl 8]:1–44

57.

Onkamo P, Vaananen S, Karvonen M, Tuomilehto J (1999) Worldwide increase in incidence of Type I diabetes-the analysis of the data on published incidence trends. Diabetologia 42:1395–1403

58.

Rossing P (2005) The changing epidemiology of diabetic microangiopathy in type 1 diabetes. Diabetologia 48:1439–1444

59.

Meier M, Kaiser T, Herrmann A, Knueppel S, Hillmann M, Koester P, Danne T, Haller H, Fliser D, Mischak H (2005) Identification of urinary protein pattern in type 1 diabetic adolescents with early diabetic nephropathy by a novel combined proteome analysis. J Diabetes Complications 19:223–232

60.

Haubitz M, Wittke S, Weissinger EM, Walden M, Rupprecht HD, Floege J, Haller H, Mischak H (2005) Urine protein patterns can serve as diagnostic tools in patients with IgA nephropathy. Kidney Int 67:2313–2320

61.

Julian BA, Wittke S, Novak J, Good DM, Coon JJ, Kellmann M, Zurbig P, Schiffer E, Haubitz M, Moldoveanu Z, Calcatera SM, Wyatt RJ, Sykora J, Sladkova E, Hes O, Mischak H, McGuire BM (2007) Electrophoretic methods for analysis of urinary polypeptides in IgA-associated renal diseases. Electrophoresis 28:4469–4483

62.

Wittke S, Haubitz M, Walden M, Rohde F, Schwarz A, Mengel M, Mischak H, Haller H, Gwinner W (2005) Detection of acute tubulointerstitial rejection by proteomic analysis of urinary samples in renal transplant recipients. Am J Transplant 5:2479–2488

63.

Fazzini PF, Prati PL, Rovelli F, Antoniucci D, Menghini F, Seccareccia F, Menotti A (1993) Epidemiology of silent myocardial ischemia in asymptomatic middle-aged men (the ECCIS Project). Am J Cardiol 72:1383–1388

64.

Scognamiglio R, Negut C, Ramondo A, Tiengo A, Avogaro A (2006) Detection of coronary artery disease in asymptomatic patients with type 2 diabetes mellitus. J Am Coll Cardiol 47:65–71

65.

von Zur Muhlen C, Schiffer E, Zuerbig P, Kellmann M, Brasse M, Meert N, Vanholder RC, Dominiczak AF, Chen YC, Mischak H, Bode C, Peter K (2009) Evaluation of urine proteome pattern analysis for its potential to reflect coronary artery atherosclerosis in symptomatic patients. J Proteome Res 8:335–345
Acknowledgments
CC, CL, SD and JPS acknowledge financial support from the Agence Nationale pour la Recherche (ANR-07-PHYSIO-004-01), the Fondation pour la Recherche Médicale "Grands Equipements pour la Recherche Biomédicale" and the CPER2007–2013 programme. The work of SD was sponsored by the Inserm Interface program. HM was supported in part by EUROTRANS-BIO grant ETB-2006-016 and EU Funding through InGenious HyperCare (LSHM-C7-2006-037093) and PREDICTIONS (1272568). JPS was supported by Inserm, the "Direction Régional Clinique" (CHU de Toulouse, France) under the Interface program and by the Fondation pour la Recherche Médicale.
Conflict of interest statement
Harald Mischak is the co-founder and co-owner of Mosaiques Diagnostics, who developed the CE-MS technology for clinical applications.
About this article
Cite this article
Caubet, C., Lacroix, C., Decramer, S. et al. Advances in urinary proteome analysis and biomarker discovery in pediatric renal disease. Pediatr Nephrol 25, 27–35 (2010). https://doi.org/10.1007/s00467-009-1251-5
Received:

Revised:

Accepted:

Published:

Issue Date:
Keywords
Biomarkers

Fanconi syndrome

Proteomics

Statistics

Ureteropelvic junction obstruction

Urine

Validation