Abstract
The introduction of clean intermittent catheterization (CIC) in 1972 and low-dose chemoprophylaxis (LDCP, antibiotic prophylaxis), anticholinergic medication and urological surgery in the mid-1980s has improved the long-term outcome of renal function in children with neurogenic bladder sphincter dysfunction (NBSD) due to spina bifida (SB). We have conducted a European survey of the protocols for diagnosing and treating urinary tract infections (UTIs) in these children, using a web-based questionnaire. The responses from 41 centers in 14 European countries confirm that although most centers have standardized protocols for treating UTIs, there is no consensus among European centers in terms of protocols for preventing, diagnosing and treating UTIs in children with NBSD and for CIC.
Access options
Buy single article
Instant access to the full article PDF.
US$ 39.95
Tax calculation will be finalised during checkout.
Subscribe to journal
Immediate online access to all issues from 2019. Subscription will auto renew annually.
US$ 119
Tax calculation will be finalised during checkout.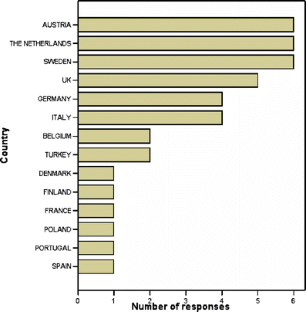 Abbreviations
CIC:

clean intermittent catheterization

LDCP:

low dose chemoprophylaxis, antibiotic prophylaxis

NBSD:

neurogenic bladder sphincter dysfunction

SB:

spina bifida

UTI:

urinary tract infection

VUR:

vesico-ureteral reflux
References
1.

Williams LJ, Rasmussen SA, Flores A, Kirby RS, Edmonds LD (2005) Decline in the prevalence of spina bifida and anencephaly by race/ethnicity: 1995–2002. Pediatrics 116:580–586

2.

Robbins JM, Tilford JM, Bird TM, Cleves MA, Reading JA, Hobbs CA (2006) Hospitalizations of newborns with folate-sensitive birth defects before and after fortification of foods with folic acid. Pediatrics 118:906–915

3.

van der Pal-de Bruin KM, van der Heijden PG, Buitendijk SE, den Ouden AL (2003) Periconceptional folic acid use and the prevalence of neural tube defects in The Netherlands. Eur J Obstet Gynecol Reprod Biol 108:33–39

4.

Bauer SB (2008) Neurogenic bladder: etiology and assessment. Pediatr Nephrol 23:541–551

5.

Woodhouse CR (2008) Myelomeningocele: neglected aspects. Pediatr Nephrol 23:1223–1231

6.

Dik P, Klijn AJ, van Gool JD, de Jong-de Vos van Steenwijk CC, De Jong TP (2006) Early start to therapy preserves kidney function in spina bifida patients. Eur Urol 49:908–913

7.

Muller T, Arbeiter K, Aufricht C (2002) Renal function in meningomyelocele: risk factors, chronic renal failure, renal replacement therapy and transplantation. Curr Opin Urol 12:479–484

8.

Hopps CV, Kropp KA (2003) Preservation of renal function in children with myelomeningocele managed with basic newborn evaluation and close followup. J Urol 169:305–308

9.

De Jong TP, Chrzan R, Klijn AJ, Dik P (2008) Treatment of the neurogenic bladder in spina bifida. Pediatr Nephrol 23:889–896

10.

Seki N, Masuda K, Kinukawa N, Senoh K, Naito S (2004) Risk factors for febrile urinary tract infection in children with myelodysplasia treated by clean intermittent catheterization. Int J Urol 11:973–977

11.

Bakke A, Digranes A, Hoisaeter PA (1997) Physical predictors of infection in patients treated with clean intermittent catheterization: a prospective 7-year study. Br J Urol 79:85–90

12.

Vapnek JM, Maynard FM, Kim J (2003) A prospective randomized trial of the LoFric hydrophilic coated catheter versus conventional plastic catheter for clean intermittent catheterization. J Urol 169:994–998

13.

Wald ER (2006) Urinary antibiotic prophylaxis may not be required in children with mild or moderate vesicoureteral reflux following acute pyelonephritis. J Pediatr 149:421–422

14.

Le SN, Pham B, Moher D (2000) Evaluating the benefits of antimicrobial prophylaxis to prevent urinary tract infections in children: a systematic review. Can Med Assoc J 163:523–529

15.

Morton SC, Shekelle PG, Adams JL, Bennett C, Dobkin BH, Montgomerie J, Vickrey BG (2002) Antimicrobial prophylaxis for urinary tract infection in persons with spinal cord dysfunction. Arch Phys Med Rehabil 83:129–138

16.

Williams GJ, Wei L, Lee A, Craig JC (2006) Long-term antibiotics for preventing recurrent urinary tract infection in children. Cochrane Database Syst Rev 3:CD001534

17.

Schlager TA, Anderson S, Trudell J, Hendley JO (1998) Nitrofurantoin prophylaxis for bacteriuria and urinary tract infection in children with neurogenic bladder on intermittent catheterization. J Pediatr 132:704–708

18.

Elliott SP, Villar R, Duncan B (2005) Bacteriuria management and urological evaluation of patients with spina bifida and neurogenic bladder: a multicenter survey. J Urol 173:217–220

19.

Mori R, Lakhanpaul M, Verrier-Jones K (2007) Diagnosis and management of urinary tract infection in children: summary of NICE guidance. Br Med J 335:395–397

20.

Clarke SA, Samuel M, Boddy SA (2005) Are prophylactic antibiotics necessary with clean intermittent catheterization? A randomized controlled trial. J Pediatr Surg 40:568–571

21.

Johnson JR, Kuskowski MA, Wilt TJ (2006) Systematic review: antimicrobial urinary catheters to prevent catheter-associated urinary tract infection in hospitalized patients. Ann Intern Med 144:116–126

22.

Salomon J, Denys P, Merle C, Chartier-Kastler E, Perronne C, Gaillard JL, Bernard L (2006) Prevention of urinary tract infection in spinal cord-injured patients: safety and efficacy of a weekly oral cyclic antibiotic (WOCA) programme with a 2 year follow-up—an observational prospective study. J Antimicrob Chemother 57:784–788

23.

Trautner BW, Darouiche RO (2004) Catheter-associated infections: pathogenesis affects prevention. Arch Intern Med 164:842–850

24.

Ottolini MC, Shaer CM, Rushton HG, Majd M, Gonzales EC, Patel KM (1995) Relationship of asymptomatic bacteriuria and renal scarring in children with neuropathic bladders who are practicing clean intermittent catheterization. J Pediatr 127:368–372

25.

Ozel SK, Dokumcu Z, Akyildiz C, Avanoglu A, Ulman I (2007) Factors affecting renal scar development in children with spina bifida. Urol Int 79:133–136

26.

Deville WL, Yzermans JC, van Duijn NP, Bezemer PD, van der Windt DA, Bouter LM (2004) The urine dipstick test useful to rule out infections. A meta-analysis of the accuracy. BMC Urol 4:4

27.

Shaikh N, Morone NE, Lopez J, Chianese J, Sangvai S, D'Amico F, Hoberman A, Wald ER (2007) Does this child have a urinary tract infection? JAMA 298:2895–2904

28.

Winkens R, Nelissen-Arets H, Stobberingh E (2003) Validity of the urine dipslide under daily practice conditions. Fam Pract 20:410–412

29.

Leece P, Bhandari M, Sprague S, Swiontkowski MF, Schemitsch EH, Tornetta P, Devereaux PJ, Guyatt GH (2004) Internet versus mailed questionnaires: a controlled comparison (2). J Med Internet Res 6:e39

30.

Halpern SD, Asch DA (2003) Commentary: Improving response rates to mailed surveys: what do we learn from randomized controlled trials? Int J Epidemiol 32:637–638
About this article
Cite this article
Zegers, B.S.H.J., Winkler–Seinstra, P.L.H., Uiterwaal, C.S.P.M. et al. Urinary tract infections in children with spina bifida: an inventory of 41 European centers. Pediatr Nephrol 24, 783–788 (2009). https://doi.org/10.1007/s00467-008-1067-8
Received:

Revised:

Accepted:

Published:

Issue Date:
Keywords
Antibiotic prophylaxis

Clean intermittent catheterization

Neurogenic bladder sphincter dysfunction

Spina bifida

Urinary tract infection