Abstract
An important complication of idiopathic renal hypouricemia is exercise-induced acute renal failure (ARF). The most plausible explanation for this complication is that decreased antioxidant potential leads to kidney injury by reactive oxygen species (ROS). We demonstrated this oxidative imbalance by a concomitant assessment of ROS production and antioxidant system capability in a 15- year-old girl with idiopathic renal hypouricemia caused by a mutation in the urate transporter (URAT1) gene. Her serum level of ROS increased with decreasing antioxidant potential capacity soon after the initiation of anaerobic stress due to treadmill exercise. Thereafter, serum levels of ROS and antioxidant potential showed a parallel course, returning to the baseline values at 240 min after exercise. Some patients with idiopathic renal hypouricemia demonstrate oxidative imbalance soon after exercise with a predisposition to exercise-induced acute renal failure. Antioxidant properties may alter this imbalance by augmenting the antioxidant activity.
We're sorry, something doesn't seem to be working properly.
Please try refreshing the page. If that doesn't work, please contact support so we can address the problem.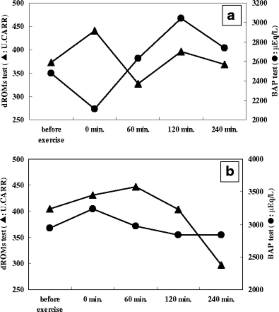 References
1.

Hisatome I, Ogino K, Kotake H, Ishiko R, Saito M, Hasegawa J, Mashiba H, Nakamoto S (1989) Cause of persistent hypouricemia in outpatients. Nephron 51:13–16

2.

Sperling O (1992) Renal hypouricemia: classification, tubular defect and clinical consequences. Contrib Nephrol 100:1–14

3.

Enomoto A, Kimura H, Chairoungdua A, Shigeta Y, Jutabha P, Cha SH, Hosoyamada M, Takeda M, Sekine T, Igarashi T, Matsuo H, Kikuchi Y, Oda T, Ichida K, Hosoya T, Shimokata K, Niwa T, Kanai Y, Endou H (2002) Molecular identification of a renal urate anion exchanger that regulates blood urate levels. Nature 23:447–452

4.

Tanaka M, Itoh K, Matsushita K, Matsushita K, Wakita N, Adachi M, Nonoguchi H, Kitamura K, Hosoyamada M, Endou H, Tomita K (2003) Two male siblings with hereditary renal hypouricemia and exercise-induced ARF. Am J Kidney Dis 42:1287–1292

5.

Ishikawa I, Nakagawa M, Hayama S, Yoshida S, Date T (2005) Acute renal failure with severe loin pain and patchy renal ischaemia after anaerobic exercise (ALPE) (exercise-induced acute renal failure) in a father and child with URAT1 mutations beyond the W258X mutation. Nephrol Dial Transplant 20:1015

6.

Ito O, Hasegawa Y, Sato K, Mitsui H, Yuda F, Sato H, Ito S, Kudo K (2003) A case of exercise-induced acute renal failure in a patient with idiopathic renal hypouricemia developed during antihypertensive therapy with losartan and trichlormethiazide. Hypertens Res 26:509–513

7.

Ohta T, Sakano T, Igarashi T, Itami N, Ogawa T, ARF Assocoated with Renal Hypouricemia Research Group (2004) Exercise-induced acute renal failure associated with renal hypouricaemia: results of a questionnaire-based survey in Japan. Nephrol Dial Transplant 19:1447–1453

8.

Ichida K, Hosoyamada M, Hisatome I, Enomoto A, Hikita M, Endou H, Hosoya T (2004) Clinical and molecular analysis of patients with renal hypouricemia in Japan-influence of URAT1 gene on urinary urate excretion. J Am Soc Nephrol 15:164–173

9.

Murakami T, Kawakami H, Fukuda M, Furukawa S (1995) Patients with renal hypouricemia are prone to develop acute renal failure–why? Clin Nephrol 43:207–208

10.

Ames BN, Cathcart R, Schwiers E, Hochstein P (1981) Uric acid provides an antioxidant defense in humans against oxidant and radical caused aging and cancer: a hypothesis. Proc Natl Acad Sci USA 78:6858–6862

11.

Pasquini A, Luchetti E, Marchetti V, Cardini G, Iorio EL (2008) Analytical performances of d-ROMs test and BAP test in canine plasma. Definition of the normal range in healthy Labrador dogs. Vet Res Commun 32:137–143

12.

Cornelli U, Terranova R, Luca S, Cornelli M, Alberti A (2001) Bioavailability and antioxidant activity of some food supplements in men and women using the D-Roms test as a marker of oxidative stress. J Nutr 131:3208–3211

13.

Dohi K, Satoh K, Ohtaki H, Shioda S, Miyake Y, Shindo M, Aruga T (2005) Elevated plasma levels of bilirubin in patients with neurotrauma reflect its pathophysiological role in free radical scavenging. In Vivo 19:855–860

14.

Iamele L, Fiocchi R, Vernocchi A (2002) Evaluation of an automated spectrophotometric assay for reactive oxygen metabolites in serum. Clin Chem Lab Med 40:673–676

15.

Erley CM, Hirschberg RR, Hoefer W, Schaefer K (1989) Acute renal failure due to uric acid nephropathy in a patient with renal hypouricemia. Klin Wochenschr 67:308–312

16.

Kerksick C, Taylor L 4th, Harvey A, Willoughby D (2008) Gender-related differences in muscle injury, oxidative stress, and apoptosis. Med Sci Sports Exerc 40:1772–1780
About this article
Cite this article
Kaneko, K., Taniguchi, N., Tanabe, Y. et al. Oxidative imbalance in idiopathic renal hypouricemia. Pediatr Nephrol 24, 869–871 (2009). https://doi.org/10.1007/s00467-008-1032-6
Received:

Revised:

Accepted:

Published:

Issue Date:
Keywords
Antioxidant

Exercise-induced acute renal failure

Idiopathic renal hypouricemia

Oxidative stress

Urate transport

URAT1