Abstract
Pigment nephropathy accounts for approximately 3% of all cases of acute renal failure (ARF) in children. Studies of risk factors associated with ARF and the need for renal replacement therapy (RRT) in children with rhabdomyolysis-associated pigment nephropathy consist of retrospective case series with variable inclusion criteria. Our objective was to evaluate clinical and laboratory characteristics, etiology, initial fluid therapy, prevalence of ARF and the requirement for RRT in pediatric patients with acute rhabdomyolysis. Twenty-eight patients (19 male) with a mean age of 11.1 ± 5.6 years were studied. Acute renal failure occurred in 11 patients (39%), seven of whom (64%) required RRT. Features associated with the need for RRT included history of fever, persistent oliguria, admission blood urea nitrogen level, creatinine, Ca2+, K+, bicarbonate and aspartate aminotransferase. Most of these factors are related to the level of renal insufficiency and degree of muscle injury. There was no difference in admission and peak creatine kinase (CK) levels between those who did or did not require RRT. However, all who required RRT had a peak CK level > 5000 U/L.
Access options
Buy single article
Instant access to the full article PDF.
US$ 39.95
Tax calculation will be finalised during checkout.
Subscribe to journal
Immediate online access to all issues from 2019. Subscription will auto renew annually.
US$ 119
Tax calculation will be finalised during checkout.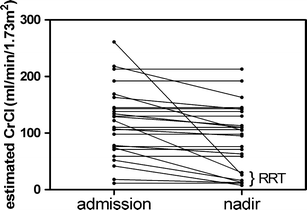 References
1.

Huerta-Alardin AL, Varon J, Marik PE (2005) Bench-to-bedside review: Rhabdomyolysis—an overview for clinicians. Crit Care 9:158–169

2.

Zager RA (1996) Rhabdomyolysis and myohemoglobinuric acute renal failure. Kidney Int 49:314–326

3.

Brown CV, Rhee P, Chan L, Evans K, Demetriades D, Velmahos GC (2004) Preventing renal failure in patients with rhabdomyolysis: do bicarbonate and mannitol make a difference? J Trauma 56:1191–1196

4.

Holt SG, Moore KP (2001) Pathogenesis and treatment of renal dysfunction in rhabdomyolysis. Intensive Care Med 27:803–811

5.

Mannix R, Tan ML, Wright R, Baskin M (2006) Acute pediatric rhabdomyolysis: causes and rates of renal failure. Pediatrics 118:2119–2125

6.

Watanabe T (2001) Rhabdomyolysis and acute renal failure in children. Pediatr Nephrol 16:1072–1075

7.

Watemberg N, Leshner RL, Armstrong BA, Lerman-Sagie T (2000) Acute pediatric rhabdomyolysis. J Child Neurol 15:222–227

8.

Schwartz GJ, Brion LP, Spitzer A (1987) The use of plasma creatinine concentration for estimating glomerular filtration rate in infants, children, and adolescents. Pediatr Clin North Am 34:571–590

9.

Hui-Stickle S, Brewer ED, Goldstein SL (2005) Pediatric ARF epidemiology at a tertiary care center from 1999 to 2001. Am J Kidney Dis 45:96–101

10.

Akcan-Arikan A, Zappitelli M, Loftis LL, Washburn KK, Jefferson LS, Goldstein SL (2007) Modified RIFLE criteria in critically ill children with acute kidney injury. Kidney Int 71:1028–1035

11.

Feinfeld DA, Cheng JT, Beysolow TD, Briscoe AM (1992) A prospective study of urine and serum myoglobin levels in patients with acute rhabdomyolysis. Clin Nephrol 38:193–195

12.

Homsi E, Barreiro MF, Orlando JM, Higa EM (1997) Prophylaxis of acute renal failure in patients with rhabdomyolysis. Ren Fail 19:283–288

13.

Lappalainen H, Tiula E, Uotila L, Manttari M (2002) Elimination kinetics of myoglobin and creatine kinase in rhabdomyolysis: implications for follow-up. Crit Care Med 30:2212–2215

14.

Askenazi DJ, Feig DI, Graham NM, Hui-Stickle S, Goldstein SL (2006) 3–5 year longitudinal follow-up of pediatric patients after acute renal failure. Kidney Int 69:184–189

15.

Gabow PA, Kaehny WD, Kelleher SP (1982) The spectrum of rhabdomyolysis. Medicine 61:141–152

16.

Ward MM (1988) Factors predictive of acute renal failure in rhabdomyolysis. Arch Intern Med 148:1553–1557
About this article
Cite this article
Zepeda-Orozco, D., Ault, B.H. & Jones, D.P. Factors associated with acute renal failure in children with rhabdomyolysis. Pediatr Nephrol 23, 2281–2284 (2008). https://doi.org/10.1007/s00467-008-0922-y
Received:

Revised:

Accepted:

Published:

Issue Date:
Keywords
Dialysis

Renal failure

Renal replacement therapy

Rhabdomyolysis