Abstract
Adequate ultrafiltration (UF) is necessary for good health, but it can be hindered by the development of intradialytic symptoms and hypotension. To determine whether sodium ramping, UF profiles and mannitol could improve UF in children, we instituted a standardized prescription for chronic hemodialysis in our unit. We prospectively analyzed 506 treatments from ten patients. Ultrafiltration volumes up to 9.7% of dry weight were obtained with an overall mean of 5.4%. Mannitol reduced the risk of intradialytic symptoms by 64% (p < 0.05) with a mean UF volume of 6.2%. Step sodium ramping from 148–138 mmol/l reduced the odds of intradialytic symptoms (p = 0.1) and hypotension (p < 0.05) with no difference in the mean UF compared with linear profiles. All UF profiles were associated with an increased risk of intradialytic symptoms, but the effect was only statistically significant with profile 2 (stepwise UF reduction). Overall intradialytic morbidity occurred in 10% of the treatments. Notwithstanding the study limitations, UF volumes higher than traditional recommendations of 5% of the dry weight were achieved with the use of mannitol and 148–138 mmol/l sodium ramping. Despite this, the desired dry weight was not achieved in 66% of our treatments. No clear benefit was seen with UF profiles.
Access options
Buy single article
Instant access to the full article PDF.
US$ 39.95
Tax calculation will be finalised during checkout.
Subscribe to journal
Immediate online access to all issues from 2019. Subscription will auto renew annually.
US$ 119
Tax calculation will be finalised during checkout.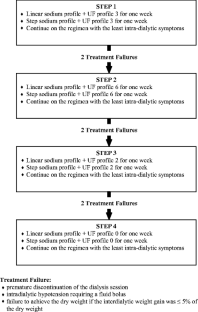 References
1.

Stegmayr BG (2003) Ultrafiltration and dry weight-what are the cardiovascular effects? Artif Organs 27:227–229

2.

Mitsnefes M, Stablein D (2005) Hypertension in pediatric patients on long-term dialysis: a report of the North American Pediatric Renal Transplant Cooperative Study (NAPRTCS). Am J Kidney Dis 45:309–315

3.

Daugirdas JT (2001) Pathophysiology of dialysis hypotension: an update. Am J Kidney Dis 38:S11–S17

4.

Donauer J, Kolblin D, Bek M, Krause A, Bohler J (2000) Ultrafiltration profiling and measurement of relative blood volume as strategies to reduce hemodialysis-related side effects. Am J Kidney Dis 36:115–123

5.

Ebel H, Laage C, Keuchel M, Dittmar A, Saure B, Ehlenz K, Lange H (1997) Impact of profile haemodialysis on intra-/extracellular fluid shifts and the release of vasoactive hormones in elderly patients on regular dialysis treatment. Nephron 75:264–271

6.

Dasselaar JJ, Huisman RM, de Jong PE, Franssen CF (2005) Measurement of relative blood volume changes during haemodialysis: merits and limitations. Nephrol Dial Transplant 20:2043–2049

7.

Song JH, Park GH, Lee SY, Lee SW, Lee SW, Kim MJ (2005) Effect of sodium balance and the combination of ultrafiltration profile during sodium profiling hemodialysis on the maintenance of the quality of dialysis and sodium and fluid balances. J Am Soc Nephrol 16:237–246

8.

Fischbach M, Tarral E, Geisert J (1988) Sequential hypertonic haemodialysis in children. Pediatr Nephrol 2:442–446

9.

Fischbach M, Terzic J, Laugel V, Dheu C, Menouer S, Helms P, Livolsi A (2004) Daily on-line haemodiafiltration: a pilot trial in children. Nephrol Dial Transplant 19:2360–2367

10.

Sadowski RH, Allred EN, Jabs K (1993) Sodium modeling ameliorates intradialytic and interdialytic symptoms in young hemodialysis patients. J Am Soc Nephrol 4:1192–1198

11.

Goldstein SL, Smith CM, Currier H (2003) Non-invasive interventions to decrease hospitalization and associated costs for pediatric patients receiving hemodialysis. J Am Soc Nephrol 14:2127–2131

12.

Fischbach M, Mengus L, Simeoni U, Duringer R, Mark J, De Geeter B, Hamel G, Geisert J (1991) Double profile dialysis: ultrafiltration and sodium variable description and clinical validation in the child. Nephrologie 12:179–183

13.

Paediatric Life Support Working Party of the European Resuscitation Council (1994) Guidelines for paediatric life support. Br Med J 308:1349–1355

14.

Fischbach M, Edefonti A, Schroder C, Watson A (2005) The European Pediatric Dialysis Working Group. Hemodialysis in children: general practical guidelines. Pediatr Nephrol 20:1054–1066

15.

Jain SR, Smith L, Brewer ED, Goldstein SL (2001) Non-invasive intravascular monitoring in the pediatric hemodialysis population. Pediatr Nephrol 16:15–18

16.

Daugirdas JT (1993) Second generation logarithmic estimates of single-pool variable volume Kt/V: an analysis of error. J Am Soc Nephrol 4:1205–1213

17.

Blumenthal S, Epps RP, Heavenrich R, Lauer RM, Lieberman E, Mirkin B, Mitchell SC, Boyar Naito V, O'Hare D, McFate Smith W, Tarazi RC, Upson D (1977) Report of the task force on blood pressure control in children. Pediatrics 59:797–820

18.

Andrulli S, Colzani S, Mascia F, Lucchi L, Stipo L, Bigi MC, Crepaldi M, Redaelli B, Albertazzi A, Locatelli F (2002) The role of blood volume reduction in the genesis of intradialytic hypotension. Am J Kidney Dis 40:1244–1254

19.

Mitra S, Chamney P, Greenwood R, Farrington K (2002) Linear decay of relative blood volume during ultrafiltration predicts hemodynamic instability. Am J Kidney Dis 40:556–565

20.

Ronco C, Feriani M, Chiaramonte S, Conz P, Brendolan L, Bragantini M, Milan M, Fabris A, Dell'Aquila R, Dissegna D, Crepaldi C, Agazia B, Finocci G, De Dominicas E, La Greca G (1990) Impact of high blood flows on vascular stability in haemodialysis. Nephrol Dial Transplant 5:109–111
Conflict of Interest
None to Declare
Disclosures
None
About this article
Cite this article
Hothi, D.K., Harvey, E., Goia, C.M. et al. Evaluating methods for improving ultrafiltration in pediatric hemodialysis. Pediatr Nephrol 23, 631–638 (2008). https://doi.org/10.1007/s00467-007-0716-7
Received:

Revised:

Accepted:

Published:

Issue Date:
Keywords
Intradialytic hypotension

Intradialytic symptoms

Mannitol

Sodium profiles

UF profiles

Ultrafiltration