Abstract
We report the spontaneous development of recurrent chyloperitoneum as a complication of peritoneal dialysis in a toddler. An 18-month-old boy with end-stage renal disease (ESRD) on continuous cycling peritoneal dialysis developed spontaneous chyloperitoneum. He was treated conservatively, with a low-fat diet supplemented with medium-chain triglycerides. The chyloperitoneum resolved within 2 days of his being on the low-fat diet, but it recurred after re-institution of regular feeds on four occasions. After 3 months, the chyle leak finally resolved after an extended period of low-fat feeds. Chyloperitoneum is a rare complication of peritoneal dialysis that can be confused with signs of peritonitis, and it is important to differentiate between the two so that appropriate management can be undertaken. This paper discusses the possible causes, management and complications of recurrent chyloperitoneum.
Access options
Buy single article
Instant access to the full article PDF.
US$ 39.95
Tax calculation will be finalised during checkout.
Subscribe to journal
Immediate online access to all issues from 2019. Subscription will auto renew annually.
US$ 119
Tax calculation will be finalised during checkout.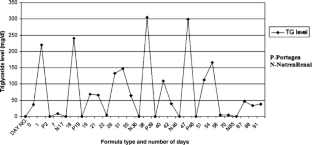 References
1.

Operand A, Rauschenberg Y, Scurry D, Drunker A (1984) Chyloperitoneum: a rare complication of peritoneal dialysis. Perit Dial Bull 4:35–37

2.

Levy RI, Wenk RE (2001) Chyloperitoneum in a peritoneal dialysis patient. Am J Kidney Dis 38:E12

3.

Melnick JZ, McCarty CM, Hunchik MP, Alexander SR (1995) Chylous ascites complicating neonatal peritoneal dialysis. Pediatr Nephrol 9:753–755

4.

Warady BA, Schaefer F, Holloway M, Alexander S, Kandert M, Piraino B, Salusky I, Tranaeus A, Divino J, Honda M, Mujais S, Verrina E, International Society for Peritoneal Dialysis (ISPD) Advisory Committee on Peritonitis Management in Pediatric Patients (2000) Consensus guidelines for the treatment of peritonitis in pediatric patients receiving peritoneal dialysis. Perit Dial Int 20:610–624

5.

Kjeldsberg C, Knight J (1993) Body fluids: laboratory examination of cerebrospinal, seminal, serous and synovial fluids, 3rd edn. American Society of Clinical Pathology Press, Chicago, IL

6.

Mahan KL, Escott-Stump S (1996) Krause's food, nutrition and diet therapy, 9th edn. Saunders, Philadelphia, PA, pp 50–51

7.

Suddaby EC, Schiller S (2004) Management of chylothorax in children. Pediatr Nurs 30:290–295

8.

Cochran WJ, Klidh WJ, Brown MR, Lyons JM, Curtis T (1985) Chylous ascites in infants and children; a case report and literature review. J Pediatr Gastroenterol Nutr 4:668–673

9.

Unger SW, Chandler IG (1983) Chylous ascites in infants and children. Surgery 93:455–461

10.

Hashim SA, Roholt HB, Babayan VK, Vanitallie TB (1964) Treatment of chyluria and chylothorax with medium chain triglyceride. N Engl J Med 270:756–761

11.

Baker RD, Baker SS, Davis AM (1997) Pediatric parenteral nutrition. Chapman & Hall, New York, NY, pp 110–112

12.

Tilney NL, Murray JE (1967) The thoracic duct fistula as an adjunct to immunosuppression in human renal transplantation. Transplantation 5:1204–1208

13.

Roodhooft AM, VanAcker KJ, DeBroe ME (1987) Chylous peritonitis: an infrequent complication of peritoneal dialysis. Perit Dial Bull 7:195–196

14.

Lam JC, Aters S, Tobias JD (2001) Initial experience with octreotide in the pediatric population. Am J Ther 8:409–415

15.

Heikenen, JB, Pohl JF, Werlin SL, Bucuvalas JC (2002) Octreotide in pediatric patients. J Pediatr Gastroenterol Nutr 35:600–609

16.

Lee PH, Lin, CL, Lai PC, Yang CW (2005) Octreotide therapy for chylous ascites in a chronic dialysis patient. Nephrology 10:344–347

17.

Bhatia C, Pratap U, Slavik Z (2001) Octreotide therapy: a new horizon in treatment of iaterogenic chyloperitoneum. Arch Dis Child 85:234–235

18.

Browse NL, Wilson NM, Russo F, al-Hassan H, Allen DR (1992) Aetiology and treatment of chylous ascites. Br J Surg 79:1145–1150
About this article
Cite this article
Kumar, J., Gordillo, R., Del Rio, M. et al. Recurrent chyloperitoneum—a rare complication of peritoneal dialysis. Pediatr Nephrol 23, 671–674 (2008). https://doi.org/10.1007/s00467-007-0674-0
Received:

Revised:

Accepted:

Published:

Issue Date:
Keywords
Peritoneal dialysis

Infant

Chyloperitoneum

Lymphatic system

Nutrition

Gastrostomy