Abstract
Background
Endoscopic biliary drainage using metal stent (MSs) is an established palliative treatment for patients with unresectable malignant distal biliary obstruction (MDBO). However, a major drawback of MS is recurrent biliary obstruction (RBO). Uncovered MSs with a diameter of 14 mm (UMS-14) were developed to overcome this. We aimed to compare the clinical outcomes of UMS-14 with those of conventional covered MSs having a diameter of 10 mm (CMS-10).
Methods
Consecutive patients with MDBO caused by unresectable pancreatic cancer, who underwent UMS-14 or CMS-10 placement at two tertiary-care centers, were retrospectively examined according to the Tokyo Criteria 2014.
Results
Two hundred and thirty-eight patients who underwent UMS-14 (the UMS-14 group, n = 80) or CMS-10 (the CMS-10 group, n = 158) over a 62-month period were included. The technical and clinical success rates were similar between the two groups. RBO occurred in 20 (25%) and 59 (37%) patients of the UMS-14 and CMS-10 groups, respectively (p = 0.06). Median time till RBO was significantly longer in the UMS-14 group than in the CMS-10 group (not reached vs. 290 days, p = 0.04). Multivariate analysis revealed that CMS-10 placement was an independent risk factor for RBO (hazard ratio: 1.66, 95% confidence interval: 1.00–2.76). The incidence of early complications, including pancreatitis, and the overall survival (UMS-14 vs. CMS-10: 169 vs. 167 days, p = 0.83) were comparable between the two groups.
Conclusions
UMS-14 stents were safe and effective for treating patients with MDBO secondary to unresectable pancreatic cancer. The insertion of UMS-14 is recommended, because it is less likely to get occluded as compared to CMS-10.
Access options
Buy single article
Instant access to the full article PDF.
US$ 39.95
Tax calculation will be finalised during checkout.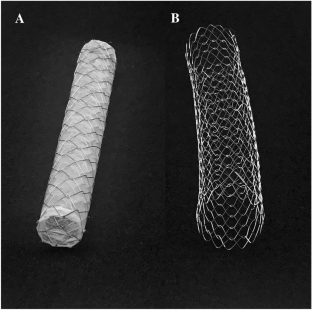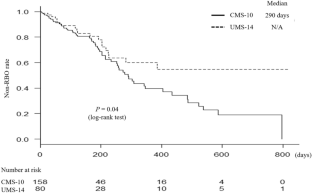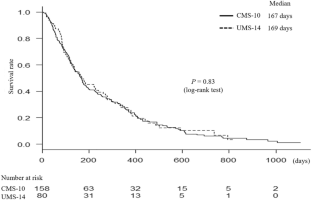 References
1.

Dumonceau JM, Tringali A, Papanikolaou IS, Blero D, Mangiavillano B, Schmidt A, Vanbiervliet G, Costamagna G, Devière J, García-Cano J, Gyökeres T, Hassan C, Prat F, Siersema PD, van Hooft JE (2018) Endoscopic biliary stenting: indications, choice of stents, and results: European Society of Gastrointestinal Endoscopy (ESGE) clinical guideline: updated October 2017. Endoscopy 50:910–930

2.

Abraham NS, Barkun JS, Barkun AN (2002) Palliation of malignant biliary obstruction: a prospective trial examining impact on quality of life. Gastrointest Endosc 56:835–841

3.

Artifon EL, Sakai P, Cunha JE, Dupont A, Filho FM, Hondo FY, Ishioka S, Raju GS (2006) Surgery or endoscopy for palliation of biliary obstruction due to metastatic pancreatic cancer. Am J Gastroenterol 101:2031–2037

4.

GBD (2017) Pancreatic Cancer Collaborators (2019) The global, regional, and national burden of pancreatic cancer and its attributable risk factors in 195 countries and territories, 1990–2017: a systematic analysis for the global burden of disease study 2017. Lancet Gastroenterol Hepatol 4:934–947

5.

Zorrón PuL, de Moura EG, Bernardo WM, Baracat FI, Mendonça EQ, Kondo A, Luz GO, Furuya Júnior CK, Artifon EL (2015) Endoscopic stenting for inoperable malignant biliary obstruction: a systematic review and meta-analysis. World J Gastroenterol 21:13374–13385

6.

Sawas T, Al Halabi S, Parsi MA, Vargo JJ (2015) Self-expandable metal stents versus plastic stents for malignant biliary obstruction: a meta-analysis. Gastrointest Endosc 82:256–267

7.

Okusaka T, Nakamura M, Yoshida M, Kitano M, Uesaka K, Ito Y, Furuse J, Hanada K, Okazaki K, Committee for Revision of Clinical Guidelines for Pancreatic Cancer of the Japan Pancreas Society (2020) Clinical practice guidelines for pancreatic cancer 2019 from the Japan pancreas society: a synopsis. Pancreas 49:326–335

8.

Isayama H, Komatsu Y, Tsujino T, Sasahira N, Hirano K, Toda N, Nakai Y, Yamamoto N, Tada M, Yoshida H, Shiratori Y, Kawabe T, Omata M (2004) A prospective randomised study of "covered" versus "uncovered" diamond stents for the management of distal malignant biliary obstruction. Gut 53:729–734

9.

Kitano M, Yamashita Y, Tanaka K, Konishi H, Yazumi S, Nakai Y, Nishiyama O, Uehara H, Mitoro A, Sanuki T, Takaoka M, Koshitani T, Arisaka Y, Shiba M, Hoki N, Sato H, Sasaki Y, Sato M, Hasegawa K, Kawabata H, Okabe Y, Mukai H (2013) Covered self-expandable metal stents with an anti-migration system improve patency duration without increased complications compared with uncovered stents for distal biliary obstruction caused by pancreatic carcinoma: a randomized multicenter trial. Am J Gastroenterol 108:1713–1722

10.

Lee HW, Moon JH, Lee YN, Lee TH, Choi MH, Cha SW, Cho YD, Park SH (2019) Usefulness of newly modified fully covered metallic stent of 12 mm in diameter and anti-migration feature for periampullary malignant biliary strictures: comparison with conventional standard metal stent. J Gastroenterol Hepatol 34:1208–1213

11.

Conio M, Mangiavillano B, Caruso A, Filiberti RA, Baron TH, De Luca L, Signorelli S, Crespi M, Marini M, Ravelli P, Conigliaro R, De Ceglie A (2018) Covered versus uncovered self-expandable metal stent for palliation of primary malignant extrahepatic biliary strictures: a randomized multicenter study. Gastrointest Endosc 88:283-291.e3

12.

Kogure K, Ryozawa S, Maetani I, Nakai Y, Kawakami H, Yasuda I, Mochizuki H, Iwano H, Maguchi H, Kida M, Kubota K, Mukai T, Hasebe O, Igarashi Y, Hanada K, Irisawa A, Ito K, Itoi T, Isayama H (2018) A prospective multicenter study of a fully covered metal stent in patients with distal malignant biliary obstruction: WATCH-2 study. Dig Dis Sci 63:2466–2473

13.

Kullman E, Frozanpor F, Söderlund C, Linder S, Sandström P, Lindhoff-Larsson A, Toth E, Lindell G, Jonas E, Freedman J, Ljungman M, Rudberg C, Ohlin B, Zacharias R, Leijonmarck CE, Teder K, Ringman A, Persson G, Gözen M, Eriksson O (2010) Covered versus uncovered self-expandable nitinol stents in the palliative treatment of malignant distal biliary obstruction: results from a randomized, multicenter study. Gastrointest Endosc 72:915–923

14.

Kawashima H, Hashimoto S, Ohno E, Ishikawa T, Morishima T, Matsubara H, Sugimoto H, Nonogaki K, Kanamori A, Hara K, Kuwahara T, Nakamura M, Miyahara R, Ishigami M, Ando M, Hirooka Y, Nagoya Biliary Stent Study (NABIS)-01 Group (2019) Comparison of 8- and 10-mm diameter fully covered self-expandable metal stents: a multicenter prospective study in patients with distal malignant biliary obstruction. Dig Endosc 31:439–447

15.

Isayama H, Kawakubo K, Nakai Y, Inoue K, Gon C, Matsubara S, Kogure H, Ito Y, Tsujino T, Mizuno S, Hamada T, Uchino R, Miyabayashi K, Yamamoto K, Sasaki T, Yamamoto N, Hirano K, Sasahira N, Tada M, Koike K (2013) A novel, fully covered laser-cut nitinol stent with antimigration properties for nonresectable distal malignant biliary obstruction: a multicenter feasibility study. Gut Liver 7:725–730

16.

Ung KA, Stotzer PO, Nilsson A, Gustavsson ML, Johnsson E (2013) Covered and uncovered self-expandable metallic Hanarostents are equally efficacious in the drainage of extrahepatic malignant strictures. Results of a double-blind randomized study. Scand J Gastroenterol 48:459–465

17.

Telford JJ, Carr-Locke DL, Baron TH, Poneros JM, Bounds BC, Kelsey PB, Schapiro RH, Huang CS, Lichtenstein DR, Jacobson BC, Saltzman JR, Thompson CC, Forcione DG, Gostout CJ, Brugge WR (2010) A randomized trial comparing uncovered and partially covered self-expandable metal stents in the palliation of distal malignant biliary obstruction. Gastrointest Endosc 72:907–914

18.

Loew BJ, Howell DA, Sanders MK, Desilets DJ, Kortan PP, May GR, Shah RJ, Chen YK, Parsons WG, Hawes RH, Cotton PB, Slivka AA, Ahmad J, Lehman GA, Sherman S, Neuhaus H, Schumacher BM (2009) Comparative performance of uncoated, self-expanding metal biliary stents of different designs in 2 diameters: final results of an international multicenter, randomized, controlled trial. Gastrointest Endosc 70:445–453

19.

Weston BR, Ross WA, Liu J, Lee JH (2010) Clinical outcomes of nitinol and stainless steel uncovered metal stents for malignant biliary strictures: is there a difference? Gastrointest Endosc 72:1195–1200

20.

Chen MY, Lin JW, Zhu HP, Zhang B, Jiang GY, Yan PJ, Cai XJ (2016) Covered stents versus uncovered stents for unresectable malignant biliary strictures: a meta-analysis. Biomed Res Int 2016:6408067

21.

Li J, Li T, Sun P, Yu Q, Wang K, Chang W, Song Z, Zheng Q (2016) Covered versus uncovered self-expandable metal stents for managing malignant distal biliary obstruction: a meta-analysis. PLoS ONE 11:e0149066

22.

Alastal Y, Hammad TA, Khan MA, Khalil BW, Khan S, Ismail MK, Nawras A, Sofi A (2015) Risk of post-ERCP pancreatitis after placement of covered versus uncovered self-expandable biliary metal stents: a systematic review and meta-analysis. JOP 16:452–458

23.

Yang Z, Wu Q, Wang F, Ye X, Qi X, Fan D (2013) A systematic review and meta-analysis of randomized trials and prospective studies comparing covered and bare self-expandable metal stents for the treatment of malignant obstruction in the digestive tract. Int J Med Sci 10:825–835

24.

Almadi MA, Barkun AN, Martel M (2013) No benefit of covered vs uncovered self-expandable metal stents in patients with malignant distal biliary obstruction: a meta-analysis. Clin Gastroenterol Hepatol 11:27-37.e1

25.

ASGE Technology Assessment Committee, Pfau PR, Pleskow DK, Banerjee S, Barth BA, Bhat YM, Desilets DJ, Gottlieb KT, Maple JT, Siddiqui UD, Tokar JL, Wang A, Song LM, Rodriguez SA (2013) Pancreatic and biliary stents. Gastrointest Endosc 77:319–327

26.

Kikuyama M, Shirane N, Kawaguchi S, Terada S, Mukai T, Sugimoto K (2018) New 14-mm diameter Niti-S biliary uncovered metal stent for unresectable distal biliary malignant obstruction. World J Gastrointest Endosc 10:16–22

27.

Mayumi T, Okamoto K, Takada T, Strasberg SM, Solomkin JS, Schlossberg D, Pitt HA, Yoshida M, Gomi H, Miura F, Garden OJ, Kiriyama S, Yokoe M, Endo I, Asbun HJ, Iwashita Y, Hibi T, Umezawa A, Suzuki K, Itoi T, Hata J, Han HS, Hwang TL, Dervenis C, Asai K, Mori Y, Huang WS, Belli G, Mukai S, Jagannath P, Cherqui D, Kozaka K, Baron TH, de Santibañes E, Higuchi R, Wada K, Gouma DJ, Deziel DJ, Liau KH, Wakabayashi G, Padbury R, Jonas E, Supe AN, Singh H, Gabata T, Chan ACW, Lau WY, Fan ST, Chen MF, Ker CG, Yoon YS, Choi IS, Kim MH, Yoon DS, Kitano S, Inomata M, Hirata K, Inui K, Sumiyama Y, Yamamoto M (2018) Tokyo guidelines 2018: management bundles for acute cholangitis and cholecystitis. J Hepatobiliary Pancreat Sci 25:96–100

28.

Isayama H, Hamada T, Yasuda I, Itoi T, Ryozawa S, Nakai Y, Kogure H, Koike K (2015) TOKYO criteria 2014 for transpapillary biliary stenting. Dig Endosc 27:259–264

29.

Mukai T, Yasuda I, Isayama H, Iwashita T, Itoi T, Kawakami H, Kogure H, Nakai Y (2016) Pilot study of a novel, large-bore, fully covered self-expandable metallic stent for unresectable distal biliary malignancies. Dig Endosc 28:671–679

30.

Nakaoka K, Hashimoto S, Kwabe N, Nakano T, Kan T, Ohki M, Ochi Y, Takamura T, Kurashita T, Nomura S, Koyama K, Fukui A, Yoshioka K (2018) Evaluation of a 12-mm diameter covered self-expandable end bare metal stent for malignant biliary obstruction. Endosc Int Open 6:E1164–E1170
Acknowledgements
We thank all members of the Division of Endoscopy, Shizuoka Cancer Center, for the help rendered to this study.
Ethics declarations
Disclosures
Drs. Tatsunori Satoh, Hirotoshi Ishiwatari, Shinya Kawaguchi, Naofumi Shirane, Hiroyuki Matsubayashi, Junichi Kaneko, Junya Sato, Kazuma Ishikawa, Takuya Otsu, Shuzo Terada, Hiroyuki Ono, and Masataka Kikuyama have no conflicts of interest or financial ties to declare.
Additional information
Publisher's Note
Springer Nature remains neutral with regard to jurisdictional claims in published maps and institutional affiliations.
Supplementary Information
Below is the link to the electronic supplementary material.
Supplementary file2 (TIF 252 KB) Kaplan–Meier curve comparing the cumulative time to recurrent biliary obstruction (TRBO) between UMS-14 and Niti-S SUPREMO. The TRBO for UMS-14 was significantly longer than that for Niti-S SUPREMO (not reached vs. 260 days, p = 0.02, log-rank test).
Supplementary file3 (TIF 267 KB) Kaplan–Meier curve comparing the cumulative patient survival between UMS-14 and Niti-S SUPREMO. There are no significant differences in the patient survival between the two (169 days vs. 167 days, p = 0.88, log-rank test).
About this article
Cite this article
Satoh, T., Ishiwatari, H., Kawaguchi, S. et al. Comparing the 14-mm uncovered and 10-mm covered metal stents in patients with distal biliary obstruction caused by unresectable pancreatic cancer: a multicenter retrospective study. Surg Endosc (2021). https://doi.org/10.1007/s00464-021-08342-z
Received:

Accepted:

Published:
Keywords
Biliary drainage

Metal stent

Pancreatic cancer

Malignant biliary obstruction

Large diameter stent