Abstract
Background
Laparoscopic common bile duct exploration (LCBDE) has gained wide popularity for the treatment of choledocholithiasis. However, it remains unclear whether LCBDE is a better alternative option for the patients with difficult biliary stones. Thus, the aim of the present study was to explore the safety and efficacy of LCBDE for these patients by retrospectively analyzing our data and combing with literature review.
Methods
Between September 2011 and February 2019, 1064 consecutive patients who underwent LCBDE at Shanghai Tenth People's Hospital were reviewed. The clinical data of patients with difficult biliary stones were selected and retrospectively analyzed.
Results
Of these patients, 334 cases were confirmed with difficult biliary stones, and the overall complete stone clearance rate was 98.8% (330/334). 34 cases (10.2%) were performed with laser lithotripsy. A total of 296 patients (88.6%) underwent primary closure of common bile duct, and T-tube drainage was indwelled in 38 patients (11.4%). No bile duct injury, bleeding, perforation and surgery-related deaths were observed. The overall morbidity rate was 6.6%. 16 cases (4.8%) occurred in bile leakage with primary closure procedure, and all of them were managed successfully with conservative therapy. The median follow-up period was 9 months with stone recurrence occurring in 9 patients (2.7%). There was no evidence of bile duct stricture in all cases.
Conclusions
The current study suggests that LCBED is a considerable safe and effective option for the patients with difficult biliary stones. A randomized clinical trial is needed to further evaluate the benefit of LCBDE in this subgroup.
Access options
Buy single article
Instant access to the full article PDF.
US$ 39.95
Tax calculation will be finalised during checkout.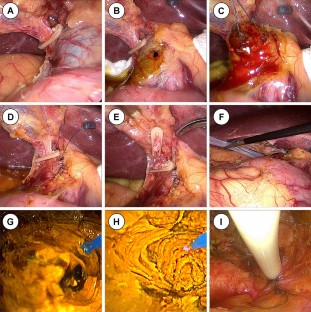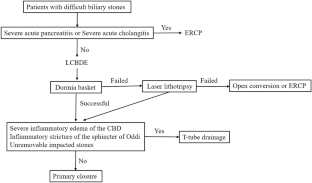 References
1.

A.S.o.P. Committee, Maple JT, Ikenberry SO, Anderson MA, Appalaneni V, Decker GA, Early D, Evans JA, Fanelli RD, Fisher D, Fisher L, Fukami N, Hwang JH, Jain R, Jue T, Khan K, Krinsky ML, Malpas P, Ben-Menachem T, Sharaf RN, Dominitz JA (2011) The role of endoscopy in the management of choledocholithiasis. Gastrointest Endosc 74:731–744

2.

Ko CW, Lee SP (2002) Epidemiology and natural history of common bile duct stones and prediction of disease. Gastrointest Endosc 56:S165-169

3.

Wandling MW, Hungness ES, Pavey ES, Stulberg JJ, Schwab B, Yang AD, Shapiro MB, Bilimoria KY, Ko CY, Nathens AB (2016) Nationwide assessment of trends in choledocholithiasis management in the United States from 1998 to 2013. JAMA Surg 151:1125–1130

4.

Vakayil V, Klinker ST, Sulciner ML, Mallick R, Trikudanathan G, Amateau SK, Davido HT, Freeman M, Harmon JV (2019) Single-stage management of choledocholithiasis: intraoperative ERCP versus laparoscopic common bile duct exploration. Surg Endosc. https://doi.org/10.1007/s00464-019-07215-w

5.

Brewer Gutierrez OI, Bekkali NLH, Raijman I, Sturgess R, Sejpal DV, Aridi HD, Sherman S, Shah RJ, Kwon RS, Buxbaum JL, Zulli C, Wassef W, Adler DG, Kushnir V, Wang AY, Krishnan K, Kaul V, Tzimas D, DiMaio CJ, Ho S, Petersen B, Moon JH, Elmunzer BJ, Webster GJM, Chen YI, Dwyer LK, Inamdar S, Patrick VB, Attwell A, Hosmer A, Ko C, Maurano A, Sarkar A, Taylor LJ, Gregory MH, Strand DS, Raza A, Kothari S, Harris JP, Kumta NA, Manvar A, Topazian MD, Lee YN, Spiceland CM, Trindade AJ, Bukhari MA, Sanaei O, Ngamruengphong S, Khashab MA (2018) Efficacy and safety of digital single-operator cholangioscopy for difficult biliary stones. Clin Gastroenterol Hepatol 16(918–926):e911

6.

Ogura T, Higuchi K (2016) A review of treatment options for bile duct stones. Expert Rev Gastroenterol Hepatol 10:1271–1278

7.

Itoi T, Wang HP (2010) Endoscopic management of bile duct stones. Dig Endosc 22(Suppl 1):S69-75

8.

Natsui M, Saito Y, Abe S, Iwanaga A, Ikarashi S, Nozawa Y, Nakadaira H (2013) Long-term outcomes of endoscopic papillary balloon dilation and endoscopic sphincterotomy for bile duct stones. Dig Endosc 25:313–321

9.

Li T, Wen J, Bie L, Gong B (2018) Comparison of the long-term outcomes of endoscopic papillary large balloon dilation alone versus endoscopic sphincterotomy for removal of bile duct stones. Gastroenterol Res Pract 2018:6430701

10.

Ando T, Tsuyuguchi T, Okugawa T, Saito M, Ishihara T, Yamaguchi T, Saisho H (2003) Risk factors for recurrent bile duct stones after endoscopic papillotomy. Gut 52:116–121

11.

Zhao ZH, Hu LH, Ren HB, Zhao AJ, Qian YY, Sun XT, Su S, Zhu SG, Yu J, Zou WB, Guo XR, Wang L, Li ZS, Liao Z (2017) Incidence and risk factors for post-ERCP pancreatitis in chronic pancreatitis. Gastrointest Endosc 86(519–524):e511

12.

Vezakis A, Fragulidis G, Polydorou A (2015) Endoscopic retrograde cholangiopancreatography-related perforations: diagnosis and management. World J Gastrointest Endosc 7:1135–1141

13.

Bray MS, Borgert AJ, Folkers ME, Kothari SN (2017) Outcome and management of endoscopic retrograde cholangiopancreatography perforations: a community perspective. Am J Surg 214:69–73

14.

Deo KB, Adhikary S, Khaniya S, Shakya VC, Agrawal CS (2018) Laparoscopic choledochotomy in a solitary common duct stone: a prospective study. Minim Invasive Surg 2018:8080625

15.

Lee HM, Min SK, Lee HK (2014) Long-term results of laparoscopic common bile duct exploration by choledochotomy for choledocholithiasis: 15-year experience from a single center. Ann Surg Treat Res 86:1–6

16.

Lauter DM, Froines EJ (2000) Laparoscopic common duct exploration in the management of choledocholithiasis. Am J Surg 179:372–374

17.

Hua J, Meng H, Yao L, Gong J, Xu B, Yang T, Sun W, Wang Y, Mao Y, Zhang T, Zhou B, Song Z (2017) Five hundred consecutive laparoscopic common bile duct explorations: 5-year experience at a single institution. Surg Endosc 31:3581–3589

18.

Jin Z, Wei Y, Tang X, Shen S, Yang J, Jin H, Zhang X (2018) Single-operator peroral cholangioscope in treating difficult biliary stones: a systematic review and meta-analysis. Dig Endosc. https://doi.org/10.1111/den.13307

19.

Kedia P, Tarnasky PR (2019) Endoscopic management of complex biliary stone disease. Gastrointest Endosc Clin N Am 29:257–275

20.

Aburajab M, Dua K (2018) Endoscopic management of difficult bile duct stones. Curr Gastroenterol Rep 20:8

21.

Xu B, Wang YX, Qiu YX, Meng HB, Gong J, Sun W, Zhou B, He J, Zhang T, Zheng WY, Song ZS (2018) Risk factors and consequences of conversion to open surgery in laparoscopic common bile duct exploration. Surg Endosc 32:4990–4998

22.

Clavien PA, Sanabria JR, Strasberg SM (1992) Proposed classification of complications of surgery with examples of utility in cholecystectomy. Surgery 111:518–526

23.

Dindo D, Demartines N, Clavien PA (2004) Classification of surgical complications: a new proposal with evaluation in a cohort of 6336 patients and results of a survey. Ann Surg 240:205–213

24.

Koch M, Garden OJ, Padbury R, Rahbari NN, Adam R, Capussotti L, Fan ST, Yokoyama Y, Crawford M, Makuuchi M, Christophi C, Banting S, Brooke-Smith M, Usatoff V, Nagino M, Maddern G, Hugh TJ, Vauthey JN, Greig P, Rees M, Nimura Y, Figueras J, DeMatteo RP, Buchler MW, Weitz J (2011) Bile leakage after hepatobiliary and pancreatic surgery: a definition and grading of severity by the International Study Group of Liver Surgery. Surgery 149:680–688

25.

Trikudanathan G, Arain MA, Attam R, Freeman ML (2014) Advances in the endoscopic management of common bile duct stones. Nat Rev Gastroenterol Hepatol 11:535–544

26.

Collins C, Maguire D, Ireland A, Fitzgerald E, O'Sullivan GC (2004) A prospective study of common bile duct calculi in patients undergoing laparoscopic cholecystectomy: natural history of choledocholithiasis revisited. Ann Surg 239:28–33

27.

Koo KP, Traverso LW (1996) Do preoperative indicators predict the presence of common bile duct stones during laparoscopic cholecystectomy? Am J Surg 171:495–499

28.

Trikudanathan G, Navaneethan U, Parsi MA (2013) Endoscopic management of difficult common bile duct stones. World J Gastroenterol 19:165–173

29.

Oliveira-Cunha M, Dennison AR, Garcea G (2016) Late complications after endoscopic sphincterotomy. Surg Laparosc Endosc Percutan Tech 26:1–5

30.

Folkers MT, Disario JA, Adler DG (2009) Long-term complications of endoscopic biliary sphincterotomy for choledocholithiasis: a North-American perspective. Am J Gastroenterol 104:2868–2869

31.

Pan L, Chen M, Ji L, Zheng L, Yan P, Fang J, Zhang B, Cai X (2018) The safety and efficacy of laparoscopic common bile duct exploration combined with cholecystectomy for the management of cholecysto-choledocholithiasis: an up-to-date meta-analysis. Ann Surg 268:247–253

32.

Zhu HY, Xu M, Shen HJ, Yang C, Li F, Li KW, Shi WJ, Ji F (2015) A meta-analysis of single-stage versus two-stage management for concomitant gallstones and common bile duct stones. Clin Res Hepatol Gastroenterol 39:584–593

33.

Mattila A, Mrena J, Kellokumpu I (2017) Cost-analysis and effectiveness of one-stage laparoscopic versus two-stage endolaparoscopic management of cholecystocholedocholithiasis: a retrospective cohort study. BMC Surg 17:79

34.

Navaratne L, Martinez-Isla A (2020) 10 years of laparoscopic common bile duct exploration: a single tertiary institution experience. Am J Surg 219:642–644

35.

Ersoz G, Tekesin O, Ozutemiz AO, Gunsar F (2003) Biliary sphincterotomy plus dilation with a large balloon for bile duct stones that are difficult to extract. Gastrointest Endosc 57:156–159

36.

Yasuda I, Itoi T (2013) Recent advances in endoscopic management of difficult bile duct stones. Dig Endosc 25:376–385

37.

Maydeo A, Bhandari S (2007) Balloon sphincteroplasty for removing difficult bile duct stones. Endoscopy 39:958–961

38.

Misra SP, Dwivedi M (2008) Large-diameter balloon dilation after endoscopic sphincterotomy for removal of difficult bile duct stones. Endoscopy 40:209–213

39.

Rebelo A, Ribeiro PM, Correia AP, Cotter J (2012) Endoscopic papillary large balloon dilation after limited sphincterotomy for difficult biliary stones. World J Gastrointest Endosc 4:180–184

40.

Park SJ, Kim JH, Hwang JC, Kim HG, Lee DH, Jeong S, Cha SW, Cho YD, Kim HJ, Kim JH, Moon JH, Park SH, Itoi T, Isayama H, Kogure H, Lee SJ, Jung KT, Lee HS, Baron TH, Lee DK (2013) Factors predictive of adverse events following endoscopic papillary large balloon dilation: results from a multicenter series. Dig Dis Sci 58:1100–1109

41.

Parsi MA (2015) Biliary papillomatosis: diagnosis with direct peroral cholangioscopy. Gastrointest Endosc 81:231–232

42.

Deprez PH, Garces Duran R, Moreels T, Furneri G, Demma F, Verbeke L, Van der Merwe SW, Laleman W (2018) The economic impact of using single-operator cholangioscopy for the treatment of difficult bile duct stones and diagnosis of indeterminate bile duct strictures. Endoscopy 50:109–118

43.

Varban O, Assimos D, Passman C, Westcott C (2010) Video laparoscopic common bile duct exploration and holmium laser lithotripsy: a novel approach to the management of common bile duct stones. Surg Endosc 24:1759–1764

44.

Lei J, Wang J, Li Q, Wu P, Yuan R, Zhu H, Zou S, Shao J, Fang L (2016) Laparoscopic transcystic common bile duct exploration: T-shaped incision of cystic duct with FREDDY laser lithotripsy. J Laparoendosc Adv Surg Tech A 26:646–651

45.

Lv S, Fang Z, Wang A, Yang J, Zhang W (2017) Choledochoscopic holmium laser lithotripsy for difficult bile duct stones. J Laparoendosc Adv Surg Tech A 27:24–27

46.

Abbas AM, Strong AT, Diehl DL, Brauer BC, Lee IH, Burbridge R, Zivny J, Higa JT, Falcao M, El H II, Tarnasky P, Enestvedt BK, Ende AR, Thaker AM, Pawa R, Jamidar P, Sampath K, de Moura EGH, Kwon RS, Suarez AL, Aburajab M, Wang AY, Shakhatreh MH, Kaul V, Kang L, Kowalski TE, Pannala R, Tokar J, Aadam AA, Tzimas D, Wagh MS, Draganov PV, L-ER Group (2018) Multicenter evaluation of the clinical utility of laparoscopy-assisted ERCP in patients with Roux-en-Y gastric bypass. Gastrointest Endosc 87:1031–1039

47.

Iwashita T, Nakai Y, Hara K, Isayama H, Itoi T, Park DH (2016) Endoscopic ultrasound-guided antegrade treatment of bile duct stone in patients with surgically altered anatomy: a multicenter retrospective cohort study. J Hepatobiliary Pancreat Sci 23:227–233

48.

Navaneethan U, Hasan MK, Kommaraju K, Zhu X, Hebert-Magee S, Hawes RH, Vargo JJ, Varadarajulu S, Parsi MA (2016) Digital, single-operator cholangiopancreatoscopy in the diagnosis and management of pancreatobiliary disorders: a multicenter clinical experience (with video). Gastrointest Endosc 84:649–655

49.

Wong JC, Wong MY, Lam KL, Lau JY (2016) Second-generation peroral cholangioscopy and holmium:YAG laser lithotripsy for rescue of impacted biliary stone extraction basket. Gastrointest Endosc 83:837–838

50.

Ogura T, Imanishi M, Kurisu Y, Onda S, Sano T, Takagi W, Okuda A, Miyano A, Amano M, Nishioka N, Yamada T, Masuda D, Takenaka M, Kitano M, Higuchi K (2017) Prospective evaluation of digital single-operator cholangioscope for diagnostic and therapeutic procedures (with videos). Dig Endosc 29:782–789

51.

Snauwaert C, Laukens P, Dillemans B, Himpens J, De Looze D, Deprez P, Badaoui A (2015) Laparoscopy-assisted transgastric endoscopic retrograde cholangiopancreatography in bariatric Roux-en-Y gastric bypass patients. Endosc Int Open 3(5):E458–E463

52.

Liu K, Joshi V, Saxena P, Kaffes AJ (2017) Predictors of success for double balloon-assisted endoscopic retrograde cholangiopancreatography in patients with Roux-en-Y anastomosis. Dig Endosc 29:190–197

53.

Schreiner MA, Chang L, Gluck M, Irani S, Gan SI, Brandabur JJ, Thirlby R, Moonka R, Kozarek RA, Ross AS (2012) Laparoscopy-assisted versus balloon enteroscopy-assisted ERCP in bariatric post-Roux-en-Y gastric bypass patients. Gastrointest Endosc 75:748–756

54.

Bove V, Tringali A, Familiari P, Gigante G, Boskoski I, Perri V, Mutignani M, Costamagna G (2015) ERCP in patients with prior Billroth II gastrectomy: report of 30 years' experience. Endoscopy 47:611–616
Ethics declarations
Disclosures
Zhilong Ma, Jia Zhou, Le Yao, Yuxiang Dai, Wangcheng Xie, Guodong Gong, Hongbo Meng, Bin Xu, Ti Zhang, Bo Zhou, Tingsong Yang, and Zhenshun Song have no conflict of interest or financial ties to disclose.
Additional information
Publisher's Note
Springer Nature remains neutral with regard to jurisdictional claims in published maps and institutional affiliations.
About this article
Cite this article
Ma, Z., Zhou, J., Yao, L. et al. Safety and efficacy of laparoscopic common bile duct exploration for the patients with difficult biliary stones: 8 years of experiences at a single institution and literature review. Surg Endosc (2021). https://doi.org/10.1007/s00464-021-08340-1
Received:

Accepted:

Published:
Keywords
LCBDE

Choledocholithiasis

Difficult biliary stones