Abstract
Background and aims
Colorectal neoplastic lesions (≥ 20 mm) are commonly treated via piecemeal endoscopic mucosal resection (p-EMR) but have a high rate of local recurrence. We aimed to clarify the optimal surveillance interval after p-EMR for these neoplasias.
Methods
In this multicenter (15 participating institutions) prospective, randomized trial, 180 patients recruited over a 4-year period and were classified based on tumor location, tumor diameter, histological diagnosis, institution, and number of resected specimens. The patients underwent curative p-EMR followed by scheduled surveillance colonoscopy at 3, 6, 12, and 24 months after p-EMR (group A; n = 90) or at 6, 12, and 24 months after p-EMR (group B; n = 90). The primary endpoint was cumulative local recurrence at 6 months after p-EMR. Secondary endpoints included local recurrence and the cumulative surgical resection rate of recurrent tumors during the 24-month follow-up period.
Results
The median tumor diameter was 25 mm (IQR 20–30). Six months after p-EMR, 12 and 6 local recurrences were noted in groups A and B, which corresponded to 13 and 8 recurrences, respectively, during the 24-month surveillance period. The primary and secondary endpoints of recurrence were not significantly different between the groups on either intention-to-treat or per-protocol analysis; no surgery case was observed in group B when a strict surveillance protocol of 6-, 12-, and 24-month follow-up post-EMR was followed.
Conclusions
For patients who underwent p-EMR for neoplastic lesions, additional postprocedural 3-month surveillance did not show superior results in detecting recurrence compared with a 6-month surveillance interval.
Clinical trial registration: UMIN000015740.
Access options
Buy single article
Instant access to the full article PDF.
US$ 39.95
Tax calculation will be finalised during checkout.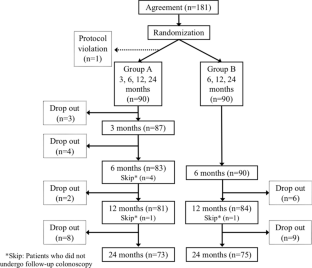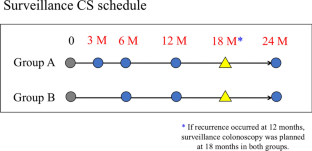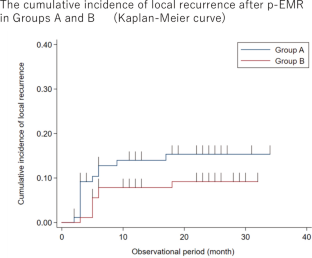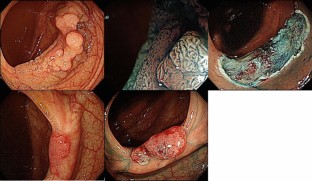 Abbreviations
APC:

Argon plasma coagulation

CS:

Colonoscopy

EMR:

Endoscopic mucosal resection

ESD:

Endoscopic submucosal dissection

ITT:

Intention-to-treat

p-EMR:

Piecemeal endoscopic mucosal resection

PP:

Per-protocol

HGD/Tis:

High-grade dysplasia/intramucosal carcinoma
References
1.

Saito Y, Uraoka T, Matsuda T et al (2007) Endoscopic treatment of large superficial colorectal tumors: a case series of 200 endoscopic submucosal dissections (with video). Gastrointest Endosc 66:966–973

2.

Saito Y, Fukuzawa M, Matsuda T et al (2010) Clinical outcome of endoscopic submucosal dissection versus endoscopic mucosal resection of large colorectal tumors as determined by curative resection. Surg Endosc 24:343–352

3.

Saito Y, Uraoka T, Yamaguchi Y et al (2010) A prospective, multicenter study of 1111 colorectal endoscopic submucosal dissections (with video). Gastrointest Endosc 72:1217–1225

4.

Jung DH, Youn YH, Kim JH et al (2015) Endoscopic submucosal dissection for colorectal lateral spreading tumors larger than 10 cm: is it feasible? Gastrointest Endosc 81:614–620

5.

Fujiya M, Tanaka K, Dokoshi T et al (2015) Efficacy and adverse events of EMR and endoscopic submucosal dissection for the treatment of colon neoplasms: a meta-analysis of studies comparing EMR and endoscopic submucosal dissection. Gastrointest Endosc 81:583–595

6.

Hotta K, Fujii T, Saito Y et al (2009) Local recurrence after endoscopic resection of colorectal tumors. Int J Colorectal Dis 24:225–230

7.

Briedigkeit A, Sultanie O, Sido B et al (2016) Endoscopic mucosal resection of colorectal adenomas > 20 mm: risk factors for recurrence. World J Gastrointest Endosc 8:276–281

8.

Moss A, Bourke MJ, Williams SJ et al (2011) Endoscopic mucosal resection outcomes and prediction of submucosal cancer from advanced colonic mucosal neoplasia. Gastroenterology 140:1909–1918

9.

Sakamoto T, Matsuda T, Otake Y et al (2012) Predictive factors of local recurrence after endoscopic piecemeal mucosal resection. J Gastroenterol 47:635–640

10.

Oka S, Tanaka S, Saito Y et al (2015) Local recurrence after endoscopic resection for large colorectal neoplasia: a multicenter prospective study in Japan. Am J Gastroenterol 110:697–707

11.

Winawer SJ, Zauber AG, Fletcher RH et al (2006) Guidelines for colonoscopy surveillance after polypectomy: a consensus update by the US Multi-Society Task Force on Colorectal Cancer and the American Cancer Society. Gastroenterology 130:1872–1885

12.

Lieberman DA, Rex DK, Winawer SJ et al (2012) Guidelines for colonoscopy surveillance after screening and polypectomy: a consensus update by the US Multi-Society Task Force on Colorectal Cancer. Gastroenterology 143:844–857

13.

Hassan C, Quintero E, Dumonceau JM et al (2013) Post-polypectomy colonoscopy surveillance: European Society of Gastrointestinal Endoscopy (ESGE) guideline. Endoscopy 45:842–851

14.

Higaki S, Hashimoto S, Harada K et al (2003) Long-term follow-up of large flat colorectal tumors resected endoscopically. Endoscopy 35:845–849

15.

Khashab M, Eid E, Rusche M et al (2009) Incidence and predictors of "late" recurrences after endoscopic piecemeal resection of large sessile adenomas. Gastrointest Endosc 70:344–349

16.

Kim HG, Thosani N, Banerjee S et al (2015) Effect of prior biopsy sampling, tattoo placement, and snare sampling on endoscopic resection of large nonpedunculated colorectal lesions. Gastrointest Endosc 81:204–213

17.

Watanabe T, Muro K, Ajioka Y et al (2018) Japanese Society for Cancer of the Colon and Rectum (JSCCR) guidelines 2016 for the treatment of colorectal cancer. Int J Clin Oncol 23:1–34

18.

Participants in the Paris Workshop (2003) The Paris endoscopic classification of superficial neoplastic lesions: esophagus, stomach, and colon. Gastrointest Endosc 58:S3–S43

19.

Piantadosi S (2017) Clinical trials, 3rd edn. Wiley, Hoboken

20.

Belderbos TD, Leenders M, Moons LM et al (2014) Local recurrence after endoscopic mucosal resection of nonpedunculated colorectal lesions: systematic review and meta-analysis. Endoscopy 46:388–402

21.

Sekiguchi M, Matsuda T, Sekine S et al (2013) Repeatedly recurrent colon cancer involving the appendiceal orifice after endoscopic piecemeal mucosal resection: a case report. Korean J Gastroenterol 61:286–289

22.

Backes Y, de Vos Tot Nederveen Cappel WH, van Bergeijk J et al (2017) Risk for incomplete resection after macroscopic radical endoscopic resection of T1 colorectal cancer: a multicenter cohort study. Am J Gastroenterol 112:785–796

23.

Kishino T, Matsuda T, Sakamoto T et al (2010) Recurrent advanced colonic cancer occurring 11 years after initial endoscopic piecemeal resection: a case report. BMC Gastroenterol 10:87
Acknowledgements
We are deeply grateful to Dr. Yasuhiro Ohno (National Cancer Center East Hospital), Dr. Tomoaki Shinohara (Saku Central Hospital), Dr. Hisashi Doyama (Ishikawa Prefectural Central Hospital), and Dr. Yuichiro Yamaguchi (Shizuoka Cancer Center) for their immense support with enrolling the patients and explaining the study design to them, as well as for insightful comments on the manuscript and the overall study.
Funding
This work was supported by The National Cancer Center Research and Development Fund (21-25, 29-A-13). The funder had no role in designing the study, handling the data, or in the preparation and publication of the manuscript.
Ethics declarations
Disclosures
Takeshi Nakajima, Taku Sakamoto, Shinichiro Hori, Shinya Yamada, Hiroaki Ikematsu, Keita Harada, Han-Mo Chiu, Shinsuke Kiriyama, Tomoki Michida, Kinichi Hotta, Naoto Sakamoto, Takashi Abe, Akiko Chino, Masakatsu Fukuzawa, Nozomu Kobayashi, Kazutoshi Fukase, Takahisa Matsuda, Yoshitaka Murakami, Hideki Ishikawa, and Yutaka Saito have no conflicts of interest or financial ties to disclose.
Additional information
Publisher's Note
Springer Nature remains neutral with regard to jurisdictional claims in published maps and institutional affiliations.
Supplementary Information
Below is the link to the electronic supplementary material.
About this article
Cite this article
Nakajima, T., Sakamoto, T., Hori, S. et al. Optimal surveillance interval after piecemeal endoscopic mucosal resection for large colorectal neoplasia: a multicenter randomized controlled trial. Surg Endosc (2021). https://doi.org/10.1007/s00464-021-08311-6
Received:

Accepted:

Published:
Keywords
Piecemeal endoscopic mucosal resection (p-EMR)

Colorectal neoplasia

Surveillance colonoscopy

Surveillance interval

Local recurrence