Abstract
Background
Peroral endoscopic myotomy (POEM) is increasingly used as primary treatment for esophageal achalasia, in place of the options such as Heller myotomy (HM) and pneumatic dilatation (PD)
Objective
These evidence-based guidelines from the Society of American Gastrointestinal and Endoscopic Surgeons (SAGES) intend to support clinicians, patients and others in decisions about the use of POEM for treatment of achalasia.
Results
The panel agreed on 4 recommendations for adults and children with achalasia.
Conclusions
Strong recommendation for the use of POEM over PD was issued unless the concern of continued postoperative PPI use remains a key decision-making concern to the patient. Conditional recommendations included the option of using either POEM or HM with fundoplication to treat achalasia, and favored POEM over HM for achalasia subtype III.
Access options
Buy single article
Instant access to the full article PDF.
US$ 39.95
Tax calculation will be finalised during checkout.
Abbreviations
POEM:

Peroral endoscopic myotomy

HM:

Heller myotomy

LHM:

Laparoscopic Heller myotomy

PD:

Pneumatic dilation

GERD:

Gastroesophageal reflux disease

RCT:

Randomized controlled trial

RR:

Risk ratio

CI:

Confidence interval

EtD:

Evidence to decision

PPI:

Proton pump inhibitor
References
1.

Andrews JC, Schünemann HJ, Oxman AD, Pottie K, Meerpohl JJ, Coello PA, Rind D, Montori VM, Brito JP, Norris S, Elbarbary M, Post P, Nasser M, Shukla V, Jaeschke R, Brozek J, Djulbegovic B, Guyatt G (2013) GRADE guidelines: 15. Going from evidence to recommendation-determinants of a recommendation's direction and strength. J Clin Epidemiol 66:726–735

2.

Andrews J, Guyatt G, Oxman AD, Alderson P, Dahm P, Falck-Ytter Y, Nasser M, Meerpohl J, Post PN, Kunz R, Brozek J, Vist G, Rind D, Akl EA, Schünemann HJ (2013) GRADE guidelines: 14. Going from evidence to recommendations: the significance and presentation of recommendations. J Clin Epidemiol 66:719–725

3.

Boeckxstaens GE, Zaninotto G, Richter JE (2014) Achalasia. Lancet 383:83–93

4.

Duffield JA, Hamer PW, Heddle R, Holloway RH, Myers JC, Thompson SK (2017) Incidence of Achalasia in South Australia based on esophageal manometry findings. Clin Gastroenterol Hepatol 15:360–365

5.

Samo S, Carlson DA, Gregory DL, Gawel SH, Pandolfino JE, Kahrilas PJ (2017) Incidence and prevalence of Achalasia in Central Chicago, 2004–2014, since the widespread use of high-resolution manometry. Clin Gastroenterol Hepatol 15:366–373

6.

Farrukh A, DeCaestecker J, Mayberry JF (2008) An epidemiological study of achalasia among the South Asian population of Leicester, 1986–2005. Dysphagia 23:161–164

7.

Oude Nijhuis RAB, Zaninotto G, Roman S, Boeckxstaens GE, Fockens P, Langendam MW, Plumb AA, Smout A, Targarona EM, Trukhmanov AS, Weusten B, Bredenoord AJ (2020) European guidelines on achalasia: United European Gastroenterology and European Society of Neurogastroenterology and Motility recommendations. United Eur Gastroenterol J 8:13–33

8.

Kahrilas PJ, Bredenoord AJ, Fox M, Gyawali CP, Roman S, Smout AJ, Pandolfino JE, International High Resolution Manometry Working G (2015) The Chicago classification of esophageal motility disorders, v3.0. Neurogastroenterol Motil 27:160–174

9.

Institute of Medicine (U.S.). Committee on Standards for Developing Trustworthy Clinical Practice Guidelines, Graham R (2011) Clinical practice guidelines we can trust. National Academies Press, Washington, DC

10.

Dirks RC, Kohn GP, Slater B, Whiteside J, Rodriguez NA, Docimo S, Pryor ADS, Dimitrios is per-oral endoscopic myotomy (POEM) more effective than pneumatic dilation and heller myotomy? A systematic review and meta-analysis. Surg Endosc. https://doi.org/10.1007/s00464-021-08353-w

11.

Alonso-Coello P, Schünemann HJ, Moberg J, Brignardello-Petersen R, Akl EA, Davoli M, Treweek S, Mustafa RA, Rada G, Rosenbaum S, Morelli A, Guyatt GH, Oxman AD (2016) GRADE Evidence to Decision (EtD) frameworks: a systematic and transparent approach to making well informed healthcare choices. 1: introduction. BMJ 353:i2016

12.

Alonso-Coello P, Oxman AD, Moberg J, Brignardello-Petersen R, Akl EA, Davoli M, Treweek S, Mustafa RA, Vandvik PO, Meerpohl J, Guyatt GH, Schünemann HJ (2016) GRADE Evidence to Decision (EtD) frameworks: a systematic and transparent approach to making well informed healthcare choices. 2: clinical practice guidelines. BMJ 353:i2089

13.

Chen Y, Yang K, Marusic A, Qaseem A, Meerpohl JJ, Flottorp S, Akl EA, Schunemann HJ, Chan ES, Falck-Ytter Y, Ahmed F, Barber S, Chen C, Zhang M, Xu B, Tian J, Song F, Shang H, Tang K, Wang Q, Norris SL, Group RW (2017) A reporting tool for practice guidelines in health care: the RIGHT statement. Ann Intern Med 166:128–132

14.

McMaster University (2015) GRADEpro GDT: GRADEpro Guideline Development Tool. [Software]. (developed by Evidence Prime, Inc.). http://gradepro.org

15.

Zaninotto G, Bennett C, Boeckxstaens G, Costantini M, Ferguson MK, Pandolfino JE, Patti MG, Ribeiro U, Jr., Richter J, Swanstrom L, Tack J, Triadafilopoulos G, Markar SR, Salvador R, Faccio L, Andreollo NA, Cecconello I, Costamagna G, da Rocha JRM, Hungness ES, Fisichella PM, Fuchs KH, Gockel I, Gurski R, Gyawali CP, Herbella FAM, Holloway RH, Hongo M, Jobe BA, Kahrilas PJ, Katzka DA, Dua KS, Liu D, Moonen A, Nasi A, Pasricha PJ, Penagini R, Perretta S, Sallum RAA, Sarnelli G, Savarino E, Schlottmann F, Sifrim D, Soper N, Tatum RP, Vaezi MF, van Herwaarden-Lindeboom M, Vanuytsel T, Vela MF, Watson DI, Zerbib F, Gittens S, Pontillo C, Vermigli S, Inama D, Low DE (2018) The 2018 ISDE achalasia guidelines. Dis Esophagus 31

16.

Jung HK, Hong SJ, Lee OY, Pandolfino J, Park H, Miwa H, Ghoshal UC, Mahadeva S, Oshima T, Chen M, Chua ASB, Cho YK, Lee TH, Min YW, Park CH, Kwon JG, Park MI, Jung K, Park JK, Jung KW, Lim HC, Jung DH, Kim DH, Lim CH, Moon HS, Park JH, Choi SC, Suzuki H, Patcharatrakul T, Wu JCY, Lee KJ, Tanaka S, Siah KTH, Park KS, Kim SE, Korean Society of N, Motility (2020) 2019 Seoul consensus on esophageal achalasia guidelines. J Neurogastroenterol Motil 26:180–203

17.

Khashab MA, Vela MF, Thosani N, Agrawal D, Buxbaum JL, Abbas Fehmi SM, Fishman DS, Gurudu SR, Jamil LH, Jue TL, Kannadath BS, Law JK, Lee JK, Naveed M, Qumseya BJ, Sawhney MS, Yang J, Wani S (2020) ASGE guideline on the management of achalasia. Gastrointest Endosc 91(213–227):e216
Acknowledgements
The authors thank Sarah Colon (SAGES) for administrative support
Additional information
Publisher's Note
Springer Nature remains neutral with regard to jurisdictional claims in published maps and institutional affiliations.
Appendices
Appendix 1: List of contributors
Panelists—Surgeons: Geoffrey P. Kohn: Monash University, VIC, Australia, Rebecca C. Dirks: Indiana University, IN, USA, Christy M. Dunst: The Oregon Clinic, OR, USA, Lars Lundell: Karolinska University Hospital, Sweden, Jeffrey Marks: University Hospitals Cleveland Medical Center, OH, USA, Daniele Molena: Memorial Sloan Kettering Cancer Center, NY, USA, Lee Swanstrom: Institut de Chirugie, Strasbourg, France, Aurora D. Pryor: Stony Brook University, NY, USA, Dimitrios Stefanidis: Indiana University, IN, USA. Gastroenterologists: Payal Saxena: University of Sydney, NSW, Australia. Reuben K. Wong: National University of Singapore, Singapore. Methodologist: Mohammed T Ansari: University of Ottawa, ON, Canada. Patient advocates: Jason Clay: International Foundation for Functional Gastrointestinal Disorders, USA. Ceciel Rooker: International Foundation for Functional Gastrointestinal Disorders, USA.
Appendix 2: Full declarations of conflict of interest
All conflicts of interest disclosures were assessed as not having influenced the construction of these Guidelines. Mohammed T Ansari: No conflict of interest to declare. Contracted by SAGES as a methodology consultant. Jason Clay: Nothing to disclose. Rebecca C Dirks: Equity in Johnson & Johnson. Christine Dunst: Nothing to disclose. Geoffrey P Kohn: Nothing to disclose. Lars Lundell: Nothing to disclose. Jeffrey Marks: Consultant fees from Olympus, Boston Scientific. Daniele Molena: Consultant fees from Johnson and Johnson, Urogen, Boston Scientific. Grant from Intuitive. Aurora D Pryor: Speaker for Ethicon, Gore, Merck, Stryker. On scientific advisory board for Obalon. Ceciel Rooker: Nothing to disclose. Payal Saxena: Nothing to disclose. Dimitrios Stefanidis: Nothing to disclose. Lee Swanstrom: Personal fees from Human Xtensions, Titan. Reuben Wong: Nothing to disclose.
Appendix 3: Evidence to decision tables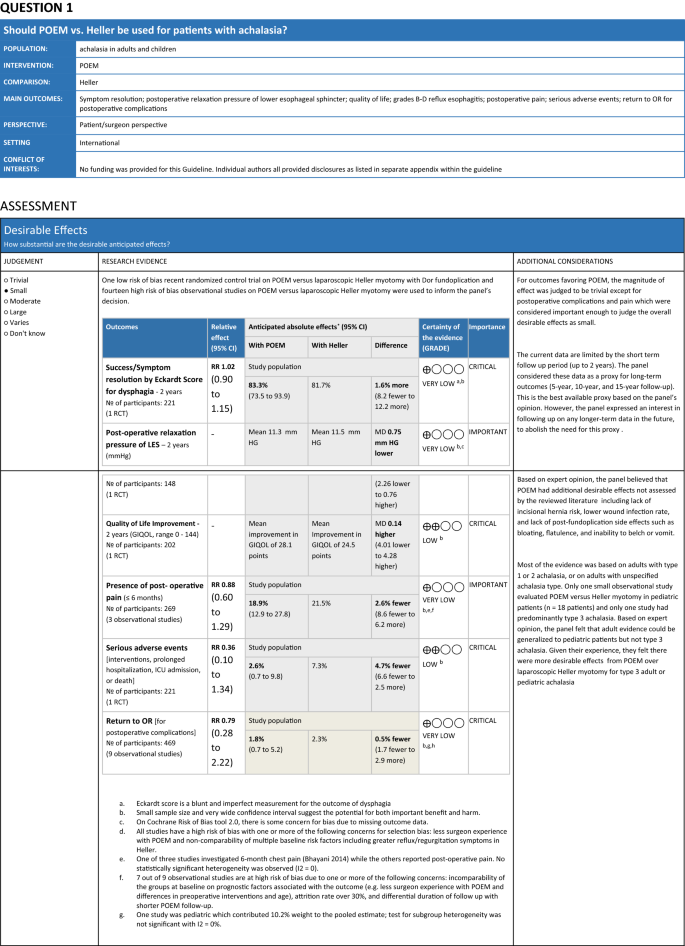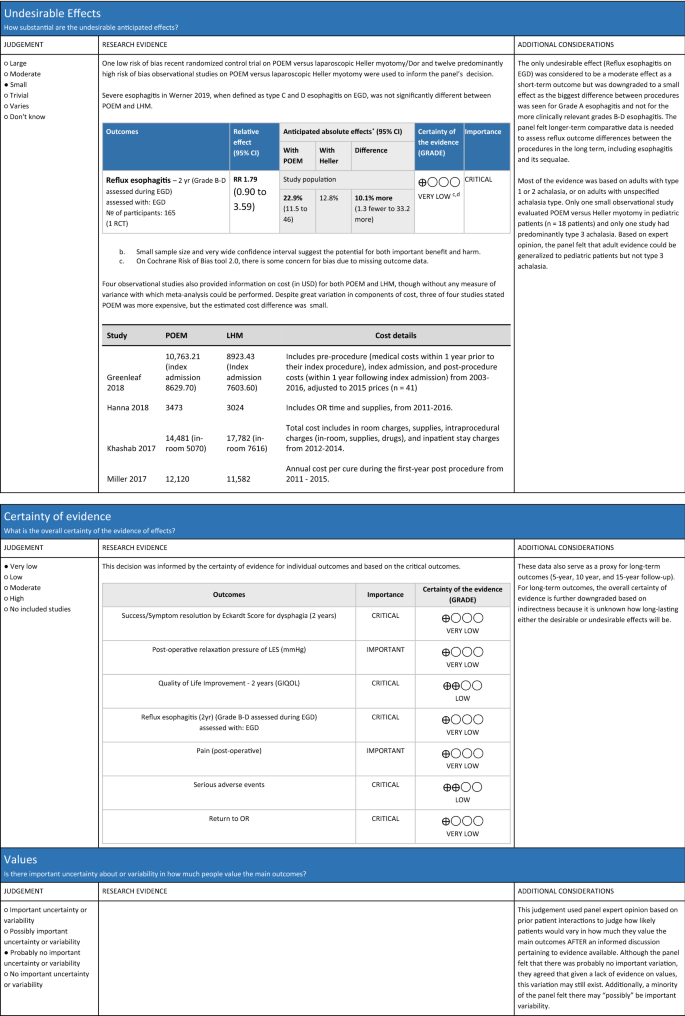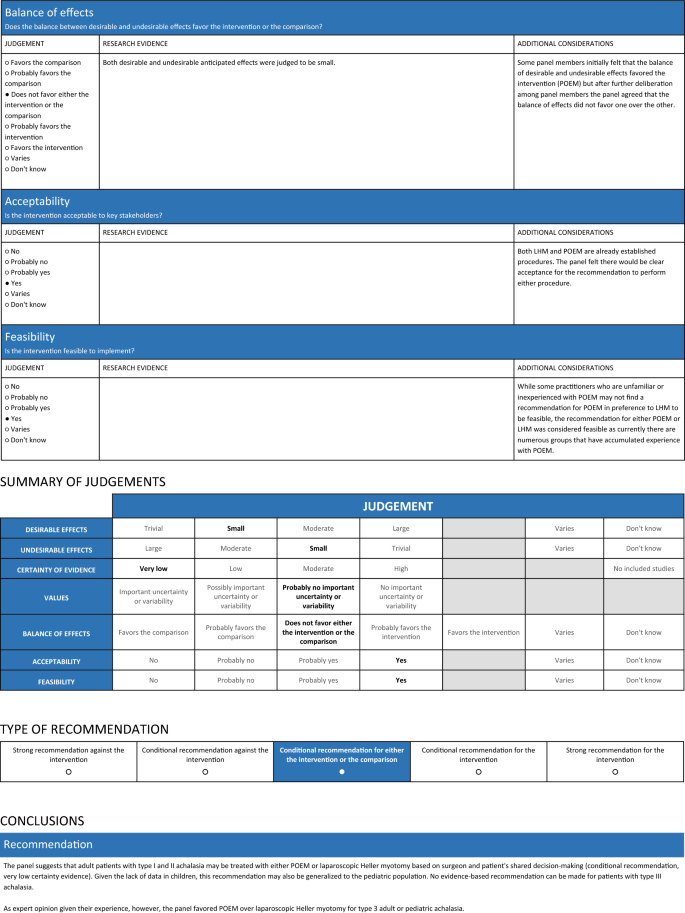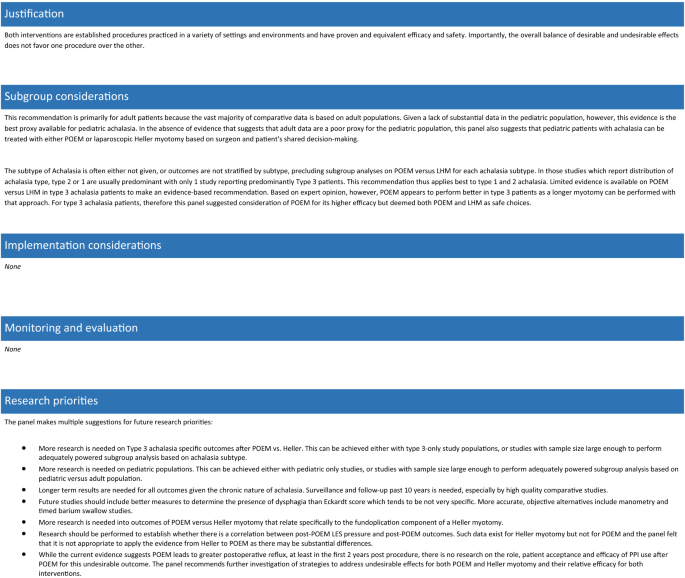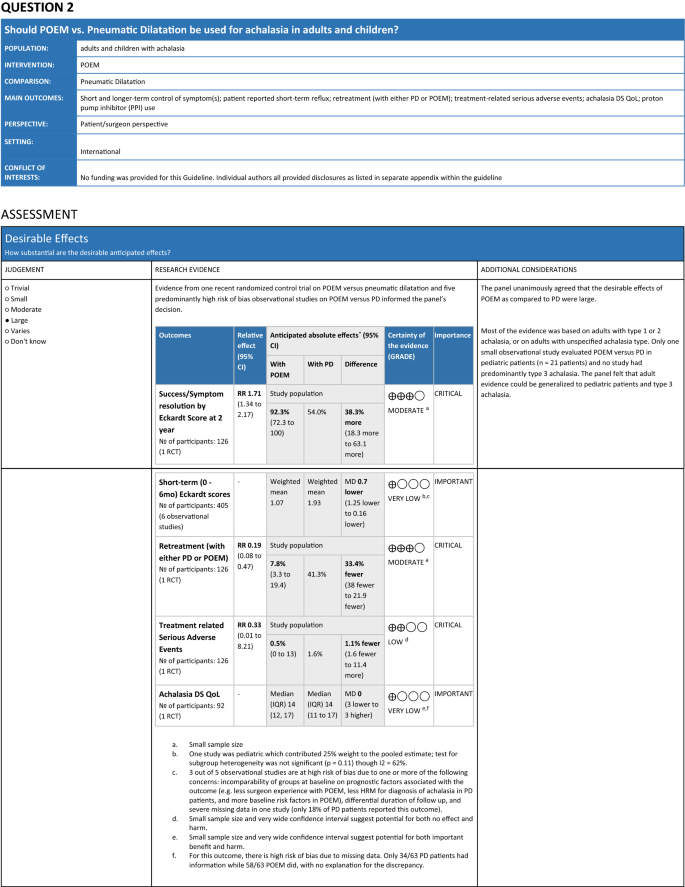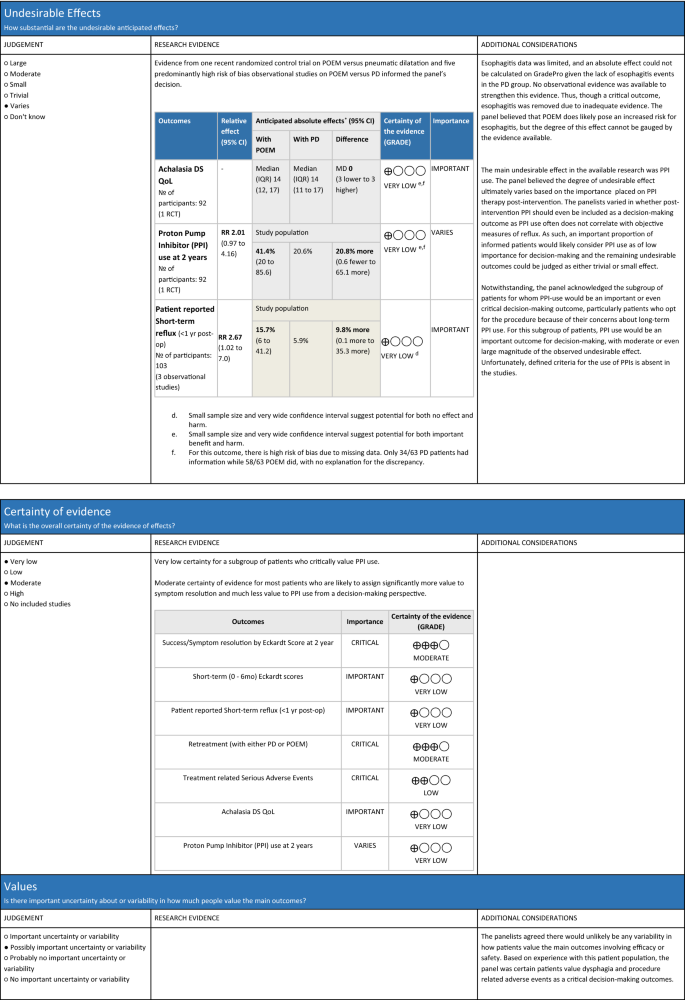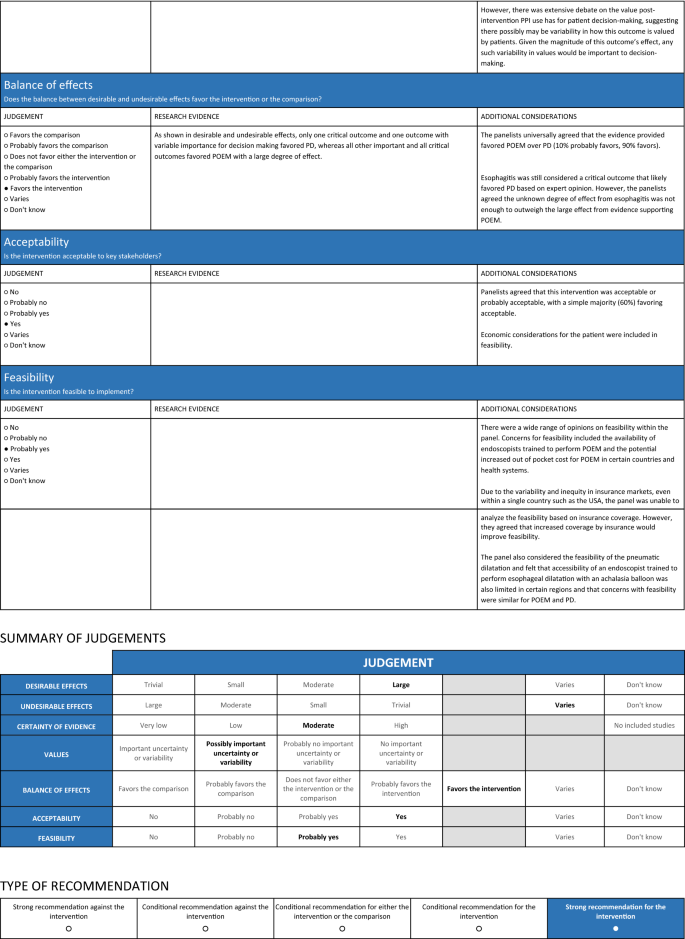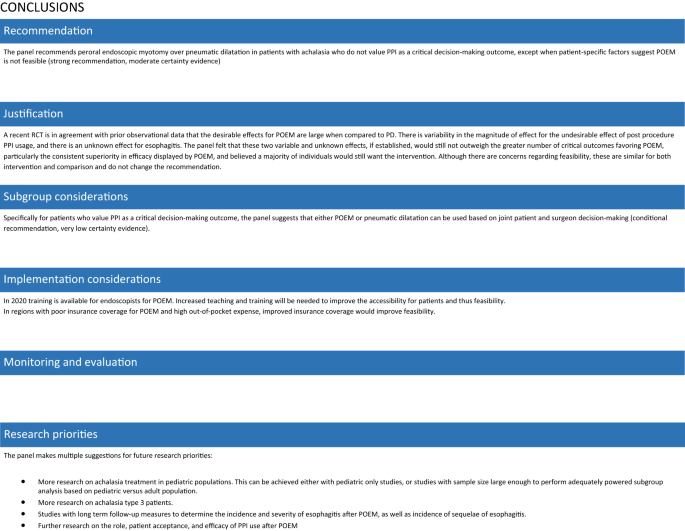 About this article
Cite this article
Kohn, G.P., Dirks, R.C., Ansari, M.T. et al. SAGES guidelines for the use of peroral endoscopic myotomy (POEM) for the treatment of achalasia. Surg Endosc (2021). https://doi.org/10.1007/s00464-020-08282-0
Received:

Accepted:

Published:
Keywords
Esophageal achalasia

POEM procedure

Heller myotomy

Pneumatic dilatation

Clinical practice guidelines