Abstract
Background
Laryngopharyngeal reflux (LPR) symptoms are often present in patients with Gastroesophageal reflux disease (GERD). Whereas antireflux surgery (ARS) provides predictably excellent results in patients with typical GERD, those with atypical symptoms have variable outcomes. The goal of this study was to characterize the response of LPR symptoms to antireflux surgery.
Methods
Patients who underwent ARS between January 2009 and May 2020 were prospectively identified from a single institutional database. Patient-reported information on LPR symptoms was collected at standardized time points (preoperative and 2 weeks, 8 weeks, and 1 year postoperatively) using a validated Reflux Symptom Index (RSI) questionnaire. Patients were grouped by preoperative RSI score: ≤ 13 (normal) and > 13 (abnormal). Baseline characteristics were compared between groups using chi-square test or t-test. A mixed effects model was used to evaluate improvement in RSI scores.
Results
One hundred and seventy-six patients fulfilled inclusion criteria (mean age 57.8 years, 70% female, mean BMI 29.4). Patients with a preoperative RSI ≤ 13 (n = 61) and RSI > 13 (n = 115) were similar in age, BMI, primary reason for evaluation, DeMeester score, presence of esophagitis, and hiatal hernia (p > 0.05). The RSI > 13 group had more female patients (80 vs 52%, p = < 0.001), higher mean GERD-HRQL score, lower rates of PPI use, and normal esophageal motility. The RSI of all patients improved from a mean preoperative value of 19.2 to 7.8 (2 weeks), 6.1 (8 weeks), and 10.9 (1 year). Those with the highest preoperative scores (RSI > 30) had the best response to ARS. When analyzing individual symptoms, the most likely to improve included heartburn, hoarseness, and choking.
Conclusions
In our study population, patients with LPR symptoms achieved a rapid and durable response to antireflux surgery. Those with higher preoperative RSI scores experienced the greatest improvement. Our data suggest that antireflux surgery is a viable treatment option for this patient population.
Access options
Buy single article
Instant access to the full article PDF.
US$ 39.95
Tax calculation will be finalised during checkout.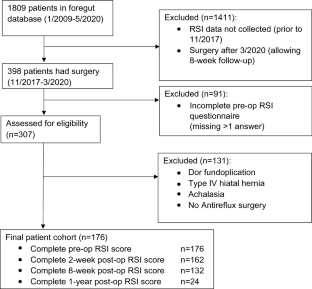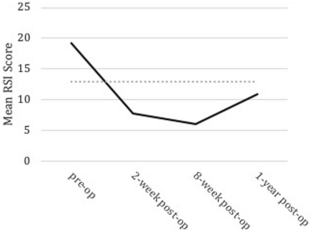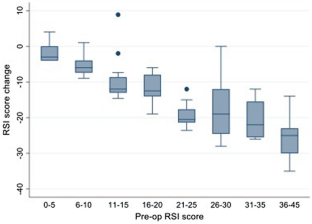 References
1.

El-Serag HB, Sweet S, Winchester CC, Dent J (2014) Update on the epidemiology of gastro-oesophageal reflux disease: a systematic review. Gut 63:871–880

2.

Becker V, Grotz S, Schlag C, Nennstiel S, Beitz A, Haller B, Schmid RM, Meining A, Bajbouj M (2014) Positive predictors for gastroesophageal reflux disease and the therapeutic response to proton-pump inhibitors. World J Gastroenterol 20:4017–4024

3.

Spechler SJ, Hunter JG, Jones KM, Lee R, Smith BR, Mashimo H, Sanchez VM, Dunbar KB, Pham TH, Murthy UK, Kim T, Jackson CS, Wallen JM, von Rosenvinge EC, Pearl JP, Laine L, Kim AW, Kaz AM, Tatum RP, Gellad ZF, Lagoo-Deenadayalan S, Rubenstein JH, Ghaferi AA, Lo W-K, Fernando RS, Chan BS, Paski SC, Provenzale D, Castell DO, Lieberman D, Souza RF, Chey WD, Warren SR, Davis-Karim A, Melton SD, Genta RM, Serpi T, Biswas K, Huang GD (2019) Randomized trial of medical versus surgical treatment for refractory heartburn. N Engl J Med 381:1513–1523

4.

Belafsky PC, Postma GN, Koufman JA (2002) Validity and reliability of the reflux symptom index (RSI). J Voice 16:274–277

5.

Vaezi MF, Richter JE, Stasney CR, Spiegel JR, Iannuzzi RA, Crawley JA, Hwang C, Sostek MB, Shaker R (2006) Treatment of chronic posterior laryngitis with esomeprazole. Laryngoscope 116:254–260

6.

Chen RY, Thomas RJ (2000) Results of laparoscopic fundoplication where atypical symptoms coexist with oesophageal reflux. Aust N Z J Surg 70:840–842

7.

DeMeester TR, Bonavina L, Iascone C, Courtney JV, Skinner DB (1990) Chronic respiratory symptoms and occult gastroesophageal reflux. A prospective clinical study and results of surgical therapy. Ann Surg 211:337–345

8.

Farrell TM, Richardson WS, Trus TL, Smith CD, Hunter JG (2001) Response of atypical symptoms of gastro-oesophageal reflux to antireflux surgery. Br J Surg 88:1649–1652

9.

So JBY, Zeitels SM, Rattner DW (1998) Outcomes of atypical symptoms attributed to gastroesophageal reflux treated by laparoscopic fundoplication. Surgery 124:28–32

10.

Duffy JP, Maggard M, Hiyama DT, Atkinson JB, McFadden DW, Ko CY, Hines OJ (2003) Laparoscopic nissen fundoplication improves quality of life in patients with atypical symptoms of gastroesophageal reflux. Am Surg 69:833–838

11.

Brown SR, Gyawali CP, Melman L, Jenkins ED, Bader J, Frisella MM, Brunt LM, Eagon JC, Matthews BD (2011) Clinical outcomes of atypical extra-esophageal reflux symptoms following laparoscopic antireflux surgery. Surg Endosc 25:3852–3858

12.

Park A, Weltz AS, Sanford Z, Addo A, Zahiri HR (2019) Laparoscopic antireflux surgery (LARS) is highly effective in the treatment of select patients with chronic cough. Surgery 166:34–40

13.

Francis DO, Rymer JA, Slaughter JC, Choksi Y, Jiramongkolchai P, Ogbeide E, Tran C, Goutte M, Garrett CG, Hagaman D, Vaezi MF (2013) High economic burden of caring for patients with suspected extraesophageal reflux. Am J Gastroenterol 108:905–911

14.

Velanovich V, Vallance S, Gusz J, Tapia F, Harkabus M (1996) Quality of life scale for gastroesophageal reflux disease. JACS 183:217–224

15.

Badillo R, Francis D (2014) Diagnosis and treatment of gastroesophageal reflux disease. World J Gastrointest Pharmacol Ther 5:105–112. https://doi.org/10.4292/wjgpt.v5.i3.105

16.

Tauber S, Gross M, Issing WJ (2002) Association of laryngopharyngeal symptoms with gastroesophageal reflux disease. Laryngoscope 112:879–886. https://doi.org/10.1097/00005537-200205000-00019

17.

Rickenbacher N, Kotter T, Kochen M, Scherer M, Blozik E (2014) Fundoplication versus medical management of gastroesophageal reflux disease: systematic review and meta-analysis. Surg Endosc 28:143–155

18.

Stefanidis D, Hope W, Kohn G, Reardon P, Ritter EM (2010) Guidelines for surgical treatment of gastroesophageal reflux disease. Surg Endosc 24:2647–2669

19.

Hamdy E, El-Shahawy M, Abd El-Shoubary M, Abd El-Raouf A, El-Hemaly M, Salah T, El-Hanafy E, GadEl Hak N (2009) Response of atypical symptoms of GERD to antireflux surgery. Hepatogastroenterology 56:403–406

20.

Iqbal M, Batch AJ, Spychal RT, Cooper BT (2008) Outcome of surgical fundoplication for extraesophageal (atypical) manifestations of gastroesophageal reflux disease in adults: a systematic review. J Laparoendosc Adv Surg Tech 18:789–796. https://doi.org/10.1089/lap.2007.0165

21.

Fakhre Yaseri H (2017) Gender is a risk factor in patients with gastroesophageal reflux disease. Med J Islam Repub Iran 31:58. https://doi.org/10.14196/mjiri.31.58

22.

Faruqi S, Molyneux ID, Fathi H, Wright C, Thompson R, Morice AH (2011) Chronic cough and esomeprazole: a double-blind placebo-controlled parallel study. Respirology 16(7):1150–1156

23.

Heidelbaugh J, Gill A, Van Harrison R, Nostrant T (2008) Atypical presentations of gastroesophageal reflux disease. Am Fam Physician 78:483–488

24.

Knight RE, Wells JR, Parrish RS (2000) Esophageal dysmotility as an important co-factor in extraesophageal manifestations of gastroesophageal reflux. Laryngoscope 110(9):1462–1466

25.

Locke GR, Talley N, Fett S, Zinmeister A, Melton LJ (1997) Prevalence and clinical spectrum of gastroesophageal reflux: a population-based study in olmsted county, minnesota. Gastroenterology 112:1448–1456
Acknowledgements
The authors would like to acknowledge Lily Stalter for her assistance with additional data analysis.
Funding
Effort on this study and manuscript was made possible by a George H. A. Clowes, Jr., MD, FACS, Memorial Research Career Development Award from the American College of Surgeons and a VA Career Development Award to Dr. Funk (CDA 015–060). The views represented in this article represent those of the authors and not those of the DVA or the US Government.
Ethics declarations
Disclosure
Authors Hessler, Xu, Shada, Johnson, Funk, and Lidor have no conflicts of interest or financial ties to disclose. Jacob Greenberg is the site PI for clinical trials with Medtronic and BD Interventional. He does not take any salary support for either.
Additional information
Publisher's Note
Springer Nature remains neutral with regard to jurisdictional claims in published maps and institutional affiliations.
Appendix
Appendix
See Table 4.
About this article
Cite this article
Hessler, L.K., Xu, Y., Shada, A.L. et al. Antireflux surgery leads to durable improvement in laryngopharyngeal reflux symptoms. Surg Endosc (2021). https://doi.org/10.1007/s00464-020-08279-9
Received:

Accepted:

Published:
Keywords
Laryngopharyngeal reflux

Atypical GERD

Antireflux surgery