Abstract
Background
Gastrointestinal leaks after Roux-en-Y gastric bypass (RYGB) and sleeve gastrectomy (SG) occur infrequently but lead to clinical and socioeconomic burden on patients. Surgeons perform intraoperative leak test (IOLT) via gastric tube or endoscopy to help prevent postoperative leaks. However, there is knowledge gap in the literature on effectiveness of IOLT during bariatric surgery.
Methods
In this observational cohort study using the 2015–2017 MBSAQIP database, we compared the outcomes in patients who received IOLT with those who did not during primary or revision RYGB and SG. The primary outcome was 30-day postoperative leak. Secondary outcomes were procedure duration and the rates of 30-day postoperative bleed, readmission, reoperation and intervention. Propensity score matching was used to assemble cohorts of patients with similar baseline characteristics.
Results
Among 363,042 patients, 82% underwent IOLT. Four subgroups of patients who underwent operations with or without IOLT during primary RYGB (n = 13,756), primary SG (n = 110,810), revision RYGB (n = 1140), and revision SG (n = 5576) had similar propensity scores and were matched 1:1. Patients who underwent IOLT had similar postoperative leak rates compared to those who did not (Primary RYGB with IOLT 0.7% v. without IOLT 0.6%; Primary SG 0.4% v. 0.3%; Revision RYGB 2.3% v. 1.0%; Revision SG 1.1% v. 0.7%). In primary SG subgroup, patients who underwent IOLT had lower postoperative bleed rates (0.6% v. 0.8%, p = 0.002). In primary RYGB and SG subgroups, operations with IOLT were slightly longer.
Conclusion
Postoperative leak rates after primary and revision bariatric surgery were low and similar irrespective of IOLT. Patients who had IOLT during primary SG had lower postoperative bleed rates. Current judgment as to whether to perform an IOLT leads to excellent outcomes, and thus, current practices should continue. However, one should consider an IOLT during primary SG, not necessarily to reduce leak rates but to help reduce postoperative bleeding occurrences.
Access options
Buy single article
Instant access to the full article PDF.
US$ 39.95
Tax calculation will be finalised during checkout.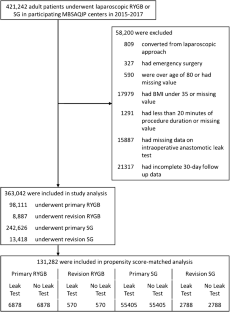 References
1.

Reges O, Greenland P, Dicker D, Leibowitz M, Hoshen M, Gofer I, Rasmussen-Torvik LJ, Balicer RD (2018) Association of bariatric surgery using laparoscopic banding, roux-en-y gastric bypass, or laparoscopic sleeve gastrectomy vs usual care obesity management with all-cause mortality. JAMA 319:279–290

2.

Schauer PR, Bhatt DL, Kirwan JP, Wolski K, Aminian A, Brethauer SA, Navaneethan SD, Singh RP, Pothier CE, Nissen SE, Kashyap SR, Investigators S (2017) Bariatric surgery versus intensive medical therapy for diabetes - 5-year outcomes. N Engl J Med 376:641–651

3.

Colquitt JL, Pickett K, Loveman E, Frampton GK (2014) Surgery for weight loss in adults. Cochrane Database Syst Rev. https://doi.org/10.1002/14651858.CD003641.pub4

4.

Jakobsen GS, Smastuen MC, Sandbu R, Nordstrand N, Hofso D, Lindberg M, Hertel JK, Hjelmesaeth J (2018) Association of bariatric surgery vs medical obesity treatment with long-term medical complications and obesity-related comorbidities. JAMA 319:291–301

5.

Adams TD, Davidson LE, Hunt SC (2018) Weight and metabolic outcomes 12 years after gastric bypass. N Engl J Med 378:93–96

6.

Abraham A, Ikramuddin S, Jahansouz C, Arafat F, Hevelone N, Leslie D (2016) Trends in bariatric surgery: procedure selection, revisional surgeries, and readmissions. Obes Surg 26:1371–1377

7.

Reames BN, Finks JF, Bacal D, Carlin AM, Dimick JB (2014) Changes in bariatric surgery procedure use in Michigan, 2006–2013. JAMA 312:959–961

8.

Ward ZJ, Bleich SN, Cradock AL, Barrett JL, Giles CM, Flax C, Long MW, Gortmaker SL (2019) Projected U.S. state-level prevalence of adult obesity and severe obesity. N Engl J Med 381:2440–2450

9.

Birkmeyer NJ, Dimick JB, Share D, Hawasli A, English WJ, Genaw J, Finks JF, Carlin AM, Birkmeyer JD, Michigan Bariatric Surgery C (2010) Hospital complication rates with bariatric surgery in Michigan. JAMA 304:435–442

10.

Nguyen NT, Paya M, Stevens CM, Mavandadi S, Zainabadi K, Wilson SE (2004) The relationship between hospital volume and outcome in bariatric surgery at academic medical centers. Ann Surg 240:586–593

11.

Kim J, Azagury D, Eisenberg D, DeMaria E, Campos GM (2015) ASMBS position statement on prevention, detection, and treatment of gastrointestinal leak after gastric bypass and sleeve gastrectomy, including the roles of imaging, surgical exploration, and nonoperative management. Surg Obes Relat Dis 11:739–748

12.

Hutter MM, Schirmer BD, Jones DB, Ko CY, Cohen ME, Merkow RP, Nguyen NT (2011) First report from the American College of Surgeons Bariatric Surgery Center Network: laparoscopic sleeve gastrectomy has morbidity and effectiveness positioned between the band and the bypass. Ann Surg 254:410–420

13.

Yolsuriyanwong K, Ingviya T, Kongkamol C, Marcotte E, Chand B (2019) Effects of intraoperative leak testing on postoperative leak-related outcomes after primary bariatric surgery: an analysis of the MBSAQIP database. Surg Obes Relat Dis 15:1530–1540

14.

Liu N, Cusack MC, Venkatesh M, Pontes AL, Shea G, Svoboda DC, Greenberg JA, Lidor AO, Funk LM (2019) 30-day outcomes after intraoperative leak testing for bariatric surgery patients. J Surg Res 242:136–144

15.

Alizadeh RF, Li S, Inaba C, Penalosa P, Hinojosa MW, Smith BR, Stamos MJ, Nguyen NT (2018) Risk factors for gastrointestinal leak after bariatric surgery: MBASQIP analysis. J Am Coll Surg 227:135–141

16.

Bingham J, Kaufman J, Hata K, Dickerson J, Beekley A, Wisbach G, Swann J, Ahnfeldt E, Hawkins D, Choi Y, Lim R, Martin M (2017) A multicenter study of routine versus selective intraoperative leak testing for sleeve gastrectomy. Surg Obes Relat Dis 13:1469–1475

17.

Sethi M, Zagzag J, Patel K, Magrath M, Somoza E, Parikh MS, Saunders JK, Ude-Welcome A, Schwack BF, Kurian MS, Fielding GA, Ren-Fielding CJ (2016) Intraoperative leak testing has no correlation with leak after laparoscopic sleeve gastrectomy. Surg Endosc 30:883–891

18.

ASMBS (2018) Estimate of bariatric surgery numbers, 2011–2018. ASMBS

19.

Telem DA, Dimick JB (2018) Practical guide to surgical data sets: metabolic and bariatric surgery accreditation and quality program (MBSAQIP). JAMA Surg 153:766–767

20.

MBSAQIP (2018) User guide for the 2017 participant use data file (PUF). In: Surgeons ACo (ed)

21.

Austin PC (2011) An introduction to propensity score methods for reducing the effects of confounding in observational studies. Multivar Behav Res 46:399–424

22.

Kirby GC, Macano CAW, Nyasavajjala SM, Sahloul M, Nijjar R, Daskalakis M, Richardson M, Singhal R (2017) The Birmingham experience of high-pressure methylene blue dye test during primary and revisional bariatric surgery: a retrospective cohort study. Ann Med Surg 23:32–34

23.

Bingham J, Lallemand M, Barron M, Kuckelman J, Carter P, Blair K, Martin M (2016) Routine intraoperative leak testing for sleeve gastrectomy: is the leak test full of hot air? Am J Surg 211:943–947

24.

Fulton C, Sheppard C, Birch D, Karmali S, de Gara C (2017) A comparison of revisional and primary bariatric surgery. Can J Surg 60:205–211

25.

Brethauer SA, Kothari S, Sudan R, Williams B, English WJ, Brengman M, Kurian M, Hutter M, Stegemann L, Kallies K, Nguyen NT, Ponce J, Morton JM (2014) Systematic review on reoperative bariatric surgery: American Society for metabolic and bariatric surgery revision task force. Surg Obes Relat Dis 10:952–972

26.

Shin RB (2004) Intraoperative endoscopic test resulting in no postoperative leaks from the gastric pouch and gastrojejunal anastomosis in 366 laparoscopic Roux-en-Y gastric bypasses. Obes Surg 14:1067–1069

27.

Cingi A, Yavuz Y (2011) Intraoperative endoscopic assessment of the pouch and anastomosis during laparoscopic Roux-en-Y gastric bypass. Obes Surg 21:1530–1534

28.

Mohos E, Schmaldienst E, Richter D, Prager M (2011) Examination of the efficacy and safety of intraoperative gastroscopic testing of the gastrojejunal anastomosis in laparoscopic Roux Y gastric bypass surgery. Obes Surg 21:1592–1596
Ethics declarations
Disclosure
Dr. Jung reports past consulting fees from Surgical Safety Technologies Inc. outside of the submitted work. Dr. Hutter reports consulting fees from Vicarious Surgical and travel grants from, but not for speaking on behalf of, Olympus, Medtronic, and Ethicon, outside of the submitted work. Drs. Jackson and Gordon have no conflicts of interest or financial ties to disclose.
Additional information
Publisher's Note
Springer Nature remains neutral with regard to jurisdictional claims in published maps and institutional affiliations.
Disclaimer The views expressed in the submitted article are authors' own and not an official position of the institutions.
About this article
Cite this article
Jung, J.J., Jackson, T., Gordon, L. et al. Intraoperative leak test is associated with lower postoperative bleed rate in primary sleeve gastrectomy: a propensity matched analysis of primary and revision bariatric surgery using the MBSAQIP database. Surg Endosc (2021). https://doi.org/10.1007/s00464-020-08264-2
Received:

Accepted:

Published:
Keywords
Bariatric surgery

Revision bariatric surgery

Leak test

Outcomes

Bleeding

Anastomotic leak

Process measures

MBSAQIP

Propensity score