Abstract
Background
Although the safety and feasibility of conventional laparoscopic surgery (CLS) for appendiceal mucocele (AM) has been reported, studies on single-incision laparoscopic surgery (SILS) for AM have not been reported. Here, we aimed to compare the perioperative and short-term outcomes between SILS and CLS for AM and to evaluate the oncological safety of SILS.
Methods
We retrospectively analyzed the medical records of patients, diagnosed based on computed tomography findings, who underwent laparoscopic surgery for AM between 2010 and 2018 at one institution. We excluded patients strongly suspected of having malignant lesions and those with preoperative appendiceal perforation. Patients were divided into two groups—CLS and SILS. Pathological outcomes and long-term results were investigated. The median follow-up period was 43.7 (range: 12.3–118.5) months.
Results
Ultimately, 116 patients (CLS = 68, SILS = 48) were enrolled. Patient demographic characteristics did not differ between the groups. The preoperative mucocele diameter was greater in the CLS than in the SILS group (3.2 ± 2.9 cm vs. 2.3 ± 1.4 cm, P = 0.029). More extensive surgery (right hemicolectomies and ileocecectomies) was performed in the CLS than in the SILS group (P = 0.014). Intraoperative perforation developed in only one patient per group. For appendectomies and cecectomies, the CLS group exhibited a longer operation time than the SILS group (63.3 ± 24.5 min vs. 52.4 ± 17.3 min, P = 0.014); the same was noted for length of postoperative hospital stay (2.9 ± 1.8 days vs. 1.7 ± 0.6 days, P < 0.001). The most common AM etiology was low-grade appendiceal mucinous neoplasm (71/116 [61.2%] patients); none of the patients exhibited mucinous cystadenocarcinoma. Among these 71 patients, there were 8 patients with microscopic appendiceal perforation or positive resection margins. No recurrence was detected.
Conclusions
SILS for AM is feasible and safe perioperatively and in the short-term and yields favorable oncological outcomes. Despite the retrospective nature of the study, SILS may be suitable after careful selection of AM patients.
Access options
Buy single article
Instant access to the full article PDF.
US$ 39.95
Tax calculation will be finalised during checkout.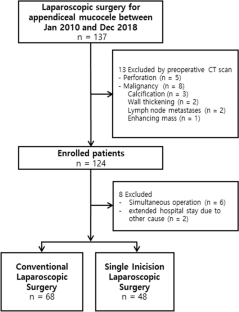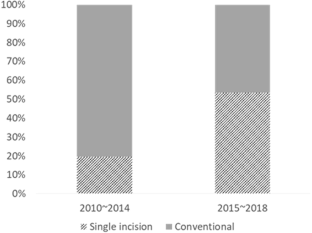 References
1.

Wang H, Chen YQ, Wei R, Wang QB, Song B, Wang CY, Zhang B (2013) Appendiceal mucocele: a diagnostic dilemma in differentiating malignant from benign lesions with CT. AJR Am J Roentgenol 201(4):W590–595

2.

Landen S, Bertrand C, Maddern GJ, Herman D, Pourbaix A, de Neve A, Schmitz A (1992) Appendiceal mucoceles and pseudomyxoma peritonei. Surg Gynecol Obstet 175(5):401–404

3.

Dhage-Ivatury S, Sugarbaker PH (2006) Update on the surgical approach to mucocele of the appendix. J Am Coll Surg 202(4):680–684

4.

Marudanayagam R, Williams GT, Rees BI (2006) Review of the pathological results of 2660 appendicectomy specimens. J Gastroenterol 41(8):745–749

5.

Marotta B, Chaudhry S, McNaught A, Quereshy F, Vajpeyi R, Chetty R, Ghai S (2019) Predicting Underlying Neoplasms in Appendiceal Mucoceles at CT: Focal Versus Diffuse Luminal Dilatation. AJR Am J Roentgenol 213(2):343–348

6.

Stocchi L, Wolff BG, Larson DR, Harrington JR (2003) Surgical treatment of appendiceal mucocele. Arch Surg 138(6):585–589; discussion 589–590

7.

Szych C, Staebler A, Connolly DC, Wu R, Cho KR, Ronnett BM (1999) Molecular genetic evidence supporting the clonality and appendiceal origin of Pseudomyxoma peritonei in women. Am J Pathol 154(6):1849–1855

8.

Misdraji J (2010) Appendiceal mucinous neoplasms: controversial issues. Arch Pathol Lab Med 134(6):864–870

9.

Panarelli NC, Yantiss RK (2011) Mucinous neoplasms of the appendix and peritoneum. Arch Pathol Lab Med 135(10):1261–1268

10.

Morano WF, Gleeson EM, Sullivan SH, Padmanaban V, Mapow BL, Shewokis PA, Esquivel J, Bowne WB (2018) Clinicopathological features and management of appendiceal mucoceles: a systematic review. Am Surg 84(2):273–281

11.

Kim TK, Park JH, Kim JY, Kim BC, Kang BM, Min SK, Kim JW (2018) Safety and feasibility of laparoscopic surgery for appendiceal mucocele: a multicenter study. Surg Endosc 32(11):4408–4414

12.

González Moreno S, Shmookler BM, Sugarbaker PH (1998) Appendiceal mucocele. Contraindication to laparoscopic appendectomy. Surg Endosc 12(9):1177–1179

13.

Sturniolo G, Barbuscia M, Taranto F, Tonante A, Paparo D, Romeo G, Nucera D, Lentini M (2011) Mucocele of the appendix. Two case reports. G Chir 32(11–12):487–490

14.

Park KJ, Choi HJ, Kim SH (2015) Laparoscopic approach to mucocele of appendiceal mucinous cystadenoma: feasibility and short-term outcomes in 24 consecutive cases. Surg Endosc 29(11):3179–3183

15.

Navarra G, Asopa V, Basaglia E, Jones M, Jiao LR, Habib NA (2003) Mucous cystadenoma of the appendix: is it safe to remove it by a laparoscopic approach? Surg Endosc 17(5):833–834

16.

Lau H, Yuen WK, Loong F, Lee F (2002) Laparoscopic resection of an appendiceal mucocele. Surg Laparosc Endosc Percutan Tech 12(5):367–370

17.

Ju YT, Park ST, Ha WS, Hong SC, Lee YJ, Jung EJ, Jung CY, Jeong SH, Choi SK (2011) Laparoscopic resection of a appendiceal mucocele. J Korean Surg Soc 80(Suppl 1):S21–S25

18.

Behranwala KA, Agarwal T, El-Sharkawi D, Shorvon D, Chang A (2006) Laparoscopic resection of mucinous cystadenoma of appendix: a careful decision. Surg Laparosc Endosc Percutan Tech 16(5):347–348

19.

Kaya C, Yazici P, Omeroglu S, Mihmanli M (2013) Laparoscopic appendectomy for appendiceal mucocele in an 83 years old woman. World J Gastrointest Surg 5(6):207–209

20.

Palanivelu C, Rangarajan M, John SJ, Senthilkumar K, Annapoorni S (2008) Laparoscopic right hemicolectomy for mucocele due to a low-grade appendiceal mucinous neoplasm. JSLS 12(2):194–197

21.

Yoshida Y, Sato K, Tada T, Maekawa H, Sakurada M, Orita H, Ito T, Hirata F, Wada R (2013) Two cases of mucinous cystadenoma of the appendix successfully treated by laparoscopy. Case Rep Gastroenterol 7(1):44–48

22.

Cho MS, Min BS, Hong YK, Lee WJ (2011) Single-site versus conventional laparoscopic appendectomy: comparison of short-term operative outcomes. Surg Endosc 25(1):36–40

23.

Park KB, Park JS, Choi GS, Kim HJ, Park SY, Ryuk JP, Choi WH, Jang YS (2011) Single-incision laparoscopic surgery for appendiceal mucoceles: safety and feasibility in a series of 16 consecutive cases. J Korean Soc Coloproctol 27(6):287–292

24.

Fujino S, Miyoshi N, Noura S, Shingai T, Tomita Y, Ohue M, Yano M (2014) Single-incision laparoscopic cecectomy for low-grade appendiceal mucinous neoplasm after laparoscopic rectectomy. World J Gastrointest Surg 6(5):84–87

25.

Vatansev C, Simsek G, Kucukkartallar T (2013) Single incision laparoscopic appendectomy with two port: a case of appendiceal mucocele. Indian J Surg 75(Suppl 1):382–384

26.

Misdraji J, Young RH (2004) Primary epithelial neoplasms and other epithelial lesions of the appendix (excluding carcinoid tumors). Semin Diagn Pathol 21(2):120–133

27.

Bucher P, Pugin F, Morel P (2008) Single port access laparoscopic right hemicolectomy. Int J Colorectal Dis 23(10):1013–1016

28.

Remzi FH, Kirat HT, Kaouk JH, Geisler DP (2008) Single-port laparoscopy in colorectal surgery. Colorectal Dis 10(8):823–826

29.

Maggiori L, Gaujoux S, Tribillon E, Bretagnol F, Panis Y (2012) Single-incision laparoscopy for colorectal resection: a systematic review and meta-analysis of more than a thousand procedures. Colorectal Dis 14(10):e643–e654

30.

Teoh AY, Chiu PW, Wong TC, Poon MC, Wong SK, Leong HT, Lai PB, Ng EK (2012) A double-blinded randomized controlled trial of laparoscopic single-site access versus conventional 3-port appendectomy. Ann Surg 256(6):909–914

31.

Carter JT, Kaplan JA, Nguyen JN, Lin MY, Rogers SJ, Harris HW (2014) A prospective, rnadomized controlled trial of single-incision laparoscopic vs conventional 3-port laparoscopic appendectomy for treatment of acute appendicitis. J Am Coll Surg 218(5):950–909

32.

Lee W, Choi ST, Lee JN, Kim KK, Park YH, Lee WK, Baek JH, Lee T (2013) Singe-port laparoscopic appendectomy versus conventional laparoscopic appendectomy. Ann Surg 257(2):214–218

33.

Hesketh KT (1963) The management of primary adenocarcinoma of the vermiform appendix. Gut 4(2):158–168

34.

González-Moreno S, Sugarbaker PH (2004) Right hemicolectomy does not confer a survival advantage in patients with mucinous carcinoma of the appendix and peritoneal seeding. Br J Surg 91(3):304–311

35.

Sugarbaker PH (2009) Epithelial appendiceal neoplasms. Cancer J 15(3):225–235

36.

Misdraji J (2015) Mucinous epithelial neoplasms of the appendix and pseudomyxoma peritonei. Mod Pathol 28(Suppl 1):S67–S79

37.

Bosman FT, Carneiro F, Hruban RH, Theise ND, World Health Organization, International Agency for Research on Cancer (2010) WHO classification of tumours of the digestive system, 4th edn. International Agency for Research on Cancer, Lyon

38.

Tiselius C, Kindler C, Shetye J, Letocha H, Smedh K (2017) Computed tomography follow-up assessment of patients with low-grade appendiceal mucinous neoplasms: evaluation of risk for pseudomyxoma peritonei. Ann Surg Oncol 24(7):1778–1782
Ethics declarations
Disclosures
Ho Seung Kim, Han-Gil Kim, Seung Yoon Yang, Yoon Dae Han, Hyuk Hur, Byung Soh Min, Kang Young Lee, Nam Kyu Kim, and Min Soo Cho have no conflicts of interest or financial ties to disclose.
Additional information
Publisher's Note
Springer Nature remains neutral with regard to jurisdictional claims in published maps and institutional affiliations.
About this article
Cite this article
Kim, H.S., Kim, HG., Yang, S.Y. et al. Single-incision laparoscopic surgery compared to conventional laparoscopic surgery for appendiceal mucocele: a series of 116 patients. Surg Endosc (2021). https://doi.org/10.1007/s00464-020-08263-3
Received:

Accepted:

Published:
Keywords
Appendix

Mucocele

Laparoscopic surgery

Single incision

Low-grade appendiceal mucinous neoplasm