Abstract
Background
Learning curves describe the rate of performance improvements according to the surgeon's caseload, followed by a plateau where limited additional improvements are observed. The aim of this study was to evaluate the learning curve for robotic-assisted transabdominal preperitoneal repair (rTAPP) for inguinal hernias in surgeons already experienced in laparoscopic TAPP.
Methods
The study was approved by local ethic committee. Male patients undergoing rTAPP for inguinal hernia from October 2017 to December 2019 at the Bellinzona Regional Hospital were selected from a prospective database. Demographic and clinical data, including operative time, conversion to laparoscopic or open surgery, intra- and postoperative complications were collected and analyzed.
Results
Over the study period, 170 rTAPP were performed by three surgeons in 132 patients, and mean age was 60.1 ± 13.7 years. The cumulative summation (CUSUM) test showed a significant operative time reduction after the 43rd operation, once the 90% proficiency on the logarithmic tendency line was achieved. The corrected operative time resulted 71.1 ± 22.0 vs. 60.8 ± 13.5 min during and after the learning curve (p = 0.011). Only one intraoperative complication occurred during the learning curve and required an orchiectomy. Postoperatively, three complications (one seroma, one hematoma, and one mesh infection) required invasive interventions during the learning curve, while no cases were recorded after it (p = 0.312).
Conclusion
Our study shows that the rTAPP, performed by experienced laparoscopists, has a learning curve which requires 43 inguinal hernia repairs to achieve 90% proficiency and to significantly reduce the operative time.
Access options
Buy single article
Instant access to the full article PDF.
US$ 39.95
Tax calculation will be finalised during checkout.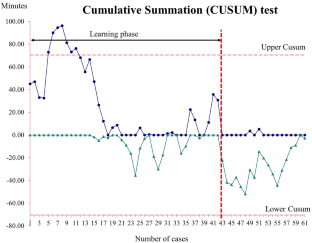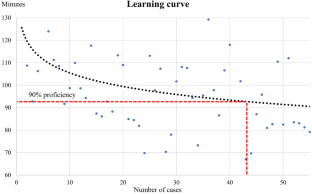 References
1.

Khan N, Abboudi H, Khan MS, Dasgupta P, Ahmed K (2014) Measuring the surgical "learning curve": methods, variables and competency. BJU Int 113(3):504–508

2.

Soomro NA, Hashimoto DA, Porteous AJ, Ridley C, Marsh WJ, Ditto R, Roy S (2020) Systematic review of learning curves in robot-assisted surgery. BJS open 4(1):27–44

3.

Lal P, Kajla RK, Chander J, Ramteke VK (2004) Laparoscopic total extraperitoneal (TEP) inguinal hernia repair: overcoming the learning curve. Surg Endosc 18(4):642–645

4.

Mongelli F, di Tor F, Vajana A, FitzGerald M, Cafarotti S, Lucchelli M, Proietti F, Di Giuseppe M, La Regina D (2019) Open and Laparoscopic Inguinal Hernia Surgery: A Cost Analysis. J Laparoendosc Adv Surg Tech A 29(5):608–613

5.

Bittner R, Montgomery MA, Arregui E, Bansal V, Bingener J, Bisgaard T, Buhck H, Dudai M, Ferzli GS, Fitzgibbons RJ, Fortelny RH, Grimes KL, Klinge U, Köckerling F, Kumar S, Kukleta J, Lomanto D, Misra MC, Morales-Conde S, Reinpold W, Rosenberg J, Singh K, Timoney M, Weyhe D, Chowbey P, International Endohernia Society (2015) Update of guidelines on laparoscopic (TAPP) and endoscopic (TEP) treatment of inguinal hernia (International Endohernia Society). Surg Endosc 29(2):289–321

6.

Berger D (2016) Evidence-based hernia treatment in adults. Dtsch Arztebl Int 113(9):150–157

7.

Donkor C, Gonzalez A, Gallas MR, Helbig M, Weinstein C, Rodriguez J (2017) Current perspectives in robotic hernia repair. Robot Surg 4:57–67

8.

Waite KE, Herman MA, Doyle PJ (2016) Comparison of robotic versus laparoscopic transabdominal preperitoneal (TAPP) inguinal hernia repair. J Robot Surg 10(3):239–244

9.

Dindo D, Demartines N, Clavien PA (2004) Classification of surgical complications: A new proposal with evaluation in a cohort of 6336 patients and results of a survey. Ann Surg 240(2):205–213

10.

Wohl H (1977) The cusum plot: its utility in the analysis of clinical data. N Engl J Med 296(18):1044–1045

11.

Wright TP (1936) Factors affecting the cost of airplanes. J Aeronaut Sci 3(4):122–128

12.

Subramonian K, Muir G (2004) The "learning curve" in surgery: what is it, how do we measure it and can we influence it? BJU Int 93(9):1173–1174

13.

Traxer O, Gettman MT, Napper CA, Scott DJ, Jones DB, Roehrborn CG, Pearle MS, Cadeddu JA (2001) The impact of intense laparoscopic skills training on the operative performance of urology residents. J Urol 166:1658–1661

14.

Kassite I, Bejan-Angoulvant T, Lardy H, Binet A (2019) A systematic review of the learning curve in robotic surgery: range and heterogeneity. Surg Endosc 33(2):353–365

15.

Zendejas B, Ramirez T, Jones T, Kuchena A, Martinez J, Ali SM, Lohse CM, Farley DR (2012) Trends in the utilization of inguinal hernia repair techniques: a population-based study. Am J Surg 203(3):313–317

16.

Kukleta JF (2010) TAPP, the logic of hernia repair. Le Jour de Coelio-chir 76:14–20

17.

Suguita FY, Essu FF, Oliveira LT, Iuamoto LR, Kato JM, Torsani MB, Franco AS, Meyer A, Andraus W (2017) Learning curve takes 65 repetitions of totally extraperitoneal laparoscopy on inguinal hernias for reduction of operating time and complications. Surg Endosc 31(10):3939–3945

18.

Feliu-Palà X, Martín-Gómez M, Morales-Conde S, Fernández-Sallent E (2001) The impact of the surgeon's experience on the results of laparoscopic hernia repair. Surg Endosc 15(12):1467–1470

19.

Edwards CC 2nd, Bailey RW (2000) Laparoscopic hernia repair: the learning curve. Surg Laparosc Endosc Percutan Tech 10(3):149–153

20.

Miserez M, Peeters E, Aufenacker T, Bouillot JL, Campanelli G, Conze J, Fortelny R, Heikkinen T, Jorgensen LN, Kukleta J, Morales-Conde S, Nordin P, Schumpelick V, Smedberg S, Smietanski M, Weber G, Simons MP (2014) Update with level 1 studies of the European Hernia Society guidelines on the treatment of inguinal hernia in adult patients. Hernia 18(2):151–163

21.

Simons MP, Aufenacker T, Bay-Nielsen M, Bouillot JL, Campanelli G, Conze J, de Lange D, Fortelny R, Heikkinen T, Kingsnorth A, Kukleta J, Morales-Conde S, Nordin P, Schumpelick V, Smedberg S, Smietanski M, Weber G, Miserez M (2009) European Hernia Society guidelines on the treatment of inguinal hernia in adult patients. Hernia 13(4):343–403

22.

Bökeler U, Schwarz J, Bittner R, Zacheja S, Smaxwil C (2013) Teaching and training in laparoscopic inguinal hernia repair (TAPP): impact of the learning curve on patient outcome. Surg Endosc 27(8):2886–2893

23.

Bracale U, Merola G, Sciuto A, Cavallaro G, Andreuccetti J, Pignata G (2019) Achieving the learning curve in laparoscopic inguinal hernia repair by Tapp: A quality improvement study. J Invest Surg 32(8):738–745

24.

Gamagami R, Dickens E, Gonzalez A, D'Amico L, Richardson C, Rabaza J, Kolachalam R (2018) Open versus robotic-assisted transabdominal preperitoneal (R-TAPP) inguinal hernia repair: a multicenter matched analysis of clinical outcomes. Hernia 22(5):827–836

25.

Dickens EO, Kolachalam R, Gonzalez A, Richardson C, D'Amico L, Rabaza J, Gamagami R (2018) Does robotic-assisted transabdominal preperitoneal (R-TAPP) hernia repair facilitate contralateral investigation and repair without compromising patient morbidity? J Robot Surg 12(4):713–718

26.

Charles EJ, Mehaffey JH, Tache-Leon CA, Hallowell PT, Sawyer RG, Yang Z (2018) Inguinal hernia repair: is there a benefit to using the robot? Surg Endosc 32(4):2131–2136

27.

Köckerling F, Bittner R, Kraft B, Hukauf M, Kuthe A, Schug-Pass C (2017) Does surgeon volume matter in the outcome of endoscopic inguinal hernia repair? Surg Endosc 31(2):573–585

28.

Maneck M, Köckerling F, Fahlenbrach C, Heidecke CD, Heller G, Meyer HJ, Rolle U, Schuler E, Waibel B, Jeschke E, Günster C (2020) Hospital volume and outcome in inguinal hernia repair: analysis of routine data of 133,449 patients. Hernia 24(4):747–757
Funding
No funding was received for this article.
Ethics declarations
Disclosures
Drs. Francesco Proietti, Davide La Regina, Ramon Pini, Matteo Di Giuseppe, Agnese Cianfarani, and Francesco Mongelli have no conflicts of interest or financial ties to disclose.
Additional information
Publisher's Note
Springer Nature remains neutral with regard to jurisdictional claims in published maps and institutional affiliations.
About this article
Cite this article
Proietti, F., La Regina, D., Pini, R. et al. Learning curve of robotic-assisted transabdominal preperitoneal repair (rTAPP) for inguinal hernias. Surg Endosc (2020). https://doi.org/10.1007/s00464-020-08165-4
Received:

Accepted:

Published:
Keywords
Robotic

Inguinal

Hernia

Groin

Learning curve

TAPP