Abstract
Introduction
Obesity and its associated comorbidities represent a pervasive problem in the United States across all age groups. There are conflicting data regarding the effectiveness and postoperative recovery of bariatric surgery in elderly patients. The aim of this study was to compare outcomes of bariatric surgery across age groups.
Materials and Methods
After obtaining institutional review board approval, patients with morbid obesity who underwent non-revisional laparoscopic Roux-en-Y gastric bypass (LRYGB) and sleeve gastrectomy (LSG) at our institution between 2011 and 2015 were included in this retrospective study. Patients were subdivided into five age groups: < 30, 30–39, 40–49, 50–59, and ≥ 60 years. Patient baseline demographics and comorbidities were collected. Postoperative outcomes including reinterventions/reoperations, 30-day-readmissions, 90-day-mortality, comorbidities' resolution, and change in BMI (ΔBMI) up to 4 years were recorded and compared. The groups were compared with ANOVA and chi-square tests and multivariable analyses.
Results
LRYGB was performed in 74.7% of the 1026 study patients. Patients ≥ 60 years old demonstrated lower preoperative BMI than patients < 50 years (p < 0.001). Patients 50–59 years old had increased length of stay compared to 30–39 (p = 0.003) and a higher prevalence of all comorbidities was found in older patients (p < 0.001). There was no significant difference in 30-day-readmissions; 90-day-mortality; reoperations; and reinterventions among the study groups. The ΔBMI was higher in younger patients and comorbidity resolution was more likely in younger patients with the exception of obstructive sleep apnea.
Conclusion
Bariatric surgery can be accomplished safely across all age groups with satisfiable postoperative weight loss. However, older age had higher hospital stay and convalescence and lower comorbidity resolution compared to younger patients. Thus, bariatric surgery should be offered earlier in life to allow the patients to reap its benefits.
This is a preview of subscription content, log in to check access.
Access options
Buy single article
Instant access to the full article PDF.
US$ 39.95
Price includes VAT for USA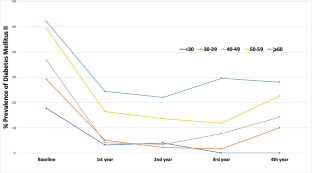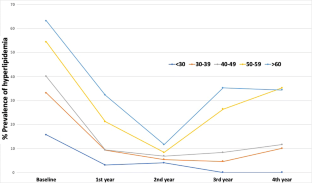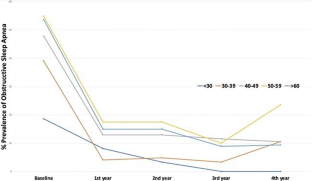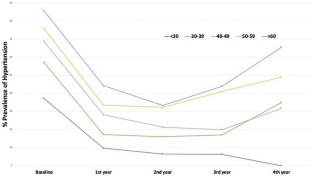 References
1.

Mokdad AH, Serdula MK, Dietz WH, Bowman BA, Marks JS, Koplan JP (1999) The spread of the obesity epidemic in the United States, 1991–1998. JAMA 282:1519–1522

2.

Ogden CL, Carroll MD, Kit BK, Flegal KM (2014) Prevalence of childhood and adult obesity in the United States, 2011–2012. JAMA 311:806–814

3.

Chooi YC, Ding C, Magkos F (2019) The epidemiology of obesity. Metabolism 92:6–10

4.

Ward ZJ, Bleich SN, Cradock AL, Barrett JL, Giles CM, Flax C, Long MW, Gortmaker SL (2019) Projected U.S. state-level prevalence of adult obesity and severe obesity. N Engl J Med 381:2440–2450

5.

Hales CM, Fryar CD, Carroll MD, Freedman DS, Aoki Y, Ogden CL (2018) Differences in obesity prevalence by demographic characteristics and urbanization level among adults in the United States, 2013–2016. JAMA 319:2419–2429

6.

Tobias DK, Hu FB (2018) The association between BMI and mortality: implications for obesity prevention. Lancet Diabetes Endocrinol 6:916–917

7.

Luppino FS, de Wit LM, Bouvy PF, Stijnen T, Cuijpers P, Penninx BW, Zitman FG (2010) Overweight, obesity, and depression: a systematic review and meta-analysis of longitudinal studies. Arch Gen Psychiatry 67:220–229

8.

Monfared S, Athanasiadis DI, Furiya A, Butler A, Selzer D, Hilgendorf W, Banerjee A, Stefanidis D (2020) Do mandated weight loss goals prior to bariatric surgery improve postoperative outcomes? Obes Surg 30:889–894

9.

Keren D, Matter I, Rainis T (2016) Sleeve gastrectomy in different age groups: a comparative study of 5-year outcomes. Obes Surg 26:289–295

10.

Colquitt JL, Pickett K, Loveman E, Frampton GK (2014) Surgery for weight loss in adults. Cochrane Database Syst Rev 8:CD003641

11.

Giordano S, Victorzon M (2015) Bariatric surgery in elderly patients: a systematic review. Clin Interv Aging 10:1627–1635

12.

Gonzalez-Heredia R, Patel N, Sanchez-Johnsen L, Masrur M, Murphey M, Chen J, Elli E (2015) Does age influence bariatric surgery outcomes? Bariatr Surg Pract Patient Care 10:74–78

13.

Inge TH, Courcoulas AP, Jenkins TM, Michalsky MP, Brandt ML, Xanthakos SA, Dixon JB, Harmon CM, Chen MK, Xie C, Evans ME, Helmrath MA, Teen LC (2019) Five-year outcomes of gastric bypass in adolescents as compared with adults. N Engl J Med 380:2136–2145

14.

Andrade-Silva SG, Caranti DA, Sallet JA, Leal LP, Leal AJ, Damaso AR (2014) Age and gender may influence the results of Roux-en-Y gastric bypass? Metabolic syndrome parameters. Arq Gastroenterol 51:171–179

15.

Brethauer SA, Kim J, el Chaar M, Papasavas P, Eisenberg D, Rogers A, Ballem N, Kligman M, Kothari S, Committee ACI (2015) Standardized outcomes reporting in metabolic and bariatric surgery. Surg Obes Relat Dis 11:489–506

16.

Biener A, Cawley J, Meyerhoefer C (2017) The high and rising costs of obesity to the US health care system. J Gen Intern Med 32:6–8

17.

Lastra G, Syed S, Kurukulasuriya LR, Manrique C, Sowers JR (2014) Type 2 diabetes mellitus and hypertension: an update. Endocrinol Metab Clin North Am 43:103–122

18.

Raghavan S, Vassy JL, Ho YL, Song RJ, Gagnon DR, Cho K, Wilson PWF, Phillips LS (2019) Diabetes mellitus-related all-cause and cardiovascular mortality in a National Cohort of Adults. J Am Heart Assoc 8:e011295

19.

Marshall NS, Wong KK, Cullen SR, Knuiman MW, Grunstein RR (2014) Sleep apnea and 20-year follow-up for all-cause mortality, stroke, and cancer incidence and mortality in the Busselton Health Study cohort. J Clin Sleep Med 10:355–362

20.

Contreras JE, Santander C, Court I, Bravo J (2013) Correlation between age and weight loss after bariatric surgery. Obes Surg 23:1286–1289

21.

Chen SX, Bomfim FA, Youn HA, Ren-Fielding C, Samuels J (2018) Predictors of the effect of bariatric surgery on knee osteoarthritis pain. Semin Arthritis Rheum 48:162–167

22.

He XZ, Baker DW (2004) Body mass index, physical activity, and the risk of decline in overall health and physical functioning in late middle age. Am J Public Health 94:1567–1573

23.

Zhao G, Ford ES, Dhingra S, Li C, Strine TW, Mokdad AH (2009) Depression and anxiety among US adults: associations with body mass index. Int J Obes (Lond) 33:257–266

24.

Hallowell PT, Stellato TA, Schuster M, Graf K, Robinson A, Jasper JJ (2007) Avoidance of complications in older patients and medicare recipients undergoing gastric bypass. Arch Surg 142:506–510

25.

Robert M, Pasquer A, Espalieu P, Laville M, Gouillat C, Disse E (2014) Gastric bypass for obesity in the elderly: is it as appropriate as for young and middle-aged populations? Obes Surg 24:1662–1669

26.

Van Nieuwenhove Y, Spriet E, Sablon T, Van Daele E, Willaert W, Ceelen W, Pattyn P (2016) Metabolic surgery in patients over 60 years old: short- and long-term results. Acta Chir Belg 116:362–366

27.

Ortega E, Morinigo R, Flores L, Moize V, Rios M, Lacy AM, Vidal J (2012) Predictive factors of excess body weight loss 1 year after laparoscopic bariatric surgery. Surg Endosc 26:1744–1750

28.

Marczuk P, Kubisa MJ, Swiech M, Waledziak M, Kowalewski P, Major P, Pedziwiatr M, Pasnik K, Janik MR (2019) Effectiveness and safety of Roux-en-Y gastric bypass in elderly patients-systematic review and meta-analysis. Obes Surg 29:361–368

29.

Major P, Matlok M, Pedziwiatr M, Migaczewski M, Budzynski P, Stanek M, Kisielewski M, Natkaniec M, Budzynski A (2015) Quality of life after bariatric surgery. Obes Surg 25:1703–1710
Ethics declarations
Disclosures
Dr. Selzer is a consultant for Cook Biotech and PolyNovo, and has received research support by Bard; however, none of the research in the present report was funded by the above. Dr. Dimitrios Stefanidis has received research support to institution by ExplORer Surgical Inc. and Bard; however, none of the research in the present report was funded by the above. Dr. Dimitrios I. Athanasiadis, Dr. Edward Hernandez, Dr. Sara Monfared, Dr. Natalia Kubicki, Mr. Nehal Ninad, Ms. Amani Karim, and Dr. Ambar Banerjee have no conflicts of interest or financial ties to disclose.
Additional information
Publisher's Note
Springer Nature remains neutral with regard to jurisdictional claims in published maps and institutional affiliations.
Electronic supplementary material
Below is the link to the electronic supplementary material.
About this article
Cite this article
Athanasiadis, D.I., Hernandez, E., Monfared, S. et al. Bariatric surgery outcomes: is age just a number?. Surg Endosc (2020). https://doi.org/10.1007/s00464-020-07752-9
Received:

Accepted:

Published:
Keywords
Bariatric surgery

Age

Elderly

Outcomes

Comorbidity resolution

Weight loss