Abstract
Background
Hepatectomy or transplantation can serve as curative treatment for early-stage hepatocellular carcinoma (HCC). Unfortunately, as progression remains a reality, locoregional therapies (LRT) for curative or bridging intent have become common. Efficacy on viability, outcomes, and accuracy of imaging should be defined to guide treatment.
Methods
Patients with HCC who underwent minimally invasive (MIS) microwave ablation (MWA), transarterial chemoembolization (TACE), or both (MIS-MWA-TACE) prior to hepatectomy or transplantation were identified. Tumor response and preoperative computed tomography (CT) accuracy were assessed and compared to pathology. Clinical and oncologic outcomes were compared between MIS-MWA, TACE, and MIS-MWA-TACE.
Results
Ninety-one patients, with tumors from all stages of the Barcelona Clinic Liver Cancer (BCLC) staging, were identified who underwent LRT prior to resection or transplant. Fourteen patients underwent MIS-MWA, 46 underwent TACE, and 31 underwent both neoadjuvantly. TACE population was older; otherwise, there were no differences in demographics. Fifty-seven percent of MIS-MWA patients had no viable tumor on pathology whereas only 13% of TACE patients and 29% of MIS-MWA-TACE patients had complete destruction (p = 0.004). The amount of remaining viable tumor in the explant was also significantly different between groups (MIS-MWA: 17.2%, TACE: 48.7%, MIS-MWA-TACE: 18.6%; p ≤ 0.0001). Compared with TACE, the MIS-MWA and MIS-MWA-TACE groups had significantly improved overall survival (MIS-MWA: 99.94 months, TACE: 75.35 months, MIS-MWA-TACE: 140 months; p = 0.017). This survival remained significant with stratification by tumor size. CT accuracy was found to be 50% sensitive and 86% specific for MIS-MWA. For TACE, CT had an 82% sensitivity and 33% specificity and for MIS-MWA-TACE, there was a 42% sensitivity and 78% specificity.
Conclusion
The impact of locoregional treatments on tumor viability is distinct and superior with MIS-MWA alone and MIS-MWA-TACE offering significant advantage over TACE alone. The extent of this effect may be implicated in the improved overall survival.
This is a preview of subscription content, log in to check access.
Access options
Buy single article
Instant access to the full article PDF.
US$ 39.95
Price includes VAT for USA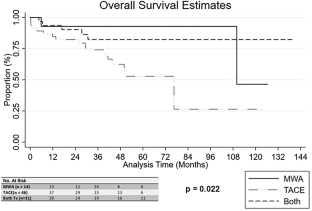 References
1.

Jemal A, Bray F, Center MM, Ferlay J, Ward E, Forman D (2011) Global cancer statistics. CA Cancer J Clin 61(2):69–90

2.

Wallace MC, Preen D, Jeffrey GP, Adams LA (2015) The evolving epidemiology of hepatocellular carcinoma: a global perspective. Expert Rev Gastroenterol Hepatol 9(6):765–779

3.

El-Serag HB, Davila JA, Petersen NJ, McGlynn KA (2003) The continuing increase in the incidence of hepatocellular carcinoma in the United States: an update. Ann Intern Med 139(10):817–823

4.

Li H, Zhang L (2017) Liver regeneration microenvironment of hepatocellular carcinoma for prevention and therapy. Oncotarget 8(1):1805–1813

5.

van Meer S, de Man RA, Coenraad MJ et al (2015) Surveillance for hepatocellular carcinoma is associated with increased survival: results from a large cohort in the Netherlands. J Hepatol 63(5):1156–1163

6.

Zhang BH, Yang BH, Tang ZY (2004) Randomized controlled trial of screening for hepatocellular carcinoma. J Cancer Res Clin Oncol 130(7):417–422

7.

Kansagara D, Papak J, Pasha AS et al (2014) Screening for hepatocellular carcinoma in chronic liver disease: a systematic review. Ann Intern Med 161(4):261–269

8.

Singal AG, Pillai A, Tiro J (2014) Early detection, curative treatment, and survival rates for hepatocellular carcinoma surveillance in patients with cirrhosis: a meta-analysis. PLoS Med 11(4):e1001624

9.

Mazzaferro V, Regalia E, Doci R et al (1996) Liver transplantation for the treatment of small hepatocellular carcinomas in patients with cirrhosis. N Engl J Med 334(11):693–699

10.

Dageforde LA, Fowler KJ, Chapman WC (2017) Liver transplantation for hepatocellular carcinoma: current update on treatment and allocation. Curr Opin Organ Transplant 22(2):128–134

11.

Vatansever S, Farajov R, Yilmaz HC, Zeytunlu M, Pakoz ZB, Kilic M (2019) Hepatitis B and hepatocellular carcinoma recurrence after living donor liver transplantation: the role of the Milan criteria. Turk J Gastroenterol 30(1):75–80

12.

Yao FY (2007) Expanded criteria for liver transplantation in patients with hepatocellular carcinoma. Hepatol Res 37(Suppl 2):S267–274

13.

Tan EK, Goh BKP, Lee SY, Krishnamoorthy TL, Tan CK, Jeyaraj PR (2018) Liver transplant waitlist outcomes and the allocation of hepatocellular carcinoma model for end-stage liver disease exception points at a low-volume center. Transplant Proc 50(10):3564–3570

14.

Kwong AJ, Lai JC, Dodge JL, Roberts JP (2015) Outcomes for liver transplant candidates listed with low model for end-stage liver disease score. Liver Transpl 21(11):1403–1409

15.

Parikh ND, Waljee AK, Singal AG (2015) Downstaging hepatocellular carcinoma: a systematic review and pooled analysis. Liver Transpl 21(9):1142–1152

16.

Gunsar F (2017) Liver transplantation for hepatocellular carcinoma beyond the milan criteria. Exp Clin Transplant 15(Suppl 2):59–64

17.

Akoad ME, Pomfret EA (2015) Surgical resection and liver transplantation for hepatocellular carcinoma. Clin Liver Dis 19(2):381–399

18.

Tabrizian P, Jibara G, Shrager B, Schwartz M, Roayaie S (2015) Recurrence of hepatocellular cancer after resection: patterns, treatments, and prognosis. Ann Surg 261(5):947–955

19.

Habib A, Desai K, Hickey R, Thornburg B, Lewandowski R, Salem R (2015) Locoregional therapy of hepatocellular carcinoma. Clin Liver Dis 19(2):401–420

20.

Clavien PA, Lesurtel M, Bossuyt PM, Gores GJ, Langer B, Perrier A (2012) Recommendations for liver transplantation for hepatocellular carcinoma: an international consensus conference report. Lancet Oncol 13(1):e11–22

21.

Wang YM, Qian GJ, Xu Y, Wang N, Sheng YH (2017) Efficacy of microwave ablation in treatment of hepatocellular carcinoma within the Milan criteria: a report of 696 cases. Zhonghua Gan Zang Bing Za Zhi 25(5):344–348

22.

Abdelaziz AO, Nabeel MM, Elbaz TM et al (2015) Microwave ablation versus transarterial chemoembolization in large hepatocellular carcinoma: prospective analysis. Scand J Gastroenterol 50(4):479–484

23.

Agopian VG, Morshedi MM, McWilliams J et al (2015) Complete pathologic response to pretransplant locoregional therapy for hepatocellular carcinoma defines cancer cure after liver transplantation: analysis of 501 consecutively treated patients. Ann Surg. 262(3):536–545 discussion 543-535

24.

Agopian VG, Harlander-Locke MP, Ruiz RM et al (2017) Impact of pretransplant bridging locoregional therapy for patients with hepatocellular carcinoma within milan criteria undergoing liver transplantation: analysis of 3601 patients from the US Multicenter HCC Transplant Consortium. Ann Surg 266(3):525–535

25.

Wang T, Zhang XY, Lu X, Zhai B (2019) Laparoscopic microwave ablation of hepatocellular carcinoma at liver surface: technique effectiveness and long-term outcomes. Technol Cancer Res Treat 18:1533033818824338

26.

Golfieri R, Cappelli A, Cucchetti A et al (2011) Efficacy of selective transarterial chemoembolization in inducing tumor necrosis in small (<5 cm) hepatocellular carcinomas. Hepatology 53(5):1580–1589

27.

Kwan SW, Fidelman N, Ma E, Kerlan RK Jr, Yao FY (2012) Imaging predictors of the response to transarterial chemoembolization in patients with hepatocellular carcinoma: a radiological-pathological correlation. Liver Transpl 18(6):727–736

28.

Mazzaferro V, Battiston C, Perrone S et al (2004) Radiofrequency ablation of small hepatocellular carcinoma in cirrhotic patients awaiting liver transplantation: a prospective study. Ann Surg 240(5):900–909

29.

Lencioni R, Llovet JM (2010) Modified RECIST (mRECIST) assessment for hepatocellular carcinoma. Semin Liver Dis 30(1):52–60

30.

Forner A, Ayuso C, Varela M et al (2009) Evaluation of tumor response after locoregional therapies in hepatocellular carcinoma: are response evaluation criteria in solid tumors reliable? Cancer 115(3):616–623

31.

Bruix J, Sherman M, Llovet JM et al (2001) Clinical management of hepatocellular carcinoma. Conclusions of the Barcelona-2000 EASL conference. European Association for the Study of the Liver. J Hepatol 35(3):421–430

32.

Habibollahi P, Shamchi SP, Choi JM et al (2019) Association of complete radiologic and pathologic response following locoregional therapy before liver transplantation with long-term outcomes of hepatocellular carcinoma: a retrospective study. J Vasc Interv Radiol 30(3):323–329

33.

Llovet JM, Fuster J, Bruix J (2004) The Barcelona approach: diagnosis, staging, and treatment of hepatocellular carcinoma. Liver Transpl 10(2 Suppl 1):S115–120

34.

Facciorusso A, Licinio R, Muscatiello N, Di Leo A, Barone M (2015) Transarterial chemoembolization: evidences from the literature and applications in hepatocellular carcinoma patients. World J Hepatol 7(16):2009–2019

35.

Groeschl RT, Pilgrim CH, Hanna EM et al (2014) Microwave ablation for hepatic malignancies: a multiinstitutional analysis. Ann Surg 259(6):1195–1200

36.

Baker EH, Thompson K, McKillop IH et al (2017) Operative microwave ablation for hepatocellular carcinoma: a single center retrospective review of 219 patients. J Gastrointest Oncol 8(2):337–346

37.

Hashimoto T, Nakamura H, Hori S et al (1995) Hepatocellular carcinoma: efficacy of transcatheter oily chemoembolization in relation to macroscopic and microscopic patterns of tumor growth among 100 patients with partial hepatectomy. Cardiovasc Interv Radiol 18(2):82–86

38.

Xu LF, Sun HL, Chen YT et al (2013) Large primary hepatocellular carcinoma: transarterial chemoembolization monotherapy versus combined transarterial chemoembolization-percutaneous microwave coagulation therapy. J Gastroenterol Hepatol 28(3):456–463

39.

Terzi E, Piscaglia F, Forlani L et al (2014) TACE performed in patients with a single nodule of hepatocellular carcinoma. BMC Cancer 14:601

40.

Beal EW, Dittmar KM, Hanje AJ et al (2016) Pretransplant locoregional therapy for hepatocellular carcinoma: evaluation of explant pathology and overall survival. Front Oncol 6:143

41.

DiNorcia J, Florman SS, Haydel B et al (2019) Pathologic response to pretransplant locoregional therapy is predictive of patient outcome after liver transplantation for hepatocellular carcinoma: analysis from the US Multicenter HCC Transplant Consortium. Ann Surg 25:256

42.

Chen QF, Jia ZY, Yang ZQ, Fan WL, Shi HB (2017) Transarterial chemoembolization monotherapy versus combined transarterial chemoembolization-microwave ablation therapy for hepatocellular carcinoma tumors </=5 cm: a propensity analysis at a single center. Cardiovasc Interv Radiol 40(11):1748–1755

43.

Zhang R, Shen L, Zhao L, Guan Z, Chen Q, Li W (2018) Combined transarterial chemoembolization and microwave ablation versus transarterial chemoembolization in BCLC stage B hepatocellular carcinoma. Diagn Interv Radiol 24(4):219–224

44.

Sheta E, El-Kalla F, El-Gharib M et al (2016) Comparison of single-session transarterial chemoembolization combined with microwave ablation or radiofrequency ablation in the treatment of hepatocellular carcinoma: a randomized-controlled study. Eur J Gastroenterol Hepatol 28(10):1198–1203

45.

Ikeda K, Seki T, Umehara H et al (2007) Clinicopathologic study of small hepatocellular carcinoma with microscopic satellite nodules to determine the extent of tumor ablation by local therapy. Int J Oncol 31(3):485–491

46.

Padma S, Martinie JB, Iannitti DA (2009) Liver tumor ablation: percutaneous and open approaches. J Surg Oncol 100(8):619–634
Funding
This research did not receive any specific grant from funding agencies in the public, commercial, or not-for-profit sectors.
Ethics declarations
Disclosures
David A. Iannitti is a consultant for Ethicon and Medtronic. Maria Baimas-George, Michael Watson, Jesse Sulzer, Patrick Salibi, Keith J Murphy, David Levi, John B. Martinie, Dionisios Vrochides, Erin H. Baker, and Lee Ocuin have no conflicts of interest or financial ties to disclose.
Additional information
Publisher's Note
Springer Nature remains neutral with regard to jurisdictional claims in published maps and institutional affiliations.
About this article
Cite this article
Baimas-George, M., Watson, M., Sulzer, J. et al. Pathologic response translates to improved patient survival after locoregional treatment for hepatocellular carcinoma: the importance of minimally invasive microwave ablation. Surg Endosc (2020). https://doi.org/10.1007/s00464-020-07747-6
Received:

Accepted:

Published:
Keywords
Locoregional treatment

Bridging treatment

Hepatocellular carcinoma

Transplant

Hepatic resection

Microwave ablation

Minimally invasive

Transarterial chemoembolization