Abstract
Background
Laparoscopic adrenalectomy has a well-demonstrated learning curve in the first generation of laparoscopic surgeons. Data about the second generation of laparoscopic surgeons are lacking.
Methods
In this retrospective observational study, data from patients undergoing laparoscopic adrenalectomy from 2000 to 2019 in a high-volume center were collected and analyzed. The cumulative sum of procedures of each surgeon and the operating time were evaluated. A multivariate analysis with backward stepwise logistic regression was carried out to define which factors influenced the operative time. Three surgeons performed the analyzed procedures: a senior surgeon who began his laparoscopic activity without receiving specific training or supervision and two young surgeons, who performed their procedures under the guidance of the "senior" experienced surgeon. The first 38 procedures of the three surgeons were then compared.
Results
A total of 244 laparoscopic adrenalectomies were performed. Age, clinical diagnosis, side of the lesion, body mass index, comorbidities, Charlson index, American Society of Anaesthesiologists (ASA) score, and lower abdominal surgery were found to have no significant relationship with the operative time (p > 0.05). Gender, symptoms, previous upper abdominal surgery, size of the lesion, and cumulative sum of procedures were independent predictors of operative time. In the comparison between different surgeons, operative time resulted significantly longer for the senior (165 min; 140–180) than for the two junior surgeons (137.5 min; 115–160; p = 0.003 and 130 min; 120–170; p = 0.001).
Conclusions
The presence of a mentor in operative theater and specific training programs could be useful during the learning period. The cumulative sum of procedures related to the operative time represents a good parameter to measure the acquired expertise of a surgeon.
This is a preview of subscription content, log in to check access.
Access options
Buy single article
Instant access to the full article PDF.
US$ 39.95
Price includes VAT for USA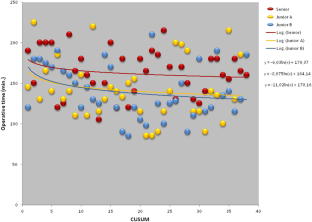 References
1.

Gagner M, Lacroix A, Bolté E (1992) Laparoscopic adrenalectomy in Cushing's syndrome and pheochromocytoma. N Engl J Med 1(327):1033

2.

Gagner M, Pomp A, Heniford BT et al (1997) Laparoscopic adrenalectomy: lessons learned from 100 consecutive procedures. Ann Surg 226:238–246

3.

Teksöz S, Kılboz BB, Bükey Y (2019) Experience of an endocrine surgeon in laparoscopic transperitoneal adrenalectomy. BMC Surg 19:134

4.

Fiszer P, Toutounchi S, Pogorzelski R et al (2012) Laparoscopic adrenalectomy–assessing the learning curve. Pol Przegl Chir 84:293

5.

van Uitert A, d'Ancona FCH, Deinum J et al (2017) Evaluating the learning curve for retroperitoneoscopic adrenalectomy in a high-volume center for laparoscopic adrenal surgery. Surg Endosc 31:2771–2775

6.

Goitein D, Mintz Y, Gross D et al (2004) Laparoscopic adrenalectomy: ascending the learning curve. Surg Endosc 18:771–773

7.

Mihai R, Donatini G, Vidal O et al (2019) Volume-outcome correlation in adrenal surgery—an ESES consensus statement. Langenbecks Arch Surg 404:795–806

8.

Tarallo M, Crocetti D, Fiori E et al (2020) Criticism of learning curve in laparoscopic adrenalectomy: a systematic review. Clin Ter 171:e178–e182

9.

De Leo A, Mosconi C, Zavatta G et al (2020) Radiologically defined lipid-poor adrenal adenomas: histopathological characteristics. J Endocrinol Invest. https://doi.org/10.1007/s40618-020-01198-5

10.

Ricci C, Casadei R, Buscemi S et al (2015) Laparoscopic distal pancreatectomy: what factors are related to the learning curve? Surg Today 45:50–56

11.

Gachabayov M, Rojas A, Bergamaschi R (2020) Is case sequence analysis an objective assessment of learning curve? Dis Colon Rectum 63(3):e23

12.

Kazaryan AM, Mala T, Edwin B (2001) Does tumor size influence the outcome of laparoscopic adrenalectomy? J Laparoendosc Adv Surg Tech A 11(1):1–4

13.

Natkaniec M, Dworak J, Pędziwiatr M et al (2017) Patients criteria determining difficulty of the laparoscopic lateral transperitoneal adrenalectomy. A retrospective cohort study. Int J Surg. 43:33–37

14.

Ricci C, Casadei R, Buscemi S, Taffurelli G, D'Ambra M, Pacilio CA, Minni F (2015) Laparoscopic distal pancreatectomy: what factors are related to the learning curve? Surg Today 45(1):50–56

15.

Sommerey S, Foroghi Y, Chiapponi C, Baumbach SF, Hallfeldt KK, Ladurner R, Gallwas JK (2015) Laparoscopic adrenalectomy–10-year experience at a teaching hospital. Langenbecks Arch Surg 400(3):341–347

16.

Cardinali L, Skrami E, Catani E, Carle F, Ortenzi M, Balla A, Guerrieri M (2020) Laparoscopic transperitoneal adrenalectomy: a comparative study of different techniques for vessel sealing. Surg Endosc. https://doi.org/10.1007/s00464-020-07432-8

17.

Lezoche E, Guerrieri M, Crosta F, Paganini A, D'Ambrosio G, Lezoche G, Campagnacci R (2008) Perioperative results of 214 laparoscopic adrenalectomies by anterior transperitoneal approach. Surg Endosc 22(2):522–526

18.

Lezoche E, Guerrieri M, Feliciotti F, Paganini AM, Perretta S, Baldarelli M, Bonjer J, Miccoli P (2002) Anterior, lateral, and posterior retroperitoneal approaches on endoscopic adrenalectomy. Surg Endosc 16:96–99

19.

Rieder JM, Nisbet AA, Wuerstle MC, Tran VQ, Kwon EO, Chien GW (2010) Differences in left and right laparoscopic adrenalectomy. JSLS 14(3):369–373

20.

Zhang X, Wang B, Ma X et al (2009) Laparoscopic adrenalectomy for beginners without open counterpart experience: initial results under staged training. Urology 73(5):1061–1065

21.

Guerrieri M, Campagnacci R, De Sanctis A, Baldarelli M, Coletta M, Perretta S (2008) The learning curve in laparoscopic adrenalectomy. J Endocrinol Invest 31(6):531–536
Acknowledgements
We would like to thank Dott. Nicola Marrano for his contribution.
Funding
The authors did not receive funding for the manuscript.
Ethics declarations
Disclosures
Laura Alberici, Claudio Ricci, Carlo Ingaldi, Riccardo Casadei, Riccardo Turrini, Guido Di Dalmazi, Valentina Vicennati, Uberto Pagotto, Saverio Selva, and Francesco Minni declare that they have no conflicts of interest.
Additional information
Publisher's Note
Springer Nature remains neutral with regard to jurisdictional claims in published maps and institutional affiliations.
Electronic supplementary material
Below is the link to the electronic supplementary material.
About this article
Cite this article
Alberici, L., Ricci, C., Ingaldi, C. et al. The learning curve for the second generation of laparoscopic surgeons: lesson learned from a large series of laparoscopic adrenalectomies. Surg Endosc (2020). https://doi.org/10.1007/s00464-020-07730-1
Received:

Accepted:

Published:
Keywords
Laparoscopic adrenalectomy

Learning curve