Abstract
Objectives
Esophageal stricture is a significant complication of grade 2b and 3a esophageal injuries and causes much patient suffering. Preventing strictures would be beneficial to patients but there are currently no proven effective drugs. This study aimed to evaluate the effect of omeprazole for preventing esophageal stricture in adults with grade 2b and 3a corrosive esophageal injuries.
Methods
This study was an open single-center prospective randomized controlled trial that took place from April 2018 to January 2020. Patients were randomized to standard treatment or 80 mg/day intravenously × 3 days followed by 40 mg/day orally for 4 weeks. They were endoscoped at baseline and 4 weeks post discharge. Strictures were confirmed radiologically.
Results
20 patients were enrolled: 15 with grade 2b and five with grade 3a injuries. Standard care and omeprazole groups numbered 10 each. At 1 month, seven and two patients developed strictures in the standard and omeprazole groups, respectively, p = 0.024, for a risk reduction of 71.4%.
Conclusions
Omeprazole reduced the risk of short-term developing esophageal strictures following grade 2b and 3a corrosive esophageal injuries. Larger studies are needed to reconfirm this finding.
Thai Clinical Trials Registry (TCTR) number TCTR20190504001
This is a preview of subscription content, log in to check access.
Access options
Buy single article
Instant access to the full article PDF.
US$ 39.95
Price includes VAT for USA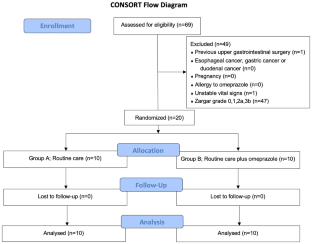 References
1.

Havanond C (2003) Clinical features of corrosive ingestion. J Med Assoc Thail 86(10):918–924

2.

Awsakulsutthi S, Havanond C (2015) A retrospective study of anastomotic leakage between patients with and without vascular enhancement of esophageal reconstructions with colon interposition: Thammasat University Hospital experience. Asian J Surg 38(3):145–149

3.

Havanond C, Havanond P (2007) Initial signs and symptoms as prognostic indicators of severe gastrointestinal tract injury due to corrosive ingestion. J Emerg Med 33(4):349–353

4.

Havanond C (2002) Is there a difference between the management of grade 2b and 3 corrosive gastric injuries? J Med Assoc Thail 85(3):340–344

5.

Mahawongkajit P, Tomtitchong P, Boochangkool N et al (2018) Risk factors for esophageal stricture in grade 2b and 3a corrosive esophageal injuries. J Gastrointest Surg 22(10):1659–1664

6.

Contini S, Scarpignato C (2013) Caustic injury of the upper gastrointestinal tract: a comprehensive review. World J Gastroenterol 19(25):3918–3930

7.

Arévalo-Silva C, Eliashar R, Wohlgelernter J, Elidan J, Gross M (2006) Ingestion of caustic substances: a 15-year experience. Laryngoscope 116(8):1422–1426

8.

Chirica M, Bonavina L, Kelly MD, Sarfati E, Cattan P (2017) Caustic ingestion. Lancet 389(10083):2041–2052

9.

Zargar SA, Kochhar R, Mehta S, Mehta SK (1991) The role of fiberoptic endoscopy in the management of corrosive ingestion and modified endoscopic classification of burns. Gastrointest Endosc 37(2):165–169

10.

Chirica M, Kelly MD, Siboni S et al (2019) Esophageal emergencies: WSES guidelines. World J Emerg Surg 14:26

11.

De Lusong MAA, Timbol ABG, Tuazon DJS (2017) Management of esophageal caustic injury. World J Gastrointest Pharmacol Ther 8(2):90–98

12.

Tharavej C, Pungpapong SU, Chanswangphuvana P (2018) Outcome of dilatation and predictors of failed dilatation in patients with acid-induced corrosive esophageal strictures. Surg Endosc 32(2):900–907

13.

Methasate A, Lohsiriwat V (2018) Role of endoscopy in caustic injury of the esophagus. World J Gastrointest Endosc 10(10):274–282

14.

Broor SL, Raju GS, Bose PP et al (1993) Long term results of endoscopic dilatation for corrosive oesophageal strictures. Gut 34(11):1498–1501

15.

Ilkin Naharci M, Tuzun A, Erdil A et al (2006) Effectiveness of bougie dilation for the management of corrosive esophageal strictures. Acta Gastroenterol Belg 69(4):372–376

16.

Singhal S, Kar P (2007) Management of acid- and alkali-induced esophageal strictures in 79 adults by endoscopic dilation: 8-years' experience in New Delhi. Dysphagia 22(2):130–134

17.

Chiu YC, Liang CM, Tam W et al (2013) The effects of endoscopic-guided balloon dilations in esophageal and gastric strictures caused by corrosive injuries. BMC Gastroenterol 13:99

18.

Song HY, Han YM, Kim HN, Kim CS, Choi KC (1992) Corrosive esophageal stricture: safety and effectiveness of balloon dilation. Radiology 184(2):373–378

19.

Karakan T, Utku OG, Dorukoz O et al (2013) Biodegradable stents for caustic esophageal strictures: a new therapeutic approach. Dis Esophagus 26(3):319–322

20.

Abreu M, Nunes I, Corujeira S, Tavares M, Trindade E, Dias JA (2016) Caustic esophageal stenosis: a case report of endoscopic dilation with a dynamic stent. GE Port J Gastroenterol 23(4):218–223

21.

Kochhar R, Samanta J, Basha J et al (2017) Biodegradable stents for caustic esophageal strictures: do they work? Dysphagia 32(4):575–582

22.

Kochhar R, Ray JD, Sriram PV, Kumar S, Singh K (1999) Intralesional steroids augment the effects of endoscopic dilation in corrosive esophageal strictures. Gastrointest Endosc 49(4 Pt 1):509–513

23.

Kochhar R, Makharia GK (2002) Usefulness of intralesional triamcinolone in treatment of benign esophageal strictures. Gastrointest Endosc 56(6):829–834

24.

Nijhawan S, Udawat HP, Nagar P (2016) Aggressive bougie dilatation and intralesional steroids is effective in refractory benign esophageal strictures secondary to corrosive ingestion. Dis Esophagus 29(8):1027–1031

25.

Szapáry L, Tinusz B, Farkas N et al (2018) Intralesional steroid is beneficial in benign refractory esophageal strictures: a meta-analysis. World J Gastroenterol 24(21):2311–2319

26.

El-Asmar KM, Hassan MA, Abdelkader HM, Hamza AF (2013) Topical mitomycin C application is effective in management of localized caustic esophageal stricture: a double-blinded, randomized, placebo-controlled trial. J Pediatr Surg 48(7):1621–1627

27.

Nagaich N, Nijhawan S, Katiyar P, Sharma R, Rathore M (2014) Mitomycin-C: 'a ray of hope' in refractory corrosive esophageal strictures. Dis Esophagus 27(3):203–205

28.

Harlak A, Yigit T, Coskun K et al (2013) Surgical treatment of caustic esophageal strictures in adults. Int J Surg 11(2):164–168

29.

Rajabi MT, Maddah G, Bagheri R, Mehrabi M, Shabahang H, Lorestani F (2015) Corrosive injury of the upper gastrointestinal tract: review of surgical management and outcome in 14 adult cases. Iran J Otorhinolaryngol 27(78):15–21

30.

Ezemba N, Eze JC, Nwafor IA, Etukokwu KC, Orakwe OI (2014) Colon interposition graft for corrosive esophageal stricture: midterm functional outcome. World J Surg 38(9):2352–2357

31.

Knezević JD, Radovanović NS, Simić AP et al (2007) Colon interposition in the treatment of esophageal caustic strictures: 40 years of experience. Dis Esophagus 20(6):530–534

32.

Pelclová D, Navrátil T (2005) Do corticosteroids prevent oesophageal stricture after corrosive ingestion? Toxicol Rev 24(2):125–129

33.

Katibe R, Abdelgadir I, McGrogan P, Akobeng AK (2018) Corticosteroids for preventing caustic esophageal strictures: systematic review and meta-analysis. J Pediatr Gastroenterol Nutr 66(6):898–902

34.

Topaloglu B, Bicakci U, Tander B et al (2008) Biochemical and histopathologic effects of omeprazole and vitamin E in rats with corrosive esophageal burns. Pediatr Surg Int 24(5):555–560

35.

Cakal B, Akbal E, Köklü S, Babalı A, Koçak E, Taş A (2013) Acute therapy with intravenous omeprazole on caustic esophageal injury: a prospective case series. Dis Esophagus 26(1):22–26

36.

Maton PN (1991) Omeprazole. N Engl J Med 324(14):965–975

37.

Kobayashi T, Ohta Y, Inui K, Yoshino J, Nakazawa S (2002) Protective effect of omeprazole against acute gastric mucosal lesions induced by compound 48/80, a mast cell degranulator, in rats. Pharmacol Res 46(1):75–84

38.

Biswas K, Bandyopatdhyay U, Chattopadyay I, Varadaraj A (2003) A novel antioxidant and anti-apoptotic role of omeprazole to block gastric ulcer through scavenging of hydroxyl radical. J Biol Chem 278(13):10993–11001

39.

Arisawa T, Harata M, Kamiya Y et al (2006) Is omeprazole or misoprostol superior for improving indomethacin-induced delayed maturation of granulation tissue in rat gastric ulcers? Digestion 73(1):32–39

40.

Pozzoli C, Menozzi A, Grandi D et al (2007) Protective effects of proton pump inhibitors against indomethacin-induced lesions in the rat small intestine. Naunyn Schmiedebergs Arch Pharmacol 374(4):283–291

41.

Kim YJ, Lee JS, Hong KS, Chung JW, Kim JH, Hahm KB (2010) Novel application of proton pump inhibitor for the prevention of colitis-induced colorectal carcinogenesis beyond acid suppression. Cancer Prev Res (Phila) 3(8):963–974
Acknowledgements
We thank the patients for participating in this research. Special thanks to Dr. Bob Taylor for assistance in editing the English version of this manuscript and Dr. Saritphat Orrapin for scrutinizing methodology and for statistical consultation.
Ethics declarations
Disclosures
Prasit Mahawongkajit, Prakitpunthu Tomtitchong, Nuttorn Boochangkool, Chatchai Mingmalairak, Surajit Awsakulsutthi and Chittinad Havanond have no conflicts of interest.
Additional information
Publisher's Note
Springer Nature remains neutral with regard to jurisdictional claims in published maps and institutional affiliations.
About this article
Cite this article
Mahawongkajit, P., Tomtitchong, P., Boochangkool, N. et al. A prospective randomized controlled trial of omeprazole for preventing esophageal stricture in grade 2b and 3a corrosive esophageal injuries. Surg Endosc (2020). https://doi.org/10.1007/s00464-020-07707-0
Received:

Accepted:

Published:
Keywords
Corrosive esophageal injury

Caustic injury

Esophageal stricture

Omeprazole