Abstract
Background
In selected cases of post-bariatric leaks and fistulas, endoscopy is an initial treatment modality. Management can be complex and require multiple endoscopic sessions with varying degrees of success. Our aim was to describe our tertiary care experience on endoscopy management of refractory post-bariatric leaks and fistulas.
Methods
Patients with post-bariatric leaks and/or fistulas who failed an initial endoscopic intervention were included. Endoscopic treatments were classified into four strategies: (1) closure management, (2) active drainage, (3) passive drainage, and (4) plugging. Clinical success and adverse events were assessed.
Results
A total of 25 patients (mean age = 45.3 ± 11.8 years and 56% female) were included. Clinical success was achieved in 20 patients (80%) with a mean of 3.0 ± 1.5 procedures and a median time to healing of 114.5 (53–210.3) days. Closure and plugging were the main successful strategies used for early and acute leaks/fistulas, while drainage was for late and chronic leaks/fistulas. Adverse events were observed in 13 patients (52%) with one serious adverse event. Patients with fistulas had a lower success rate (72.2% vs. 100%, P = 0.052). Of those with clinical failure (n = 5), four underwent reconstructive surgery, eventually led to success in 3 patients. The other one died of septic shock related to a complicated fistula.
Conclusions
Complex multi-modality endoscopic management ultimately achieved clinical success in most cases of refractory leaks/fistulas post-bariatric with an acceptable safety profile. However, a close follow-up to detect the development of long-term failure is warranted. These patients should be referred to a specialized bariatric center with expertise in bariatric endoscopy and surgery.
This is a preview of subscription content, log in to check access.
Access options
Buy single article
Instant access to the full article PDF.
US$ 39.95
Price includes VAT for USA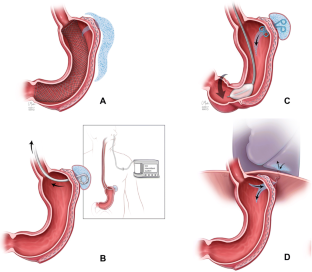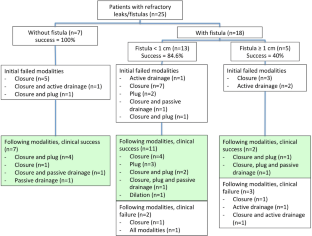 References
1.

English WJ et al (2018) American Society for Metabolic and Bariatric Surgery estimation of metabolic and bariatric procedures performed in the United States in 2016. Surg Obes Relat Dis 14(3):259–263

2.

Peterli R et al (2018) Effect of laparoscopic sleeve gastrectomy vs laparoscopic Roux-en-Y gastric bypass on weight loss in patients with morbid obesity: the SM-BOSS randomized clinical trial. JAMA 319(3):255–265

3.

Salminen P et al (2018) Effect of laparoscopic sleeve gastrectomy vs laparoscopic Roux-en-Y gastric bypass on weight loss at 5 Years Among Patients With Morbid Obesity: the SLEEVEPASS randomized clinical trial. JAMA 319(3):241–254

4.

Kim J et al (2015) ASMBS position statement on prevention, detection, and treatment of gastrointestinal leak after gastric bypass and sleeve gastrectomy, including the roles of imaging, surgical exploration, and nonoperative management. Surg Obes Relat Dis 11(4):739–748

5.

Marshall JS et al (2003) Roux-en-Y gastric bypass leak complications. Arch Surg 138(5):520–523 discussion 523-4

6.

Schulman AR, Thompson CC (2017) Complications of bariatric surgery: what you can expect to see in your GI practice. Am J Gastroenterol 112(11):1640–1655

7.

Hutter MM et al (2011) First report from the American College of Surgeons Bariatric Surgery Center Network: laparoscopic sleeve gastrectomy has morbidity and effectiveness positioned between the band and the bypass. Ann Surg 254(3):410–420 discussion 420-2

8.

Christophorou D et al (2015) Endoscopic treatment of fistula after sleeve gastrectomy: results of a multicenter retrospective study. Endoscopy 47(11):988–996

9.

Lorenzo D et al (2018) Endoscopic treatment of fistulas after sleeve gastrectomy: a comparison of internal drainage versus closure. Gastrointest Endosc 87(2):429–437

10.

Willingham FF, Buscaglia JM (2015) Endoscopic management of gastrointestinal leaks and fistulae. Clin Gastroenterol Hepatol 13(10):1714–1721

11.

Vargas EJ, Abu Dayyeh BK (2018) Keep calm under pressure: a paradigm shift in managing postsurgical leaks. Gastrointest Endosc 87(2):438–441

12.

Bege T et al (2011) An endoscopic strategy for management of anastomotic complications from bariatric surgery: a prospective study. Gastrointest Endosc 73(2):238–244

13.

Keren D et al (2015) Over-the-scope clip (OTSC) system for sleeve gastrectomy leaks. Obes Surg 25(8):1358–1363

14.

Mahadev S et al (2017) Endoscopic septotomy: an effective approach for internal drainage of sleeve gastrectomy-associated collections. Endoscopy 49(5):504–508

15.

Martin Del Campo SE et al (2018) Endoscopic stent placement for treatment of sleeve gastrectomy leak: a single institution experience with fully covered stents. Surg Obes Relat Dis 14(4):453–461

16.

Rebibo L et al (2016) New endoscopic technique for the treatment of large gastric fistula or gastric stenosis associated with gastric leaks after sleeve gastrectomy. Surg Obes Relat Dis 12(8):1577–1584

17.

Abou Rached A, Basile M, El Masri H (2014) Gastric leaks post sleeve gastrectomy: review of its prevention and management. World J Gastroenterol 20(38):13904–13910

18.

Praveenraj P et al (2016) Management of gastric leaks after laparoscopic sleeve gastrectomy for morbid obesity: a tertiary care experience and design of a management algorithm. J Minim Access Surg 12(4):342–349

19.

Rosenthal RJ et al (2012) International sleeve gastrectomy expert panel consensus statement: best practice guidelines based on experience of >12,000 cases. Surg Obes Relat Dis 8(1):8–19

20.

Cotton PB et al (2010) A lexicon for endoscopic adverse events: report of an ASGE workshop. Gastrointest Endosc 71(3):446–454

21.

Shehab HM, Hakky SM, Gawdat KA (2016) An endoscopic strategy combining mega stents and over-the-scope clips for the management of post-bariatric surgery leaks and fistulas (with video). Obes Surg 26(5):941–948

22.

Okazaki O et al (2018) Efficacy and safety of stents in the treatment of fistula after bariatric surgery: a systematic review and meta-analysis. Obes Surg 28(6):1788–1796

23.

Rieder E et al (2017) Endoscopic stent suture fixation for prevention of esophageal stent migration during prolonged dilatation for achalasia treatment. Dis Esophagus 30(4):1–6

24.

Wright A et al (2017) Endoscopic suture fixation is associated with reduced migration of esophageal fully covered self-expandable metal stents (FCSEMS). Surg Endosc 31(9):3489–3494

25.

Yang J et al (2017) Esophageal stent fixation with endoscopic suturing device improves clinical outcomes and reduces complications in patients with locally advanced esophageal cancer prior to neoadjuvant therapy: a large multicenter experience. Surg Endosc 31(3):1414–1419

26.

Ben Nun A et al (2018) Surgical treatment of gastro-pulmonary fistula following bariatric surgery: possible and safe. World J Surg 42(6):1792–1797

27.

Nedelcu AM et al (2013) Surgical management of chronic fistula after sleeve gastrectomy. Surg Obes Relat Dis 9(6):879–884

28.

Silva LB et al (2015) Gastrobronchial fistula in sleeve gastrectomy and Roux-en-Y Gastric Bypass: a systematic review. Obes Surg 25(10):1959–1965
Ethics declarations
Conflict of interests
Dr. Abu Dayyeh is a consultant for Metamodix, BFKW, DyaMx, Boston Scientific, USGI medical, and Endo-TAGSS. He received research support from Apollo Endosurgery, USGI, Spatz Medical, Boston Scientific, GI Dynamics, Cairn Diagnostics, Aspire Bariatrics, and Medtronic. He served as a speaker for Johnson and Johnson, Endogastric Solutions, and Olympus. Dr. Storm is a consultant for Apollo Endosurgery, ERBE, GI Dynamics, and Endo-TAGSS. He received research support from Boston Scientific and Apollo Endosurgery. Dr. Jaruvongvanich, Reem Matar, Dr. Azilzullah, Dr. Malandris, Dr. Maselli, Dr. Vargas, Dr. Kellogg, Dr. Buttar, and Dr. McKenzie have no financial disclosures or conflicts of interest relevant to this study.
Ethical approval
Our study was approved by the Ethics Committee of the Mayo Clinic Rochester.
Additional information
Publisher's Note
Springer Nature remains neutral with regard to jurisdictional claims in published maps and institutional affiliations.
Electronic supplementary material
Below is the link to the electronic supplementary material.
About this article
Cite this article
Jaruvongvanich, V., Matar, R., Storm, A.C. et al. Endoscopic management of refractory leaks and fistulas after bariatric surgery with long-term follow-up. Surg Endosc (2020). https://doi.org/10.1007/s00464-020-07702-5
Received:

Accepted:

Published:
Keywords
Bariatric surgery

Fistula

Leaks

Roux-en-Y gastric bypass

Sleeve gastrectomy