Abstract
Background
With evolving technology, the focus of groin hernia repair has shifted to sexual function and fertility outcomes.
Methods
This three-arm randomized study was conducted in tertiary care hospital from 1st July 2017 to 30th March 2019. Consecutive patients of groin hernia were randomized into 3 groups, TAPP (Group 1), TEP (Group 2), and OMH (Group 3). Demographic profile and hernia characteristics were assessed preoperatively. Sexual functions (using BMSFI) and fertility (using surrogate fertility indices, viz., semen analysis and anti-sperm antibodies (ASA)) were assessed preoperatively at 3 months after the surgery.
Results
A total of 121 patients were included in the study with 41 patients in TAPP (Group 1) and 40 each in TEP (Group 2) and OMH (Group3) group. All the 3 groups were comparable in terms of demographic profile, hernia characteristics, intra-operative and early post-operative outcomes. Significant improvement was found in most of the domains of BMSFI score in the study population (p value < 0.001) with no intergroup difference. There was significant increase of anti-sperm antibody level in OMH group as compared to TAPP and TEP (p = 0.001), however, the levels were within normal limit.
Conclusions
In conclusion, this study has shown that inguinal hernia repair whether open or laparoscopic (TEP or TAPP) leads on to improvement in sexual functions and fertility indices and can have a significant impact on pre-op counseling of the patient in terms of choice of repair, depending on the available expertise in a given center.
This is a preview of subscription content, log in to check access.
Access options
Buy single article
Instant access to the full article PDF.
US$ 39.95
Price includes VAT for USA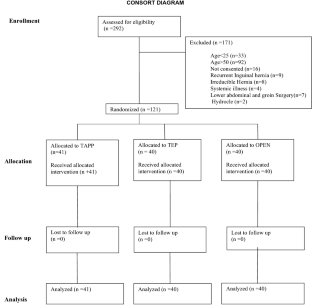 References
1.

Tekatli H, Schouten N, van Dalen T, Burgmans I, Smakman N (2012) Mechanism, assessment, and incidence of male infertility after inguinal hernia surgery: a review of the preclinical and clinical literature. Am J Surg 204(4):503–509

2.

Uzzo RG, Lemack GE, Morrissey KP, Goldstein M (1999) The effects of mesh bioprosthesis on the spermatic cord structures: a preliminary report in a canine model. J Urol 161(4):1344–1349

3.

Schouten N, van Dalen T, Smakman N, Clevers GJ, Davids PHP, Verleisdonk EJMM et al (2012) Impairment of sexual activity before and after endoscopic totally extraperitoneal (TEP) hernia repair. Surg Endosc 26(1):230–234

4.

Bischoff JM, Linderoth G, Aasvang EK, Werner MU, Kehlet H (2012) Dysejaculation after laparoscopic inguinal herniorrhaphy: a nationwide questionnaire study. Surg Endosc 26(4):979–983

5.

Štula I, Družijanić N, Sapunar A, Perko Z, Bošnjak N, Kraljević D (2014) Antisperm antibodies and testicular blood flow after inguinal hernia mesh repair. Surg Endosc 28(12):3413–3420

6.

O'Leary MP, Fowler FJ, Lenderking WR, Barber B, Sagnier PP, Guess HA et al (1995) A brief male sexual function inventory for urology. Urology 46(5):697–706

7.

Singh AN, Bansal VK, Misra MC, Kumar S, Rajeshwari S, Kumar A et al (2012) Testicular functions, chronic groin pain, and quality of life after laparoscopic and open mesh repair of inguinal hernia: a prospective randomized controlled trial. Surg Endosc 26(5):1304–1317

8.

Krishna A, Misra MC, Bansal VK, Kumar S, Rajeshwari S, Chabra A (2012) Laparoscopic inguinal hernia repair: transabdominal preperitoneal (TAPP) versus totally extraperitoneal (TEP) approach: a prospective randomized controlled trial. Surg Endosc 26(3):639–649

9.

Isil RG, Avlanmis O (2020) Effects of totally extraperitoneal and lichtenstein hernia repair on men's sexual function and quality of life. Surg Endosc 34(3):1103–1111

10.

Zieren J, Beyersdorff D, Beier KM, Müller JM (2001) Sexual function and testicular perfusion after inguinal hernia repair with mesh. Am J Surg 181(3):204–206

11.

Peeters E, Spiessens C, Oyen R, De Wever L, Vanderschueren D, Penninckx F et al (2010) Laparoscopic inguinal hernia repair in men with lightweight meshes may significantly impair sperm motility: a randomized controlled trial. Ann Surg 252(2):240–246

12.

Yoshida M, Kawano N, Yoshida K (2008) Control of sperm motility and fertility: diverse factors and common mechanisms. Cell Mol Life Sci 65(21):3446–3457

13.

Dong Z, Kujawa SA, Wang C, Zhao H (2018) Does the use of hernia mesh in surgical inguinal hernia repairs cause male infertility? A systematic review and descriptive analysis. Reprod Health 15(1):69
Acknowledgements
None. This study has been accepted for podium presentation at the SAGES 2020 meet.
Funding
No funding received from any source.
Ethics declarations
Disclosures
Dr. Shardool Gupta, Dr. Asuri Krishna, Dr. Mayank Jain, Dr. Ankur Goyal, Dr. Atin Kumar, Dr. Pradeep Chaturvedi, Dr. Rajesh Sagar, Dr. Rashmi Ramachandran, Dr. Om Prakash, Dr. Subodh Kumar, Dr. V. Seenu, Dr. Virinder Bansal have no conflicts of interest or financial ties to disclose.
Additional information
Publisher's Note
Springer Nature remains neutral with regard to jurisdictional claims in published maps and institutional affiliations.
About this article
Cite this article
Gupta, S., Krishna, A., Jain, M. et al. A three-arm randomized study to compare sexual functions and fertility indices following open mesh hernioplasty (OMH), laparoscopic totally extra peritoneal (TEP) and transabdominal preperitoneal (TAPP) repair of groin hernia. Surg Endosc (2020). https://doi.org/10.1007/s00464-020-07697-z
Received:

Accepted:

Published:
Keywords
Groin Hernia

Sexual Functions

TAPP

TEP

Open Mesh Repair