Abstract
Background
Gastrointestinal stromal tumors (GIST) are rare mesenchymal tumors, most commonly arising in the stomach. Surgical resection remains the mainstay of cure, and can often be accomplished laparoscopically. Tumor size and location guide selection of appropriate resection technique.
Methods
A retrospective review of all patients undergoing surgery at a single academic center between 2000 and 2018. Comparisons and descriptive statistics performed using student's t test and χ2 test.
Results
77 patients underwent resection for gastric GIST, 53 (68%) laparoscopic. Patients undergoing open operations had significantly larger tumors (4 cm vs 7 cm, p < 0.001). Operative time was not significantly different between the two groups (117 min vs 104 min, p = 0.26). Median length of stay was significantly shorter for laparoscopic resection, and postoperative complication rate was lower. A review of the operative notes revealed four types of resection: non-anatomic stapled wedge resection, resection of a full-thickness "disk" of stomach around the tumor with primary closure, formal partial gastrectomy with reconstruction, and laparoscopic transgastric (endoluminal) resection.
Conclusion
Non-anatomic resection (wedge or disk) is most feasible for tumors on the greater curve or gastric body, far enough from the pylorus and gastroesophageal junction to avoid narrowing inflow or outflow. A partial gastrectomy may be required for large tumors or those encroaching on the esophagus or pylorus. For small intraluminal tumors, a laparoscopic transgastric approach is ideal. This review of the technical details of each type of resection can aid in selecting the ideal approach for difficult tumors.
Access options
Buy single article
Instant access to the full article PDF.
US$ 39.95
Tax calculation will be finalised during checkout.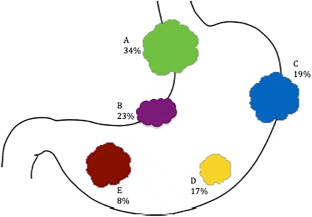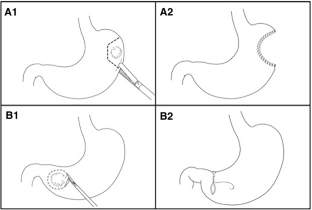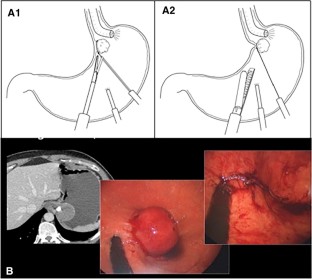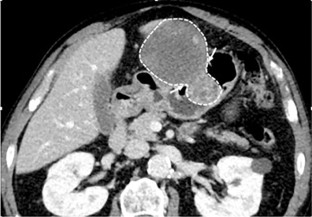 References:s
1.

Mazur MT, Clark HB (1983) Gastric stromal tumors. Reappraisal of histogenesis. Am J Surg Pathol 7:507–519

2.

Eisenberg BL, Trent JC (2011) Adjuvant and neoadjuvant imatinib therapy: current role in the management of gastrointestinal stromal tumors. Int J Cancer 129:2533–2542

3.

Pierie JP, Choudry U, Muzikansky A, Yeap BY, Souba WW, Ott MJ (2001) The effect of surgery and grade on outcome of gastrointestinal stromal tumors. Arch Surg 136:383–389

4.

DeMatteo RP, Lewis JJ, Leung D, Mudan SS, Woodruff JM, Brennan MF (2000) Two hundred gastrointestinal stromal tumors: recurrence patterns and prognostic factors for survival. Ann Surg 231:51–58

5.

Lukaszczyk JJ, Preletz RJ Jr (1992) Laparoscopic resection of benign stromal tumor of the stomach. J Laparoendosc Surg 2:331–334

6.

Kim JJ, Lim JY, Nguyen SQ (2017) Laparoscopic resection of gastrointestinal stromal tumors: does laparoscopic surgery provide an adequate oncologic resection? World J Gastrointest Endosc 9:448–455

7.

Piessen G, Lefevre JH, Cabau M et al (2015) Laparoscopic versus open surgery for gastric gastrointestinal stromal tumors: what is the impact on postoperative outcome and oncologic results? Ann Surg 262:831–839

8.

MacArthur KM, Baumann BC, Nicholl MB (2017) Laparoscopic versus open resection for gastrointestinal stromal tumors (GISTs). J Gastrointest Cancer 48:20–24

9.

Hu J, Or BH, Hu K, Wang ML (2016) Comparison of the post-operative outcomes and survival of laparoscopic versus open resections for gastric gastrointestinal stromal tumors: a multi-center prospective cohort study. Int J Surg 33:65–71

10.

Miettinen M, Sobin LH, Lasota J (2005) Gastrointestinal stromal tumors of the stomach: a clinicopathologic, immunohistochemical, and molecular genetic study of 1765 cases with long-term follow-up. Am J Surg Pathol 29:52–68
Funding
There was no funding provided for any portion of this work.
Ethics declarations
Disclosure
Laura Mazer, Patrick Worth, and Brendan Visser have no conflicts of interest to declare.
Additional information
Publisher's Note
Springer Nature remains neutral with regard to jurisdictional claims in published maps and institutional affiliations.
About this article
Cite this article
Mazer, L., Worth, P. & Visser, B. Minimally invasive options for gastrointestinal stromal tumors of the stomach. Surg Endosc 35, 1324–1330 (2021). https://doi.org/10.1007/s00464-020-07510-x
Received:

Accepted:

Published:

Issue Date:
Keywords
GIST

Laparoscopy

Endoscopy

Gastric tumor