Abstract
Background
Operating room (OR) fires are uncommon but disastrous events. Inappropriate handling of OR fires can result in injuries, even death. Aiming to simulate OR fire emergencies and effectively train clinicians to react appropriately, we have developed an artificial intelligence (AI)-based OR fire virtual trainer based on the principle of the "fire triangle" and SAGES FUSE curriculum. The simulator can predict the user's actions in the virtual OR and provide them with timely feedback to assist with training. We conducted a study investigating the validity of the AI-assisted OR fire trainer at the 2019 SAGES Learning Center.
Methods
Fifty-three participants with varying medical experience were voluntarily recruited to participate in our Institutional Review Board approved study. All participants were asked to contain a fire within the virtual OR. Participants were then asked to fill out a 7-point Likert questionnaire consisting of ten questions regarding the face validation of the AI-assisted OR fire simulator. Shapiro–Wilk tests were conducted to test normality of the scores for each trial. A Friedman's ANOVA with post hoc tests was used to evaluate the effect of multiple trials on performance.
Results
On a 7-point scale, eight of the ten questions were rated a mean of 6 or greater (72.73%), especially those relating to the usefulness of the simulator for OR fire-containing training. 79.25% of the participants rated the degree of usefulness of AI guidance over 6 out of 7. The performance of individuals improved significantly over the five trials, χ2(4) = 119.89, p < .001, and there was a significant linear trend of performance r = .97, p = 0.006. A pairwise analysis showed that only after the introduction of AI did performance improve significantly.
Conclusions
The AI-guided OR fire trainer offers the potential to assess OR personnel and teach the proper response to an iatrogenic fire scenario in a safe, repeatable, immersive environment.
Access options
Buy single article
Instant access to the full article PDF.
US$ 39.95
Tax calculation will be finalised during checkout.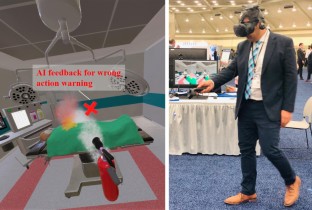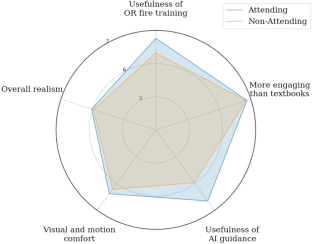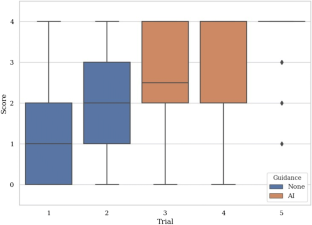 References
1.

Joint commission on accreditation of healthcare organizations (2003) Preventing Surgical Fires Sentin Event Alert 29:1

2.

Connor MA, Menke AM, Vrcek I, Shore JW (2018) Operating room fires in periocular surgery. Int Ophthalmol. https://doi.org/10.1007/s10792-017-0564-9

3.

Apfelbaum JL, Caplan RA, Barker SJ, Connis RT, Cowles C, Ehrenwerth J, Nickinovich DG, Pritchard D, Roberson DW, Caplan RA, Barker SJ, Connis RT, Cowles C, de Richemond AL, Ehrenwerth J, Nickinovich DG, Pritchard D, Roberson DW, Wolf GL (2013) Practice advisory for the prevention and management of operating room fires. Anesthesiology. https://doi.org/10.1097/aln.0b013e31827773d2

4.

Hauk L (2018) Guideline for a safe environment of care. AORN J 108:P10–P12. https://doi.org/10.1002/aorn.12380

5.

Madani A, Jones DB, Fuchshuber P, Robinson TN, Feldman LS (2014) Fundamental use of surgical energyTM (FUSE): a curriculum on surgical energy-based devices. Surg Endosc 28:2509–2512. https://doi.org/10.1007/s00464-014-3623-6

6.

Seymour NE, Gallagher AG, Roman SA, O'Brien MK, Bansal VK, Andersen DK, Satava RM, Pellegrini CA, Sachdeva AK, Meakins JL, Blumgart LH (2002) Virtual reality training improves operating room performance results of a randomized, double-blinded study. Ann Surg. https://doi.org/10.1097/00000658-200210000-00008

7.

Hashimoto DA, Sirimanna P, Gomez ED, Beyer-Berjot L, Ericsson KA, Williams NN, Darzi A, Aggarwal R (2015) Deliberate practice enhances quality of laparoscopic surgical performance in a randomized controlled trial: from arrested development to expert performance. Surg Endosc. https://doi.org/10.1007/s00464-014-4042-4

8.

Yaoyu F, Lora C, Di Q, Panneerselvam K, Arikatla VS, Enquobahrie A, De S, Schwaitzberg SD (2019) Characterizing the learning curve of a virtual intracorporeal suturing simulator (Vblast-ss©). Surg Endosc. https://doi.org/10.1007/s00464-019-06703-3

9.

Sankaranarayanan G, Wooley L, Hogg D, Dorozhkin D, Olasky J, Chauhan S, Fleshman JW, De S, Scott D, Jones DB (2018) Immersive virtual reality-based training improves response in a simulated operating room fire scenario. Surg Endosc. https://doi.org/10.1007/s00464-018-6063-x

10.

Mahmood T, Darzi A (2004) The learning curve for a colonoscopy simulator in the absence of any feedback: no feedback, no learning. Surg Endosc Other Interv Tech. https://doi.org/10.1007/s00464-003-9143-4

11.

Khan R, Scaffidi MA, Grover SC, Gimpaya N, Walsh CM (2019) Simulation in endoscopy: practical educational strategies to improve learning. World J Gastrointest Endosc 11:209–218. https://doi.org/10.4253/wjge.v11.i3.209

12.

Buchanan BG, Shortliffe EH, Davis R, Kin JJ (1984) The origin of rule-based systems in AI. The MYCIN Experiments of the Stanford Heuristic Programming Project, Rule-based expert systems

13.

Rhienmora P, Haddawy P, Suebnukarn S, Dailey MN (2011) Intelligent dental training simulator with objective skill assessment and feedback. Artif Intell Med. https://doi.org/10.1016/j.artmed.2011.04.003

14.

Wijewickrema S, Ma X, Piromchai P, Briggs R, Bailey J, Kennedy G, O'Leary S (2018) Providing automated real-time technical feedback for virtual reality based surgical training: is the simpler the better? In: PensteinRosé C et al (eds) Artificial intelligence in education. Springer, Cham

15.

Laukkanen S, Karanta I, Kotovirta V, Markkanen J, Röonkk J (2004) Adding intelligence to virtual reality. In: Proceedings of the 16th Eureopean Conference on Artificial Intelligence, ECAI'2004, including Prestigious Applicants of Intelligent Systems, PAIS 2004, Valencia, Spain

16.

Yilmaz L, Ören T, Aghaee NG (2006) Intelligent agents, simulation, and gaming. Simul Gaming. https://doi.org/10.1177/1046878106289089

17.

Vaughan N, Gabrys B, Dubey VN (2016) An overview of self-adaptive technologies within virtual reality training. Comput Sci Rev 22:65–87

18.

Yu JQ, Brown DJ, Billett EE (2007) Design of virtual tutoring agents for a virtual biology experiment. Eur J Open Distanc e-learning. https://www.semanticscholar.org/paper/Design-of-virtual-tutoring-agents-for-a-virtual-Yu-Brown/4c637a95afb8b4d07abaf026cda972c148cb5bea

19.

Heuvelink A, van den Bosch K, Doesburg WA van, Harbers M (2009) Intelligent agent supported training in virtual simulations. In: Proceedings of the NATO HFM-169 Workshop on Human Dimensions in Embedded Virtual Simulation. NATO Human Factors and Medicine Panel.

20.

Interactive Medical Simulation Toolkit (iMSTK). https://www.imstk.org/. Accessed 17 Oct 2019

21.

Milef N, Qi D, De S (2019) Rendering Surgery Simulation with Vulkan. In: GPU Zen 2. Black Cat Publishing. https://www.thriftbooks.com/w/gpu-zen-2-advanced-rendering-techniques_wolfgang-engel/21534219/#isbn=179758314X

22.

HTC VIVE VR System. https://www.vive.com/us/product/vive-virtual-reality-system/. Accessed 17 Oct 2019

23.

VIVE Wireless Adapter. https://www.vive.com/us/wireless-adapter/. Accessed 17 Oct 2019

24.

FUSE FUSE Manual. https://www.fuseprogram.org. Accessed 17 Oct 2019

25.

Hunter JD (2007) Matplotlib: A 2D graphics environment. Comput Sci Eng. https://doi.org/10.1109/MCSE.2007.55

26.

Jones TS, Black IH, Robinson TN, Jones EL (2019) Operating Room Fires. Anesthesiology 130(3):492–501

27.

Institute ECRI (2009) New clinical guide to surgical fire prevention Patients can catch fire—here's how to keep them safer. Health Devices 38(10):314–332
Funding
The research reported in this article was supported by the NIH/NIBIB under Award Number 2R01EB005807, 5R01EB010037, 1R01EB009362, 1R01EB014305, 1R01EB025241; NIH/NHLBI under Award Number 5R01HL119248; NIH/NCI under Award Number 1R01CA197491; and NIH under Award Number R44OD018334.
Ethics declarations
Disclosures
Dr. Daniel B. Jones has no relevant conflicts related to this manuscript and is on the advisory board of Allurion Technologies Inc. Drs. Di Qi, Adam Ryason, Nicholas Milef, Samuel Alfred, Mohamad Rassoul Abu-Nuwar, Mojdeh Kappus, and Suvranu De have no conflicts of interest or financial ties to disclose.
Additional information
Publisher's Note
Springer Nature remains neutral with regard to jurisdictional claims in published maps and institutional affiliations.
About this article
Cite this article
Qi, D., Ryason, A., Milef, N. et al. Virtual reality operating room with AI guidance: design and validation of a fire scenario. Surg Endosc 35, 779–786 (2021). https://doi.org/10.1007/s00464-020-07447-1
Received:

Accepted:

Published:

Issue Date:
Keywords
OR fire

Virtual reality

Artificial intelligence

Validation

Medical training