Abstract
Background
The purpose of this study was to evaluate the effect of 3D visualization applied to laparoscopic appendectomy (LA) performed by young surgeons (YS). We considered both operative features and clinical outcomes, aiming to highlight the benefits that this technology could bring to novice surgeons and their laparoscopic training.
Methods
All the surgical procedures were performed by residents who had performed less than 20 appendectomies prior to the beginning of the study under the supervision of an expert surgeon. At the time of enrolment patients were randomized into two arms: Experimental arm (EA): laparoscopic appendectomy performed with laparoscopic 3D vision technology. Control arm (CA): laparoscopic appendectomy performed with the "standard" 2D technology. The primary endpoint was to find any statistically significant difference in operative time between the two arms. Differences in conversion rate, intra-operative complications, post-operative complications and surgeons' operative comfort were considered as secondary endpoints.
Results
We randomized 135 patients into the two study arms. The two groups were homogeneous for demographic characteristics, BMI and ASA scores. The characteristics of clinical presentation and anatomical position showed no significant difference. The operative time was longer in the CA (57.5 vs. 49.6 min, p = 0.048, 95% CI). In the subgroup of complicated appendicitis, this trend toward inferior operative time was confirmed without reaching statistical significance (2D = 60 min, 3D = 49.5 min, p = 0.082 95% CI).
No intra-operative complications were observed in either group. The conversion rate was 5.6% (4 patients) in the 2D group and 4.6% (3 patients) in 3D group.
Conclusion
The utilization of 3D laparoscopy was associated with reduction in operative time without influencing other parameters, in particular without altering the safety profile of the procedure.
Access options
Buy single article
Instant access to the full article PDF.
US$ 39.95
Tax calculation will be finalised during checkout.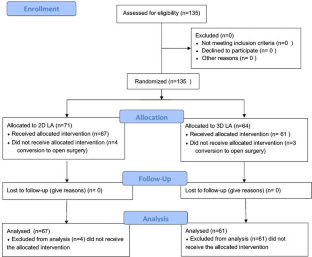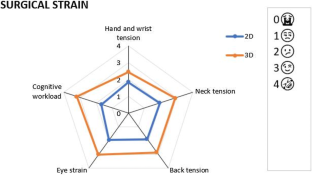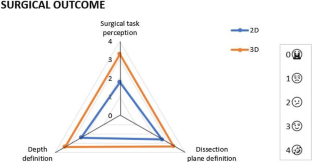 References
1.

Di Saverio S, Birindelli A, Kelly MD et al (2016) WSES Jerusalem guidelines for diagnosis and treatment of acute appendicitis. World J Emerg Surg 11:34

2.

Addiss DG, Shaffer N, Fowler BS et al (1990) The epidemiology of appendicitis and appendectomy in the United States. Am J Epidemiol 132(5):910–925

3.

Jones DB, Jerome D, Brewer RN et al (1996) The influence of three-dimensional video system on laparoscopic task performance. Surg Laparosc Endosc 6(3):191–197

4.

Hanna GB, Shimi SM, Cuschieri A (1998) Randomised study of influence of two-dimensional versus threedimensional imaging on performance of laparoscopic cholecystectomy. Lancet 351:248–251

5.

Mashiach R, Mezhybovsky V, Nevler A et al (2014) Three-dimensional imaging improves surgical skill performance in a laparoscopic test model for both experienced and novice laparoscopic surgeons. Surg Endosc 28:3489–3493

6.

Cicione A, Autorino R, Laguna MP et al (2015) Three-dimensional technology facilitates surgical performance of novice laparoscopy surgeons: a quantitative assessment on a porcine kidney model. Urology 85:1252–1256

7.

Chiu CJ, Prabhu KL, Tan-Tam CC et al (2015) Using three-dimensional laparoscopy as a novel training tool for novice trainees compared with two-dimensional laparoscopy. Am J Surg 209:824–827

8.

Wagner OJ, Hagen M, Kurmann A et al (2012) Three-dimensional vision enhances task performance independently of the surgical method. Surg Endosc 26(10):2961–2968

9.

Bilgen K, Ustun M, Karakahya M et al (2013) Comparison of 3D imaging and 2D imaging for performance time of laparoscopic cholecystectomy. Surg Laparosc Endosc Percutan Tech 23(2):180–183

10.

Sahu D, Mathew MJ, Reddy PK (2014) Laparoscopy-help or hype; initial experience of a tertiary health centre. J Clin Diagn Res 8(7):NC01–NC03

11.

Currò G, La Malfa G, Caizzone A et al (2015) Three-dimensional (3D) versus two-dimensional (2D) laparoscopic bariatric surgery A single-surgeon prospective randomized comparative study. Obes Surg 25(11):2120–2124

12.

Currò G, La Malfa G, Lazzara L et al (2015) Three-dimensional versus two-dimensional laparoscopic cholecystectomy: is surgeon experience relevant? J Laparoendosc Adv Surg Tech 25(7):566–570

13.

Agrusa A, Di Buono G, Chianetta D et al (2016) Three-dimensional (3D) versus two-dimensional (2D) laparoscopic adrenalectomy: a case–control study. Int J Surg 28(suppl1):114–117

14.

Velayutham V, Fucks D, Nomi T et al (2016) 3D visualization reduces operating time when compared to highdefinition 2D in laparoscopic liver resection: a case-matched study. Surg Endosc 30:147–153

15.

Medeiros LR, Stein AT, Fachel J et al (2008) Laparoscopy versus laparotomy for benign ovarian tumor: a systematic review and meta-analysis. Int J Gynecol Cancer 18(3):387–399

16.

Sørensen SMD, Savran MM, Konge L et al (2016) Three-dimensional versus two-dimensional vision in laparoscopy: a systematic review. Surg Endosc 30:11–23

17.

Özsoy M, Kallidonis P, Kyriazis I (2015) Novice surgeons: do they benefit from 3D laparoscopy? Lasers Med Sci 30:1325–1333

18.

Cicione A, Autorino R, Breda A et al (2013) Three-dimensional vs standard laparoscopy: comparative assessment using a validated program for laparoscopic urologic skills. Urology 82(6):1444–1450

19.

Storz P, Buess GF, Kunert W et al (2012) 3D HD versus 2D HD: surgical task efficiency in standardised phantom tasks. Surg Endosc Other Interv Tech 26(5):1454–1460

20.

Ashraf A, Collins D, Whelan M et al (2015) Three-dimensional (3D) simulation versus two-dimensional (2D) enhances surgical skills acquisition in standardised laparoscopic tasks: a before and after study. Int J Surg 14:12–16

21.

Leite M, Carvalho AF (2016) Costa P et al Assessment of laparoscopic skills performance: 2D versus 3D vision and classic instrument versus new hand-held robotic device for laparoscopy. Surg Innov 23(1):52–61

22.

Axt S (2016) Influence of the endoscope's stereoscopic base on performance in standardized laparoscopic tasks: a prospective randomized controlled trial. Surg Endosc Other Interv Tech 30:S74

23.

Buia A, Stockhausen F, Filmann N et al (2017) 3D vs 2D imaging in laparoscopic surgery—an advantage? Results of standardised black box training in laparoscopic surgery. Langenbeck's Arch Surg 402(1):167–171

24.

Poudel S, Kurashima Y, Watanabe Y et al (2017) Impact of 3D in the training of basic laparoscopic skills and its transferability to 2D environment: a prospective randomized controlled trial. Surg Endosc Other Interv Tech 31(3):1111–1118

25.

Sakata S, Grove PM, Hill A et al (2017) Impact of simulated three-dimensional perception on precision of depth judgements, technical performance and perceived workload in laparoscopy. Br J Surg 104(8):1097–1106

26.

Honeck P, Wendt-Nordahl G, Rassweiler J et al (2012) Three-dimensional laparoscopic imaging improves surgical performance on standardized ex-vivo laparoscopic tasks. J Endourol 26(8):1085–1088

27.

Yalcin S, Kibar Y, Ozgok IY (2014) Which system is better for beginners' laparoscopy training? glasses based full-hd 3D monitor systems or standard (full-hd 2D) monitor systems. J Endourol 28:A271

28.

Gomes CA, Nunes TA, Fonseca Chebli JM et al (2012) Laparoscopy grading system of acute appendicitis: new insight for future trials. Surg Laparosc Endosc Percutan Tech 22(5):463–466

29.

Likert R (1932) A technique for the measurement of attitudes. Arch Psychol 140:55

30.

Becker H, Melzer A, Schurr MO, Buess G (1993) 3-D video techniques in endoscopic surgery. Endosc Surg Allied Technol 1(1):40–46

31.

Fergo C, Burcharth J, Pommergaard HC et al (2017) Three-dimensional laparoscopy vs. 2-dimensional laparoscopy with high-definition technology for abdominal surgery: a systematic review. Am J Surg 213:159–170

32.

Vettoretto N, Foglia E, Ferrario L et al (2018) Why laparoscopists may opt for three-dimensional view: a summary of the full HTA report on 3D versus 2D laparoscopy by S.I.C.E. (Società Italiana di Chirurgia Endoscopica e Nuove Tecnologie). Surg Endosc 32:2986–2993

33.

Arezzo A, Vettoretto N, Francis NK et al (2019) The use of 3D laparoscopic imaging systems in surgery: EAES consensus development conference 2018. Surg Endosc 10:3251–3274

34.

Schwab K, Smith R, Brown V et al (2017) Evolution of stereoscopic imaging in surgery and recent advances. World J Gastrointest Endosc 9(8):368–377

35.

NCT03143426 Does 3D Visualisation Improve Performance of Laparoscopic Cholecystectomy by Junior Surgeons?

36.

Alaraimi BS, Sarker SJ, Elbakbak WS, Makkiyah S, Al-Marzouq A, Goriparthi RG et al (2013) Laparoscopic skills performance with stereoscopic vision as compared to the standard laparoscopic vision: a randomised control study. Int J Surg 11(8):593–594

37.

Bohr I, Read JC (2013) Stereoacuity with Frisby and revised FD2 stereo tests. PLoS ONE ONE 8(12):e82999

38.

Bosten JM, Goodbourn PT, Lawrance-Owen AJ, Bargary G, Hogg RE, Mollon JD (2015) A population study of binocular function. Vision Res 110(Pt A):34–50
Ethics declarations
Disclosure
Drs Emanule Botteri, Monica Ortenzi, Giovanni Alemanno, Alessio Giordano, Elisabetta Travaglio, Cecilia Turolo, Simone Castiglioni, Elio Treppiedi, Edoardo Rosso, Andrea Gattolin, Valerio Caracino, Paolo Prosperi, Andrea Valeri, Mario Guerrieri and Nereo Vettoretto have no conflicts of interest or financial ties to disclose.
Additional information
Publisher's Note
Springer Nature remains neutral with regard to jurisdictional claims in published maps and institutional affiliations.
About this article
Cite this article
Botteri, E., Ortenzi, M., Alemanno, G. et al. Laparoscopic Appendectomy Performed by junior SUrgeonS: impact of 3D visualization on surgical outcome. Randomized multicentre clinical trial. (LAPSUS TRIAL). Surg Endosc 35, 710–717 (2021). https://doi.org/10.1007/s00464-020-07436-4
Received:

Accepted:

Published:

Issue Date:
Keywords
Laparoscopic appendectomy

3D laparoscopy

Young surgeons

Laparoscopic training

3D technology